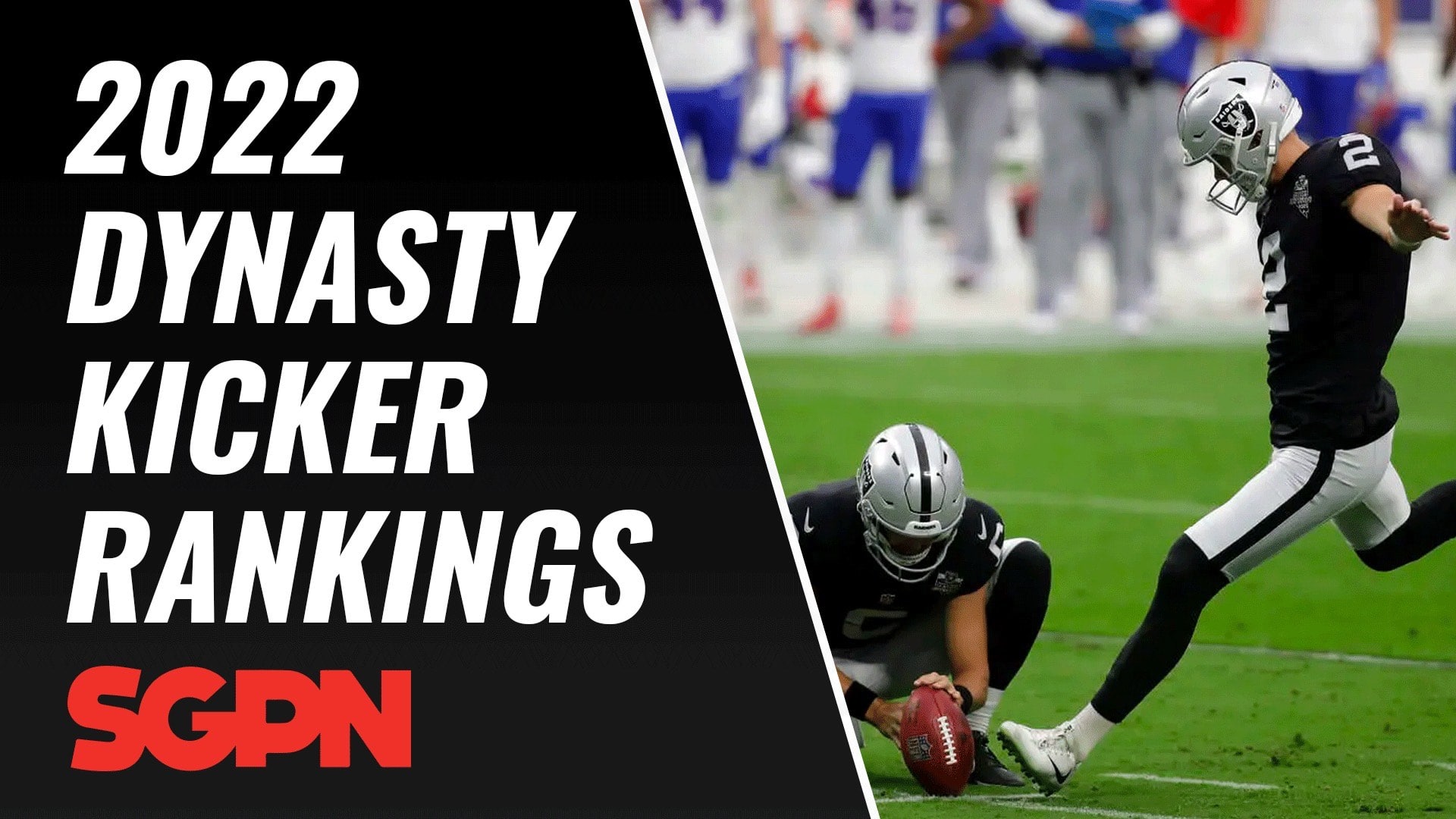 Do your fantasy football leagues still play with kickers? Regardless, you have at least one league that still has kickers. All off-season, you have been studying running backs and wide receivers. Now it's time to take a look at some kickers. You need every point you can get to win that championship. Let's not forget about the kickers when you have to start one each week. A few tips when drafting kickers before we get into the rankings.
First, check your settings, so you understand the scoring. Some have additional points for longer kickers and negative points for missed kicks. My second tip, look for kickers on good offenses. Teams that score a lot of points will also have high-performing kickers. I prefer kickers that play indoors for the majority of the season. Weather can be a factor, especially in the winter months. The strategy suggested by Taco from "The League" is to grab a kicker from your opponent's quarterback's team.
So when they score a TD, you get a point (extra point). Maybe Taco was on to something, especially in your 4-point passing TD leagues, nerfing those passing TDs. The last tip will be to look for accuracy; the last thing you want is a 0 or negative score. Your kicker likely isn't going to get five or more opportunities each week, but going 3 for 3 is a solid 9 points at least.

MORE SGPN FANTASY FOOTBALL CONTENT
SGPN Fantasy Football Draft Cheat Sheets
2022 SGPN Fantasy Football Draft Kit
SGPN Fantasy Football Rankings
SGPN Fantasy Football Projections
---
2022 Dynasty Kicker Rankings
Top 12 Dynasty Kickers
1. Justin Tucker – Baltimore Ravens
Justin Tucker (32) – Tucker is a little bit older, but he is the goat. Not only is Justin Tucker the most accurate kicker of all time. Tucker is also the most accurate long-ball kicker of all time. Tucker hit 95% of his kicks in 2021. Since 2016 he's only finished outside of the top 4 Kickers once.
61 YARDS IN 2013? NO PROBLEM

66 YARDD TODAY?? NO PROBLEM

IN JUSTIN TUCKER WE TRUST! pic.twitter.com/0k4U6p62fO

— Mo (@LamarHeisman) September 26, 2021
2. Evan McPerson – Cincinnati Bengals
Evan McPherson (Age 23) – McPherson is attached to one of the most exciting young offenses in the league. McPherson tied Justin Tucker in points last year for the 2nd overall spot. He converted 9 out of 11 yards of 50 yards or more. PFF graded McPherson as the 2nd highest graded kicker.
3. Harrison Butker – Kansas City Chiefs
Harrison Butker (Age 27) – Kansas City's RedZone efficiency has created fewer field goal opportunities for Butker. Butker is still attached to one of the best offenses in the league and should be a reliable weekly option.
4. Wil Lutz – New Orleans Saints
Wil Lutz (Age 28) – Lutz has been one of the top kickers for a long time. He is never really mentioned with the top guys, but he has been a constant for the Saints. This team is loaded with weapons and should be one of the better offenses in football. Lutz's career accuracy marks and indoor facility make him a top-kicker option.
---
5. Daniel Carlson – Las Vegas Raiders
Daniel Carlson (27) – Daniel Carlson had his best season yet in 2021 and finished as the 4th overall kicker. Carlson plays indoors and is on a high-powered offense. Not to mention he is tied to Josh McDaniels' and has not only had high-powered offenses but number 1 overall kicks in the past (multiple.)
DANIEL CARLSON FOR THE WIN! 💥

(via @NFL) pic.twitter.com/F2c0PmEEtE

— SportsCenter (@SportsCenter) December 21, 2021
6. Younghoe Koo – Atlanta Falcons
Younghoe Koo (Age 28) – Koo isn't far from his overall K1 season and is still one of the NFL's best young kickers. Atlanta ranked 24th in red zone efficiency in 2021 and if that trend continues, Koo will be pretty active on Sundays.
7. Brandon Mcmanus – Denver Broncos
Brandon McManus (Age 31) – McManus plays in Denver and kickers love playing in Denver. This is also an offense that will be much improved in 2022 under Russell Wilson. McManus should find himself back in the top 5 conversations this year.
8. Tyler Bass – Buffalo Bills
Tyler Bass (Age 25) – The Buffalo Bills are one of the top offenses in the league and when they aren't scoring touchdowns, Bass is kicking field goals. Not only does he wear the cool eye black sticker like Nelly, but Bass hit 50+ extra points each of the last two seasons. Bass has converted 28 field goals each year to add to his consistency.
---
9. Jake Elliott – Philadelphia Eagles
Jake Elliott (Age 27) – Elliott made his first pro-bowl in 2021 and was one of the more consistent kickers in the league. Elliott's accuracy gave you a safe floor with only missing three kicks, all from 40+ yards away. That being said, he can still hit it from deep, going three for three from 50+.
10. Rodrigo Blakenship – Indianapolis Colts
Rodrigo Blankenship (Age 25) – Rodrigo had an amazing rookie season, finishing as the 8th overall kicker. Last year was hampered due to injury, but he and Michael Bagley combined to be the overall 9th overall Kicker. The Colts have ranked in the top 10 in Field Goal attempts for the last two seasons and play indoors.
11. Matt Prater – Arizona Cardinals
Matt Prater (Age 38) – Prater is definitely nearing the end of his career, but he is still someone you can play confidently in your lineups. Prater plays indoors and is attached to one of the highest scoring offenses in the league in an explosive division. The NFC West and AFC west have almost half of the league's projected 50+ total games. That is because they play themselves and each other this year.
12. Chris Boswell – Pittsburgh Steelers
Chris Boswell (Age 31) – Chris Boswell has been one of the most accurate kickers since coming into the league. Boswell has also played for the Steelers for his entire career. He doesn't offer the ceiling as some of these other guys, but his safe floor makes him a solid option.
RELATED CONTENT