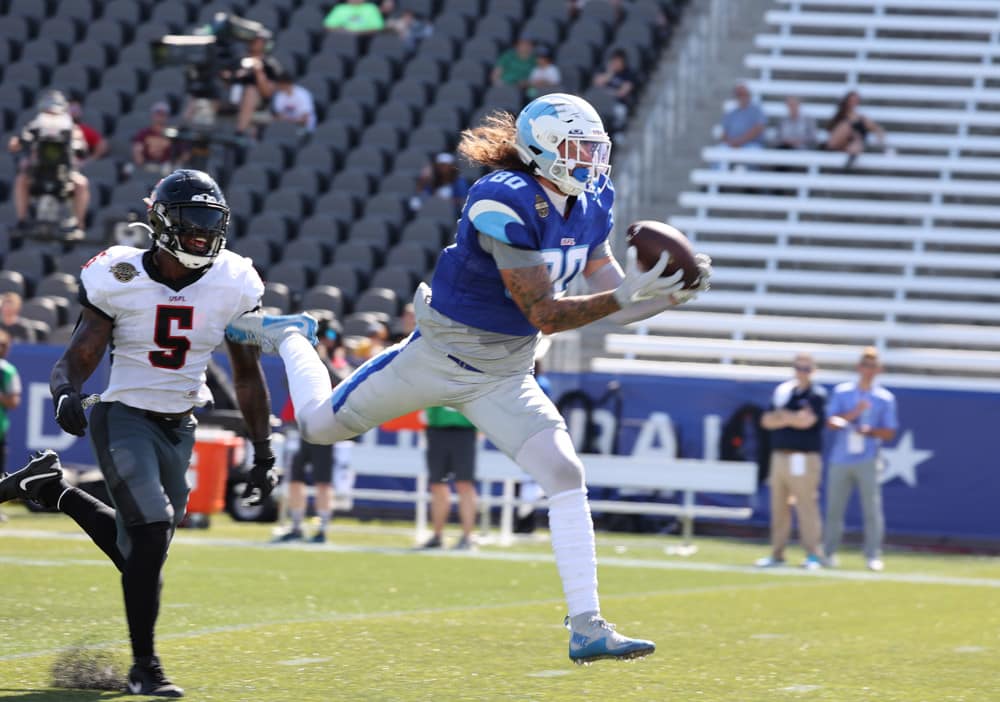 Welcome to SGPN's second-ever, USFL Fantasy flowchart. Every week I have been writing a fantasy preview to help readers set their season-long and daily fantasy lineups. The USFL is a small league and it makes setting these lineups a little tricky. In NFL daily fantasy contests, you rarely leave money on the table. With the USFL, it is sometimes okay to leave money on the table to target the exact player you want each week. This Week 5 USFL fantasy flowchart is a guide to setting, what I think will be, a high floor but also a high upside lineup this week. Using our Week 5 USFL Fantasy Flowchart should help you be successful in all contest types this week. Let's get right into it. Spoiler alert: I am very high on Breakers' players in Week 5 USFL DraftKings lineups!
Exclusive SGPN Content
All SGPN USFL Content
Fantasy Football Podcast
USFL Gambling Podcast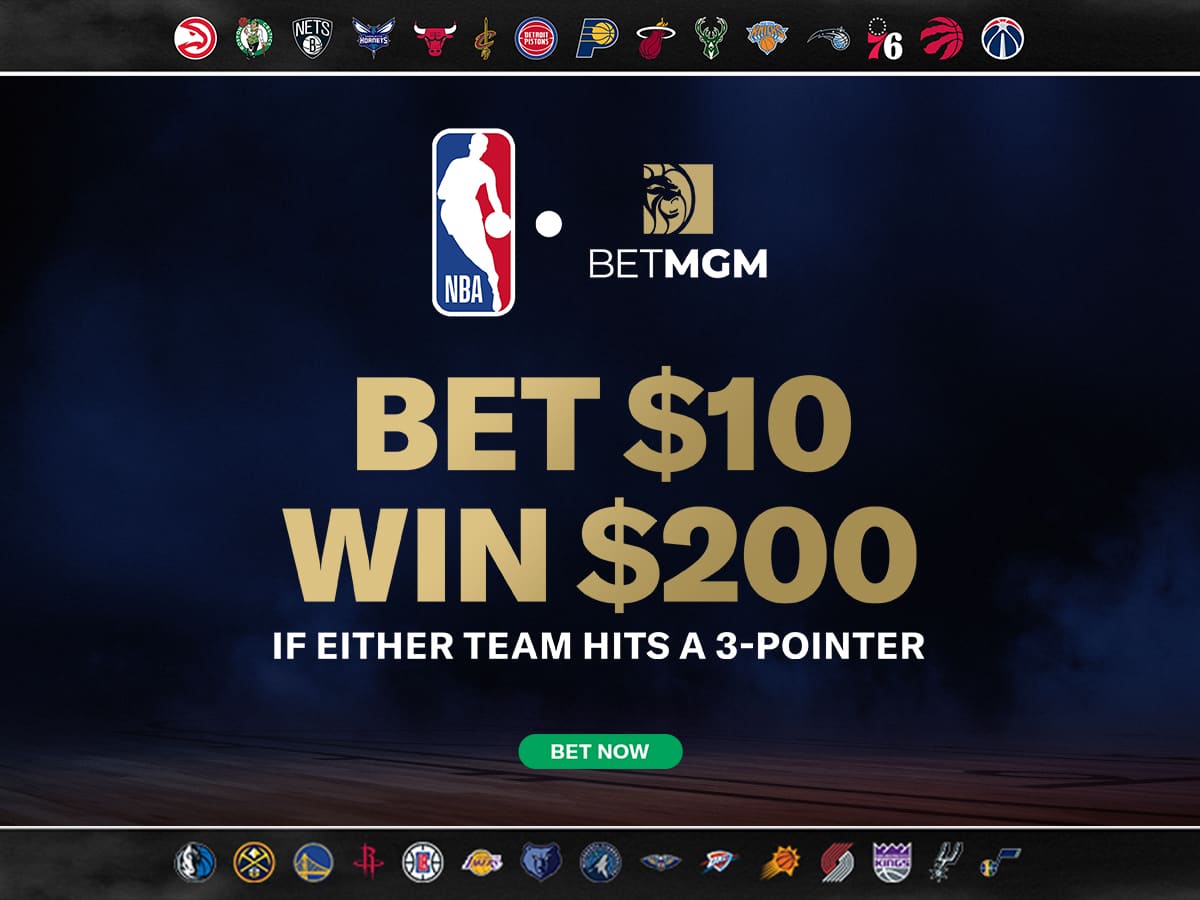 Week 5 USFL Fantasy Football Flowchart- DraftKings DFS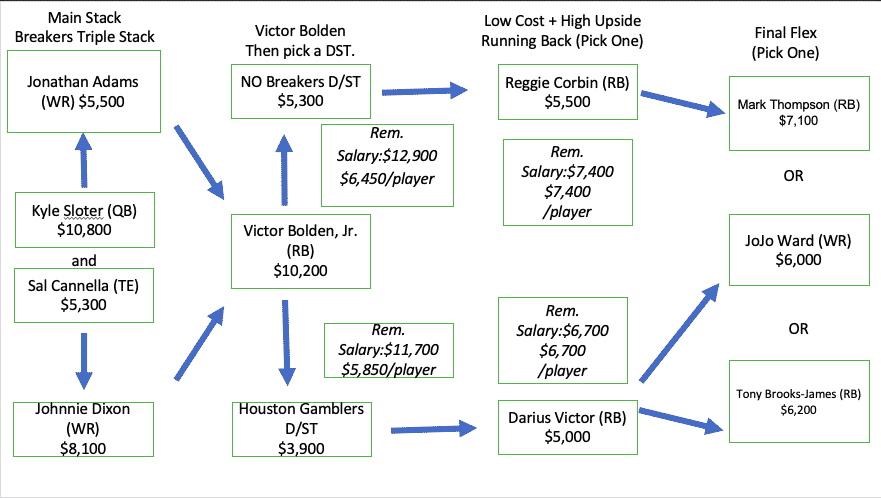 Main Stack: Breakers' Triple Stack
This week I am keeping it simple. The Breakers are one of the best teams in the league and have a high-powered offense to boot. Do not get cute. Stack Kyle Sloter with two of his favorite targets. Injuries have been a factor but Sloter is the second-highest scoring QB in the league. If he can get his turnovers cleaned up, his output will increase further. Sloter has attempted the most passes in the league by a wide margin (155). The opportunity is there for big output in your Week 5 USFL DraftKings lineups. The Generals have a good defense but I am not overthinking this one. Immediately stack Sloter with tight end, Sal Cannella. Not only is he the top tight end in the league but he is leading the entire USFL in receiving yards (215).
— Johnnie L. Dixon III (@YoungKing_JD5) May 11, 2022
The Last Leg of Your Main triple Stack
Kyle Sloter has also been targeting his top two receivers in a big way. Johnnie Dixon and Jonathan Abrams have 30 and 27 targets, respectively. They also rank third and fourth in the league in receiving yards (208 and 213 yards, respectively).  Both have had success and are set up for more success in Week 5 USFL DraftKings lineups.
.@SilentGrind2, which way to the first down?#GeauxBlueWave 🌊 pic.twitter.com/aBFq8H0FFF

— New Orleans Breakers (@USFLBreakers) May 11, 2022
Draft Victor Bolden: Then, Pick a Defense
Bolden is blowing away the entire league in targets through four weeks with 43. The Stallions are the last undefeated team and they have a high-powered offense. Bolden is second in the league with 214 receiving yards. Bolden could be more efficient with his targets but 23 receptions still rank first in the league. Picking your defense is totally up to how you want to round out the rest of your roster. Even though the Generals have played well on each side of the ball, the Breakers have been the most steady defense in the league every week. The Breakers are tied for the league lead with 11 sacks and are currently tied for second in the league with 4 interceptions. The Gamblers are my "punt" defense this week. The Maulers are bad and I will continue playing the defenses they are facing including Week 5 USFL DraftKings lineups.
🗣 And STILL undefeated

The @USFLStallions take down the Bandits and improve to 4-0 on the season 🐎🐎🐎 pic.twitter.com/wRfiQK9wXT

— USFL (@USFL) May 8, 2022
https://twitter.com/USFLStallions/status/1523092965790711808?s=20&t=OXd7anfF5sb0QPMFnirM1Q
Draft a Low Cost but High Upside Running Back
Darious Victor and Reggie Corbin both make fantastic low-cost high upside running backs for Week 5. Victor's production speaks for itself in USFL fantasy football. The Generals are the best rushing team in the league and they utilize both running backs equally in the run game. In addition to leading the team in carries with 49, he also leads the team in rushing touchdowns (4). He is the clear go-to red zone running back on the team and will continue to get tons of use. Reggie Corbin has really come on in recent weeks and is starting to look like the go-to running back in the Panthers' backfield. Corbin has only played three weeks but is already second on the team in carries with 40. He also averages a whopping 7.7 yards per carry. Anytime Corbin touches the ball he is a threat to score from anywhere on the field.
.@yungvitov is tryin' to put this one on ice. 🧊 pic.twitter.com/ajjBElKTqB

— New Jersey Generals (@USFLGenerals) May 7, 2022
Reminiscing on Reggie's 88-yard TD run 😍@ReggieCorbin pic.twitter.com/6FgwRvjmeI

— Michigan Panthers (@USFLPanthers) May 10, 2022
Draft a Stud: Round Out Your Flex Spots
If you chose the low-cost version of the triple stack and played Jonathan Abrams in your Week 5 USFL DraftKings, Mark Thompson is a fantastic play for your last flex spot. Thompson has managed to rank second in the league in carries with 67 and averages 4.8 yards per carry. The Gamblers' offense looks best when it runs through Thompson. If you chose the triple stack that included Johnnie Dixon, then I recommend JoJo Ward or Tony Brooks-James. Ward has only played two games so far this season but has 13 targets and nine receptions. If Ward kept that pace and played all four games, he would easily lead the team in points. Tony Brooks-James is a high upside play for the last flex spot. CJ Marable has been dominating the carries (56 to 27) but Brooks-James has been more productive with his and averages 5.2 yards to Marable's 3.4.
https://twitter.com/USFLGamblers/status/1524029238910894082?s=20&t=OXd7anfF5sb0QPMFnirM1Q
Check Back Often
Make sure you check SGPN regularly for updates to our 2022 USFL positional rankings and for all things USFL and fantasy.

Related Content