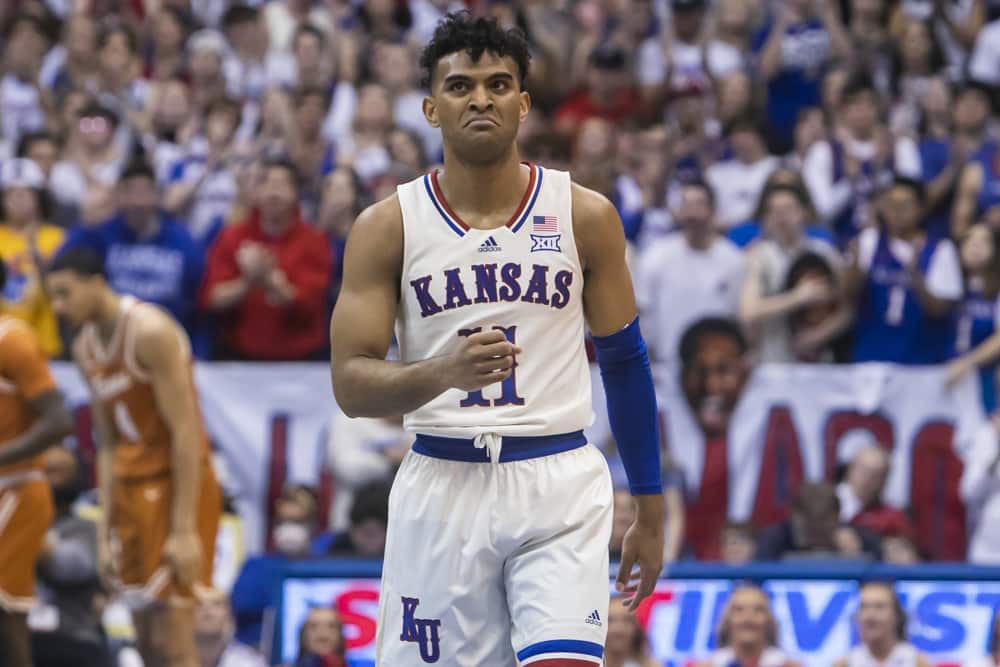 It's Sunday which means two teams have already punched their Final Four tickets with two more to go. The NCAA Tournament Elite 8 rolls on! Who will join Villanova and Duke? The games today have moved to the afternoon so make sure you leave time to turn in your lineups. Allow me to help you navigate the high-dollar guys and bargain bin players. Let's do this!
Elite 8 CBB DFS Picks: NCAA Tournament Picks & Value Plays (Sunday)
| | | | | | | | |
| --- | --- | --- | --- | --- | --- | --- | --- |
| Matchup: | Adj O | Adj D | Total | Matchup: | Adj O | Adj D | Total |
| Miami | 18 | 114 | 70.5 | St Peter's | 216 | 24 | 64.5 |
| Kansas | 6 | 22 | 76.5 | UNC | 19 | 42 | 72.5 |
Elite 8 CBB DFS Picks: Guards
Caleb Love – North Carolina – $6.5K
It's always difficult choosing between Caleb Love and RJ Davis ($7K) as they usually take turns having the better night. However, your obviously going to want pieces of the UNC attack and I didn't have the extra money for Davis which made my decision easy.
Love just went off against a good UCLA defense for 30 points with three rebounds and four assists. UNC's issue the last couple of years has been inconsistent play at the guard spot. Well, lately these two Tar Heels have been putting it together which makes UNC a scary team.
Remy Martin – Kansas – $6.3K
Remy Martin is finally getting some love from Draft Kings as his price has steadily increased. I've roster him every round and that started vs Texas Southern at only $3.4K. His cost has incrementally gone up because he's averaging over 32 fantasy points per game in this tournament. Miami's defense is one of the worst on the slate so you better be fitting a couple Jayhawks into your lineup. At the still affordable $6.3K, I'll roster Remy again and again.
Remy Martin in the NCAA Tournament:

Round of 64: 15 points 4 assists
Round of 32: 20 points 7 rebounds
Sweet 16: 23 points 7 rebounds pic.twitter.com/m96KP7tTAj

— Kansas Jayhawk Fans (@FansOfKU) March 26, 2022
Isaiah Wong – Miami – $6.6K
So I really wanted to squeeze Charlie Moore ($7.1K) into my lineup but his cost was a tad prohibitive. Moore is a 6th year senior who once played for Kansas in 2018-19. Additionally, he had a down game vs Iowa State so should be due for a big bounce-back. But all that doesn't matter because I went with Isaiah Wong instead. Assuming KU puts their better defenders on Moore, perhaps it'll be Wong's time to shine. He did score 22 on USC and 21 on Auburn. He's not exactly a huge drop off from Moore and I'll save the $500 bucks.
Elite 8 CBB DFS Picks: Forwards
Armando Bacot – North Carolina – $9.2K
There's not much else to say here that I didn't mention in my Friday column. Armando Bacot's upside is between 50 and 60 fantasy points and his floor is around 30 points. He's the most expensive player on the slate and for good reason. Sure, Saint Peter's plays good defense but they're only the 293rd tallest team in the country. The big fella is gonna eat.
Jalen Wilson – Kansas – $6.7K
Speaking of small teams, Miami regularly plays four perimeter guys and they'll have a tough time defending Jalen Wilson and David McCormack ($6.2K). McCormack is another solid play, but in this case, I'll spend the extra money for the Jayhawk who should have the better game.
Wilson has been on a roll of late. First, he's been playing roughly 35 mins a game compared to the mid 20s for McCormack. Second, if Miami forces Kansas to go small (like they did vs Auburn) Wilson will move to the five spot and McCormack will head to the bench. Additionally, Wilson has back-to-back 35+ fantasy point performances.
Sam Waardenburg – Miami – $5.5K
Sam Waardenburg is coming off an excellent game vs Iowa St where the 7 footer scored 13 points with 8 boards, 5 assists, and 3 blocks. The New Zealander isn't much of a scoring threat but he's an excellent passer, has range on his jump shot, is just about the only big man the Hurricanes have. His 39 fantasy points vs the Cyclones won't be repeated but at least the mid-20s should be expected.
Elie 8 CBB DFS Picks: Utility
Jordan Miller – Miami – $5.9K
The George Mason transfer is Miami's version of Villanova's Jermaine Samuels. Jordan Miller is the de facto power forward for The U's small-ball style of basketball. He may be undersized but he's athletic and a helluva defender. He'll play about 35 mins a game and stuff the stat sheet. For some reason, he's also dropped $800 dollars in price after putting up 33.3 fantasy points last round. You figure that out.
Clarence Rupert – St Peter's – $3.2K
Here's my punt play of the slate. I needed a low-dollar player to fit Bacot and others into the lineup. Enter St Peter's freshman Clarence Rupert. At 6-8, he's the tallest player on the Peacock roster and he'll be forced to play extended minutes vs the size of UNC. Against Purdue (another very tall team), Rupert logged 22 minutes which was his most all season. In that time, he scored 11 points with 3 rebounds, two blocks, and three steals. All in, he registered 24.8 fantasy points vs the Boilermakers. I'll take that potential for this price.