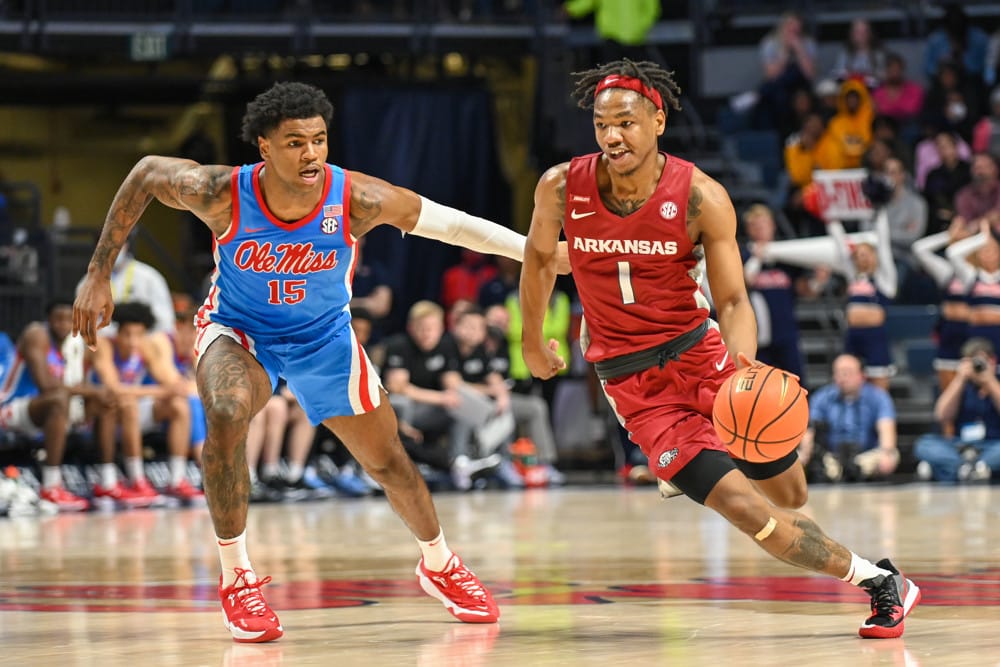 Alright, the Sweet 16 is a thing of the past and we're moving on to the Elite 8. We'll have a column each day for the two games on Saturday and two on Sunday. Obviously, with just two games a day the options are limited and there will be a lot of roster overlap. It will be important to differentiate your lineup and limit the misfires. Allow me to help you navigate the high dollar guys and bargain bin players.
NCAA Tournament Elite 8 Picks: Houston vs. Villanova & Arkansas vs. Duke
Elite 8 CBB DFS Picks: NCAA Tournament Picks & Value Plays (Saturday)
| | | | | | | | |
| --- | --- | --- | --- | --- | --- | --- | --- |
| Matchup | Adj O | Adj D | Total | Matchup: | Adj O | Adj D | Total |
| Houston | 8 | 10 | 65.5 | Arkansas | 53 | 11 | 71.5 |
| Villanova | 9 | 24 | 63.5 | Duke | 2 | 47 | 75.5 |
Elite 8 CBB DFS Picks: Guards
JD Notae – Arkansas – $7.36K
I don't understand why JD Notae's salary keeps dropping. I get the fact that he's only shot 19 of 63 (30%) from the field in this tournament but we don't get fantasy points for efficiency. Notae is the Arkansas team leader and has the greenest of lights. He will keep shooting and his coach is absolutely fine with that.
Not only will Notae get his points but check out what he did against Gonzaga: 21 pts, 6 boards, 6 assists, 2 blocks, and 3 steals. The man does everything for the Razorbacks and this matchup should yield more fantasy points than the early game. At $7.8K, this is Notae's cheapest price since February 2nd and he's coming off two straight games of over 40 fantasy points.
Jamal Shead – Houston – $6.5K
The Houston point guard continues to get more minutes and more shot attempts. Against Arizona in the Sweet 16, Jamal Shead registered 21 points with 4 rebounds and 6 assists. His fantasy ceiling is increasing while his floor remains high. He'll once again carve out a nice game vs Villanova.
Caleb Daniels – Villanova- $5.6K
I rostered Caleb Daniels on Thursday night for the same price and the senior guard came through with 27.3 fantasy points. He might be the third or fourth option offensively but the veteran is going to be on the court for about 35 minutes and has pulled down 17 rebounds in the last two games. At an affordable price, Daniels is a sure thing for a decent fantasy outing.
Elite 8 CBB DFS Picks: Forwards
Paolo Banchero – Duke – $8.1K
The freshman phenom, and future lottery pick, has been a man on a mission in this tournament. Paolo Banchero was a total mismatch for the Texas Tech undersized frontcourt and Arkansas has a similar roster. Jaylin Williams will be guarding Mark Williams which will leave a 6-6 guy on the 6-10 Banchero. Expect the usual – about 20 points, at least 8 boards, and a handful of miscellaneous fantasy points. His dip in price is also a bit of a head-scratcher. I'm all over the Blue Devil freshman at $8.1K.
Jaylin Williams – Arkansas- $7.2K
The aforementioned Jaylin Williams is really the only size that Arkansas has. While he'll have a tough time with Duke's size, Williams is a mismatch himself and can extend beyond the three-point line offensively. Lately, he's also been a double-double machine reaching that milestone in each tournament game. He's a blossoming player in the right situation with the right matchup to produce big time.
Jermaine Samuels – Villanova- $6.2K
Jermaine Samuels has been north of 30 fantasy points in three straight games. If you aren't rostering the Villanova senior at this price, you're doing something wrong. I'd classify him as the second option for the Wildcat offense but he's also the default 'Power Forward' for Jay Wright's under-sized team. That's why Samuels is averaging 8 rebounds per game in the tournament. He's a swiss-army-knife player that will stuff the stat sheet with everything under the sun.
Elite 8 CBB DFS Picks: Utility
Jeremy Roach – Duke – $5.4K
As I wrote in my Thursday column, Jeremy Roach has been under-priced since he took over the starting PG gig for Duke. He's now playing 35+ minutes a game and has been absolutely clutch vs MSU and Texas Tech. He's averaging about 25 fantasy points per game in the tournament and his price has only nudged up each game. In this price range, I'll roster Roach every time.
Trey Wade – Arkansas – $3.1K
Let's just say no other player at this price put up over 30 fantasy points in their last game. Trey Wade played 33 minutes against Gonzaga and put up 15 points with 7 boards. Those who scroll all the way down to $3.1K may be surprised to find Wade there. At such a low price, he's the most obvious play of the whole slate.