It's pay-per-view time once again in UFC-land, as UFC 272 touches down this weekend in the T-Mobile Arena in Las Vegas (actually it's technically in Paradise, Nevada). We've got a "grudge" match main event between Colby Covington and Jorge Masvidal. Do I dip into it to add one of the "former friends, bitter rivals" to my UFC 272 DraftKings lineup? Read on.
RELATED
UFC 272 Betting Guide
UFC 272 DraftKings Roster
Umar Nurmagomedov – $9,600
Khabib Nurmagomedov's cousin Umar has a price tag attached to him this week that is fitting of his famous last name. His 111.7 fantasy point UFC debut makes him the top "average" fantasy point earner on this card, so I think he'll be worth the $9,600. While opponent Brian Kelleher is a tough out, he has been submitted six times in his career, which should be right up cousin Umar's alley.
Colby Covington – $9,400
I indeed am dipping into the main event for my UFC 272 DraftKings lineup and snatching up betting favorite Colby Covington. Not only does he average a crazy 103.9 fantasy points over 14 UFC fights, but he's a horrific matchup for Jorge Masvidal. Covington's relentless, grinding wrestling style and endless cardio are Masvidal's worst nightmare. Here's hoping for another 172-point outing as he had against Robbie Lawler.
Bryce Mitchell – $8,300
The Bryce Mitchell vs Edson Barboza matchup is very similar to the Covington-Masvidal one. Edson Barboza is a very dangerous striker, but he struggles with wrestling and grappling. Meanwhile, that is where the 14-0 Bryce Mitchell excels. He's passed every test over his young career thus far – I'm counting on him leaping over this hurdle as well. And I'm really liking his relatively cheap price of $8,300.

Jalin Turner – $8,200
Next, I turn to 'The Tarantula' Jalin Turner, who has been a grappling fiend his last two fights, winning both by submission (with a TKO win coming before those). He should be able to use that grappling – or even his striking – to take care of this week's opponent, Jamie Mullarkey. Again, a very nice price for a guy coming off three-straight (and four of five) triple-digit fantasy point outings.
Renato Moicano – $7,200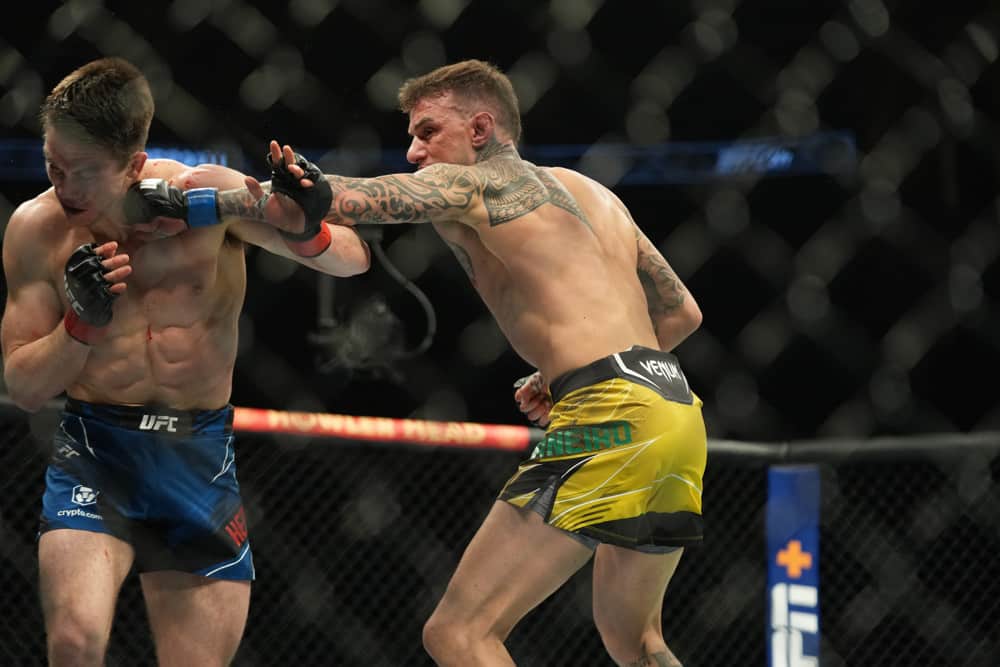 I'm going against my stats that advise against backing a fighter coming in on short notice, and I'm taking Renato Moicano on very short notice in his 160-pound catchweight fight against Rafael dos Anjos. Firstly, Moicano has looked very good as of late, going for 122, 126, and 97 points in three of his last four fights. Plus, RDA is 37-years-old and has been on the shelf for over a year. Worth a roll of the dice at this low price.
Tim Elliott – $7,200
I'm also rolling the dice on Tim Elliott in his flyweight bout against Tagir Ulanbekov. Elliott is a fighter who is never out of any fight he is in, and despite being on a winning streak, Ulanbekov hasn't looked too impressive. Even in losses, Elliott posts respectable fantasy points, so he's worthy of our $7,200 I think.
Listen to this:
UFC 272 Betting Guide (Whole Bunch of Oofs) | MMA Gambling Podcast (Ep.121)
And make sure to check out Jeff's new Money MMA newsletter/site right here!
Related Content