At long last, the PGA Tour returns to the Eastern Time zone. The Florida Swing kicks off from PGA National for the 2022 Honda Classic in West Palm Beach, FL. As always, here is your early deep-dive of the 2022 Honda Classic and a preview of how to bet.

Honda Classic Preview – The Field
The PGA Tour has been on a run of featuring stacked fields for its tournaments. But this week offers up a breather for most of the top players in the world. This event is sandwiched between two of the premier west coast events, an elevated status tournament at Bay Hill, and the Players Championship. Despite the tournament being played in essentially their backyard, most of the top players will take a week off to recharge the batteries.
One such player who won't be doing that is Brooks Koepka. Koepka was a complete non-factor at the Genesis Invitational last week. But that wasn't a surprise (at least to this writer). Koepka is on record of not being a fan of hitting off of kikuyu. Koepka returns to a Bermuda golf course, which is a surface he's much more comfortable playing off of. And he's been pretty good at PGA National in his career. If your book hangs a dumb number on him this week because of short-term bias, he might be worth taking a stab at.
Other notables in the field include Daniel Berger, Tommy Fleetwood, Billy Horschel, Sungjae Im, Shane Lowry, Joaquin Niemann, Louis Oosthuizen, Patrick Reed, and Matthew Wolff.
For the full field, click here.
Honda Classic Preview – The Golf Course
In 2007, the Honda Classic was moved to PGA National after a major investment in the golf course by a few private equity groups. The Champions Course at PGA National has held the Honda Classic ever since.
Tom Fazio and his uncle George built the Champion Course at PGA National in 1981 in order to host the 1983 Ryder Cup. That was won by the Americans in a dramatic fashion. In 2002, Jack Nicklaus tackled the course for a redesign in order to have it ready to host a tournament on the PGA Tour. It underwent yet another renovation in 2014. Among the changes Nicklaus made was the re-routing of Hole No. 14, more water hazards and bunkers, new tee boxes to increase the length of the golf course, and green enhancements.
Jack Nicklaus has made quite the name for himself in golf course design, and the PGA Tour makes stops at several of his golf courses. This includes Muirfield Village, the Nicklaus Tournament Course at PGA West, The Concession Golf Club, and Valhalla. He has a reputation for creating golf courses that are demanding and penal. The Champion Course at PGA National is no exception:
Penal. Narrow. Unimaginative. Those are words to describe PGA National. There is trouble lurking everywhere on the golf course. Most fairways are no wider than 30 yards, and almost all are pinched in with a bunker. While as advertised the tournament boasts overseeded ryegrass rough, players will get inconsistent lies out of it as the Bermuda begins to emerge from dormancy. And there is water everywhere. Literally everywhere. There are only four holes on the golf course where a water hazard isn't theoretically in play. Some holes require a much bigger miss to reach the water than others. But they're still there, and still accessible with a very poor shot.
Not only is this a tough layout for most amateurs, but this time of the year the wind plays a major factor on the golf course. Wind plays havoc on shot trajectories and dries out the greens. When this happens, balls ricochet off the rock-hard surfaces. All in all, this tournament provides some of the stiffest tournament conditions on the PGA Tour.
If you're someone who likes to watch a PGA Tour event and see low scores, birdies, and players firing at pins, this event likely isn't for you. But if you're someone who watches NASCAR for the crashes, well buckle up – you're in for a weekend full of funnies and fails where some of the best players in the world are humbled:
The most notable part of the golf course is "The Bear Trap", which is a nightmarish stretch from holes 15 to 17.
15th Hole – Par 3: 179 Yards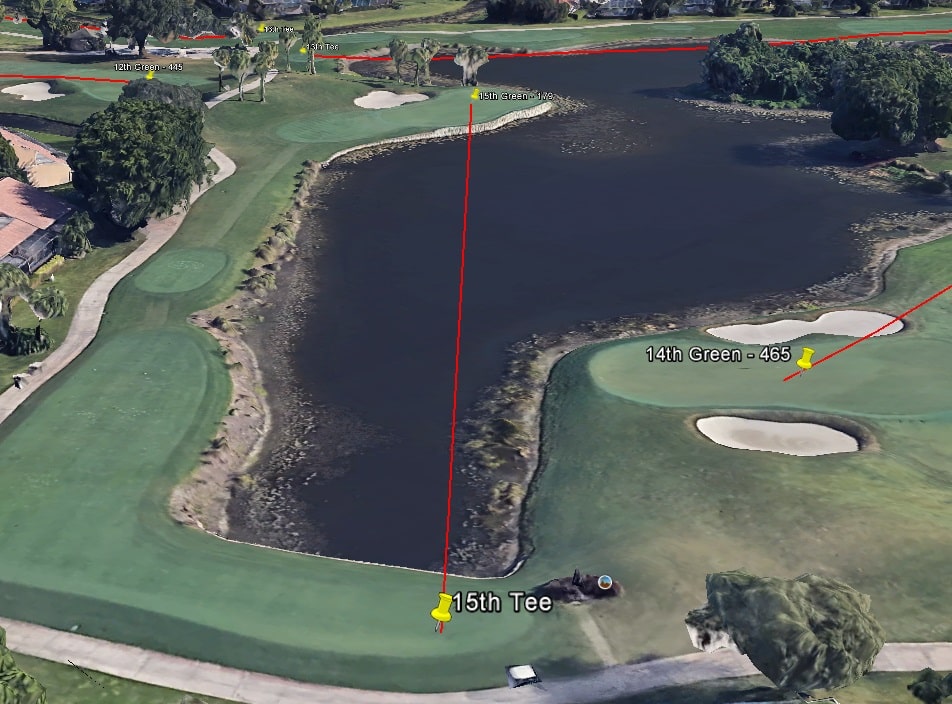 16th Hole – Par 4: 434 Yards
17th Hole – Par 3: 190 Yards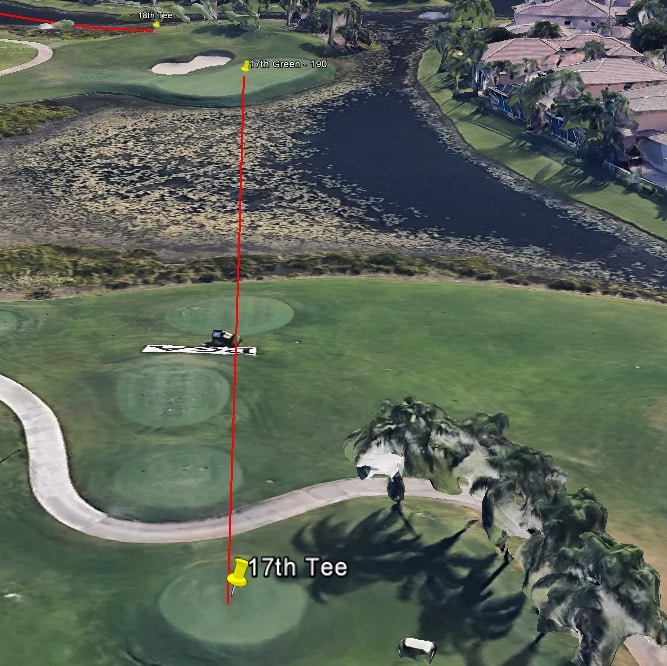 There's nothing spectacular about these holes. The 15th and 17th are basically the same holes. They are moderately long Par 3's over the water towards elongated greens with a back greenside bunker. On the 16th, the fairway runs out 280 yards off the tee and creates a forced layup. All three approach shots into the green require a left to right shot shape. Nicklaus often played a fade, so it's no surprise a fade is required to succeed in this stretch.
But what makes this stretch of holes brutal is that they all run smack into the prevailing ENE winds. That ups the difficulty significantly. The high fades that are required to reach the greens can get caught up in the wind and end up in the water. The wind swats those shot shapes like Dikembe Mutombo and the strokes pile up in a hurry.
Though not officially a part of the Bear Trap, the 556-yard Par 5 18th might as well be. It's one of the more challenging Par 5's on the schedule:
Water hazards present a problem off the tee on both the left and right. Fairway bunkers await errant shots left and a row of trees and deep rough to eat up blocks to the right. The approach into the green doesn't get much easier, as the players are hitting once again into the prevailing ENE winds. They have to contend with greenside bunkers guarding the left and the large water hazard on the right. While some players might try and be a hero and go for the green in two, many will stay safe and make it a three-shot hole.
The design of the closing hole is also a cookie-cutter template of a couple of other Par 5's at Jack Nicklaus courses. This design is seen at Glen Abbey (former site of the RBC Canadian Open), Muirfield Village, and The Concession Golf Club:
18th Hole – Glen Abbey
11th Hole – Muirfield Village
17th Hole – The Concession Golf Club
All in all, the Champion Course at PGA National will expose anyone without their A-game. And there are landmines everywhere on the golf course. One or two bad shots can completely derail a round. This is a golf course that commands consistent, accurate ball striking and a ton of patience. Settling for par this week can be a really good thing.
Honda Classic Preview – Betting Strategies
Before we get into the nitty-gritty, here's a PSA for anyone reading this. Be gentle on yourself this week. You're going to make some really bad calls this week. I'm going to make some really bad calls this week. Anyone who says they have this tournament completely nailed down is either lying to you or to themselves. This golf course is way too penal, and way too unpredictable, to know exactly how things are going to play out. When you make a bad bet this week, don't lose your confidence. Everyone will make a pick this week who winds up finishing well outside the Top 100. Or take a side in a matchup that goes horribly wrong. Take a deep breath, understand that it's completely out of your control, and move on to your next bet.
To start, let's check out the relative skillset chart of PGA National from DataGolf:
Compared to what we just talked about how PGA National is set up, this relative skillset chart is pretty confusing. How can a golf course that is so penal not have accurate ball striking tee-to-green as a very predictive statistic towards success?
We can explain it in a few different ways. For starters, this chart measures how players are doing in these categories ahead of the tournament. This tournament never has the strongest fields given its placement in the schedule. It's comprised mostly of middling to below-average PGA Tour players. These players are typically not the best ball strikers and keep their card with great putting and scrambling. Thus, there are more of them in this field and fewer very good overall ball strikers.
Second, the Champions Course is not a golf course where one pulls driver a lot. Oftentimes, positional golf is needed with a less-than-driver club like a fairway metal or an iron. These clubs, inherently, are more accurate than drivers. Therefore, relying on things like driving accuracy percentage or good drive % isn't all that useful because that stat is most valuable at places where players hit driver a lot.
And third, the weather conditions and the penal nature of the golf course neutralizes good and poor ball striking. In these conditions, keeping balls in play or hitting greens in regulation is a difficult task. At that point, it often becomes a game of who can stay out of trouble and get up and down for par the best. Those with these skill sets are at an edge.
However, we see a much different story when looking at how scores vary at this tournament:
Again, we see that the variance in scoring at PGA National isn't as heavily influenced by strokes gained off the tee as it does on the average PGA Tour golf course. It seems like the only way to separate oneself off the tee at the golf course is negatively. Otherwise, with everyone playing positional golf the players will find themselves in very similar situations for the approach shot.
But while one's overall performance with the irons isn't a good predictive metric towards how the final leaderboard shapes up, their performance within the tournament is crucial. Anyone who has a really good iron week and hits more greens will separate themselves on the leaderboard much more than the average PGA Tour golf course. And unlike what was shown on the relative skill set chart, how one does around and on the greens won't drive as much separation as it does on other PGA Tour venues.
Fun situation for gamblers to be in, right? We face a golf course that allows players to separate themselves based on iron play, but trying to identify who these players will be is a challenge. Yippee!
I guess the best piece of advice I can give is to try and focus on a few things. For starters, one might want to target players who typically excel on the more penal golf courses on the PGA Tour. These happen to be many other Jack Nicklaus designs. Some Pete Dye designs are also quite penal. Pete Dye influenced Nicklaus and his designs. A lot of his golf courses are set up quite similar between the two in terms of demanding tee-to-green conditions and numerous penalty areas. These golf courses might give a good preview of what to expect at the Honda Classic.
Some other comparable golf courses are the ones with really tough scoring conditions. One can look at the leaderboards of events with low green in regulation rates. Some examples include Bay Hill, Innisbrook Resort, and Quail Hollow. All are firm Bermuda golf courses that feature very tough scoring conditions. And there's cross-over between success here and at these venues.
Another avenue is to try and narrow one's focus to more recent trends. This might help identify overall average or below average iron players who are riding a bit of a hot streak. If that carries over into this tournament, then you'll have yourself a diamond in the rough.
Lastly, one can try and narrow their focus on players who excel in the key approach shot distances. That might help preview who these unknown stars may be at the Honda Classic. They are the following (per DataGolf from the 2021 Honda Classic):
About 66% of all approach shots come between 125 and 200 yards. This is similar to what we saw at TPC Scottsdale and Riviera. Consulting your statistics from those tournaments may be a good preview of what to expect at the Honda Classic. The golf course is not designed for flip or half wedges into greens. If someone has that, it likely means they got into a bad spot off the tee and are trying to get up and down for par from that distance.
The only real opportunity for approach shots over 200 yards are the pair of Par 5's, the Par 3 5th, and the Par 3 7th. Otherwise, players won't have many approach shots from over 200 yards this week. And you'll probably see a lot of players out of position on the Par 5's who are forced to lay up to a wedge number for their third anyways. Therefore, performance with the short and intermediate irons is key this week.
Lastly, here are the Top 10 players in the field who have gained the most strokes per round at the Honda Classic:
Tommy Fleetwood – +3.24, 8 Rounds
Sungjae Im – +2.00, 12 Rounds
Lee Westwood – +1.61, 30 Rounds
Brandon Hagy – +1.58, 14 Rounds
Rickie Fowler – +1.45, 40 Rounds
Luke Donald – +1.41, 36 Rounds
Daniel Berger – +1.38, 20 Rounds
Aaron Wise – +1.30, 12 Rounds
Kramer Hickok – +1.29, 8 Rounds
Chase Seiffert – +1.24, 6 Rounds
Almost all of these players have the reputation for having pretty consistent ball striking with their short and intermediate irons. Almost all of them are pretty good scramblers. But there are some differences in putting skills between all of them. This list of players is a good preview of what to expect at this year's Honda Classic.
Related Content