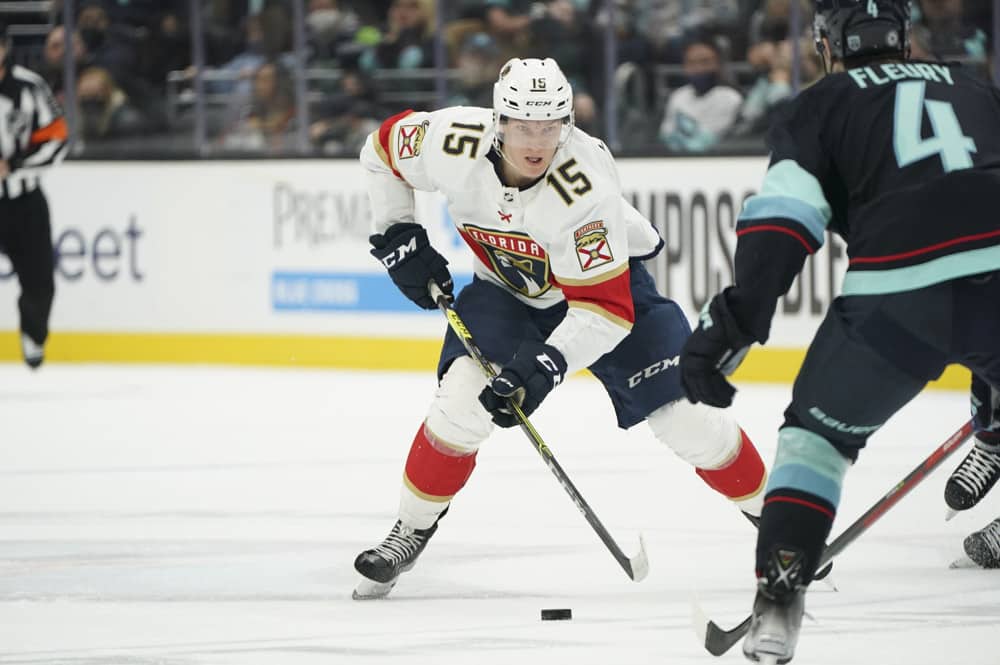 Fantasy Hockey – Rookie Report Cards
We've seen some strong rookie performances in the NHL this season! This rookie class has been great to watch and utilize in Fantasy Hockey. While some rookies have provided consistent production all season, a few others are just starting to pick up their game. This article will give status updates and player grades from top rookies this season. Tweet me @TITTHJB and share which rookie has made the most significant impact for you in Fantasy Hockey this season.
Matt Boldy – LW – Minnesota Wild – " A- "
Matt Boldy has played just 14 games with the Minnesota Wild this season. He started his stint just after the new year on 1//6/22 in a matchup in Boston versus the Bruins. Boldy would record four shots on goal and score the goal-winning goal. He's recording 14 points in 14 games, including a four-point game against Detroit on Valentine's Day. Boldy registered three goals and one assist in that matchup.
Boldy is averaging 10.23 fantasy points per game through 14 games. That level of production ranks 28th in the NHL. He's scoring at a similar rate to players like Jason Robertson, Mitchell Marner, and Sidney Crosby. He plays on the 2nd line and 1st powerplay unit for the Wild. I'm betting on Boldy to continue his point per game production. He only gets an A- because we haven't seen him in as many games as most rookies. The Wild are third in the league in total goals scored; he's in a great position to flourish going forward. Boldy is available in 65% of Yahoo fantasy hockey leagues; add him if you can.
MATT BOLDY FIRST CAREER HATTY 🎩🎩🎩 pic.twitter.com/694NMoj3tS

— Spittin' Chiclets (@spittinchiclets) February 15, 2022

Alexandre Carrier – D – Nashville Predators – " C+ "
Carrier hasn't been a huge factor for our fantasy squads this season. Carrier does have previous NHL experience, but he's played enough games this year to land in the rookie pool for the Calder award. He's played above water but hasn't offered any booming production on the score sheet. His scoring totals include two goals and 17 assists through 46 games. He's also a +14, so while he's not offering much in the way of scoring, he's not hurting your lineup.
Carrier is averaging 5.11 fantasy points per game across the season. He has been playing well recently, though. Across the past month, Carrier has increased his average to 7 fantasy points per game, and in the last week, Carrier has been averaging 12 fantasy points per game. He's available in 98% of Yahoo fantasy hockey leagues; I gave him a lower grade for the low roster utility in redraft leagues. However, if he continues this pace, you'll want him on your roster; keep him on your watch list for now.
Alexandre Carrier sneaks one in for the tie. 🤫 #NHLonSN pic.twitter.com/immcWItC6u

— Sportsnet (@Sportsnet) November 8, 2021
Jonathan Dahlen – C/LW/RW – San Jose Sharks – " D+ "
Dahlen's season hasn't been awe-inspiring. He has 11 goals and nine assists through 43 games this season. This production ranks him 9th in total scoring for Rookies. But, while 20 points in 46 games doesn't sound like the end of the world, his plus/minus rating does. He's a -12 while playing on the second line alongside Logan Couture and Noah Gregor.
This production holds minor to no value and isn't worth owning in redraft leagues. Even in dynasty, you'd need some deep rosters for this guy to need to be worth the hold. He averages 4.40 fantasy points per game this season but just 1.80 through the last two weeks. He's not on my radar.
JONATHAN DAHLEN INSURANCE POLICY 🙌 pic.twitter.com/dwZIaL2Vb5

— Sharks on NBCS (@NBCSSharks) January 27, 2022
Jamie Drysdale – D – Anaheim Ducks – " C "
Drysdale's production is similar to Carriers except for the glaring difference in their plus/minus rating. While Carrier has an excellent +14, Drysdale sits at -12. He's averaging 3.94 fantasy points per game and has 21 total points through 51 games this season. His production lies on the back of three goals and 18 assists. He is available in 84% of Yahoo fantasy hockey leagues, so owners are familiar with him on a smaller scale.
I actually like Drysdale a lot and wish I could own him in redraft leagues, but it's just not possible with his woes, defensively. While he does average one blocked shot per game, he has 15 more Giveaways than Takeaways. He has a lot of room for growth, and I expect he'll have plenty of it in the years to come; he's just 19 years old. Nevertheless, he's worth looking at in dynasty formats if you think you can make a move for him.
This entire shift from Jamie Drysdale is just ✨art✨#FlyTogether pic.twitter.com/u9Grg55fQV

— CJ Woodling (@CJWoodling) March 19, 2021
Dawson Mercer – C – New Jersey Devils – " C+ "
Dawson Mercer has been a pleasant surprise for the New Jersey Devils, but not so much our fantasy lineups. He ranks fourth on the team with 28 points behind 11 goals and 17 assists through 50 games this season. I should also note that Mercer is the only forward to appear in all 50 games for the Devils this season. Like many other rookies listed here, Mercer's poor play on the back end equates to less value and total fantasy points.
Mercer is a -5 on the season; there's upside for him to close the gap, but I'm not betting on it based on the Devils defense. They've allowed the second-most goals in the NHL this season. Mercer averages 4.67 fantasy points per game this season, but his two-week average has seen a nice increase to over seven fantasy points per game. He's available in 95% of Yahoo fantasy hockey leagues, I'd like to say he's worth an add, but that would be fan fodder. He plays on the first line and centers the second powerplay unit; he's worth adding to your watch list in redraft and could be a buy-low offer candidate in dynasty.
You always remember your first. Congrats Dawson Mercer! pic.twitter.com/R3ucrn3uMb

— Spittin' Chiclets (@spittinchiclets) October 19, 2021
Tanner Jeannot – LW/RW – Nashville Predators – " B+ "
Jeannot has produced a very well-rounded collection of stats this season. He has 14 goals, and 14 assists through 49 games played this year. He's averaging 5.36 fantasy points per game season long and nearly the same amount through the last month. He's offered roster utility at different points this season but never at a consistent rate. Oddly enough, he just scored a goal against Carolina as I'm writing this, haha.
Jeannot is worth owning in Fantasy Hockey; he's a physical two-way forward with scoring upside. He's a +7 on the season and ranks 5th in the NHL in total hits, with 163. His only downside is that he plays on the third line alongside Colton Sissons and Yakov Trenin and doesn't operate on the powerplay. Nevertheless, Jeannot is producing decent numbers to be held in 12 team redraft leagues and should be sought out in any dynasty or keeper format.
Logan Stanley gets handled by Tanner Jeannot pic.twitter.com/B1oUatpFTJ

— alberto (@twistedleafs) January 21, 2022
Anton Lundell – C – Florida Panthers – " A+ "
Lundell has been a great fantasy find this season. He's appeared in 44 games this year and recorded 32 total points. This season, Lundell has ten goals and 22 assists and averages 7.32 fantasy points per game. Across the last month, he is also up to nine fantasy points per game; he's continuing to collect stats at a consistent pace.
Lundell is a must-own player, yet he's available in 71% of Yahoo fantasy hockey leagues. He ranks 11th in the NHL with a plus/minus rating of 26. However, Lundell and his linemates play a great two-way game, and the team ranks first in the NHL in total scoring; it's an excellent situation for a young center like Lundell. Get him on your roster; he's a second-half stash in redraft.
Anton Lundell with the 🔥 feed to Mason Marchment.

📺: @ESPNPlus ➡️ https://t.co/CLqyKVUD2q pic.twitter.com/0BrDvh1CTW

— NHL (@NHL) February 19, 2022

Michael Bunting – LW – Toronto Maple Leafs – " B+ "
This year, Michael Bunting has seen many scoring opportunities playing alongside Auston Matthews and Mitch Marner. He's averaging 6.35 fantasy points per game behind 16 goals and 17 assists. Bunting has played in 47 games this season and ranks 4th in total scoring for all rookies. However, he's available in 70% of Yahoo fantasy hockey leagues.
He's continuously off fantasy owners' radars, but I'm not sure why. There's plenty of playing time, he's a +12, and he plays alongside two of the most electric young players in the NHL. Perhaps fantasy owners believe Marner and Matthews will rake in the majority of production, but those two aren't on waivers; Bunting is! Across the past month, he's increased his fantasy point average up to 9.31; he's worth an add if available.
MICHAEL BUNTING 🚨

Off the post and in pic.twitter.com/9esVbzuOjK

— Omar (@TicTacTOmar) February 11, 2022
Moritz Seider – D – Detroit Redwings – " A+ "
Seider has been one of the best Rookies this season, if not the best rookie this season! He averages 7.43 fantasy points per game this season on an impressive five goals and 30 assists. Seider has 35 points through 51 games this season. While this production is fantastic for a 20-year-old defenseman, he's just +2 on the season; Detroit ranks 6th for the most goals allowed this season.
Seider was an early-season golden waiver addition to most fantasy teams. No one saw this level of production coming from him. Unfortunately, he's available in just 14% of yahoo fantasy leagues, so you'll have to make an offer to get him on your roster. He has over 100 shots on goal and leads all rookies in powerplay points; there's a lot to like about this kid!
Mo Seider is that guy pic.twitter.com/NNRGriQpar

— Spittin' Chiclets (@spittinchiclets) February 12, 2022
Trevor Zegras – C – Anaheim Ducks – " B+ "
I want this grade to be an A+, but I can't bring myself to do it. Zegras has been my favorite rookie to follow this season. What he did at the All-Star Game in the Shootout competition did more for Hockey than moving back to ESPN has. He's a super creative playmaker with highlight-reel puck handling skills. Zegras has 35 points through 45 games this season and averages 5.81 fantasy points per game this year.
Zegras has had some slow stints on the box score throughout the season. He also spent time on the COVID List and wasn't immediately the same player after returning from that absence. I can't offer him a higher grade because of his plus/minus rating of -14. He's available in 49% of Yahoo fantasy hockey leagues, and I believe you should add him, as long as you can withstand the occasional minus one to minus two points. In deeper leagues, it's a slam dunk add; you'll know your league best.
Trevor Zegras' first NHL shootout attempt. Dirty. pic.twitter.com/arE9ZTXSEE

— Brady Trettenero (@BradyTrett) February 25, 2021
Lucas Raymond – LW – Detroit Red Wings – " A "
Raymond is currently the odds favorite to win Rookie of the Year. He's having a fantastic year with 39 points through 51 games played. This season, Raymond has 13 goals and 26 assists and averages 6.25 fantasy points per game. He's been the most consistent rookie this season in the way of total scoring; the only other rookie that challenges him is Anton Lundell. While Raymond has more goals and assists, Lundell outweighs his value with a significantly higher plus/minus rating.
Lucas Raymond is available in 44% of Yahoo fantasy hockey leagues; he's a must-own if available. He leads all rookie forwards in average ice time with 18:08 minutes per game. There's a lot of upside with him playing on the first line alongside Dylan Larkin and Filip Zadina; Raymond is also getting playing time on the first powerplay unit. He's just 19 years old, so I wouldn't hate spending a little more on him in dynasty leagues. You should pursue him in all formats.
#TBT: Lucas Raymond's first NHL goal 🤩 #LGRW pic.twitter.com/tAdnMkLNSH

— Nolan Bianchi (@nolanbianchi) February 17, 2022