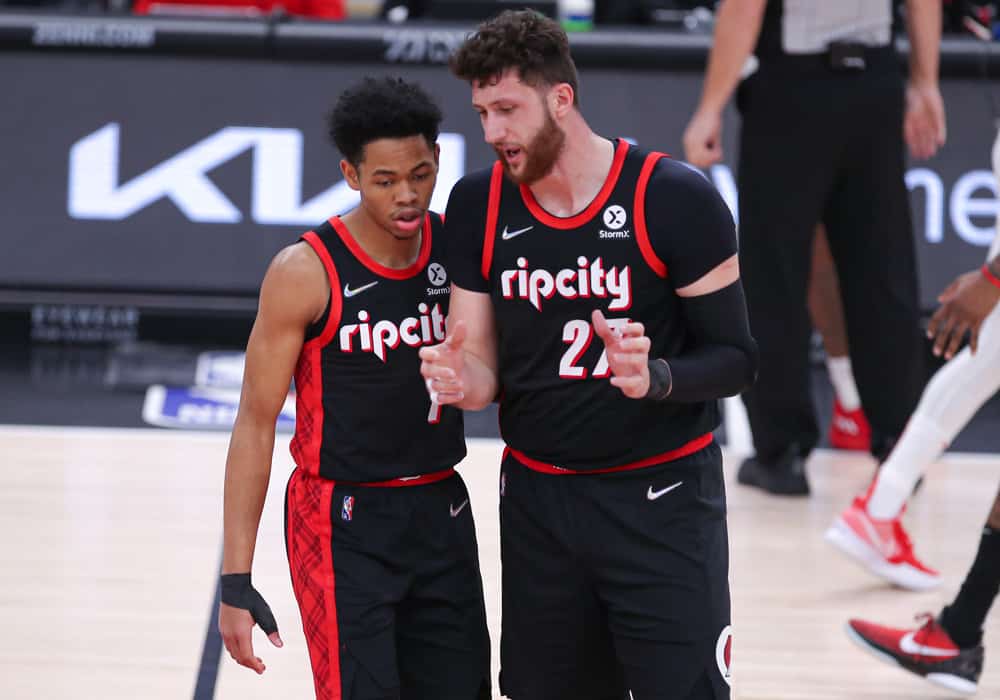 Fantasy Basketball: Deadline Market Climbers
The NBA trade deadline did not disappoint! We witnessed some pretty decent swaps, including a blockbuster deal between the Philadelphia 76ers and the Brooklyn Nets. There have also been some interesting buyout situations; the Bulls added Tristan Thompson and the Bucks grabbed DeAndre' Bembry. Meanwhile, Enes Freedom is spending more time at Capitol Hill than in the gym. It doesn't make sense that he's not on a roster; he could help many NBA teams as well as our fantasy basketball squads.
There have been many shakeups around the Association; let's review some winners at the deadline that weren't directly involved in trade transactions. This article will feature players whose fantasy basketball values have risen during the roster turnovers and who I trust will continue their progress through the rest of the season.

De'Aaron Fox – PG – Sacramento Kings
De'Aaron Fox is receiving a nice usage boost with the departure of Tyrese Haliburton. Both guards are performing very well since the deal that essentially swapped Haliburton for Domantas Sabonis from the Pacers. Haliburton has registered the 11th most fantasy points across the past seven days, and Fox is averaging 4.5 additional fantasy basketball points per game across the last week. Fox averages 40 fantasy points per game on the season, and he's nearly averaging 45 this past week. It's not a huge increase, but I expect this number to continue to climb.
Sabonis will make big statements in the box score, but Fox also has more opportunities to fill out the stat sheet. With Haliburton gone, Fox will be the featured ball-handler and pick up far more assists and total points, increasing his total usage and production. After this move, Fox fantasy basketball owners are winners and should expect his production to climb steadily.
Yeah De'Aaron Fox is special pic.twitter.com/Qxuc8GOq70

— Kings Film Room (@SacFilmRoom) February 17, 2022
Anfernee Simons – PG/SG – Portland Trailblazers
Anfernee Simons is another guard that will have the ball in his hands a lot more after the departure of a key player. The Portland Trailblazers shipped CJ McCollum to the New Orleans Pelicans in a deal where they also received forward Josh Hart in return. As a result, Simons has emerged as the featured playmaker at the guard position for the Trailblazers. Simons averages 27 fantasy points per game through the entire length of the season; however, he's averaging 45 fantasy points per game in the last seven days.
Since McCollum's departure, Simons has averaged 28 points, three rebounds, and six assists per game. It's been a pleasant surprise for his fantasy basketball owners or anyone who was hawking the waiver wire. He was getting a lot of minutes with McCollum in Portland but not near this level of production and consistency. Josh Hart and Jusuf Nurkic will give him a scoring reprieve here and there, but regardless he looks fit for a solid finish to the season. He's a lock to be a top 50 fantasy basketball player going forward with upside to land in the top 30.
.@AnferneeSimons FOR MIP ‼️ pic.twitter.com/ZT2aHqUXyt

— Portland Trail Blazers (@trailblazers) February 17, 2022
Doug McDermott – SF/PF – San Antonio Spurs
McDermott hasn't been the most reliable fantasy basketball option this season. However, I expect his stat lines will be more consistent going forward. The Spurs sent Derrick White to the Celtics and didn't bring back much in terms of roster utility. They did receive Josh Richardson, but he's a fringe player to dress or be a healthy scratch night in and out. McDermott will receive more scoring opportunities with a steadier diet of minutes; he gets a more reliable role after White's departure.
Since the move, McDermott has increased his fantasy production; he's averaging 17 fantasy points per game on the season, but he's up to 22.5 across the past week. Additionally, he's averaging 15 points and three rebounds per game, numbers ahead of his season-long totals. McDermott is worth owning in the short term while we see if he can maintain this very approachable value. He may not be as valuable in fantasy basketball category leagues, but he, of course, will boost your three-point shooting totals and shooting percentages.
Doug McDermott sent him to the graveyard ????

Proper bench mob toopic.twitter.com/D4Tx9k0nrf

— Tom Petrini (@RealTomPetrini) January 26, 2022

Oshae Brissett – SF/PF – Indiana Pacers
When Domantas Sabonis got shipped out of Indianapolis, I was sure that Torrey Craig would get a boost in production. However, the Pacers traded Craig to the Suns for Jalen Smith, who I assumed would take a giant leap. Oshae Brissett was sitting under my nose, getting ready to take off all that time. I completely discounted what he can contribute; he's proved me wrong since the roster shakeup. I've seen the light and want every bit of Brissett I can get. He is available in 50% of Yahoo Fantasy Basketball leagues, but he's up 34% across the last day; he may still be available for you.
Brisset is averaging 17.5 fantasy points per game through the entire season. Through the last week, he's hitting a scorching 36 fantasy points per game. His production could receive a hit when Myles Turner gets back, but I suspect he will maintain his role as a starter through the second half of the season. He's hitting 15.8 points, eight rebounds, and two assists per game since the multiple trades; I like him to continue on with this high pace production for the foreseeable future.
Goodness, Oshae Brissett flew: pic.twitter.com/EMWgTukA6T

— Tony East (@TEastNBA) February 17, 2022
Thomas Bryant – C – Washington Wizards
Thomas Bryant is another player who may not be overloading the box score but is steadily getting more production through a healthier diet of minutes. The Wizards shipped Davis Bertans to the Dallas Mavericks and Montrezl Harrell to the Charlotte Hornets. These moves have opened up more opportunities for Bryant, Daniel Gafford, and Rui Hachimura. I believe Bryant is the biggest winner from these moves and will steadily increase his production totals down the season's stretch.
The Wizards did get Kristaps Porzingis from the Dallas Mavericks; he'll look to make his debut on the 25th of this month. I still believe Bryant will continue his production growth, even when Porzigis returns. Bryant is averaging 17 fantasy basketball points per game on the season. However, he has increased that number to 25 through the past week.
Thomas Bryant elevates for the big slam ???? pic.twitter.com/TmxIzthQAw

— NBA on TNT (@NBAonTNT) February 11, 2022
Related Content