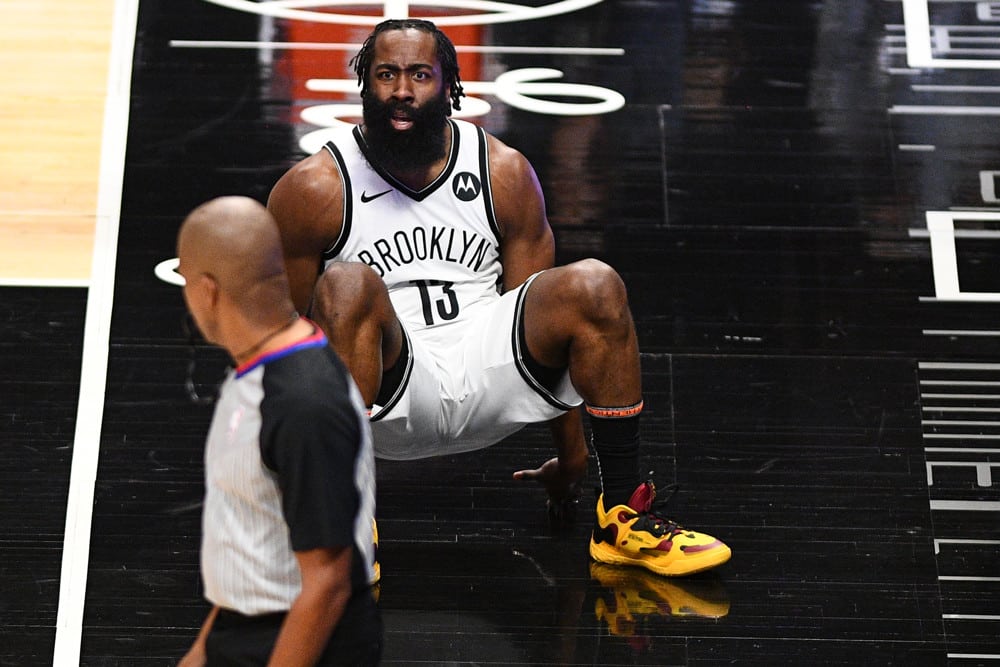 The NBA trade deadline had a "Wow" factor this season. We saw many superstars shift around the league, as well as many lineup changes throughout the Association. This article will review recently migrated players and how their change of scenery will affect their fantasy basketball stock through the rest of this season. Unfortunately, my fantasy teams are hurting through this period. I'm missing starts from traded players yet to appear with their new clubs. It's frustrating, but I hope the fresh opportunities will benefit the individual players and my fantasy basketball team.
Theis Returns to Boston
Boston gets: 
Houston gets: 
There aren't many fantasy basketball implications to be made in this swap. The last time Theis suited up for Houston was in mid-January. He's going to play a depth role for the Boston Celtics. I don't believe Robert Williams owners need to have any concerns. Theis will get minutes, but I don't believe it will be enough to impact Williams's production. No one owns Theis in fantasy; you may see him have the occasional productive stat line; he remains waiver wire fodder for the time being.
Dennis Schroder owners will have to wait and see what plays out with the Rockets. He has an expiring contract, so we could see him bought out and become available to the rest of the league. That scenario could play out as a positive outcome for Schroeder and his fantasy owners alike. However, if Schroeder stays in Houston, his production will most likely dip playing behind Jalen Green, and Kevin Porter Jr. Schroder is averaging 14.4 points, 3.3 rebounds, and 4.2 assists per game this season. I think he would be of better service elsewhere in the league; he doesn't fit the Rockets rebuild mold.
Enes Freedom was waived by the Rockets post-trade. However, if a contender scoops him up, his fantasy owners could be winners. The 76ers traded Andre Drummond, and many other teams like the Lakers and Bulls held firm at the deadline. So he could find himself a role on a winning roster more sooner than later. He can be a factor on your fantasy basketball team if given the right opportunity.
Dennis Schröder "shrewd" spin cycle. ???? #BleedGreen

Celtics looking to trade this guy before deadline. Where you want to see him land? ????pic.twitter.com/NW0vtTmcGx

— Nitrobetting.eu Sportsbook (@BtcNitrobetting) February 6, 2022

Porzingis to the Wizards
Dallas gets: 
Washington gets: 
This trade is a big win for Porzingis owners! His usage should have an immense increase as a featured player for the Wizards. He's currently dealing with a bone bruise on his right knee; he missed six straight games with the Mavericks before being traded. I expect him to make his Wizards debut soon, but it may not be until next week.
His numbers will rise, he's averaging 41.64 fantasy points per game this season, and I expect him to meet or exceed that level of production with Bradley Beal being out the rest of the season. The Wizards also traded away Montrezl Harrell, and players like Daniel Gafford and Thomas Bryant won't steal production or significant minutes from Porzingis.
I assume that Spencer Dinwiddie and Jalen Brunson fans aren't pleased with this move. Dinwiddie was a starter for the Wizards but now looks like a reserve option for the Mavericks. Dinwiddie could play his way into the starting lineup, but for now, I would assume Luka Doncic and Jalen Brunson will still staff the one and two guard positions, with Spencer being first off the bench. Brunson should remain the starter, but his production could take some hits with Dinwiddie joining the club. This season, Dinwiddie and Brunson have similar per-game averages, and I believe they will eat into each other's stats playing alongside an already ball-dominant player in Luka Doncic.
Kristaps Porzingis to the Washington Wizards. #MFFL #NBATradeDeadline #NBA75 #nbatwitter #NBATwitterLive https://t.co/gCPJXQbA1R pic.twitter.com/jDDISkRqm2

— Raphael Diaz (@RaphaelDiaz) February 10, 2022
Harrell Headed to Charlotte
Charlotte gets: 
Washington gets: 
This trade is a massive win for the Charlotte Hornets and Montrezl Harrell fantasy owners. Harrell is one of the most efficient players in the NBA this season. He ranks 10th in the league in player efficiency (PER) with a score of 24.4. Harrell is averaging 30.79 fantasy points per game this season, but I expect this average to rise; he will have a more meaningful role with the Hornets.
Harrell was competing for floor time on the Wizards with Daniel Gafford, Thomas Bryant, Kyle Kuzma, and Rui Hachimura. His only competition for minutes in Charlotte is Mason Plumlee. Plumlee fantasy owners are losers after this swap. Harrell is a younger and more dynamic player than Plumlee. Plumlee is averaging 25.59 fantasy points per game this season, but I expect that production level to take a hit. The only advantage he has over Harrell is his height differential. Harrell is a better fit for the Hornets; they play up-tempo basketball, and Harrell is a better fit to run the floor and thrive in transition.
Ish Smith returns to the Wizards and looks like he'll play behind Raul Neto at the point guard position. He could be worth a stash in super deep leagues, but realistically he'll be off fantasy basketball radars.
MONTREZL HARRELL IS A BULLY. ????

— Hoop Central (@TheHoopCentral) November 18, 2021
Craig Returns to Phoenix
Indiana gets: 
Phoenix gets: 
Jalen Smith owners should rejoice over this trade. But, wait, does anyone still own Jalen Smith? He's a buy candidate if not already owned. While Smith's per-game averages won't blow you away, keep in mind that he's been productive when given the opportunity. That's precisely what awaits with the Pacers, who moved from Domantas Sabonis, and now Torrey Craig, who was in line to start with Sabonis's exit.
Smith will compete with Oshae Brissett and Isaiah Jackson for minutes, but I see Smith earning the starting role soon; I believe he's better than Brissett. Jackson could dip into Smith's role when Myles Turner gets back from injury. Regardless, Smith's role with the Pacers is a considerable upgrade from his time in Phoenix.
Torrey Craig owners should be very concerned about this move. Craig becomes a prominent drop/sell candidate as he joins a loaded frontcourt including Jae Crowder, Cameron Johnson, Bismack Biyombo, JaVale McGee, and Deandre Ayton. There will be more competition for minutes, and like Jalen Smith's time in Phoenix, fantasy basketball owners will be waiting for an injury or two to see Craig's value occasionally rise. It would be wise to drop him at this point; he may not appear for a few games as well.
Look at the Suns bench react to Jalen Smith's poster dunk ???? pic.twitter.com/Fy2U1sGO5o

— Ballislife.com (@Ballislife) January 3, 2022

Celtics Grab White
Boston gets: 
San Antonio gets: 
Ascetically, I think fantasy owners would be upset to see Derrick White join the Celtics. All of their starters contribute to the box score, and they rely on a majority of their scoring from Jayson Tatum and Jaylen Brown. Brown and Tatum account for 38% of the team's total scoring this season. However, I believe that White will flourish in Boston and consider his fantasy owners winners in this move. White will smoothly transition to the Celtics lineup, and I trust he will perform better than he did in San Antonio.
The Celtics need a scoring reprieve for Brown and Tatum, as well as a distributor who can dish in transition plus play defense. They get all of that from White, who is averaging 17.1 points, 6.6 assists, and 1.2 steals per game. Adding White to the starting lineup will crank the Celtic's defensive rating. Each starter averages over a steal per game, minus Williams, who averages over two blocks per game instead. White is averaging 33.70 fantasy points per game this season, and I believe he'll make that number climb in Boston.
Josh Richardson hasn't been on anyone's fantasy radar, and I believe that trend will continue. The Spurs were deep at the two-guard and small forward position. Richardson will fill White's slot, but I think this trade signals more playing time for Devin Vassell, Lonnie Walker, and Doug McDermott. All three should be added in fantasy basketball; they will be the preferred options over Richardson, and their fantasy owners should consider this trade a win as well.
Just one example of Derrick White's extremely sturdy defense: pic.twitter.com/XENUrGaDRc

— Jay King (@ByJayKing) February 10, 2022
Nets and Sixers Blockbuster Trade
Philadelphia gets: 
Brooklyn gets: 
This is the big one! There are many cause-and-effect scenarios to review with this blockbuster deal. Let's start with James Harden and the 76ers. I believe this is a win for Harden owners, but it's not an overwhelming win. Harden going to the 76ers means he will play and give a genuine effort. I don't believe that would have been the case for him in Brooklyn, so fantasy basketball owners should be excited that he'll be playing meaningful basketball from here on out. His production won't take any crucial hits, which is just the same for Joel Embiid.
The offense will focus around the two stars, and I expect to see them murder the competition with a heavy load of pick and rolls; it's going to be a nightmare for the league. Anything Embiid would lose in total scoring; I'm positive he'll make up with more rebounds and assists. He's playing above an elite level right now, this team could sign Michael Jordan in his prime, and I wouldn't be worried about Embiid in fantasy. Paul Millsap isn't a fantasy option; he could fall into some minutes, but don't expect much of anything from him.
The Nets side of things gets interesting with Harden gone. You have to consider all three players headed to Brooklyn as wins in fantasy. Ben Simmons gets a fresh start, Andre Drummond instantly becomes a starter, and Seth Curry gets far more shooting volume. Congratulations to those that held onto Ben Simmons this long; your day has finally come, and just in time for the fantasy basketball playoffs.
While Kyrie Irving owners have to muddle through his lackluster schedule, they do take home a small victory as his overall production levels should rise as well, at least when he's available to play. A few big men for the Nets lose out here; Blake Griffin and Nicholas Claxton won't be happy with Drummond cleaning up 12+ rebounds every night. Their perceived values were already pretty low, but they now get even lower.
Welcome to Philly, James Harden! pic.twitter.com/K8w8PHciMY

— Ballislife.com (@Ballislife) February 10, 2022
Bagley to Pistons in 4-Team Deal
Detroit gets: 
Clippers get: 
Milwaukee gets: 
Sacramento gets: 
This trade doesn't offer much fantasy basketball relevancy outside of Marvin Bagley and Trey Lyles. Bagley owners should be happy to see him off the Kings roster. It's something that Bagley has wanted for some time now, and I believe it will help his long-term growth. He should play a healthy amount of minutes behind Jerami Grant and Isaiah Stewart.
Bagley could take over the starting center position, but I wouldn't count on that happening soon. Isaiah Stewart and Kelly Olynyk's owners lost out here. Stewarts recent games have been solid, but he's been a hot and cold player all season; adding Bagley to the lineup will trim down some of his opportunities on the floor.
Trey Lyles is going to be a wait-and-see scenario for me. It could honestly go either way for his fantasy owners. He could get buried on the roster behind Richaun Holmes, Mo Harkless, Damian Jones, and Chimezie Metu, or he could start at the power forward position and continue to rake in production similar to what he was putting up in Detroit. I would have Lyles as a starter, but who knows what the Kings will do at this rate.
I don't expect Josh Jackson, Serge Ibaka, or any other players traded in this swap to be reliable fantasy basketball options. DiVincenzo could produce if given the opportunity, but I'm skeptical he'll have a role with the Kings. The same goes for Jackson and Ibaka, whose player values we're already really low.
WELCOME TO DETROIT, MARVIN BAGLEY ????

(via @NBA)
pic.twitter.com/4vjCEIR6LP

— Tony Dombrowski (@tonydombrowski) February 10, 2022
Cavs Reload with LeVert
Cavaliers get:
Pacers get:
Caris LeVert owners are undoubtedly pleased with this swap, and for a good reason. LeVert was on a tear before being traded, and the Cavaliers had some glaring holes in their lineup with Ricky Rubio and Collin Sexton out for the season. He is averaging 34.76 fantasy points per game this season, and I expect that number to climb as a featured player in Cleveland's lineup. I believe he'll thrive alongside Darius Garland and that the two will provide a 1/2 scoring tandem.
LeVert adds length and size to a lineup that has been more focused on defense this season. LeVert joining the team keeps the Cavaliers on pace for a strong showing in the playoffs as well. He came off the bench in his first appearance with the Cavs, but I expect he'll crack the starting lineup and major minutes as time passes.
Just like old times ????@CarisLeVert ↗️ @_bigjayy_ pic.twitter.com/1Ts9XFnraH

— Cleveland Cavaliers (@cavs) February 10, 2022
Pacers Grab Haliburton
Indiana gets: 
Sacramento gets: 
It would be difficult not to consider Domantas Sabonis and Tyrese Haliburton owners as winners after this trade. Both Sabonis and Haliburton find themselves in situations with less competition for usage and total production volume. I expect Haliburton to do very well with the Pacers and increase his total production throughout the season. He's averaging 36.98 fantasy points per game this season, but there is a ton of room for improvement. He'll have a reliable finisher in the paint in Myles Turner to boost his assist totals, and he'll still do his fair share of scoring and rebounding. I expect the offense to revolve around Haliburton and Turner; with Turner out of the lineup, Haliburton becomes the focal point and should relish in the box score.
Sabonis and his fantasy owners are also tipping their cap at this move. He was competing for touches when the Pacers were healthy, which created rifts between him and Myles Turner. Sabonis is having a fantastic season, as he averages 47.32 fantasy points per game. Per game, he's averaging 19 points, 12 rebounds, and five assists. It may sound crazy, but I think these numbers can still climb. The Kings are left with little to work with after the trade deadline, so Sabonis has a ton of opportunity to collect colossal stat lines on this roster.
It's tough to say if Buddy Hield or Justin Holiday fantasy owners are winners or losers from this swap. Hield will most likely come off the bench; it seems like a unilateral move for him. He's still a prolific three-point shooter, so by no means should you drop him; you have to wait and see. Holiday seems more like a loss candidate. He's going to scrap for minutes in the Kings' newly formed lineup against the likes of Davion Mitchell, Jeremy Lamb, Josh Jackson, and Donte DiVincenzo. Again, he's a potential drop candidate unless you have time to buy, where you can wait and see.
Some Haliburton highlights ???? pic.twitter.com/QZe0Lgdqtc

— Ballislife.com (@Ballislife) February 8, 2022
McCollum Moves On from Portland
New Orleans gets: 
Portland gets: 
CJ McCollum owners should be happy that he's out of Portland. I don't know how much it will change his fantasy basketball stock, but we can all see that Portland isn't about competing right now. The Pelicans are still playing meaningful basketball and are in playoff contention as a play-in team. McCollum would have wasted away if he wasn't one of the guys on the way out. He's better off moving on and will have a more efficient usage playing with the Pelicans.
It does come off as a unilateral move in the sense that he shared scoring duties in Portland with Damian Lillard, and now he'll do that again with Brandon Ingram in New Orleans. I think the two players will play off each other well, but the chemistry could take some time to sink in. McCollum is averaging 36.61 fantasy points per game this season, and I think he'll stay right around that median. This move doesn't signal more explosive stats from him.
Josh Hart's owners will rejoice just as soon as he starts playing. Hart has yet to make his first appearance with the Trail Blazers, but his fantasy owners should be excited once he does. Hart is having a fantastic and surprising season in fantasy basketball. He's averaging 34.21 fantasy points per game, but I expect him to start clearing 40 points with consistency. He'll be a focal point of Portland's lineup and play a ton of minutes up the middle of the floor. Hart has been doing a little of everything this season. Hart averages 13.4 points, 7.8 assists, 4.1 assists, and 1.1 steals per game; numbers I expect all will climb!
welcome to NOLA @CJMcCollum ???? pic.twitter.com/4c1EISjbv5

— New Orleans Pelicans (@PelicansNBA) February 11, 2022
Covington + Powell to Clippers
Clippers get:
Portland gets: 
I never veto trades in fantasy sports unless I believe collusion is involved; it's a part of my degenerate religion. However, I'd break the veto button if this trade went through in any of my leagues. I'm not sure what the Trail Blazers were thinking on this one. Robert Covington and Norman Powell owners should be excited about the new landing spots for their players. However, I don't believe it increases their values immensely. The Clippers have now become an incredibly deep roster, so we're going to see different guys go off each night. Powell and Covington could have good nights one day while Nicolas Batum and Marcus Morris follow up the next.
Powell averages 32 fantasy points per game, and Covington is nearly hitting 25 with 24.64 fantasy points per game. I expect Covington to have more opportunity to hit above that average and less upside for Powell to go over his total. It's a deep roster that will have Paul George returning to the lineup, so there will be turbulence in box score consistency for any Clippers players.
The newest @LAClippers Norman Powell (26 PTS) & Robert Covington connect to cut in to the lead!

Live on NBA TV pic.twitter.com/KG0ODlvIGf

— NBA (@NBA) February 7, 2022
Related Content