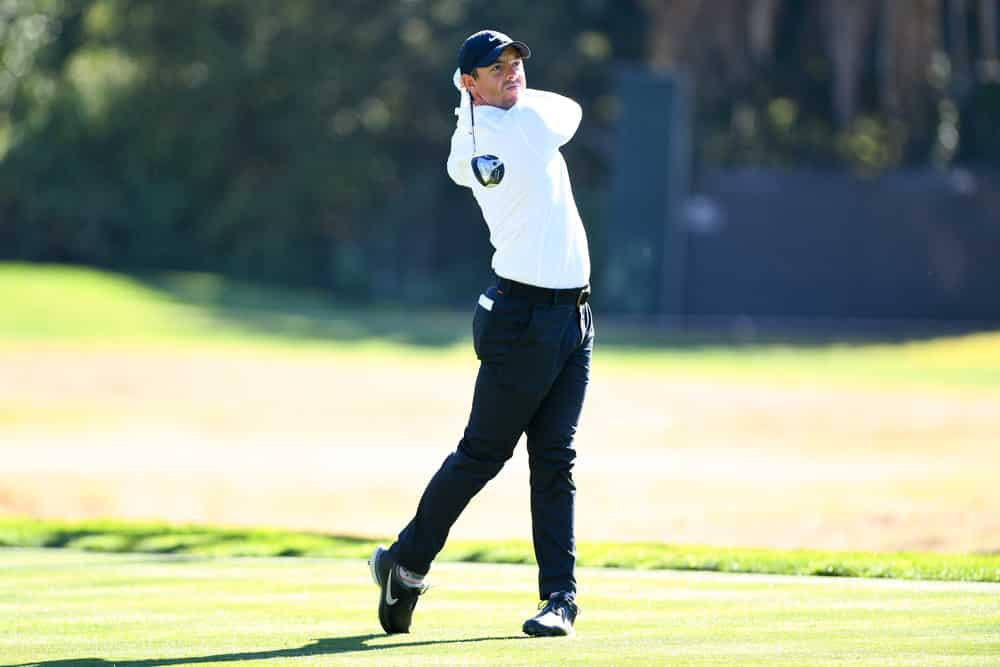 For those who missed it, check out the 2022 Genesis Invitational Preview and Betting Strategies for the types of golfers you should look to target for your picks. Using that as a guide, let's take a look at some of the best bets to make this week. Here are my picks for the 2022 Genesis Invitational (odds courtesy of WynnBet):

Genesis Invitational Picks – Outright Winners
Rory McIlroy – 22/1
Anytime Rory McIlroy's odds cross the 20/1 threshold, it's time to start buying. Especially when he's in form and might not be on the forefront of most gamblers' minds. That's because he hasn't been seen on the PGA Tour since his win at the CJ Cup last fall. Since then, he has had two Top 10's and another T12 finish on the DP World Tour. And over those three tournaments, Rory gained over 1.9 strokes per round tee-to-green. And because all of this is DP World Tour data, anyone who uses a PGA Tour-centric data site will not see this in his results.
But those two Top 10's don't tell the full story. Both of those could easily be wins. Rory was in firm control midway through the back nine of the DP World Tour Championship. But an unlucky break on 15 started an avalanche of bogeys over his final 4 holes to lose the tournament to Morikawa (who, in Collin's defense, went out and grabbed the victory for himself). Then two weeks ago, Rory was tied for the lead with the Par 5 18th ahead of him. He needed birdie to secure the win. Instead, his approach shot found the water short of the green. He was unable to get up and down for par, and missed out on the playoff by one.
If a couple of things break Rory's way, then we're talking about a player who's won three times over his last four starts and his odds are closer to 10/1. Instead, they're past 20/1. And to put the cherry on top, he's been really good at Riviera in his career. Pick Rory McIlroy as the first golfer on your Genesis Invitational betting card.
Matthew Fitzpatrick – 40/1
The boat is starting to get a little crowded on the S.S. Fitzpatrick. Matthew Fitzpatrick has been part of my outright card for the last two weeks, and while he was very good it didn't result in a cashed ticket. But people are beginning to take notice of his play, especially his good track record at Riviera. For me to go once again back to the Matthew Fitzpatrick well, I'll be joining several others around that watering hole.
But I'm doing it again. Partly because of FOMO. And also because there's nothing in his play that persuades me back off. Over his last two tournaments, Fitzpatrick has gained over 10 strokes on the field tee-to-green. Most of these gains have come in the ball-striking categories, which is very encouraging. And Fitzpatrick is a great match for Riviera. He's proven himself on firm and difficult conditions. He's excellent around the greens and putts well on Poa Annua. Check, check, check.
The PGA Tour is on a run of first-time winners. Many people are picking Will Zalatoris at the Genesis Invitational to be the next debut winner. It might actually be Matthew Fitzpatrick instead.
Sungjae Im – 40/1
Sure, Sungjae Im's course history at Riviera stinks. He hasn't made a cut in two attempts. But Sungjae is a better player now than he was in 2019 and 2020. And given what Sungjae Im has done over the last six months, 40/1 is too low. Over his last 50 rounds, Sungjae Im gains 1.40 strokes per round on the field. That's the fifth-best of anyone on the PGA Tour. He should be much higher on the odds board.
And Sungjae has all the tools needed to play well at Riviera. He's a good iron player. He's an excellent scrambler. And he's putt well on Poa Annua in his career. Plus, he just got done contending at Torrey Pines two weeks ago, which features the same agronomy and scoring conditions as Riviera does. While Torrey Pines usually plays much softer than Riviera does, this year the golf course was firm. If he can contend on a firm Torrey Pines with similar agronomy, he can do that at Riviera too.
Jordan Spieth – 45/1
After his near-win at Pebble Beach, Jordan Spieth's pre-tournament odds before the WM Phoenix Open was under 20/1. Now that he had one bad tournament (on a golf course that might not actually suit his game), the books respond by offering him at more than double what he was last week?
This is probably too much of an overreaction. Overall, Spieth hit the ball fine at TPC Scottsdale. It was a mixed bag of good ball-striking on Thursday and Friday and poor ball-striking Saturday and Sunday. But the biggest reason for the disappointing finish was Spieth's scrambling and putting. On the week, Spieth lost 1.41 strokes per round to the field on and around the greens. Very un-Spieth like.
One would think that won't happen two weeks in a row. Especially because we're recently seen very good putting and scrambling out of him at Pebble Beach. And Riviera is a golf course that much better suits his game than TPC Scottsdale did. The field has a difficult time hitting fairways at Riviera, but there isn't much of a penalty for missing it. That benefits Spieth, who's off the tee performance is the weakest part of his game. But iron play, scrambling, and putting on Poa Annua is paramount at Riviera. Spieth is very good in all three categories.
Several golfers with success at Augusta National have success at Riviera. Dustin Johnson, Bubba Watson, and Adam Scott, all Masters Champions, have combined for six victories at Riviera. While Spieth's track record is also good, he's a notable omission from the winner's circle. That could very well change this year. And at 45/1, he's worth adding to the betting card.
Joaquin Niemann – 75/1
It seems like Joaquin Niemann may be the forgotten man in the PGA Tour young guns division. While his peers like Morikawa, Hovland, Burns, Sungjae Im, Scheffler, and Cameron Smith rack up big wins, Niemann hasn't tasted victory since the 2020 Greenbrier – a tournament that doesn't even exist anymore!
But a breakthrough win might be on the horizon. In an alternate universe, Niemann could have won the Sentry TOC, Sony Open, and the Rocket Mortgage Class last year. We wouldn't even be having this discussion nor see his odds as low as they are. But there are also some encouraging recent form trends that go in his favor too. Niemann has a string of solid finishes over his last five starts, including three Top 10 finishes. One of those came at Torrey Pines, which offer similar playing and scoring conditions that Riviera would. The knock on Niemann that week was how terrible a putter he is on Poa Annua. Instead, Niemann gained over 0.5 strokes per round putting on the week.
Niemann absolutely has the game tee-to-green to handle a firm and difficult golf course. Like at Torrey Pines, Niemann also showed well on a difficult and firm Olympia Fields for the 2020 BMW Championship. His scrambling has much improved over his last handful of tournaments, which is very important at Riviera. And considering bettors have seen a good putting performance out of him on Poa Annua, it's at least in the realm of possibilities he can do it again. If all these come together, then 75/1 for Joaquin Niemann is a bargain this week.
Si Woo Kim – 100/1
Total gut call here. Si Woo Kim is playing really well at the moment. And he's an incredibly streaky player. He possesses an immense ceiling with a horrible, deep floor. But over his last four tournaments, Si Woo is gaining almost 1.1 strokes per round tee-to-green. And he's also coming off a week where he squandered a good tee-to-green performance with a poor putting performance.
Before last week, the putter was heating up. Could a return to a favorable putting surface rekindle the magic? Si Woo has gained strokes putting at Riviera in each of his last three appearances. If that comes back, then he might have the ceiling to once again surprise the gambling world at long odds. And gamblers already know he can come close to winning at Riviera. While his course history is very sketchy, he does have a 3rd place finish at Riviera in 2019. For a 100/1 long shot, one could do much worse than Si Woo Kim this week.
FOMO – Xander Schauffele 25/1
This bet is not for everyone. Xander Schauffele has a graveyard full of those who lived and died backing him. And last week put on full display how Xander can let everyone down. He had things absolutely rolling through 45 holes at the WM Phoenix Open. On Saturday, he had just taken the lead on the front nine and had a short birdie putt on the 10th to try and pad the lead.
But he missed. And then on the very next tee shot, he put it into the water. That killed all of his momentum. Xander would end up grinding his way into contention on Sunday, but he missed another short birdie putt on the 18th that would have put him into a playoff with Cantlay and Scheffler. Xander the bridesmaid once more.
So why am I on him yet again when a part of me feels like he missed his window? For starters, I'll always go back to the well anytime I bet someone last week and they gained as many strokes tee-to-green as Xander did, yet lose strokes putting. And I planted my flag before the season that I thought Xander would win one of the Farmers Insurance Open, the WM Phoenix Open, or the Genesis Invitational.
So this is my last stand. And now that Xander's number is starting to drift backward, I'm starting to feel very alone on Xander Island. It's pretty much just myself and Andy Lack scavenging for supplies on the desolate island. Even Jeff Nagel is contemplating fashioning a raft out of bamboo and fleeing the island with a painted coconut named Morikawa. But not me. Last week, I backed Cantlay because I thought the perception on him following the AT&T Pebble Beach Pro-Am was unfair. And because I also bet Scheffler, the WM Phoenix Open playoff was a comfy watch for me. I'll back Xander when it seems like he's starting to accumulate some doubters. That might be when he finally gets the job done.
Genesis Invitational Picks – Positional Props
Cameron Smith Top 10 – +240
I strongly considered betting Cameron Smith outright this week. But winning twice in four events is tough for anyone. It's too high of an expectation to have for Cameron Smith.
But another Top 10? Absolutely. Riviera is exactly the type of golf course I want to use him at. It's firm. It's tough to hit fairways and levels the playing field off the tee for him. There are not many penalty areas off the tee. And it puts an emphasis on short game and putting, which is Cam Smith's strengths. That's why Smith owns a pair of Top 10's in six tries at the golf course. And he has things absolutely rolling right now. Not only is his scrambling and putting on point, but his ball-striking has significantly improved. Expect Smith to rack up his seventh Top 10 in 12 starts this week.
Other Top 10's To Consider
Justin Thomas – +175
Will Zalatoris – +300
Talor Gooch Top 20 – +200
The final results don't indicate how well Talor Gooch played last week. He was in the mix all week until a poor final round sent him crashing to a T26 finish. But that's a good result for Talor Gooch at TPC Scottsdale! Before that, Gooch had two missed cuts and a T61 finish to his name at the golf course. The fact he played so well for 54 holes is a really nice sign for his future prospects.
And now Gooch goes to a golf course that much better fits his game. The best parts about Talor Gooch are his approach play and scrambling. Gooch is about PGA Tour average off the tee and putting over his last 50 rounds. But his irons and scrambling are very strong. And add to it that Gooch has a good history putting on Poa Annua, he's a great fit for Riviera. It shows in the results. Gooch has a T10 and two other Top 20's at Riviera in three tries. He'll make it a fourth good finish in 2022. Pick Talor Gooch as part of your Top 20 positional props at the Genesis Invitational this week.
Others Top 20's To Consider
Marc Leishman – +200
Jason Kokrak – +250
Luke List – +250
Thomas Pieters – +250
Cameron Tringale – +300
Maverick McNealy – +300
Christiaan Bezuidenhout – +325
Doug Ghim – +450
Aaron Rai – +450
Sebastian Munoz – +550
Will Zalatoris +100 over Brooks Koepka
One would think Brooks Koepka would be very good at Riviera. It's a firm, fast and difficult golf course. Koepka has numerous great finishes on these types of golf courses in his career.
But the results say otherwise. Koepka's best finish in three tries is only a T38 with a missed cut thrown in there too. And he's admitted why he's not successful there. Koepka has talked at length about how much he struggles on kikuyu. Here is what Koepka had to say about kikuyu when asked prior to the 2021 Genesis Invitational:
"I mean, I haven't figured it out. I don't think I've won on it…you've got to be more of a, like, Dustin Johnson, he picks it. He's more of a picker of the golf ball, and I think it really benefits guys who pick it. I come quite steep so I can leave the club in there. It feels like sometimes you get such good lies out there where it's – you can hit it a groove up where it might spin a little bit more. Especially if it's windy, it can really throw it off. I always notice that pickers of the golf ball usually play well. (Adam) Scotty, same thing, he kinds of picks it, he's not very steep. Those are the guys that have probably some of the best success out here."
Thank you for your honesty, Brooks. And with that said, I'll trust what came from the horse's mouth.
Meanwhile, while I may not have as high of expectations on Will Zalatoris as the entire golf gambling industry seems to be, I do hold him in very high regard. Zalatoris has been really good at Riviera in two tries and is riding great form. His ball-striking is so good that it may overcome some deficiencies on and around the green at Riviera. He should do enough to beat Brooks Koepka at the Genesis Invitational.
Related Content