After a wild final round at the WM Phoenix Open, the PGA Tour wraps up its West Coast Swing. A star-studded field takes on a classic in Riviera Country Club for the 2022 Genesis Invitational in Los Angeles, CA. As always, here is your early deep-dive of the 2022 Genesis Invitational and a preview of how to bet.

Genesis Invitational Preview – The Field
Since the event was upgraded to elevated status on the PGA Tour, almost every top player makes the trip to Los Angeles for the Genesis Invitational. But while most top players have a handful of PGA Tour events under their belt, there are a few who will make their 2022 debut at Riviera Country Club.
One such player is Rory McIlroy. Rory devoted his January to the DP World Tour. He showed well in the Middle East. He finished T12 at the Abu Dhabi HSBC Championship and 3rd at the Dubai Desert Classic. But while most would be thrilled with that outcome, Rory is surely disappointed. He had one hand on the trophy at the Dubai Desert Classic, needing a birdie on the Par 5 18th to take down the win. But he hit his approach shot into the water and couldn't get up and down to save par. He finished one shot out of the playoff. Rory has a good track record at this event and will be a heavy favorite this week.
Another top player making his PGA Tour debut this week is Collin Morikawa. Morikawa hit the ball fantastic in his debut at Riviera Country Club last season. However, he absolutely stunk on the greens. While Morikawa gained almost two strokes per round tee-to-green, he lost nearly that much putting every round to limp to a T43 finish. He's found more consistency with his putter since then. If that club shows up, he'll certainly show much better in 2022.
Other notables in the field include Patrick Cantlay, Viktor Hovland, Dustin Johnson, Brooks Koepka, Hideki Matsuyama, Jon Rahm, Xander Schauffele, and Justin Thomas.
For the full field, click here.
Genesis Invitational Preview – The Golf Course
Construction on Riviera Country Club began in 1926 by George C. Thomas in a barren canyon in Santa Monica. After consulting with the great Alister McKenzie, Thomas finalized his architecture plans and the golf course was completed the following year. It was the site of the first Los Angeles Open in 1929 and was the primary home of the tournament for the better part of seven decades. Riviera also hosted the 1948 U.S. Open, the 1983 and 1995 PGA Championship, and the 2017 U.S. Amateur.
The golf course itself has been relatively unaltered since its opening. Other than bunker renovations by Bill Coore and Ben Crenshaw and restoration of the 7th and 8th holes by Tom Fazio, Riviera is an old soul that still packs a punch. It tests the best in the world despite decades of technological advancement in golf balls and clubs:
Besides the creative and unique layout, Riviera features a type of grass that the PGA Tour doesn't see very often. In 1934, Riviera was re-sodded with kikuyu grass after a New Year's Eve storm damaged the golf course. Kikuyu is a sticky, spongy turf native to Africa. Kikuyu is also featured summer grass at Torrey Pines, which these players see at the Farmers Insurance Open and any U.S. Open at the golf course.
Unlike bermudagrass, kikuyu does not go dormant during colder months. It also shows best in climates with constant sunshine like Los Angeles enjoys throughout the year. The combination of the hard, moisture-deprived soil that lays the foundation of the golf course to the grabby nature of the Kikuyu plays in perfect harmony with each other. It creates a track of lush fairways and tricky rough that can pose problems for anyone not used to hitting off of it.
Also like Torrey Pines, the greens are made with poa annua grass. This grass is essentially a weed that grows throughout the day. Poa annua surfaces are quite bumpy and not easy to putt on. Confident strokes are needed to putt well on these surfaces.
The design of almost every hole at Riviera is a favorite to the golf architecture community, and Andy Johnson (a.k.a. the Fried Egg) wrote a hole-by-hole breakdown covering just that subject. Almost all the holes are very strong offerings. Here's a handful of notable ones on the golf course:
Hole #1
Most professionals will pull less-than-driver to lay short of the barranca. That sets up a very manageable second shot to a bell-shaped green to get their round off to a great start. Only carding a par on the opening hole is almost a 0.7 stroke penalty to the field.
Hole #4

Ben Hogan called this hole the greatest Par 3 in the world. It's a beast of a hole. It's incredibly difficult to hold a very firm green with an approach shot requiring a long iron. The green is a redan and uses the canyon to help balls funnel down and to the right on the hole. When the pin is on the left, players typically bail outright to try and get up and down for par. Otherwise, the tee shot would require a big carry over a large bunker to a small target that wants to feed to the left of the green. Anytime one finds themselves short-sided at Riviera Country Club, it's basically an automatic bogey.
Hole #10
The $1,000,000 question of the hole is if it's better to lay up or go for the green. In 2018, Golf Week analyzed every birdie or better score and every bogey or worse score on the 10th during the 2017 Genesis Open and compared to shotlink data to see whether it was better to lay up or go for the green:
Birdies or Better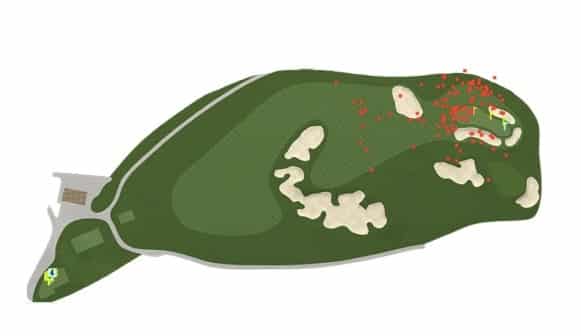 Bogeys or Worse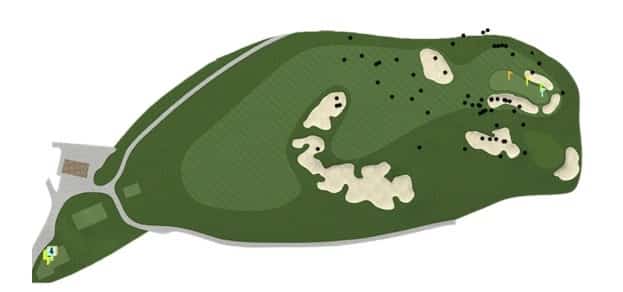 Based on the data from that tournament, there was about as much of a chance one would walk off the 10th with a birdie or a bogey or worse by laying up. It's also almost a death sentence to miss this green right. Missing right leaves a terrible angle to the pin and almost no green to work with.
As for those who went for the green, as long as the tee shot carried the bunker on the left side of the fairway and settled either left or short of the green the chances of carding a birdie were good. This trend has continued for the last few years and most of the field now goes for the green.
These are only a handful of notable holes at the golf course. We didn't even go into how great holes like #6, #12 and #18 are. Other than the 8th, it's hard to find many weak holes at Riviera Country Club. And when the golf course plays firm and fast, it's an absolute joy to watch.
Genesis Invitational Preview – Betting Strategies
To start, let's begin with some nuts and bolts of the golf course. Riviera Country Club is approximately 7,300 yards on the scorecard. It's a Par 71 with one Par 5 on the front nine and two on the back. As mentioned earlier, the fairways and rough are kikuyu and the greens are poa annua. In 2021, the average score was approximately +0.25 per round. The field hit fairways approximately 47% of the time, while the green in regulation rate was 59.3%. Both rates are well below the PGA Tour average. Every year, Riviera Country Club poses some of the biggest challenges tee-to-green to professional golfers.
The golf course is an architectural masterpiece. Often times the golf courses that ought to be hung in the Louvre test a player's ability in every aspect of the game. That's pretty true when looking at past leaderboards and who has ended up inside the Top 20 since 2013. You'll see good ball strikers, good scramblers, good putters, and golfers who do a little bit of everything well. And those who play well here tend to play well at Augusta National, another firm and fast golf course that tests every aspect of the game.
The argument can be made to favor either long bombers and short, accurate drivers, at Riviera. Bombers can take most of the bunkers out of play but may leave themselves a poor angle to tricky pin positions. Most of the bunkers at Riviera remain in play for shorter hitters, but their accuracy can reward them with great looks into the green.
Regardless of how far or accurate one hits it, the common thread between them all is superior ball-striking and great scrambling:
The greens at Riviera are very firm. It requires pinpoint precision in order to get good looks at birdie. It also requires players to work the ball both ways in the air to access certain pin locations. In addition, great command with one's irons is a must for those who wish to show well at the Genesis Invitational. Typically very good ball strikers who thrive in firm and fast conditions populate the top of the leaderboard at Riviera.
Those who miss greens, however, find themselves with a very difficult task. There are many shaved down areas around the greens at Riviera that require players to chip off of tight lies. That's more difficult than popping a ball out of the rough. In addition, the greenside bunkers at Riviera are really deep. It's a very difficult task to get up and down from out of the bunkers at Riviera. Delicate touch and distance control is required to save par from off the green. Saving par looks like a key to success throughout this Genesis Invitational Preview.
Lastly, the greens are very tricky to putt on. Almost all the greens have numerous ridges, spines, and swales. In addition, poa annua is not an easy surface to putt on. It's a surface that requires experience and confidence to navigate. The greens also run very quickly at Riviera. Typically the greens run between 12-12.5 on the stimpmeter. In windy conditions, the greens may run even faster than this. Careless golfers run the risk of three-putting on these greens.
This begs the question of on very difficult green to putt on, does one gravitate towards better putters or worse putters. In my opinion, lightning-fast poa greens level the playing field for everyone. West Coast Poa is already a bit of a luck box surface to putt on. One wrong hop over a budding poa sprout can send a putt careening offline. And players always are putting defensively anytime they're on a fast surface.
That's probably why the putting skillset isn't the most predictive metric when trying to handicap what the top of the leaderboard looks like. And as we saw at Torrey Pines a few weeks ago, Luke List (a notoriously awful putter) still found a way to win because the greens at Torrey Pines are difficult to putt on for everyone. Often times a worse putter with a wealth of poa annua experience trumps a great putter with very little.
However, when looking at how players separate themselves the most on the leaderboard, putting and scrambling causes much more scoring variance than ball striking does:
Scrambling and putting contributes to 58% of the variation of scoring on the leaderboard at Riviera. Only 42% on the variance is contributed with ball striking. However, all this tells us is how one does on and around the greens is more important in the tournament than it is than overall ball striking. That doesn't, however, give gamblers a green light to target only short game specialists. It's also important to note that this split is common on very difficult golf courses, particularly on firm and fast ones.
Anytime players miss a significant amount of fairways and greens like they do at Riviera, the ones who are the best on and around the greens separate themselves better on the leaderboard than those who don't. As more players find themselves in similar positions, the ability to separate oneself in these areas is key. And the ways in which one causes players to wind up in similar spots are less important.
Next, let's look at the approach shot distances players will be hitting into Riviera's greens:

Like last week at TPC Scottsdale, there's a big emphasis on short and intermediate iron play. In 2021, about 62% of all approach shots came between 125-200 yards. This frequency is very consistent year after year at the golf course. And what's also consistent is that there's an above-average rate of approach shots between 150-200 yards at Riviera Country Club. Focusing between 150-200 yards is the way to go this week.
Lastly, here are the Top 10 players in the 2022 field who've gained the most strokes per round at Riviera Country Club:
Viktor Hovland – +2.48, 4 Rounds
Dustin Johnson – +2.43, 52 Rounds
Jon Rahm – +2.20, 12 Rounds
Wyndham Clark – +2.08, 8 Rounds
Adam Scott – +2.04, 48 Rounds
Talor Gooch – +1.96, 12 Rounds
Xander Schauffele – +1.96, 16 Rounds
Matthew Fitzpatrick – +1.83, 8 Rounds
Rory McIlroy – +1.65, 18 Rounds
Max Homa – +1.63, 16 Rounds
Most of these players have several elite skill sets. They're very good ball strikers who are really good on and around the greens. And with a few exceptions, most of the players on this list are pretty long off the tee. But as shown in the relatively skill set chart, it's not a prerequisite. A shorter player who thrives on fast poa greens can have a great week with their short and intermediate irons for a good finish.
Related Content