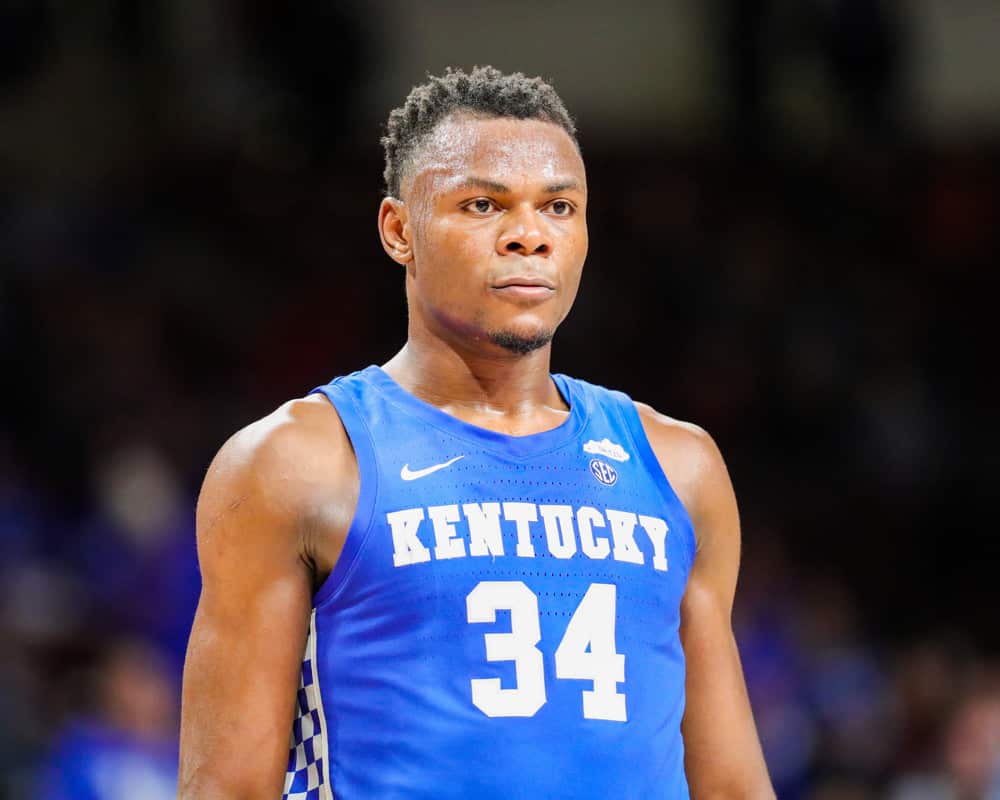 About a week ago, I wrote a column highlighting several teams' chances of making the Final Four in New Orleans this season. A lot has transpired since then but I still feel roughly the same about those teams. Now, making the Final Four and winning the NCAA National Championship is entirely different.
We often see a high seed shock the world and make a deep run to a Final Four. However, that's usually where the run stops. The cream eventually rises to the top. The chart below shows the last six NCAA championship games and the seed of each team that year.
Think you know who will win it all? Check out the odds to win March Madness.
| | | |
| --- | --- | --- |
| Year | Seed/Team | Seed/Team |
| 2021 | 1 – Baylor | 1 – Gonzaga |
| 2019 | 1 – UVA | 3 – Texas Tech |
| 2018 | 1 – Villanova | 3 – Michigan |
| 2017 | 1 – Gonzaga | 1 – North Carolina |
| 2016 | 2 – Villanova | 1 – North Carolina |
| 2015 | 1 – Duke | 1 – Wisconsin |
So go ahead and have some fun with a longshot to make the Final Four – just don't have them winning it all. I'd say there's currently a list of about 10-12 teams that have a realistic shot at winning a title and that list will probably get whittled down come March. Here are a few of the teams I'd consider placing a wager on and their current odds to cut down the nets.

College Basketball Futures: CBB National Championship Odds & Best Bets
Gonzaga + 500
While the West Coast Conference may be much improved, Gonzaga is still cutting through it like a knife through warm butter. The Zags are 8-0 with an average margin of victory of almost 30 PPG. At San Francisco and at Saint Mary's to close out the regular season may be challenging but it sure looks like the Bulldogs will lock up their 3rd one-seed in the last four years.
As mentioned in my previous column, the Zags have also made it to two of the last five championship games but they've lost each time. Do the 2021-22 Bulldogs finally have what it takes to get over the hump? Previous teams didn't have the 7'0" Chet Holmgren who, in his last 5 games, is averaging 19.6 PPG, 11.6 RPG, 3.4 BPG, and 2.2 APG.
Gonzaga has the perfect blend of experience, talent, and coaching. With Holmgren, they also have a unique talent that's a game-changer on both ends of the court. Combine him with Drew Timme, Julian Strawther, Andrew Nembhard, and others, and no wonder the Zags are the odds-on favorite to win it all.
Duke +1200
If anyone was doubting Duke's potential this season, the 20 point blowout at UNC should serve as an example of why the Blue Devils could send out Coach K on the highest of notes. Coming into the game with Tar Heels, everyone had heard of Paolo Banchero but perhaps the novice college basketball fan wasn't familiar with another freshman, AJ Griffin. An injury before the season started delayed Griffin's progress but he's coming on of late as evidenced by the 27 points he just dropped on UNC. The duo of Banchero and Griffin is filthy.
It doesn't stop there – Mark Williams offers perhaps the best rim protection in the country and Wendell Moore is a swiss-army-knife type guy who will lock down opposing perimeter players. With him and Trevor Keels back to full health, UNC backcourt could only shoot 7-21 from the field and 1-8 from three.
Duke has only made the Final Four twice in the last 10 years but won the Natty both times. They are almost the opposite of Gonzaga. They may not make the Final Four as often but when they do – they make it count. At +1000 odds, a sprinkle on Duke makes a lot of sense.
Duke has the highest ceiling in college basketball. And it may not be close. Blue Devils are not unbeatable, but their apex is higher than any other team's apex.

— Jon Rothstein (@JonRothstein) February 6, 2022
Kentucky +1000
The only SEC teams with a chance of cutting down the nets are Kentucky and Auburn (+900). While reasonable minds can differ on which team a person may prefer, I'll lean towards Kentucky especially with the juicier odds. Now before I get roasted by Auburn fans, I am aware of their convincing victory over the Wildcats a couple of weeks ago. However, I'm beginning to get concerned about the Tigers away from the Auburn Arena.
On the other hand, Kentucky has just registered two gigantic road wins at Kansas and at Alabama. I love Sahvir Wheeler at PG and big man Oscar Tshiebwe who happens to be the best rebounder in the country. TyTy Washington has returned from an injury and the Wildcats are getting major contributions from Keion Brooks, Kellan Grady, and Jacob Toppin.
Oscar Tshiebwe No. 1 on Matt Norlander's list of favorites for the Naismith National Player of the Year Award. #OscarWorthy pic.twitter.com/g66SFUK9ly

— TheCatsPause247 (@TheCatsPause247) February 10, 2022
KenPom currently ranks Kentucky as the 5th best team in Offensive Efficiency and the 11th best defensively. If you look at previous NCAA champions, you'll usually find a team that has at least top 20 offensive and defensive rankings. Additionally, the Wildcats are a top-five offensive rebounding team in the nation.
For all of John Calipari's success in Lexington, Kentucky hasn't advanced to a Final Four since 2015 and it was 2012 when the Wildcats last won a national championship. Perhaps this is the year that Calipari finally gets his team back into the mix.
Purdue +1000
Illinois +2500
Obviously, the Big 10 is one of the best conferences in college basketball but the league struggled mightily in last year's NCAA tournament. The #2-seed Ohio State lost in the first round to Oral Roberts and the #4-seed Purdue lost to North Texas. The #2-seed Iowa was upset in the second round as was the #2-seed Illinois. In fact, the conference only had one team (Michigan) in the Sweet 16.
Looking at this year, it appears Purdue may be the class of the conference. Jaden Ivey is a star who will be a very rich man in the near future and big men Zach Edey and Trevion Williams form a top frontcourt in the country. It's a veteran team that will be hungry to avenge their first-round exit a season ago.
My main issue with Purdue is their problems on the defensive side of the ball. While the Boilermakers have the top Adj O in the country, their defense only comes in at 106th. Balanced teams do better in March. Plus, Purdue hasn't made a Final Four since 1980 so it would take a leap of faith to bet on Matt Painter's bunch.
So if you are looking to back a Big 10 team and Purdue doesn't do it for you, how about the Illini? Right off the bat, +2500 odds sound a lot better than +1000 and Illinois has Kofi Cockburn, one of the best big men in the country. They're also a more balanced team, coming in with the 17th best offense and 21st best defense in the nation.
After last nights performance, Kofi Cockburn is currently…

6th in the nation in PPG (22.1 PPG)
4th in the nation in RPG (11.6 RPG)
Has Illinois 1st in the B1G

Can you say, National Player of the Year frontrunner? pic.twitter.com/Crt5qGvQHD

— Illini Fan Nation (@TheIlliniFN) February 3, 2022
It's not a one-man team either, Alfonso Plummer and Trent Frazier are excellent from deep and Andre Curbelo is a pure scorer who can straight fill it up. Additionally, Jacob Grandison, Da'Monte Williams, and others make Brad Underwood's team one of the deepest in the conference. At this point, I'd lean towards putting money on Illinois instead of Purdue even with the Boilermakers sweeping the series.
Arizona +800
UCLA + 2000
Unlike the Big 10, the PAC-12 had an excellent postseason a year ago. The conference represented ¼ of the Sweet 16, ⅜ of the Elite 8, and had UCLA make the Final Four. UCLA is certainly in the running again as are the Arizona Wildcats under first-year HC Tommy Lloyd.
Coaching matters and with basically the roster as last year's 17-9 squad that missed the NCAAs, Arizona is sitting pretty at 21-2. They split the season series with UCLA and the only other blemish on their resume is a close loss at Tennessee. Their names might be the hardest to pronounce in the country but Bennedict Mathurin, Azuolas Tubelis, and Christian Koloko form an outstanding trio.
With the 14th best offense and 5th best defense in the nation according to KenPom, these Wildcats get after it on both ends of the court. Offensively, it's a balanced approach with four players averaging double digits. Additionally, Arizona is the 8th best offensive rebounding team in the country. On D, the Wildcats have the second-best 2-point FG% in the country and are the best shot-blocking squad in the PAC12.
As for UCLA, I certainly would not be shocked to find them in New Orleans with a chance to build off last year's success and go a step or two further. Similar to looking at the Big 10, I think I'd rather bet on UCLA than Arizona due to the odds. There shouldn't be that much separation between the two. UCLA just lost both games in the Arizona trip but I'd expect a third battle between the Bruins and Wildcats in the PAC12 tourney.
Kansas +1500
Baylor +1500
When looking at potential champions from the Big 12, there are a couple of familiar teams. I give Scott Drew a ton of credit for how well the Bears are playing this year after losing so much of their national championship team from a season ago. However, winning back-to-back titles is extremely difficult and this much younger Baylor squad doesn't have what it takes.
That leaves Kansas – another college basketball blue blood. Bill Self has been the head man in Lawrence since 2003 and won a natty back in 2008 mostly due to the heroics of Mario Chalmers. Somewhat surprisingly, the Jayhawks have only made one final four since winning it all.
This year's squad, that's currently 19-4 and ranked 6th in KenPom, has a chance to end that Final Four drought. G Ochai Agbaji is an all-American caliber player and with Christian Braun on the wing and Jalen Wilson and David McCormack down low, the Jayhawks can beat anyone one. Remy Martin is also getting healthy and Dajuan Harris provides veteran leadership on the perimeter. It's a deep KU squad that ranks 3rd in Adjusted Offense but only 36th in Defense.
OCHAI AGBAJI = VERY GOOD AT 🏀 pic.twitter.com/nMjIIGFbmK

— Kansas Men's Basketball (@KUHoops) January 25, 2022
In order to reach their full potential, an improvement on defense will be required. With that said, if I'm taking a team from the Big 12 to cut down the nets – it's Kansas.
---
RELATED CONTENT