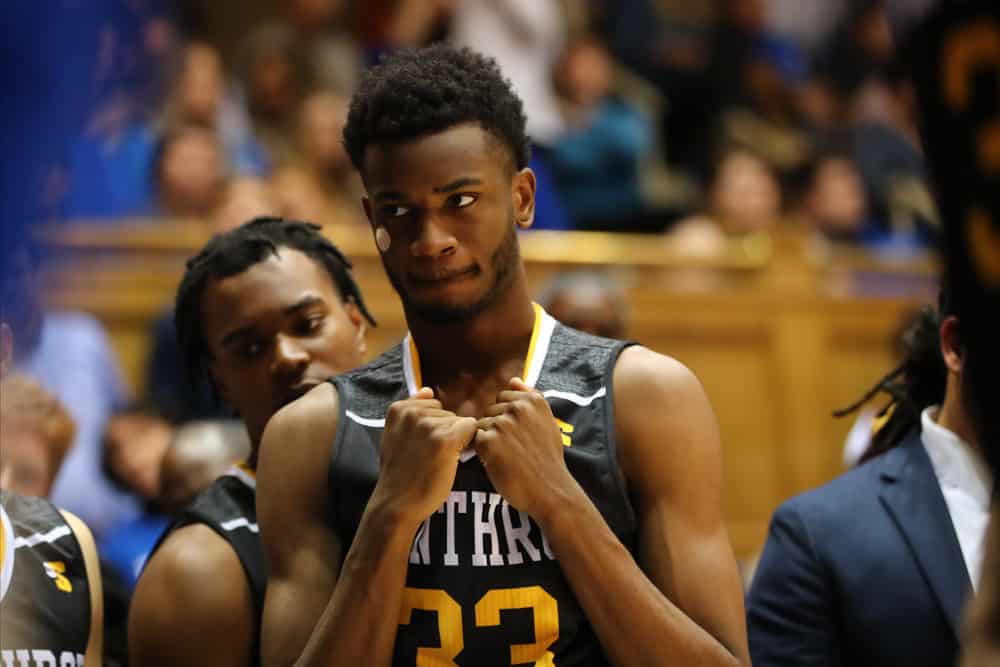 A few weeks ago I wrote a column spotlighting the best College Basketball teams in the country against the spread (ATS). These teams have consistently exceeded Vegas's expectations and have been extremely profitable to bettors. The flip side of this coin would be to shine a light on the top 10 worst College Basketball teams across the country ATS. Here's the list of teams you may want to fade the most.
Bottom 10 NCAAB Basketball Teams ATS (1/23)
College Basketball ATS: 349. Winthrop (4-11 ATS)
The Eagles of Winthrop have been one of the better teams in the Big South Conference for at least the last decade and they've made two of the last five NCAA tournaments. Last year, Winthrop was only down one point at halftime to Villanova before losing by 10 in the first round. However, after losing three of their top four scorers, the Eagles have been nowhere near as impressive this season.
Sure, Winthrop has won six in a row and has started conference play 5-0 but they aren't covering the point spread in the process. On average, in each conference game, Winthrop has been favored by 6.7 PPG but their margin of victory has only been by 3.4 PPG. It's been a remarkable run of winning close games but that's usually not sustainable. KenPom currently ranks Winthrop as the 6th luckiest team in the country. You may want to consider fading the Eagles moving forward.
College Basketball ATS: 350. UC Santa Barbara (3-9 ATS)
Much like Winthrop, UCSB also made the NCAA tournament a year ago and almost came away with a first-round upset. As a 12 seed, the Gauchos lost a one-point heartbreaker to Creighton. Santa Barbara, like others on this list, lost a ton of talent and experience in the offseason including leading scorer JaQuori McLaughlin.
The main issue this season has been turnovers and poor 3 point shooting. Compared to last year, UCSB has dropped 200 spots in turnover percentage and 124 spots in shooting the deep ball. They also now have a streak of seven straight ATS L's. Over these games, the Gauchos have been a favorite five times but have only won two games outright. Santa Barbara is also 0-6 ATS on the road.
College Basketball ATS: 351. Delaware St (3-9 ATS)
Speaking of bad road teams, Delaware State is only 1-6 ATS as an away team. The Hornets aren't much better anywhere else and are currently 2-13 overall and ranked as the second-worst team in the nation on KenPom. It's nothing new for Dela State as it's been almost two years since they've beaten a D1 team. There are two approaches to CBB betting, wagering on teams you like and fading teams that are awful. It goes without saying – the Hornets belong in the latter category.
College Basketball ATS: 352. Radford (4-12 ATS)
Radford has been a solid basketball program over the last 10 years and a lot of their success has to be attributed to former HC Mike Jones. Jones was hired away by UNCG in the offseason and new HC Darris Nichols has gotten off to a slow start. In his defense, the Highlanders start an all-underclassman backcourt which is unheard of at the mid-major level. It's a rebuilding process that will take some time.
So while the future might be brighter, that doesn't mean we can't bet against Radford this season. In the last nine games, the Highlanders are 1-8 ATS. The offense has been atrocious – ranking in the 300's in almost every offensive category. Plus, allowing UNCA's Drew Pember (who averages 15 PPG) to drop 41 on you just can't happen.
Pember's 41 points lifts Asheville to 78-74 overtime victory at Radford https://t.co/jdFPxxk4Lj

— Asheville Athletics (@UNCAvlBulldogs) January 22, 2022
College Basketball ATS: 353. Drake (4-13 ATS)
Drake has gone from having one of the best ATS records a season ago to one of the worst this year. Like others on this list, the Bulldogs were in the NCAAs last year and beat Wichita State in the "first-four" round before losing to USC in Round 1. They're not a bad team this season, as evident by their 14-6 overall and 5-2 conference record, they're just not as dominant as they were a season ago.
The Bulldogs leading scorer (Tucker DeVries) is a true freshman but the majority of the rest of the squad is almost all seniors. It's also basically the same team as last year other than G Joseph Yesufu who transferred to Kansas. They've dealt with some injuries so as the group gets healthy, expect their ATS record to improve. Drake is the one team on the list I don't expect to be here in a month so I wouldn't go too crazy fading the Bulldogs.

College Basketball ATS: 354. IUPUI (4-13 ATS)
All aboard the fade train. IUPUI is KenPom's worst team in all D1 basketball – that's 358th in the country. The Jaguars are 1-17 overall with the sole victory being over some college named Spalding (obviously not D1).
Over the last 5 games, IUPUI has been a 16.1 point dog on average but has lost by an average of 28.6 points. That includes a 35 point loss to a 7-13 Milwaukee team and a 28 point loss to an 11-8 Wright State squad. Vegas just can't give the Jaguars enough points to even get close to a cover.
College Basketball ATS: 355. Georgia State (3-10 ATS)
Georgia State's basketball program peaked in 2015 when the 14th seed Panthers knocked off 3-seed Baylor. Since then, GSU has regularly fielded solid teams and made the NCAAs on a couple of other occasions under previous HC Ron Hunter (now at Tulane). Current HC Rob Lanier, in his third season, hasn't yet been able to find the same kind of success in Hotlanta.
Had to dig deep into the archives to find out the last time Georgia State Basketball started 0-3 in Conference play…

It was the 2005-06 season where the Panthers finished the season 7-22 and 3-15 in CAA play. pic.twitter.com/RwuewKskHu

— Ben Moore (@BenMoore247) January 21, 2022
After starting this season 5-1, the Panthers are only 2-8 straight up since. They are also 1-9 ATS in the last 10 games, 0-6 ATS on the road this season, and 0-5 as a favorite. What's been most perplexing about their struggles is the fact that they basically returned everybody of note from a team that lost in the Sunbelt championship game a season ago. Something isn't right with the chemistry on this team. Until further notice, don't put money on the Panthers.
College Basketball ATS: 356. Idaho State (3-12 ATS)
Idaho State may be tied for 2nd worst ATS team in the country but they are actually only 3-5 ATS over the last seven games. They began the season 0-7 against the spread. Make no mistake – the Bengals aren't a very good team (342nd in KenPom) but it seems Vegas has begun to adjust the lines accordingly.
Idaho State's lone victory over a D1 squad came at home vs Idaho on 1/15 and they also have recent covers vs UCSB and Southern Utah. Moving forward, I still wouldn't hesitate to lay major points on the top-of-the-conferences teams when facing Idaho State. Weber State beat them by 30 points recently and the Montana schools have 20+ point wins. It's the middle-of-the-pack Big Sky teams that ISU has a chance to cover against.
College Basketball ATS: 357. Marshall (3-12-2 ATS)
I don't know what's going on with Marshall. HC Dan D'Antoni is in his 8th year leading the Thundering Herd and has seven straight winning seasons in Conf-USA play. The program has been a model of consistency and returned a good portion of last year's squad that went 15-7.
We'll hear from Marshall basketball coach Dan D'Antoni this afternoon. The Herd hosts Middle Tennessee (Thur.) and UAB (Sat.) as MU looks to avoid its losing streak reaching double-digits

See what D'Antoni had to say after Saturday's loss at FAU herehttps://t.co/tLay2DOk9y pic.twitter.com/KLgSTxrr7u

— Herd247 (@Herd247Sports) January 24, 2022
This year, Marshall has now lost nine straight contests and hasn't covered a game since December 12th. During that stretch, every spread has been within 10 points and the Herd has been favored in almost half of them. The train is falling off the tracks and it appears the oddsmakers are slow to come around. For the foreseeable future, fade Marshall.
College Basketball ATS: 358. Pacific (2-14 ATS)
Unless you remember Michal Olowokandi, the Pacific Tigers of the West Coast conference are a forgotten and overlooked basketball program. Recently, they have been the epitome of average – not a threat to push the likes of Gonzaga, BYU, and St Mary's but not a WCC doormat either.
The Tigers actually ended last season on an 8-2 run and although they lost a couple of starters, it wasn't like they were decimated by graduation or transfers. Their 1-9 straight-up record over the last 10 games is inexcusable but they keep getting more respect from Vegas than they deserve. Recent losses to Santa Clara by 14 (they were +6) and Cal by 20 (they were +8.5) are just examples of how far off the spread has been of late.
---
RELATED CONTENT