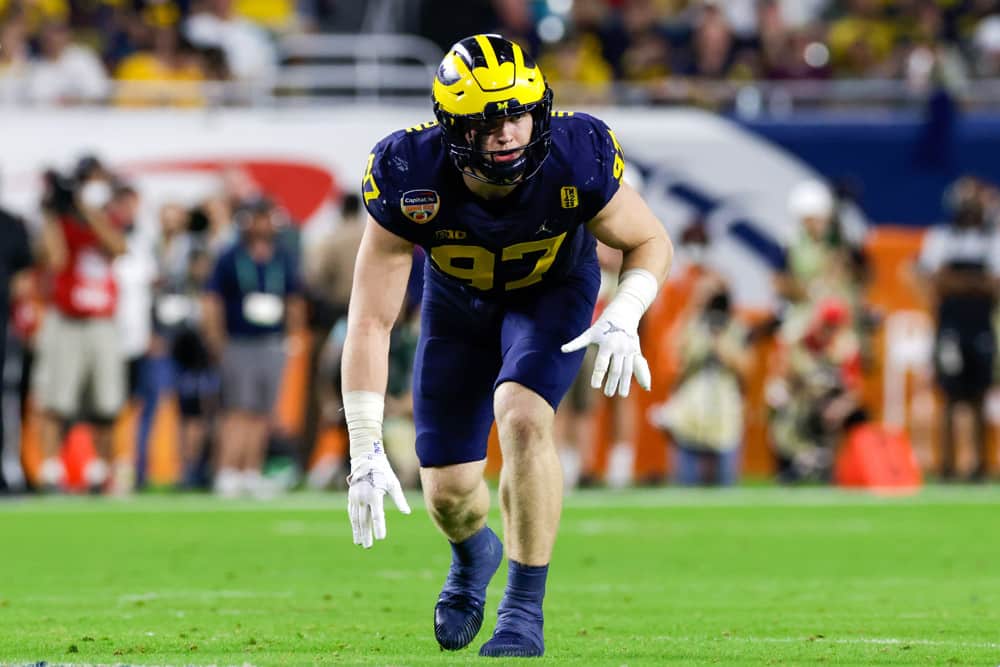 Next up in our series of 2022 NFL Draft rankings are the Defensive Lineman. In the coming weeks, there will be a lot of eyes on this group as it likely holds the first two picks of the entire draft. While many may not be incredibly familiar with a ton of these guys beyond Hutchinson and Thibodeaux, you're sure to hear a lot of these names called on the first two days of the draft. With that said, let's take a look at the next generation of great pass-rushers in the NFL. The rookies coming in the 2022 NFL Draft give teams a chance to add strong defensive lineman across the board. Players like Aidan Hutchinson, Kayvon Thibodeaux, and George Karlaftis have the potential to transform a defense.
More 2022 NFL Draft Prep
Top 2022 NFL Draft Prospects: Rookie Running Backs
Top 2022 NFL Draft Prospects: Rookie Offensive Linemen
2022 NFL Draft Prospects: Rookie Wide Receivers
Top 2022 NFL Draft Prospects: Rookie Defensive Lineman
1.  Aidan Hutchinson – EDGE – Michigan
Measurables:  6-6, 265 lbs
Projected Round: 1
Potential NFL Landing Spots: Jacksonville, Detroit
Pro Comparison: Joey Bosa
If you're here reading this, it's pretty likely you've already read a few mock drafts and if you have, you know Hutchinson is going first or second overall. This is for good reason, Hutchinson is an absolute beast. His ability to dominate the line of scrimmage and terrorize the quarterback was a good reason Michigan made it as far as they did this year. Over the 2021 Season, his 13 sacks and 16.5 tackles for loss made him a Heisman finalist and will likely make him the number one pick. The 2022 NFL Draft is chock full of rookie defensive linemen 
From an on-the-field standpoint, Hutchinson gets off the line quickly and transfers this into elite power. Additionally, he possesses the speed to win off the edge and chase down both running backs and quarterbacks in the backfield. Ideally, Hutchinson will thrive as a pass rusher in the NFL and showcase the dominant hand moves that made him almost unblockable in college. I have little doubt that he will be a fantastic NFL player. 
2. Kayvon Thibodeaux – EDGE – Oregon
Measurables: 6-5, 258 lbs.
Projected Round: 1
Potential NFL Landing Spots: Jacksonville, Detroit
Pro Comparison: Jadeveon Clowney
While I did have Hutchinson rated as the number one overall defensive lineman, let's just call Thibodeaux 1B. The former number one overall recruit surely lived up to the hype in his time at Oregon. Throughout 30 career collegiate games, Thibodeaux racked up 35.5 tackles for loss and 19 sacks. Perhaps what makes Thibodeaux most appealing as a prospect is the fact that I don't think those numbers were anywhere near his ceiling as a player.
As a prospect, Thibodeaux possesses rare speed as an edge rusher and an underrated ability to drop back into coverage. This kid can do it all, he's fast (4.7, 40-yard dash in High School), powerful, is able to rush from an up or down position, and can defend both the run and the pass. Generally speaking, whichever way Jacksonville and Detroit choose to go, it doesn't look like they can go wrong with these two.
3. George Karlaftis – EDGE – Purdue
Measurables: 6-4, 275 lbs.
Projected Round: 1 
Potential NFL Landing Spots: New York Jets, Denver, Arizona
Pro Comparison: Ryan Kerrigan
Karlaftis is a guy who recently saw his name flying up draft boards. After a productive 2019 at Purdue, Karalftis missed most of his sophomore year with an injury. He then was able to bounce back his Junior year with 28 tackles, 10 for a loss, and 4.5 sacks. While these numbers are necessarily going to make your jaw drop it was really his ability to cause destruction behind the line of scrimmage that made him First-Team All-Big Ten this year.
As I mentioned, Karlaftis does a lot of things that don't necessarily show up on a stat sheet. The two best traits that I've seen him display are his hand moves and his raw power exploding off the line of scrimmage. On top of these traits, one of the most impressive things I saw in his highlight tapes is the ability to stay in front of opposing players in a one-on-one scenario. This skill allows him to wreak havoc in a backfield both in the running and passing game. All around, I see Karlaftis having most of his success down on the defensive line, but he can also play a traditional edge role and stand up sometimes.
4. Jordan Davis – IDL – Georgia
Measurables: 6-6, 340 lbs.
Projected Round: 1
Potential NFL Landing Spots: Los Angeles Chargers, Minnesota, Buffalo
Pro Comparison: Vita Vea
Jordan Davis, just like Karlaftis, is another guy who does a lot that doesn't show up on a stat sheet. This year he had 32 total tackles, 5 for a loss, and 2 sacks. If you haven't watched a second of Georgia football this year and just saw this stat sheet you would probably be shocked that he's being talked about as a first-rounder. However, what the stat sheet doesn't show is that he's a double-team magnet and is likely the best run-stopper in the draft.
As you might think when taking a look at his measurables, this kid is strong as an ox. He moves interior O-linemen like it's nothing. The only problem I see in Davis is that he sometimes relied on this too much in college and will need to work on his hand counters. If Davis can improve this art he'll be a force in the NFL for years to come. One last thing I wanted to note about Davis is how well he moves for such a big guy. He can chase down plays if he needs to and also moves well from side to side. 
5. DeMarvin Leal – IDL – Texas A&M
Measurables: 6-4, 290lbs.
Projected Round: 1-2
Potential NFL Landing Spots: Arizona, Baltimore, Las Vegas
Pro Comparison: Chris Jones
DeMarvin Leal comes in as our number 2 interior defensive lineman for good reason. He came to Texas A&M as a 5 star and certainly lived up to the hype surrounding his signing. In his time at College Station, he accumulated an impressive 133 tackles in 33 games. On top of his ability to find the ball, in his final season, he had 12.5 tackles for loss and 8.5 sacks.
These stats paint a very accurate picture of an incredibly well-balanced defensive tackle. He runs a 4.88 which while it doesn't seem lightning-quick, is impressive when considering most DT's run somewhere in the 5's. Leal uses this speed, coupled with powerful hands to shed blocks and wreak havoc in the backfield.  This also allows him to lineup anywhere on the defensive line however, I see him fitting best on the interior line. Whoever ends up with Leal in the draft will be getting a steal, as he is being insanely underrated. Leal could be one of the stronger defensive linemen in the 2022 NFL Draft and among the impact rookies.
6. David Ojabo – ODL – Michigan
Measurables: 6-5, 250 lbs.
Projected Round: 1-2
Potential NFL Landing Spots: Los Angeles Rams, Seattle, Atlanta
Pro Comparison: Odafe Oweh
David Ojabo is one of my favorite players in this entire draft. Unfortunately, he played most of the season in Hutchinson's shadow but towards the end started to get the credit he deserved. In his final season at Michigan Ojabo racked up 12 tackles for loss and 11 sacks. While you can't ignore the fact that such heavy attention on Hutchinson helped Ojabo, these numbers are still impressive.
Looking past the stat sheet, Ojabo's best trait might be his speed. He's a former state champ in the 100m dash and utilizes that speed to get around OTs. The speed, coupled with a multitude of hand counters and misdirections make him lethal at rushing a QB. While Ojabo remains a raw prospect and there are certain things he needs to improve on like rush defense, he has an incredibly high ceiling. At the next level, I think Ojabo fits best as an edge with perhaps a higher amount of time spent standing up as an outside linebacker.
7. Arnold Ebiketie – EDGE – Penn State
Measurables: 6-3, 256 lbs. 
Projected Round: 2-3
Potential NFL Landing Spots: Houston, Miami, Kansas City
Pro Comparison: Yannick Ngakoue
Arnold Ebiketie is a guy who many people did not really talk about before this year. This is likely due to the fact that he spent the first 4 years of his career at Temple before transferring to Penn State. Once getting to Penn State Ebiketie shined on the bigger stage, putting up 18 tackles for loss and 9.5 sacks.
From an on-the-line perspective, Ebiketie's best skill is his bull rush. He's incredibly powerful and uses this to force offensive linemen back into the pocket on a pass rush. When it comes to stopping the run he's pretty versatile in that he possesses above-average speed (4.65) that helps him seal the edge and blow up plays behind the line. When it comes to improving I'd look at his initial jump off the line of scrimmage as a weakness.
8. Cameron Thomas – EDGE – San Diego State
Measurables: 6-5, 270 lbs.
Projected Round: 2-3
Potential NFL Landing Spots: New England, Buffalo, Chicago
Pro Comparison:  Poor Man's J.J. Watt
Cameron Thomas has had quite the season this year and has been flying up draft boards. This year in his junior season Thomas put up 71 total tackles, 20.5 for a loss, and 20.5 sacks. He's been absolutely incredible and unfortunately has flown under the radar given the fact that he plays in the Mountain West.
Thomas is one of the most powerful linemen in this class. He utilizes the bullrush incredibly well and takes down double-teams regularly. While I mention first his power Thomas has great hand skills and surprising speed at a 4.78 for a guy who is 6-5. Thomas is one of the most talented players in this class and has one of the highest ceilings. His talent will make him one of the more valuable rookie defensive linemen in the 2022 draft.
9. Travon Walker – DL – Georgia
Measurables: 6-5, 275 lbs.
Projected Round: 2-3
Potential NFL Landing Spots: Philadelphia, Dallas, Baltimore
Pro Comparison: Ezekiel Ansah
Travon Walker has to be one of the most interesting prospects on the board this year. If you notice I didn't list him as an outside or inside defensive lineman because he plays a bit of both. I'd be interested to see a breakdown of stats by position but his season stats were 33 total tackles, 7.5 tackles for loss, and 6 sacks. Along with Davis, Walker was a part of one of the greatest defenses in college football history this season.
When I mentioned that Walker was an interesting prospect it doesn't stop with his positioning. His best trait is definitely his incredible quickness off the line of scrimmage. This fast-twitch ability allows him to turn offensive linemen and get around the edge when playing on the outside. What makes this so impressive is the frame of 6-5 that comes with it which allows him to succeed in pursuit downfield and in the backfield. While I'm a big fan of walker I would be remiss not to note that he really doesn't use hand counter moves often. It's something he'll certainly have to work on at the next level.
10. Drake Jackson – EDGE – USC
Measurables: 6-4, 250lbs.
Projected Round: 2-3
Potential NFL Landing Spots: Tennessee, New Orleans, Carolina
Pro Comparison: Hassan Reddick
Jackson is a physical specimen, standing at 6-4 and reportedly running a 4.5 forty-yard-dash. This speed earned Drake Jackson some snaps at linebacker in college but he's likely to be considered an edge heading into the draft. With that said his career stats at USC will look a bit different than some of the other guys we've looked at so far. In 27 games Jackson put up 103 total tackles, 25 for a loss, 12.5 sacks, and an additional 2 interceptions. Simply put, he's incredibly versatile in terms of position among the defensive linemen in the 2022 rookie class.
On the line of scrimmage, his best trait is his speed and quick-twitch explosiveness. These traits help Jackson overwhelm offensive linemen and pressure the quarterback. While Jackson is versatile in terms of position his ability as a lineman is a bit one-dimensional. He lacks the true power that it takes to succeed when forced inside on the next level. While this is surely a knock on him it's not a permanent problem as an NFL Team can put him on a program to increase mass and strength if they want him on the DL. If not, he could make sense as an outside linebacker in a 3-4 scheme.
Top 2022 NFL Draft Prospects: Rookie Defensive Lineman
| | | | | |
| --- | --- | --- | --- | --- |
| Player | University | Measurables | Proj. Round | Possible Landing Spots |
| Aidan Hutchinson | Michigan | 6-6, 265 lbs.  | 1st | Jacksonville, Detroit |
| Kayvon Thibodeaux | Oregon | 6-5, 258 lbs. | 1st | Jacksonville, Detroit |
| George Karlaftis | Purdue | 6-4, 275 lbs. | 1st | New York Jets, Denver, Arizona |
| Jordan Davis | Georgia | 6-6, 340 lbs. | 1st | Los Angeles Chargers, Minnesota, Buffalo |
| DeMarvin Leal | Texas A&M | 6-4, 290 lbs. | 1st-2nd | Arizona, Baltimore, Las Vegas |
| David Ojabo | Michigan | 6-5, 250 lbs. | 1st-2nd | Los Angeles Rams, Seattle, Atlanta |
| Arnold Ebiketie | Penn State | 6-3, 256 lbs. | 1st-3rd | Houston, Miami, Kansas CIty |
| Cameron Thomas | San Diego State | 6-5, 270 lbs. | 2nd-3rd | New England, Buffalo, Chicago |
| Travon Walker | Georgia | 6-5, 275 lbs. | 2nd-3rd | Philadelphia, Dallas, Baltimore |
| Drake Jackson | USC | 6-4, 250 lbs. | 2nd-3rd | Tennessee, New Orleans, Carolina |

Related Content