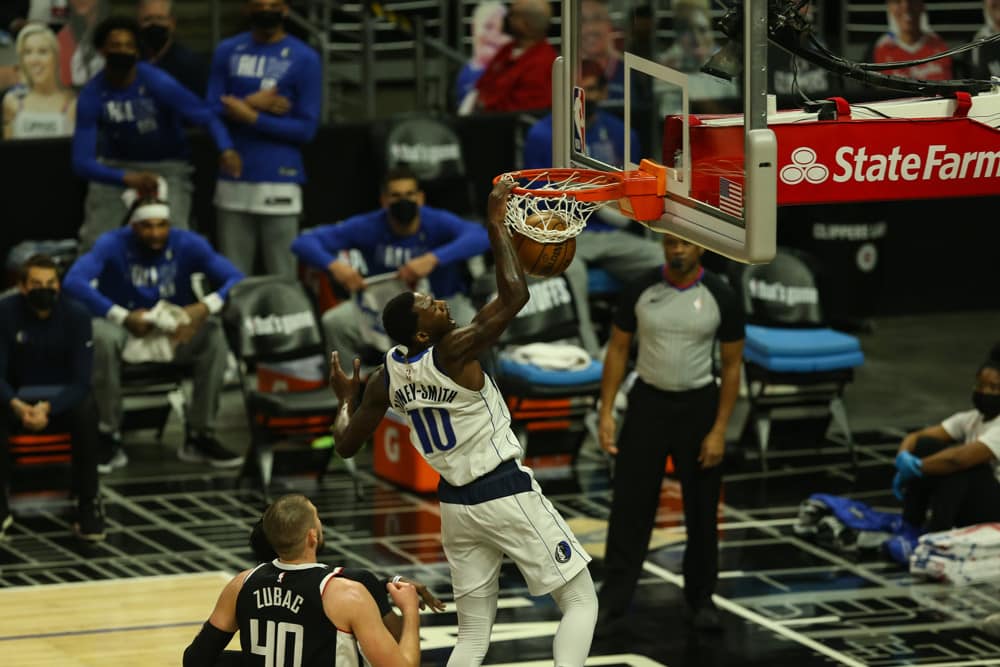 How's your fantasy basketball team doing? I'm on a heater in the SGPN Fantasy League, but it's not because of this column, as all of the players I highlight tend to be rostered already. But that doesn't mean none of these gems will be available on your fantasy basketball waiver wire. Take a look.
(only includes players rostered in less than 50% of Yahoo Fantasy leagues)

Fantasy Basketball Waiver Wire: Best Pickups Jan 19th
10.5 ppg, 4.8 rpg, 1.9 apg, 1.2 spg, 0.5 bpg, 1.9 3PT/G, 45.0% FG, 66.0% FT, 1.0 tpg
DFS repeats as the top fantasy basketball waiver wire option two weeks running. His scoring was a little inconsistent this past week, swapping single and double-digit games back and forth, but he's coming off a monster game last time out – 17 points, 10 rebounds, two assists, two steals, and four three-pointers. And with teammate Maxi Kleiber out with a knee injury, Finney-Smith could be getting more opportunities.
Eric Bledsoe – Clippers – PG/SG – 31%
10.0 ppg, 3.5 rpg, 4.2 apg, 1.3 spg, 0.4 bpg, 0.9 3PT/G, 42.0% FG, 77.3% FT, 2.2 tpg
Eric Bledsoe also returns in the second spot on our list this week. His scoring is pretty inconsistent (or non-existent some nights), but his assist and steal numbers are invaluable. Plus, almost four rebounds from a point guard is pretty nice production. And averaging 26 minutes a night, he has a solid role on the Clippers roster that is devoid of its top two stars, Kawhi Leonard and Paul George.
Patty Mills – Brooklyn – PG/SG – 43%
13.4 ppg, 2.0 rpg, 2.6 apg, 0.6 spg, 0.3 bpg, 3.2 3PT/G, 43.6% FG, 88.6% FT, 1.0 tpg
It's unheard of for 33-year-olds in their 13th NBA season to have a career year, but that is what Patty Mills is achieving in Brooklyn. And with the Nets snakebitten with players being out of action, the veteran guard has been stepping up. This includes back-to-back 21 point games over the past week. No Kevin Durant and only a part-time player in Kyrie Irving means plenty of shots for Mills.

12.3 ppg, 3.2 rpg, 1.7 apg, 0.6 spg, 0.1 bpg, 3.0 3PT/G, 37.3% FG, 75.0% FT, 0.8 tpg
A bunch of combo guards are running things on this week's fantasy basketball waiver wire list. Malik Beasley has only had one dud over the past five games, and in addition to his scoring has been chipping in decent rebound and assist totals. Plus he's still shooting 6% below his career average, so you'd think more than likely he's going to revert back to the mean and get on a hot shooting streak.
12.8 ppg, 3.4 rpg, 2.5 apg, 0.9 spg, 0.3 bpg, 2.0 3PT/G, 37.1% FG, 69.6% FT, 1.6 tpg
A fellow Canadian makes the grade this week. I was thinking that Nickeil Alexander-Walker was having a disappointing year in New Orleans this season until I noticed that he is posting career-highs in pretty much every stat category. His scoring has taken a nosedive this month, but every month leading up to January he was around 14 points a night, so now might be the time to get in on him on the cheap.
11.6 ppg, 3.7 rpg, 1.8 apg, 1.1 spg, 0.4 bpg, 2.1 3PT/G, 41.4% FG, 87.3% FT, 1.3 tpg
I've been banging on about KCP in this space for weeks but no one (outside of the league I'm playing in, of course) seems to be paying attention. He continues to stuff the stat sheet in the nation's capital and is eligible at three positions, and he's just sitting there on the majority of fantasy basketball waiver wires.
Other fantasy basketball waiver wire players worth checking out: Pat Connaughton, Terance Mann, Eric Gordon, Monte Morris, Cameron Johnson
Related Content