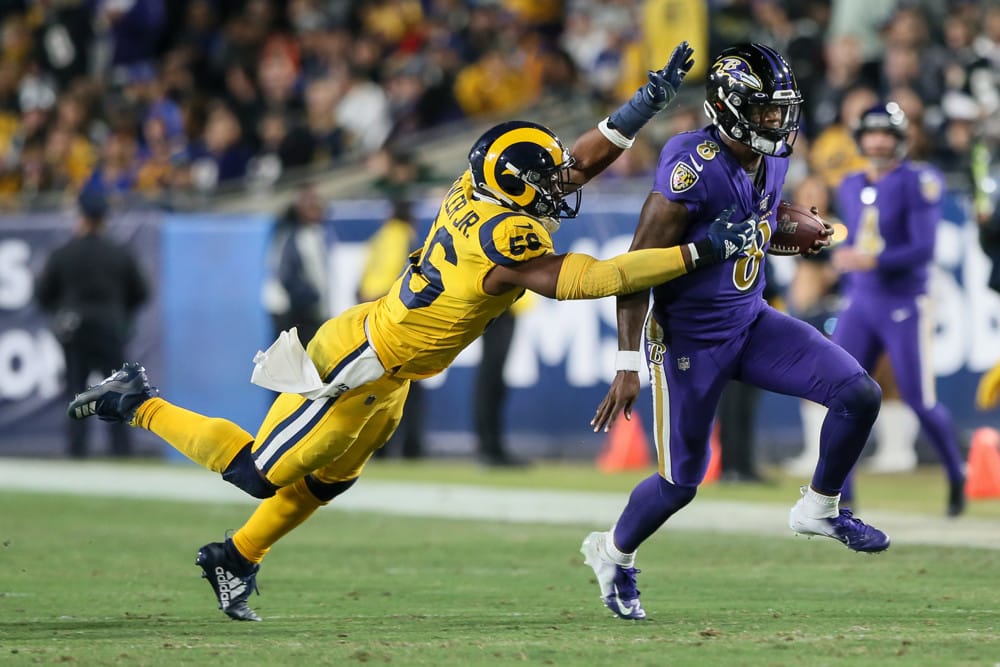 Welcome my degens to the Danny Locks edition of your 2021 Fantasy Football Busts! I have been welcomed with open arms from the bosses of the Sports Gambling Podcast Network and they have blessed me with the opportunity to give you content on fantasy football. Hopefully, none of these players I am going to talk about were on your team, or I will probably see you on a corner holding a sign saying, "Honk, because I suck at Fantasy Football." To put it bluntly, I am very passionate about fantasy football and the University of Michigan. But this article isn't about Michigan athletics, so let's dive into the 2021 busts, disappointments, and outlook for the 2022 season.
Underperforming Fantasy Football Players: 2021 Busts, Disappointments, and Outlook for Next Season
Lamar Jackson (ADP: QB04 – ACTUAL: QB16)
If I didn't include Lamar Jackson on this list, I would be doing a disservice to all fantasy footballers. To put it simply, Lamar tanked this year. He could not get healthy which obviously put a damper on his overall performance. Lamar was drafted as the QB04 coming into this year and finished as QB16. Coincidently he had 16 passing TDs but only two rushing TDs. When not out with injury, Lamar has thrived in a John Harbaugh offense. Harbaugh is able to adapt his offense scheme around Lamar's strengths. But Lamar still hasn't been able to make it far in the playoffs, has looked limited as a passer, and regularly missed time. Lamar was injury-plagued and lands among the busts from the 2021 Fantasy Football Season.
2022 Evaluation
This could be another hurdle for Lamar. With the season Lamar has had, this gives fantasy owners the ability to allow Lamar drop to you on draft boards. I would still target Lamar as a QB03, but I would wait until at least the 6-7 round in your drafts.
Kyler Murray (ADP: QB03 – ACTUAL: QB10)
This leads me to my second underperforming quarterback: Kyler Murray. Kyler has stumbled into the playoffs and has six of the last ten. He was supposed to be a top 3 QB. However, he struggled to end the season finishing tenth at the quarterback position in terms of fantasy. Kyler only boasted a 2.4 to 1 TD to INT ratio and didn't seem to use his legs to extend drives enough. Defenses have been able to contain Kyler within the pocket. This has had a negative impact, not only in fantasy but also in limiting the Cardinals offensively. Also, one key point I saw when watching the Cardinals was play calling. Kliff Kingsbury was not calling enough play-action or plays where Kyler could roll out into space and be that true threat he has been in years past. Kyler's numbers took a significant hit this year.
2022 Evaluation
The upside and floor for Kyler is still very high. I would watch to see what the Cardinals do in the off-season to see if Kingsbury allows the Offensive Coordinator to call plays or if a different signal-caller is established. I would target Kyler around the 5th round of drafts.
Christian McCaffrey (ADP: RB01 – ACTUAL: RB43)
Now if you chose this running back, you left the season feeling like a dunce. That's because Sean Green's take on Christian McCaffery was spot on. McCaffery was a consensus number one overall pick, in terms of ADP, but really seemed to struggle with getting in the end zone. CMC finished with two TDs and 43rd overall as a fantasy RB. McCaffery never seemed comfortable when playing with Sam Darnold or Cam Newton. I don't think a rhythm was ever developed with Darnold or Newton who both seemed to forget that McCaffery is a game-changer offensively on both the rushing and receiving end. McCaffery suffered a high ankle sprain that seemed like a few missed weeks, but it might as well have been a ruptured ACL and he missed the rest of the season. Who would have thought CMC would land among the fantasy football busts (Sean Green did)?
2022 Evaluation
The season CMC produced allows fantasy owners to extrapolate value. If I was targeting CMC, I would first, nonchalantly, talk shit about Panthers QB's to other people within your league to possibly grab him in the 2nd round. Hopefully, your shit talking is above average in this category because it will take some convincing.
Saquon Barkley (ADP: RB09 – ACTUAL: RB34)
Speaking of ACLs, Saquon Barkley's ACL may still be injured because he has not been the same since his time at Penn State. Saquon was behind a bad offensive line and it showed with only four TDs and finished 35th overall at the running back position. Saquon could not break free and boasted 2.46 yards after contact which is well below the league average. Another problem was getting Saquon into space, something that neither Jason Garrett nor the other bum whom the Giants called their offensive coordinator. Hopefully, you didn't listen to KramDog who is a Saquon lover.
2022 Evaluation
Now, I am definitely not a Saquon lover, but with Saquon being on the 5th year of his rookie contract, he needs to have a phenomenal season to get an even bigger contract. I would let Saquon fall into your lap in the 4th round, in hopes, that he produces a huge season.
D.K. Metcalf (ADP: WR06 – ACTUAL: WR10)
These next two players really hit home because I drafted both of these guys. First, D.K. Metcalf really let us all down. D.K. had some inflation in his stats, especially with his three TD game at the end of the year. Unfortunately, D.K. drew some difficult coverage with a top 10 strength of schedule. It also seemed like D.K., Russ and Geno could not develop a working relationship on the field. D.K. was too busy developing relationships off the field than on the field. But good for D.K. trying to live his best life.
2022 Evaluation
In terms of targeting DK in your 2022 fantasy draft, I would definitely keep my eye on the QB situation in Seattle. Once that situation has settled, I would target DK accordingly.
Allen Robinson (ADP: WR11 – ACTUAL: WR94)
Additionally, Allen Robinson dropped off all fantasy maps. Darnell Mooney started to gain a lot of Justin Fields and Andy Dalton's attention and somehow Matt Nagy forgot about how dynamic Allen Robinson was just a year ago. Robinson finished outside the top 80 WRs and finished with one TD when fantasy owners were drafting him in the 3rd round. Robinson also did not help himself out in getting a contract either after being franchise-tagged at the beginning of the year. Definitely, something fantasy owners should look at prior to drafting. The obvious exception to the rule is Aaron Rodgers and Davante Adams with their "Last Dance." The exception to the rule I am referencing is Robinson is obviously not even in the same category as Davante Adams or Aaron Rodgers. Rodgers and Adams are exceptional Hall of Fame athletes, and everyone knew that they would have a phenomenal season together. Unlike many of the other busts on this list, Robinson was available for much of the fantasy football season.
2022 Evaluation
I would wait to see where Robinson lands and the QB situation before drafting him.
Julio Jones (ADP: WR18 – ACTUAL: WR92)
Finally, the Julio Jones hype was ridiculous this year. Now, I was rather apprehensive when it came to Julio just because I thought he lost a step. Julio also finished outside the top 80 WRs. It seems like the Titans may be trying to use Julio to stretch the field because Julio averaged 14 yards per catch, but only one TD. Julio is always a candidate when it comes to drawing double coverage which definitely opened the field up for A.J. Brown. Hopefully, the Titans can find a way to get Julio involved otherwise fantasy owners should avoid him at all costs. He was one of the worst fantasy football busts this year.
2022 Evaluation
In terms of targeting Julio next year, I would consider Julio a flex option for your fantasy teams and wait until at least the 9th to 10th round of your fantasy drafts.
Darren Waller (ADP: TE02 – ACTUAL: TE18)
One guy who seemed like he was due for some negative regression was Darren Waller. Luckily, I traded Waller but he really let fantasy managers down with his piss poor effort this year. Waller was a top 3 TE and finished 18th. Defenses were good at taking the TE position away from the Raiders because Waller only finished with two TDs and a 59% catch rate. Both are well below the league average making him one of the biggest fantasy football busts. Like I mentioned above, high ankle sprains always seem to take longer to heal. This obviously affected Waller's ability to cut and get open for Derek Carr.
2022 Evaluation
If Waller does not heal this offseason or this becomes a lingering injury, fantasy owners should let Waller drop in the draft. I do think Waller has a new outlook on how to attack the NFL after his early struggle with addiction in the league. Waller is still a very good candidate to be a top 3 TE in the league. I would still target Waller in the 3rd to 4th round of fantasy drafts.
Hopefully, all the degens out there did not select any of these guys! Good luck to everyone doing playoff fantasy!
RELATED CONTENT