Jim Mora's voice cracked as he tilted his head to the side and his eyebrows reached for the sky. "Playoffs?!" He was incredulous that such a question would be posed after a tough midseason loss. The Colts did not, in fact, reach the playoffs that season. It was somehow less heartbreaking than the avenue taken by Frank Reich's Colts to fall short this season. There will be no Jonathan Taylor running roughshod over the AFC bracket this winter. We will miss Darius Leonard chasing down ball carriers like a leopard and punching the ball out like Peanut Tillman used to. Heck, we won't even get the chance to see the method in which Carson Wentz's atrocious play would ultimately cost them a chance at the Super Bowl (that came a week early).
We do have 14 of the NFL's best teams in the playoffs with visions of grandeur still reflecting in their eyes. Like Spirit Halloween stores, playoff fantasy football leagues have already popped up from the rubble of regular season leagues that recently ended. The grandest of all playoff leagues is the FFPC Playoff Challenge. This unique league sports a grand prize of half a million dollars. The scoring and rules are quite simple, but winning the big bucks off your $200 entry fee is an incredibly steep challenge. I have devised a strategy that I feel gives one the best chance of basking in the confetti, even if your favorite team isn't the one hoisting the Lombardi Trophy. Plus, if you sign up now and use the promo code "SGP" FFPC will give you $25 for free. Let's dive on in.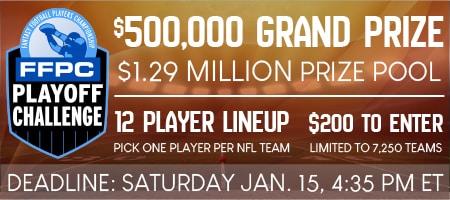 FFPC Playoff Strategy 2022: How to Win Playoff Fantasy Football
The Rules
It really is the most simple format in existence. You, the manager, choose 12 players from the 14 playoff teams once before the tournament begins on Saturday afternoon. The catch? You can't roster more than one player from any team, so you're fading two of them. You must select: One quarterback, two running backs, two wide receivers, one tight end, four flex (RB/WR/TE), a team defense, and a kicker. As you can already imagine, the variance is off the charts and you will need to be perfect to take down the half milly. The scoring is a pretty standard PPR with 4-point passing touchdowns and a 0.5 tight end premium (a FFPC trademark). Oh, and points are doubled in the Super Bowl. Which strategy you employ will say a lot about the type of player you are for high stakes, as it should.
Strategy
Will the chalk prevail? Who will be the surprise player on the surprise team to advance and break the slate? I think it's important to recognize that you'll probably need to roster at least a couple of popular players. This isn't DFS, where each player has an assigned salary, but you will need to pretend it is and be different. Tap into that quirky place in your brain that gets you in trouble for aloofness and insane risk tolerance. I went back two years on this contest and one thing is consistent: the popular guys don't show up on many winning rosters.
I would like to extend a personal thank you to Jon Jackson for putting this beast together last year (in three parts!). The challenge for me is to fill Jon's enormous shoes and also boil down all the research data he compiled without detracting from his massive contribution. I'll shoot you straight; I'm a football guy and the data is important, but not the end-all-be-all. I felt it to be more digestible if I went by position and broke down the pros and cons of rostering certain guys in the FFPC Playoff Challenge.
FFPC Playoff Strategy: The Pieces
Quarterbacks
In a scene straight out of The Princess Bride, the battle of wits will be whether or not you need to roster a quarterback who stands a good chance of reaching the Super Bowl (you'd think that, but you'd be mistaken!). The 2020 champion used Lamar Jackson and the Ravens were bounced in the Divisional round after their bye. No, you don't need your quarterback to reach the big game to conquer this monster. The ultimate move is to get ballsy and pick the signal-caller for a team you feel could surprise and go deeper than expected.
AARON RODGERS (PACKERS)
Green Bay is the preeminent favorite to represent the rugged NFC in Los Angeles. I feel like it's sort of a disadvantage to use a quarterback for a team with one fewer game, not to mention how unholy his chalk is probably going to be. Still, the dude is one of the best of all time and will face the lowest seed advancing from the Wild Card round. If you go chalk at quarterback, I recommend making that the only boring thing about your team.
TOM BRADY (BUCCANEERS)
The GOAT is back in the postseason and that should terrify everyone. Brady will be ultra-popular because of a seemingly soft first-round date with the Eagles. I say, proceed with caution. Tampa Bay is in a great position to advance, but that also means they are the perfect team to establish leverage with by using your Bucs pick on someone besides Brady and Mike Evans. Like with Rodgers, if you powder up at quarterback, you'll need to don your aluminum foil hat to finish your team.
JOSH ALLEN (BILLS)
This is where the quarterback position starts getting really hairy (in a good way). Buffalo and New England split their regular-season series, shedding plenty of doubt about using Josh Allen as your solitary Bills player. The weather in Orchard Park is expected to be miserable in a different way than it was on December 6, when gale-force winds grounded the air attacks in a 14-10 Patriots win. If it's just snow on Saturday night, Allen might be my favorite quarterback pick. He is the motor that drives this Brian Daboll offense and its greatest weapon. Should the Bills prevail, it will be on the arm and legs of number 17.
JOE BURROW (BENGALS)
I have a really strong inkling that Burrow will pick up some serious chalk in the Playoff Challenge. The Raiders secondary is Casey Hayward and a bunch of guys. Cincinnati is also a popular pick to be a pleasant surprise on the AFC side of the bracket. I'm not saying you shouldn't pick Burrow as your quarterback, but I think one of his three incredible receivers or Joe Mixon might be a wiser choice. Plus, it was the Bengals rushing attack that ripped apart the Raiders earlier in the season. The passing attack had a rare down game in Las Vegas, giving me pause about going after a very popular Burrow.
NFL leader in completion percentage? Joe Burrow.
NFL leader in yards/pass attempt? Joe Burrow. pic.twitter.com/EzUnVcOALJ

— Cincinnati Bengals (@Bengals) January 11, 2022
PATRICK MAHOMES (CHIEFS)
Why do I have Mahomes this far down the list? First of all, I can't stand his little brother or how Patrick dresses his steak. Second of all, the only folks who will eschew the Chiefs star quarterback will be the ones trying to be super sneaky and opt for a less popular Chief. The Steelers matchup is soooo juicy. It was only three weeks ago that Kansas City completely destroyed Pittsburgh, 36-10. The Chiefs are a whopping 13-point home favorite here, with many laying the points anyway. Since Mahomes is all-but-guaranteed a minimum of two games, the only possible way the chalk is mitigated is the depth of the quarterback position in this year's tournament. This translates to "no leverage."
KYLER MURRAY (CARDINALS)
The NFC bracket will be a gauntlet. It's clear that six of the seven teams have a very legitimate chance to hoist the Lombardi Trophy, so herein lies the leverage at the quarterback position. The Cardinals and Rams split their season series, with Arizona winning decisively at SoFi Stadium in early October. The Cardinals, along with Murray, were 8-1 this season on the road. The only loss was an embarrassing showing against the Detroit Lions. It stands to reason that Kyler will be a less-popular option with a more difficult first-round matchup. He is still a fantasy dynamo and capable of carrying Arizona by himself. I believe the Cards will beat the Rams and make some noise this year. If you agree, Murray has upside to burn.
MATTHEW STAFFORD (RAMS)
There really are only a handful of quarterbacks in the playoffs this season who weren't complete studs in the regular season for fantasy. Stafford, even as a non-mobile signal-caller, has as high of a ceiling as any quarterback remaining. The Cardinals flaunt a ferocious pass rush led by Chandler Jones, but the personnel in the secondary is a glaring weakness. The most recent clash between these two teams saw the Stafford-to-Cooper Kupp connection put on a clinic. If you really believe the Rams are advancing, Stafford is an optimal leverage off Kupp. Kupp is slated to be the most rostered player in the Playoff Challenge.
DAK PRESCOTT (COWBOYS)
It's going to be really tough to decide which member of the Dallas Cowboys to use for this contest. On one hand, the 49ers have had a hard time slowing down good passing attacks. On the other, Dallas sports the greatest number of viable choices in roster-worthy weaponry. Dallas doesn't necessarily match up well with San Francisco, which gives me pause on using my quarterback spot on Prescott. Dak's weakness for fantasy purposes has been his week-to-week volatility. He is capable of dropping 40 points on any defense, but also of laying a rotten egg. Seems like the perfect fit for this crazy championship.
JALEN HURTS (EAGLES)
The name Lamar Jackson was mentioned above as the one-and-done quarterback of the 2020 FFPC Playoff Challenge champion. That Ravens team was 14-2 and ran into a Derrick Henry problem. His closest comp in this field is Hurts, who seems to score fantasy points in quantities that belie his play on the field. The Bucs and Birds met in Philadelphia in Week 6 this season, with Tampa Bay winning 28-22. Hurts was painful to watch, only completing 12 of 26 passing attempts. He did, however, rush for 44 yards and two scores with another through the air. Jalen Hurts might be the leverage play at quarterback that makes the most sense, in that very few expect the Eagles to advance. With a solid fantasy performance from Hurts, you might not need them to.
DEREK CARR (RAIDERS)
The Bengals can thank the Raiders for breaking them out of their early-season losing streak and sending them into motion for a flamboyant playoff push. Cincy's 32-13 shellacking in Vegas was the second-consecutive beatdown the Raiders took in November. Carr was serviceable but overmatched and irrelevant for fantasy. The Fresno State grad will be much less popular for those using a Raider than his budding star receiver, Hunter Renfrow. Does Derek Carr have the potential to emerge as a dark horse this postseason? Yes. Is it more likely than one of his complimentary pieces doing the same? I would say no.
JIMMY GAROPPOLO (49ERS)
Jimmy G. intrigues me in this format. I don't think he's a very good player, but his numbers this season have painted a more flowery picture. Garoppolo enjoys a stable of weapons rivaled by few teams. Kyle Shanahan understands Jimmy's limitations and plans well to maximize their chances of victory. The Cowboys are one of the most opportunistic defenses in the NFL, which could doom the 49ers should they put too much on Jimmy's plate on Sunday. Conversely, the Dallas secondary is ripe for the picking down the field. I could very well picture Garoppolo appearing in the championship lineup this year with a 49ers win or two. He surely will be an afterthought next to Deebo Samuel and George Kittle.
RYAN TANNEHILL (TITANS)
The top-seeded Titans are hiding in the grass this year. Mike Vrabel has put on a master class of making chicken salad out of chicken excrement. There are so many appealing quarterback options this year that one could easily forget Tannehill is even one of them. Tennessee will face the lowest-seeded AFC team to advance this weekend, which is significant for Tannehill's prospects as a dark horse leverage quarterback with rushing upside. The AFC side of the bracket is not nearly as daunting as the NFC. Tannehill is worthy of strong consideration in this format.
MAC JONES (PATRIOTS)
Could he? It is possible, albeit unlikely that Mac Jones is fantasy relevant in his first trip to the postseason. I have an overwhelming concern that Buffalo is simply a better football team. Even then, it's moronic to bet against Bill Belichick when the chips are down. Mac has been a picture of efficiency, but it really hasn't translated well to fantasy football. I am actually leaning toward using the Patriots as one of my teams to fade entirely. Jones slots in as the fourth-most appealing player on this team, behind Nick Folk, Damien Harris, and the Patriots DST.
BEN ROETHLISBERGER (STEELERS)
There's contrarian…and there's stupid. With the way the Chiefs have been getting after quarterbacks, I have zero hope that rostering Big Ben will be fruitful. Pittsburgh is a 13-point road underdog and the leverage play might simply end up being to not fade the Steelers with the field. Ben's weapons are multitudes more appealing for fantasy, especially in this format. A Steelers upset would send unforeseen shockwaves through the football community. So would Ben scoring more than 15 fantasy points.
"We don't have a chance, so let's just go in and have fun."

—Ben Roethlisberger on the Steelers' playoff game vs. the Chiefs

(via @steelers) pic.twitter.com/ajZJkG0PSk

— SportsCenter (@SportsCenter) January 12, 2022
Running Backs
AARON JONES & AJ DILLON (PACKERS)
I really like both of these guys equally in different ways. Each of them surpassed 1,000 scrimmage yards this season, balancing out one of the strongest offensive units in the NFL. Rodgers and Davante Adams will be popular (for good reason), but the skeleton key lies in this potent running game. Tandem backfields can be frustrating, but they also offer an incredible amount of leverage that stems from the field mistakenly fading both. Jones is an exemplary receiver with a strong nose for the end zone. Dillon just seems like the last person I want to try and tackle at Lambeau Field in January.
LEONARD FOURNETTE (BUCCANEERS)
I do not wish to besmirch the name of RoJo, but it's Playoff Lenny SZN. Last season's kingmaker in the Playoff Challenge won't be a secret this time around. Fournette has always been a top running back when healthy. In case you didn't know, the Eagles struggle mightily with stopping the power run game. Some might call it chasing last year's points. I call it having a keen memory of greatness and not overthinking my way out of rostering a winner.
DEVIN SINGLETARY (BILLS)
With most of the focus on Allen and Diggs, it's easy to overlook a true bell-cow situation. The diminutive back from Florida Atlantic has been carrying quite the load for Buffalo in the second half of the season. Singletary's production with that bump in usage has turned Buffalo into a downright scary offensive unit. I picture him as one of my four flex plays if I'm using him as my Buffalo representative, with a real chance at a Fournette-like run to glory.
JOE MIXON (BENGALS)
Merely speaking about Saturday's game versus the Raiders, the player I'm highest on is Mixon. It was he who left remnants of the Silver and Black embedded in the grass at Allegiant Stadium in November, after rushing for 123 yards and two touchdowns on 30 carries. Vegas has since righted their run defense a smidge, but expect Cincy to feed Mixon copiously to draw more shallow safety looks and open up play-action windows. The allure of the Bengals' passing attack will be like a bug zapper, leaving a potentially optimal play unused.
CLYDE EDWARDS-HELAIRE & DARREL WILLIAMS (CHIEFS)
I'm really not feeling CEH as a running back commodity with a bright future. Health aside, he has been relegated to specialized duty too often in favor of Williams. The Kansas City offense just doesn't put much on the plate for its running backs in the first place. Williams is the bigger, more physical back. Thus, he is favored in goal-to-go situations. Williams is a much more capable blocker and route runner. Hence, his greater usage in the two-minute offense. Williams isn't as flashy or elusive as Edwards-Helaire, but if I'm getting cute and opting for one of these backs, it's Darrel Williams.
JAMES CONNER & CHASE EDMONDS* (CARDINALS)
These two make for a lethal one-two punch, but haven't shared the field in good health in weeks. Most recently, Edmonds has missed time with multiple injuries. If both are healthy, either is a solid option with tons of upside in a potent offense. Their opponent on Monday night, the Rams, are not considered stout against the running back position. Conner will hit paydirt, while Edmonds enjoys a full running back route tree with speed and quickness to burn after the catch.
CAM AKERS & SONY MICHEL (RAMS)
The Rams backfield has come full-circle this season. Akers' Achilles tear prompted the trade for Michel to back up Darrell Henderson. Michel filled in admirably once Henderson went down with his own injury. Now, Akers has made his superhuman return to the field. He will most likely split reps with Michel, but either is a very sneaky direction to take as a running back or one of your flex positions. Operating in the darkness of Cooper Kupp's formidable shadow presents another tantalizing leverage opportunity.
https://twitter.com/RamsNFL/status/1480294444213497858
EZEKIEL ELLIOTT & TONY POLLARD (COWBOYS)
Zeke stealthily turned in another season as a top-10 fantasy running back in 2021. The man played through a painful bone bruise in his knee for a large portion of the season and still commanded respect from opposing defenses. He has a lot of mileage and is now considered geriatric for his position. Those persistent narratives open a window of opportunity to roster a player who is as likely to score a touchdown in any particular game as any player in the NFL. For Pollard, it boils down to the pride of Memphis wielding the home run swing. Zeke is a good receiver, but Pollard is incredible. San Francisco isn't a slouch against the run, giving me a slight lean toward the more explosive playmaker of the two to propel the Cowboys into the later rounds.
MILES SANDERS (EAGLES)
I didn't mention Boston Scott, Jordan Howard, or Kenneth Gainwell because I don't think they will be relevant when the Bucs crush Philly on Sunday. Hell, I didn't even want to type out Sanders' name. The Nittany Lion gets the shaky nod because he does have the ability to break big plays on occasion, albeit rarely. The Tampa Bay front seven is terrifying. Philadelphia's only chance is to stubbornly stay committed to the running game that got them here. It probably won't work, but they can't allow Brady to win time of possession against this putrid Eagles defense.
JOSH JACOBS (RAIDERS)
Jacobs has to be one of the most underappreciated players in the NFL. He went nearly completely unnoticed this season, on his way to 226 PPR points and ended up as the RB12. Jacobs also led all running backs in the NFL with 94 targets in the passing game. Why am I telling you this? Because Hunter Renfrow is hogging all the limelight and will be far and away the most popular choice from the Las Vegas Raiders. Vegas has a real chance to beat Cincinnati this week and move on to the Divisional round. It will likely be from the thankless production from their versatile, talented running back from Alabama.
ELIJAH MITCHELL (49ERS)
Unless you're a degenerate dynasty junkie like me, you probably don't know much about Mitchell. The late-round pick from Louisiana-Lafayette was always a better fit (and player) than Trey Sermon. He is a carbon copy of the blazing-fast Raheem Mostert, only he's six years younger. The Shanahan offense is an elaborate scheme to put track athletes in space, suiting Mitchell's 4.39 40 time just fine. His recent knee injury has held him out of full practice and caused him to relinquish some of his backfield touches to Sexy Flexy (Deebo Samuel). Still, Mitchell will have about 20 chances to break off a breathtaking scamper against the Cowboys on Sunday afternoon (and beyond if they triumph).
DERRICK HENRY & D'ONTA FOREMAN (TITANS)
The return of King Henry from his foot fracture poses an interesting conundrum. After the Titans' bye, how much work will Henry get straight away? Is he even 100% at this point? Foreman has been fantastic in the King's stead, maintaining the imposing physicality that Vrabel wishes to smack his opponents with. Derrick Henry is already a legendary player. I won't count him out if he's in uniform. Tennessee is guarding state secrets that would be very useful to us for the purpose of this contest. Unfortunately, we likely won't know Henry's role for the Divisional game until long after lock this weekend. Either way, I will not expect the Titans to shelve Foreman by any stretch and he will contribute.
DAMIEN HARRIS & RHAMONDRE STEVENSON (PATRIOTS)
For the first time in years, we have had relative clarity in the New England backfield. Harris is the alpha dog and gets all he can handle when healthy. Stevenson is the rookie who seems to be cloned from Patriots' Super Bowl hero, LeGarrette Blount. The key to New England progressing past Buffalo will be their running game, as evidenced by Harris' romp at the Ralph in the wind storm. Stevenson is a bruiser with decent receiving skills to boot. On multiple occasions this season, both were highly productive for fantasy in the same game. Neither will be chalky, so let your freak flag fly and plug either one of them in to separate your build from the pack.
NAJEE HARRIS (STEELERS)
In the Chiefs' 36-10 rout of the Steelers a few weeks ago, Harris was still very productive. Even though the flow of the game limited Najee to 19 rushing attempts, he averaged 4.9 yards per carry and tossed in five receptions. Should you decide to not fade Pittsburgh in the FFPC Playoff Challenge, it stands to reason that Najee is the Steelers player that makes the most sense. His 1,600 scrimmage yards and 10 touchdowns this season were nothing short of miraculous in the desolate working conditions he was subjected to. Much like the Eagles, the Steelers must run the ball successfully to advance over the heavily-favored Chiefs at Arrowhead Stadium.
Wide Receivers
DAVANTE ADAMS (PACKERS)
I'll give some credit to the play of Allen Lazard down the stretch. For this contest, it's wholly unnecessary to use a WR spot on a lesser player. Adams is the best wideout in the NFL and will be very popular. He is also one of a few players I wouldn't mind plugging into my lineup regardless. Just as "all roads lead to Rome," all Packers passing plays have Adams as the first read. I believe the Packers to be the most likely to rise from the rubble in the NFC playoffs, giving us no reason at all to look elsewhere when picking wide receivers.
MIKE EVANS (BUCCANEERS)
Any person with a reasonable amount of football knowledge knows that Tom Brady is going to miss Chris Godwin and Antonio Brown (on the field). Only, he might not miss them that much this week against the Eagles. The Eagles have but one strength on defense and his name is Darius Slay. Evans will be one of the more popular Buccaneer choices, due to the dearth of talent below him on the depth chart. He is still a very solid option, as Tampa Bay is led by the winningest player in NFL history and figure to stick around for a few games.
STEFON DIGGS (BILLS)
I suppose it comes with the territory for playoff teams. They reached the postseason with great quarterback play, aided by elite receiving talent. Brian Daboll has done wonders to maximize Josh Allen's potential, completely designing the Bills offensive scheme around the quarterback's unique gifts. In the same vein as Adams, Diggs is a worthy chalk play. His target share is immense and Buffalo has serviceable-not-great ancillary receivers. Should the Bills advance over New England, the remaining AFC pass defenses leave a lot to salivate over.
JA'MARR CHASE, TEE HIGGINS, & TYLER BOYD (BENGALS)
Crazy, right? Cincinnati's terrific trio of wide receivers was equal parts stability and meteoric upside. Joe Burrow's rapid ascent to the upper crust of NFL quarterbacks is a huge reason why the Bengals are hosting a playoff game. Chase is the shiny new racecar in the garage and it's no wonder, with 1,455 receiving yards and 13 touchdowns in his rookie season. Laying in the shadows is Tee Higgins, who nearly cracked 1,100 receiving yards of his own in only 14 games. I included Boyd because he is ultra-reliable and not necessarily the third option in every game. Any of these three guys could end up on a winning roster this postseason.
TYREEK HILL (CHIEFS)
The Cheetah might be, dare I say, underrated in this contest (?). The presence of quite a few top-shelf wide receivers in this year's postseason offers a relief from Cheetah Chalk that is nearly as rare as his speed and quickness. Pittsburgh's secondary is old and below-average athletically. He was also very quiet in his Week 16 date with the Steelers, only putting up 3.9 PPR points. Hill's game scores run the gamut, ranging from 1.2 to 50.6 points. He is exactly the player I would roster with a chance at half a million dollars.
CHRISTIAN KIRK & DEANDRE HOPKINS* (CARDINALS)
If there was some hope that Nuk would be ready to go next week in the Divisional round, it would be a fun little exercise to "pretend" that Arizona had the top seed. Alas, they don't. Hopkins is already ruled out for the Monday night spectacle at SoFi Stadium in LA. Tossing Nuk into your Playoff Challenge build would be scandalous and fantasy manager malpractice. It's also just crazy enough to pay off if the unthinkable happens in your favor. Kirk is safer and plenty capable of doing serious damage in spurts.
COOPER KUPP & ODELL BECKHAM JR (RAMS)
The only shred of hesitation I would have about building my FFPC Playoff Challenge lineup around Cooper Kupp is that I think the Cardinals will beat the Rams on Monday night. If that were to happen, a slough of lineups would immediately wash away in a slurry of unrequited chalk. If the Rams prevail, Kupp will continue his rampage through the NFC bracket as the most productive receiver since Calvin Johnson. The Kupp chalk really hasn't busted this season, but that's a story for a different contest. A clean pivot to the rejuvenated and liberated OBJ is the stuff that can bring home a half milly.
CEEDEE LAMB, AMARI COOPER, & CEDRICK WILSON (COWBOYS)
Before you laugh at the presence of Ced Wilson, it would be wise to revisit his stats in games missed by Michael Gallup this season. He even sprinkled in three games of 18-plus PPR points when Gallup was active. The 49ers' secondary is a mess with injuries galore. It takes no brain power to immediately envision a monster game for Lamb, leading into a terrific playoff run for the highest-scoring offense in the NFL. Cooper is about as consistent as my grandma's lumpy oatmeal, but his highs are magnificent displays of fleeting dominance. Truthfully, the Cowboys will be impossible to gauge chalk on. It's best to not think too much about it and lock in the one that makes your lip involuntarily curl into an evil grin.
DEVONTA SMITH (EAGLES)
The Slim Reaper was very good this season, breaking the Eagles' rookie record for receiving yards. Unfortunately, he is subjected to the Jekyll and Hyde reputation of Jalen Hurts' right arm. Tampa Bay does not have a very strong secondary, but they are very well-coached and set Hurts into obvious confusion in their meeting earlier in the season. Smith has the potential to catch fire at any moment, but he sadly only garnered four targets in Week 6. He is nothing more than a shot-in-the-dark leverage play in case the Eagles pull the upset.
HUNTER RENFROW (RAIDERS)
In a league chock full of elite route runners, Renfrow might be the craftiest. Derek Carr certainly loves throwing to him. I prefer Jacobs or Waller as my Raiders representative for the Playoff Challenge, should I decide not to make them one of my two faded teams. No disrespect to Renfrow, but Carr was under constant harassment versus Cincinnati this season in a blowout loss. Renfrow only managed four receptions for 30 yards in that one. It could have been an outlier, sandwiched between a torrid stretch of huge fantasy performances. It could also have been a warning to not trifle with the Bengals.
https://twitter.com/FieldYates/status/1480356492234665993
DEEBO SAMUEL & BRANDON AIYUK (49ERS)
I'll be completely honest, this is about 80% Deebo and maybe 20% Aiyuk. Both are incredibly gifted in their own right, with differing play styles. Aiyuk is a pivot off of an extremely chalky Deebo Samuel in the Playoff Challenge. It will be tempting to throw caution to the wind. I was shaken awake in a cold sweat from a lucid dream about the Dallas defense (and their poor tackling) getting barbecued by Deebo on Sunday, but this team is a far cry from the 2019 Niners. The chances that Jimmy G leads this team to a deep run are slim to none.
AJ BROWN & JULIO JONES (TITANS)
I'm having a hard time predicting how popular Brown will be for this contest. Some of the chalk could very well be getting shielded by the Titans' first-round bye. It's still hard to believe that these savvy high-stakes players will forget his Festivus fantasy miracle against the 49ers. AJB is always a threat to go thermonuclear, especially if Derrick Henry is casting a shadow in the backfield. A healthy-ish Julio Jones is also an option. The AFC is in for a rude awakening, as the team with a week off and home-field advantage is also expected to be the healthiest they have been all season.
JAKOBI MEYERS (PATRIOTS)
Meyers is a nice player, but this receiving corps is an embarrassment. It would be stunning if a Patriots pass-catcher even sniffed a winning lineup this postseason. Notable others include Nelson Agholor and Kendrick Bourne. Each has had a few nice games, but make Amari Cooper look like Mike Evans as far as consistency goes.
DIONTAE JOHNSON & CHASE CLAYPOOL (STEELERS)
Big Ben is admitting that the Steelers' season will end on Sunday night, even if his comments were dripping with aww shucks sarcasm. The 2021 NFL season has been unpredictable to a level never before seen, but Pittsburgh is clearly overmatched here. Diontae is such an awesome player and I fully expect him to reach a new stratosphere once Roethlisberger finally hobbles off into the sunset. Claypool's stock has plummeted this season, after rushing onto the scene last year as a dynamic rookie out of Notre Dame. It shouldn't be necessary to leverage off of Diontae since the smart money has fully left the Steelers for dead. He is still capable of hanging a big number on the board, even if just for one game.
Tight Ends
JOSIAH DEGUARA (PACKERS)
The little-known third-round pick has stepped in nicely for Robert Tonyan this season, mostly as an upgrade in the blocking department. With all of the better options in Green Bay, it would be madness to use your Packers player on an unproven tight end who is largely ignored in the passing game.
ROB GRONKOWSKI (BUCCANEERS)
There are a few tight ends worthy of the risk, but perhaps none more than Gronk. The absence of Godwin in the slot has completely released the future hall of fame tight end into the wild. Picking the right Bucs representative for your FFPC Playoff Challenge roster will be a challenge. Those other great players on the defending champs should pull some of the chalk away from Gronk, but we shall see.
DAWSON KNOX (BILLS)
Knox ended the regular season on a low note. He was blanked against the Falcons and only pulled in three catches against the Jets in Week 18. The Mississippi alum has also had his share of slate-breaking performances in 2021. He is one of the better ways to leverage off Stefon Diggs and Josh Allen with your Buffalo representative. Buffalo has all the tools to win it all this season, one of them being a tight end who has a knack for scoring touchdowns (nine this season).
CJ UZOMAH (BENGALS)
Save for two huge games against Jacksonville and Baltimore, Uzomah only has one other game where he cracked double-digit PPR points. No need to dumpster dive this far to find your best Bengals play. Even their kicker and defense have more upside.
ZACH ERTZ (CARDINALS)
We were told that Ertz was washed up before he was shipped off to the desert in favor of the younger Dallas Goedert. Not only is Ertz nowhere near washed up, but he also hasn't looked this sharp in several years. The breakneck pace in which Arizona runs their offense has given Ertz's target volume a huge shot in the arm, averaging ten looks per game over the last five. I love the idea of using my Cardinals spot on Ertz. He hasn't found the end zone since Week 11, shrouding him from being overly popular.
Zach Ertz is one of six tight ends in NFL history to reach 700 receiving yards in at least seven seasons.

The other five are Tony Gonzalez (14), Jason Witten (12), Antonio Gates (10), Shannon Sharpe (9) and Travis Kielce (8). pic.twitter.com/w1efFqiW2i

— Arizona Cardinals (@AZCardinals) January 9, 2022
TYLER HIGBEE (RAMS)
Another reason I'm excited to roster a tight end like Ertz is all the chalk that will follow Higbee from his Week 18 performance. Most of the NFC defenses (except for the Rams and Eagles) are very tough against opposing tight ends. Arizona is third-best in the NFL at bottling up the position, giving me absolutely no reason to eat the recency bias chalk on a player doomed to get shut down.
DALTON SCHULTZ (COWBOYS)
In a stunning reversal of expectations, it was Schultz who catapulted over an injured Blake Jarwin to have a huge season as a receiver (104/78/808/8). The Stanford grad deserves all the accolades, but I would pump the brakes a tad for the postseason. The first reason is that their Wild Card opponent, San Francisco, is a top-10 unit at defending tight ends. The second (and most damning) reason to reconsider using your TE/FLEX spot on Schultz is the healthy return of Jarwin for the playoffs. Jarwin is a better athlete and is light years better at blocking, which could signal a reduction in Schultz's snap count.
DALLAS GOEDERT (EAGLES)
The Zach Ertz trade was mutually beneficial to Ertz and Goedert. The only detractor to Goedert as a fantasy asset is him only finding the end zone four times this season. Much like with Devonta Smith, Jalen Hurts' play in the red zone has been shaky at best and caps the potential of his receiving weapons. Goedert did not play when the Eagles fell to the Bucs in the regular season. It's reasonable to expect decent production from him on Sunday against a Tampa defense that falls in the middle of the pack at defending tight ends. Other than Hurts, it would be Goedert that would be my Eagles representative if I chose not to fade them.
DARREN WALLER (RAIDERS)
Waller returned from his knee and back injuries last week and spent most of the game knocking off the rust. He and Carr were out of sync, but there is little cause for concern. Waller is and has been one of the very best fantasy producers in the NFL at tight end. The Bengals happen to be fifth-worst at defending tight ends. Should the Raiders advance, their next opponent would be the Titans (unless Pittsburgh upsets KC). Tennessee is also incredibly generous against tight ends. With the extra half-point per reception given to tight ends, Waller's immense target share in the Vegas offense is yet another feather in his cap.
GEORGE KITTLE (49ERS)
Kittle is very intriguing for the unique setup of the FFPC Playoff Challenge. Everyone acknowledges how elite he is as a receiver, especially after the catch. What seems to stand in the way of him remaining in the Kelce/Andrews tier is his unmatched voracity as a blocker. After six massive games in a seven-week span, Kittle wrapped up the 2021 regular season with three consecutive duds. One way to predict a big Kittle game is to examine their opponent's strength of pass rush. Teams like the Cowboys, who get after the quarterback relentlessly, are nearly always met with Kittle forgoing his pass routes to protect Jimmy Garoppolo. At the same time, Kittle could very well be the diamond in the rough this year should San Francisco go on a magic carpet ride back to the Super Bowl.
ANTHONY FIRKSER & GEOFF SWAIM (TITANS)
Don't do this to yourself. These guys barely popped up in the box score when all the Tennessee wide receivers were injured.
HUNTER HENRY (PATRIOTS)
Similar to the situation in Dallas, many expected Jonnu Smith to be the more fantasy-relevant tight end for the Patriots. It turns out that Henry is enjoying the healthiest season of his career and is a living, breathing touchdown. Smith is essential to the Patriots' success as an exemplary blocker but hasn't chipped into Henry's receiving production in the slightest. Henry is a decent choice at tight end, with implied upside if the Pats defeat the Bills.
PAT FREIERMUTH (STEELERS)
Unfortunately, we were deprived of the stud rookie tight end's presence in Week 16 when the Chiefs obliterated the Steelers. The Muth was in concussion protocol for that one week, hampering the already inept Pittsburgh passing game even further. His availability for this playoff game at Kansas City is giving the Steelers a glimmer of hope that they will have a better time moving the chains and cashing in on red zone opportunities. Plugging in the rookie is a looney idea that has exciting potential should chaos ensue this weekend.
Defense/Special Teams
There are five teams who have both solid defenses, along with less-than-stellar choices at the skill positions. If you use a DST as leverage, you are really chopping your own legs off. The position is already the most variant and unpredictable of them all. Keep it simple and build your lineup around a narrative.
NEW ENGLAND PATRIOTS
Save for some absolute rushing barrages against terrible competition, the fantasy strength in New England lies with their defense and special teams. Offensively, the Patriots will be longing for upside in Snowy Buffalo. A close, low-scoring affair is in order. If New England can advance, they offer the best chance to parlay consecutive strong DST fantasy performances.
TAMPA BAY BUCCANEERS
Conceivably, the loss of Godwin and Brown may cause a shift in offensive philosophy for the defending champs. The return of Leonard Fournette also plays into that narrative. Starting with the Eagles on Sunday, Tampa Bay can purposely force Jalen Hurts to beat them through the air. This is a recipe for the Bucs to induce multiple turnovers. Brady, Evans, Fournette, and Gronk might all end up as too chalky by the time rosters lock. Their DST stands to provide more value over replacement.
ARIZONA CARDINALS
The Kingsbury offense is exciting. Kyler Murray is electric. The unsung heroes on this playoff team have been on the defensive side of the ball. Arizona is 8-1 on the road this season, where their defense was utterly dominant. The Cardinals put up 41 sacks, 13 interceptions, 14 fumble recoveries, and two touchdowns this season. Without Deandre Hopkins for the foreseeable future, a strain is put on Kyler Murray to make even more plays on his own. They would love to punish the Rams with the running game, but all three of the running backs on this roster are operating on a questionable tag with multiple injuries apiece. Arizona will beat the Rams on Monday night by putting heat on Matthew Stafford and ensuring his recent rash of turnovers will persist.
TENNESSEE TITANS
Mike Vrabel will be the runaway winner of Coach of the Year this season. Good teams rolled into town to take on the shorthanded Titans and, one after the other, they were beaten. For how decimated Tennessee is in the secondary, their front seven has been elite. Running on Tennessee is brutal. Once an opponent is behind the chains, they get after the quarterback in the blink of an eye with only four rushers. When the Titans blitz, they wreak havoc. With the uncertainty around Derrick Henry and the inconsistent play of Tannehill, there isn't a team defense I'm more excited to roster in the FFPC Playoff Challenge.
PITTSBURGH STEELERS
Choosing which two teams to omit from your Playoff Challenge roster is of paramount importance. Not fading a team that is expected to be ignored by half of the field provides an opportunity to gain an edge on the competition. Pittsburgh must control the time of possession in this game to stand a chance. They must also get after Patrick Mahomes and force him to make those patented bad decisions. The Steelers have the best sack artist in the NFL and can really stick it to Mahomes if they bracket both Hill and Kelce. It's a long shot, but there will certainly be plenty of those that come to life in this tournament.
Kickers
I narrowed my focus down to two teams with reliable kickers who have the range to hit from long distance. Out of 14 playoff teams, many of them have advanced this far in spite of their kicker (i.e. Dallas). I would be remiss if I didn't extend recognition to the unparalleled work of my friend, and the foremost authority on kickers in fantasy football, Linda Godfrey. Kickers matter, especially when they can put $500k in your pocket this winter.
DANIEL CARLSON (RAIDERS)
You might recall Carlson lamenting his prodigious scoring production at a postgame press conference, where he admitted that his fantasy opponent that week had beaten him with him. Las Vegas runs a very traditional pro-style offense and often sputters in the red zone. Carlson has been absolute nails this season. Even if the Raiders fall to the Bengals on Saturday, Carlson might provide enough scoring to exceed the scoring of other kickers who play in multiple games.
NICK FOLK (PATRIOTS)
Speaking of scoring machines, Folk popped up in optimal DFS showdown lineups in not one, but two different primetime games. Wouldn't it harken fond memories of Adam Vinatieri drilling two kicks through blizzard conditions to sink the Raiders in 2004 if Folk did the same in Buffalo on Saturday night? He wasn't even phased kicking in the gale earlier in the season. Two kickers. Don't waste your time with any of the other ones.
Wrap Up
The FFPC Playoff Challenge is a puzzle that has a thousand pieces, but only one unique combination that could instantly pay off my mortgage. Be bold, daring, and visualize each game as if it was a living dream. Let your imagination set the events into motion that explain how your unique set of 12 players is the stethoscope to crack the vault. Obvious won't win, that is for certain. The 2021 season was absolutely bonkers. You cannot possibly expect the playoffs to ease up, do you?
RELATED CONTENT