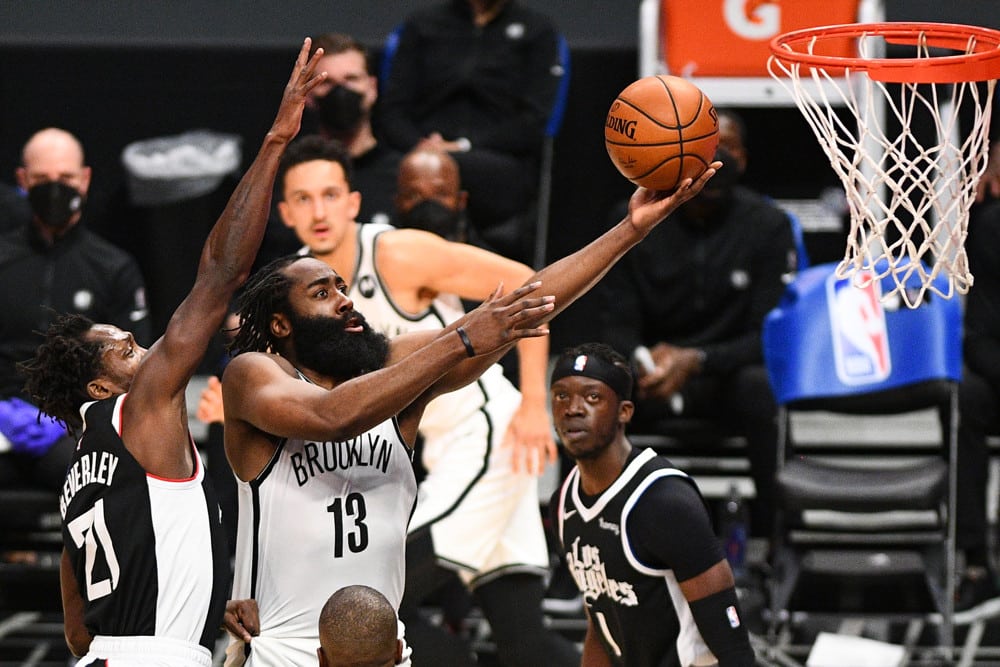 Christmas is a time for giving, but we're way more interested in receiving. The NBA always goes hard in the paint of Christmas, and we're putting together an NBA DFS lineup to stuff your stockings and your wallets. Come check out who we think should be coming down your chimney tonight.
(NOTE: This NBA DFS lineup was made ahead of time. Always check for the latest injuries and inactives prior to lineups locking. )

NBA DFS Picks for Thursday – Nov 18th
With Kevin Durant M.I.A. on Christmas Day, somebody is going to need to step up on the Nets roster. It's pretty clear that it should be Harden. Whether or not he's able to pick up a win for Brooklyn on Saturday is sort of irrelevant. He should be good for at least 45 fantasy points – as he has in nine of his last eleven games.
Perhaps one of the biggest beneficiaries of the Durant absence is Mills. While they don't play the same position, somebody has to pick up the scoring slack. Even if some of that goes to Harden, as previously predicted, there is still a lot of promise for Mills. He's made 17 three-pointers in his last four games combined, and the Lakers are in the bottom third in giving up threes.
It's been over two weeks since Bojan failed to give us at least 20 fantasy points in an NBA DFS lineup. The stalwart has been good for at least 15 points in each of his last six games and has been hot from downtown. He's a nice stable asset to have on your hands in an unstable time for NBA DFS.
Thursday was the first time in nearly two weeks that John Collins failed to complete a double-double. In the three previous contests, he averaged well over 40 fantasy points. This makes him a clear value in any NBA DFS lineup at under 8k. Expect him to put up another double-double and probably another 40 fantasy points.
Enes Freedom is out. Al Horford is still only questionable and we might be able to predict a minutes restriction if active. That leaves big man Robert Williams in line for a lot of minutes. He did it up on Wednesday with 21 points, 11 boards, and seven dimes. Can he put up gaudy numbers like that again? Not likely. But even half of that would make this price a steal in NBA DFS lineups.
This man has back-to-back double-doubles. In both of those games, he has at least 32 fantasy points. He costs under 4k in NBA DFS slates. I'm not sure there's anything more to say about why you should have Brown in all your lineups as a cost-efficient option.
On Thursday, Nwora put up 21.5 fantasy points – which would seem decent for his current cost in NBA DFS slates. However, it was his lowest score since the 13th and actually the first time he's scored under 32 in that time frame. I'd honestly take the 21.5 at this price, but there is a chance of much higher here.
I'm doubling down on the Bogdanovics for this NBA DFS lineup. For Bogdan, it's all about opportunity. Kevin Huerter is out. Trae Young is out. Somebody is going to be jacking up threes with reckless abandon as they try to work themselves back into the contest. I think that person is probably going to be a Serbian shooting guard.

Make sure to check out all the great NBA coverage we have to offer and be sure to listen to the NBA Gambling Podcast, which airs twice a week. This week the guys are breaking down all the best plays for the coming days.  
Related Content