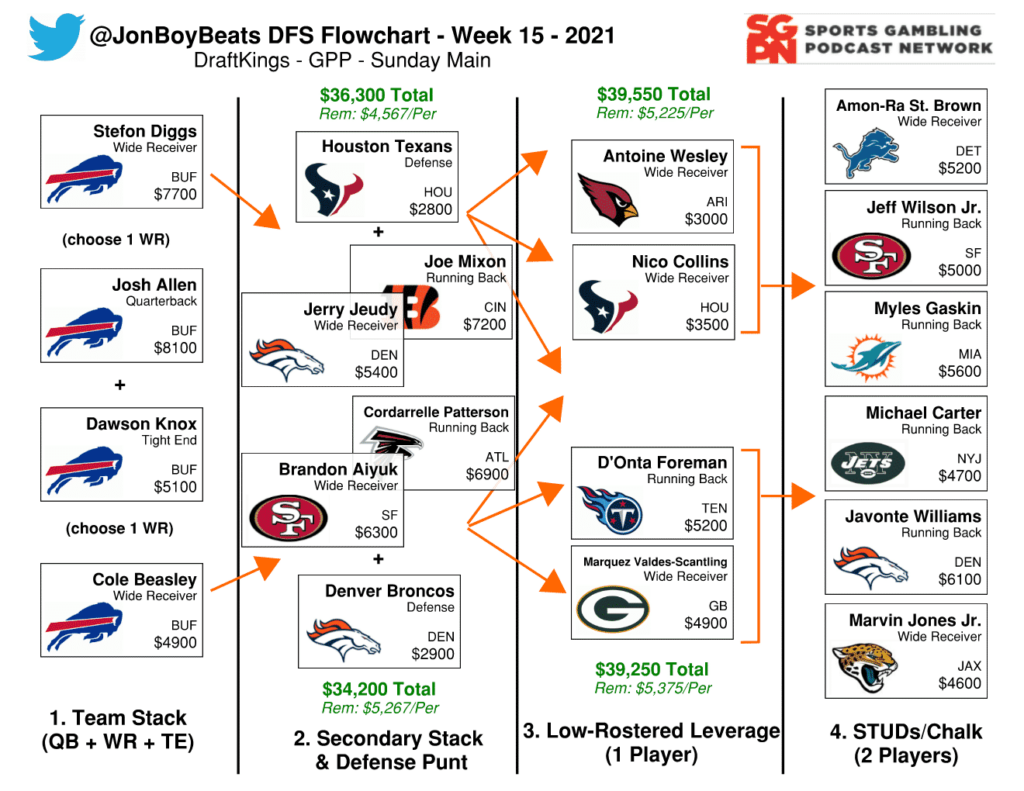 Wow just got done building The Flowchart for Week 15, and I think I might need to go take a shower real quick to get rid of some of this filth. What an ugly week! Not only has it been a COVID disaster, but the slate of games we have left is really subpar. The highest total of the nine games is the afternoon battle between Atlanta and San Francisco which posts a whopping 46.5 O/U. It's easy to assume that points are going to be at a premium tomorrow. I think these weeks are fun, because the salaries are loose, the chalk should condense quite a bit, and there's plenty of chances for us to get weird in GPPs. Lets do it!
EXCLUSIVE SGPN FANTASY CONTENT
SGPN Fantasy Football Rankings

Team Stack
Josh Allen and the Bills are going to be extremely popular on Sunday. Typically this isn't a spot I like to attack, but with the slate so wide open this week, I really thought it was important to have access to the ceiling the Allen provides in order to give us a shot at really separating from the field if he pops off. The main reason I didn't have any issue with starting with a Bills stack was because of Dawson Knox. On a week when seemingly every Bills receiver is going to be popular, it doesn't look like Knox will be rostered too often. I want to start with a correlated TE in every lineup this week. Then it's a pick your poison decision between Stefon Diggs or Cole Beasley.
We know that we are starting off our lineups pretty chalky this week, so it's important to think through some ways that we can still be different with our Bills stacks. First off, I am deciding against including Panthers bring backs with Buffalo. The bring-back stack is typically a staple of The Flowchart, but this Bills offense doesn't need much incentive to throw. Last week against the Bucs they didn't run the ball once with an RB in the first half. I tend to believe that the Bills offense is going to throw without the extra push from Carolina, and I'm fine letting our opponents jam in low-projected Panthers with their optimizer settings. The other thing we can do is add Gabriel Davis as a triple stack option in a few variations this week. Loading up three Bills with no Panthers is sure to be a unique construction.
Secondary Stack
If we are going to give up some opportunity cost by not correlating our main team stack with their opponent, then I want to make sure a secondary stack is included in each lineup this week. Joe Mixon is appealing to me because he has been pretty quiet the last two weeks after exploding for 352 yards and 6 touchdowns in Weeks 9-12 (Week 10 bye). If Mixon is able to bounce back here he could be a slate breaker, on a slate that doesn't seem to have many breaker options. I like pairing him with Jerry Jeudy on the Broncos who has a really nice price tag and projection this week.
Brandon Aiyuk is direct leverage off of George Kittle for the San Francisco 49ers in Week 15. Kittle has been a mad man lately, and there's surely a possibility that his hot streak continues. Deebo Samuel has only had three catches since Week 11, so if the receiving production doesn't go through Kittle, there's a decent chance it finds Aiyuk. Cordarrelle Patterson is one of the most consistent players in fantasy football this year, yet every week he seems to go under the radar in DFS. The RB pool is not strong this week, so I'm fine getting a little frisky with Patterson here.
Low-Rostered Leverage
Reminder, for this week it's only necessary to pick one player from this Column. On the Diggs side of The Flowchart, we need some salary savings help so I am looking to Antoine Wesley of the Cardinals. With no D'Andre Hopkins, the Cardinals are going to need another big receiver on the outside to step up. Am I confident in Wesley? No. Do I like his upside at a $3k salary? Yes, very much so. This Jacksonville vs. Houston game is just downright gross. It's hilarious that so many players are showing up as good values in this game. I guess that's what happens when two horrible teams matchup against each other. I am trying to not touch this one too much, but Nico Collins is a dart throw at $3500 that I don't mind taking.
I prefer the Beasley side of The Flowchart this week, because I am absolutely in love with the two leverage options in this column. Marquez Valdes-Scantling is facing a Ravens secondary that is completely thrashed. His peripheral stats say that he is in for some positive regression, and no better week to do it then when you are good leverage off of Davante Adams, right MVS? I can't seem to figure out what happened top the Steelers run defense, but here's what they have given up over the last few weeks. Cook 27-205-2, Freeman 14-52-1 & Jackson 8-55, Mixon 28-165-2, Ekeler 11-50-2 and Herbert 9-90, Swift 33-130, do I need to keep going? D'Onta Foreman it's your turn young man!
Play the Studs/Chalk
You may be asking yourself, these guys don't seem like studs? Well we don't have a ton of salary left in Column 4 this week since we chose to load up pretty heavily in Columns 1 & 2. That's okay though, because to be honest, the pool of studs is rather weak this week. Jeff Wilson Jr. should be popular, but a lot of people aren't going to play him after he has dudded out twice now. Small sample size people, don't get too caught up in your feelings. Myles Gaskin should see a few more passes since Jaylen Waddle is out, and is nice leverage off of a similarly priced James Robinson. Javonte Williams and Michael Carter are two rookies who have gotten stronger as the season has progressed. I think Carter comes back from injury with a big game here and Williams keeps the hot streak alive.
Good luck this week everyone!