The UFC is ending 2021 with a bang with one of their biggest pay-per-views of the past few years – UFC 269, going down from the T-Mobile Arena in Las Vegas. Let's try to end things with a bang here, also, with a winning UFC 269 DraftKings lineup. Let's gooooo!!!!
RELATED
UFC 269 Betting Guide
UFC 269 DraftKings Roster
Amanda Nunes – $9,500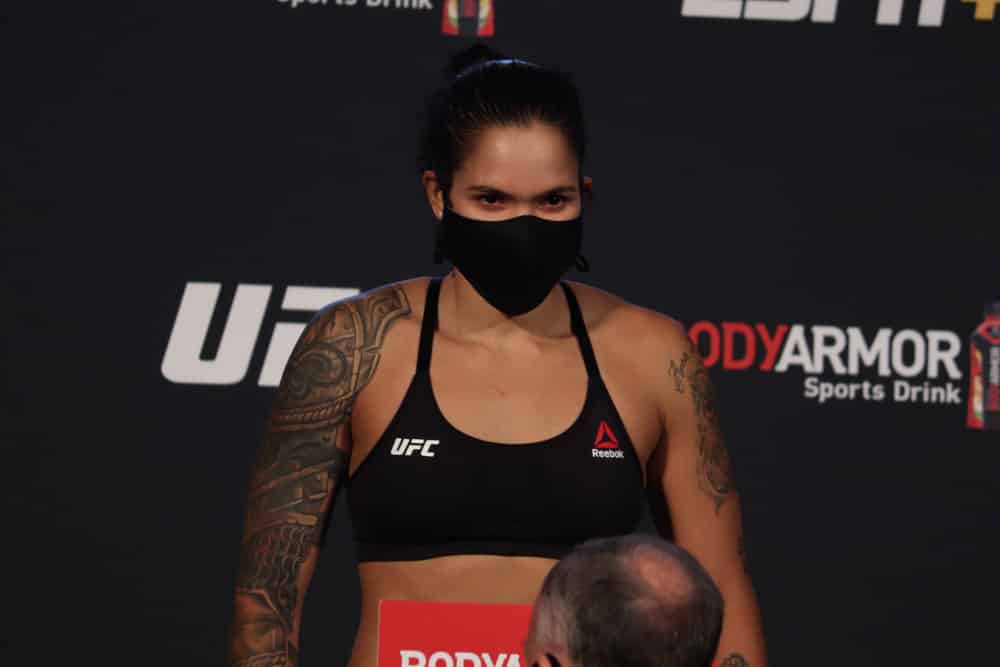 Yes, $9,500 is a hefty price tag for a fighter, but we're not talking about any ordinary fighter here. We're talking about the women's GOAT, Amanda Nunes. She has another overmatched, unworthy challenger this Saturday in Julianna Pena, who she should beat handily. Nunes's 99 points in her last fight was the first time in six fights that she failed to crack triple-digits, and she averages 102.9 fantasy points per fight. Money well spent here.
Sean O'Malley – $9,100
Putting the rainbow hair and face tattoos and dumb statements and questionable choices in friends and overblown hype aside, you have to respect 'Suga' Sean O'Malley as a fighter. He actually is the rare hyped-up prospect who has lived up to the considerable expectations put upon him. He's gone for triple-digits in his last two fights, and three of his last four, and his striking is so on point he has a real good chance of getting back over 100 points against Raulian Paiva this weekend.
Andre Muniz – $8,500
All Andre Muniz did in his last UFC outing was break grappling legend Ronaldo 'Jacare' Souza's arm in an armbar. Gruesome, but highly impressive. This Saturday's opponent, Eryk Anders, is an underrated grappler, but he's no Souza. If Muniz can get this to the ground, another submission victory is imminent.

Dominick Cruz – $8,100
Oft-injured former bantamweight king Dominick Cruz is back at it again in 2021, the first time since 2016 that he's fought twice in the same calendar year. After squeaking out a split decision victory earlier this year, I think he can go 2-0 for 2021 by beating Pedro Munhoz on Saturday. His crafty footwork and smarts hopefully will get him a repeat 85-point performance like his last outing.
Kai Kara-France – $7,500
I like underdog Kai Kara-France's chances against yet another former bantamweight champion, Cody Garbrandt, on Saturday. Garbrandt has never fought at flyweight before and tends to fight dumb and get himself knocked out. And 'Don't Blink' has the KO power to take advantage of this – look no further than his 107-point knockout win in his last fight.
Darrick Minner – $7,300
I'm taking a risk on this one, as Darrick Minner leans heavily on his grappling to win fights and he just so happens to be going up against perhaps the best grappler in the sport this weekend in Ryan Hall. However, Hall is abysmal on his feet and got knocked out brutally in his last fight, so I think Minner has a chance here, at a very low cost.
Listen to this:
UFC 269 Betting Guide (15 Minute Dump) | MMA Gambling Podcast (Ep.97)
Related Content