Now THIS is a fight card. UFC 269 is one of the best the UFC has put on in years, at least on paper. The only thing that could make it better is to go 15-0 on it with my UFC 269 predictions. Let's see if I can pull off that feat. No promises, no money-back guarantee.
RELATED
The 10 Commandments of MMA Betting
8 UFC Stats That Will Win You Money
UFC 269 Predictions
All odds courtesy of PointsBet
Dustin Poirier (-165) vs Charles Oliveira
It's very rare that a champion enters a title defense as an underdog, but that's where newly-crowned UFC Lightweight Champion Charles Oliveira finds himself this weekend against Dustin Poirier. And, considering I'm picking the challenger Poirier, I tend to agree with the line. Poirier is a better and more powerful striker and has the grappling chops to (hopefully) fend off Oliveira's ground attacks. And NEW….
Amanda Nunes (-900) vs Julianna Pena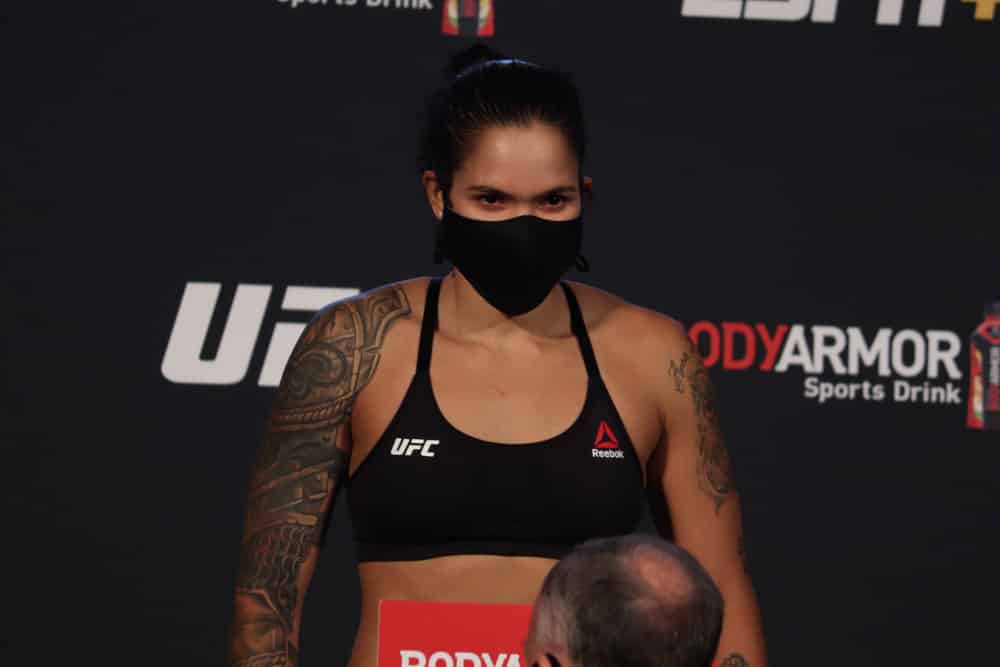 Not much analysis is required here – Amanda Nunes is the GOAT women's fighter and still in her prime. There is no reasonable path to victory for Julianna Pena here. Move along.
Santiago Ponzinibbio (-125) vs Geoff Neal
This is a far tougher matchup to predict a winner in, all the more so after Geoff Neal got himself arrested for DWI and unlawful possession of a firearm a couple of weeks ago. That doesn't sound like a fighter taking his fight camp seriously to me. I'll go with Santiago Ponzinibbio as he's won eight of nine and Neal has looked bad in his last two fights (along with the aforementioned out-of-the-cage issues).
Kai Kara-France (+120) vs Cody Garbrandt
Former bantamweight champ Cody Garbrandt makes his long-awaited drop to flyweight this Saturday, and I expect underdog Kai Kara-France to give him a rude welcome to 125 pounds. KKF hits hard and often, while Garbrandt fights dumb and gets himself knocked out often. Plus the additional weight cut of 10 pounds will have his brain even more susceptible to getting short-circuited.
Sean O'Malley (-325) vs Raulian Paiva
He might look like a clown and act like a clown, but 'Suga' Sean O'Malley doesn't fight like one. His striking is elite and powerful, and I think he blasts Raulian Paiva on Saturday, as he has done to pretty much everyone he has faced thus far.

Dan Ige (+140) vs Josh Emmett
Let's go get some more plus money with Dan Ige in his featherweight prelim headliner against Josh Emmett. Emmett hits HARD, but he's been out of the cage with various ailments for 18 months and isn't a very active striker once he is in the cage. I like Ige to outwork him for a W on Saturday.
Dominick Cruz (-110) vs Pedro Munhoz
Another former bantamweight champion is competing on Saturday night, but this one I'm picking. This is a tough pick, but I think Dominick Cruz and his shifty style have more gas left in the tank.
Tai Tuivasa (-115) vs Augusto Sakai
Two chunky guys headed in opposite directions meet in this heavyweight fight. Of course, I'm taking the fighter trending up in Tai Tuivasa, who has won three straight via stoppage, while Augusto Sakai has been stopped by strikes in his last two.
Bruno Silva (-375) vs Jordan Wright
Bruno Silva lives up to his nickname – 'Blindado', which means armored – as he's a jacked, powerful fighter. Jordan Wright likes to strike but it's only going to set him up to be knocked out on Saturday.
Andre Muniz (-145) vs Eryk Anders
Andre Muniz outgrappled and broke the arm of legendary grappler Ronaldo 'Jacare' Souza last time out. I see no reason why he can't use his grappling to beat Eryk Anders this week.
Miranda Maverick (-140) vs Erin Blanchfield
Two of the youngest, brightest prospects in the women's flyweight division hook up on Saturday. I like Miranda Maverick's striking better and I think she's physically strong enough and skilled enough to hold off grappling phenom Erin Blanchfield on the mat (if it goes there).
Alex Perez (-325) vs Matt Schnell
Alex Perez went from headlining a pay-per-view his last fight to working the early prelims in this fight, his next. I expect him to bounce back from his failed title challenge as he's just better than Matt Schnell everywhere in the cage.
Darrick Minner (+165) vs Ryan Hall
Ya, I'm probably getting a little crazy with this pick, as grappling specialist Darrick Minner goes up against one of the best grapplers in the sport today, Ryan Hall. But Hall got brutally knocked out his last fight, and I think Minner can beat him here if he doesn't put himself in any dangerous spots on the mat.
Randy Costa (-195) vs Tony Kelley
'The Zohan' has won all six of his pro MMA fights via (T)KO. He's going to outstrike Tony Kelley here and very likely finish him.
Gillian Robertson (-375) vs Priscila Cachoeira
In the curtain jerker, I'm siding with my fellow Canadian Gillian Robertson riding her elite grappling to victory over Priscila Cachoeira.
Overall Record: 590-446
2021
Record: 281-188
Earnings:  -($2136.12)
Return on Investment:   -(4.6)%
Listen to this:
UFC 269 Betting Guide (15 Minute Dump) | MMA Gambling Podcast (Ep.97)
Related Content