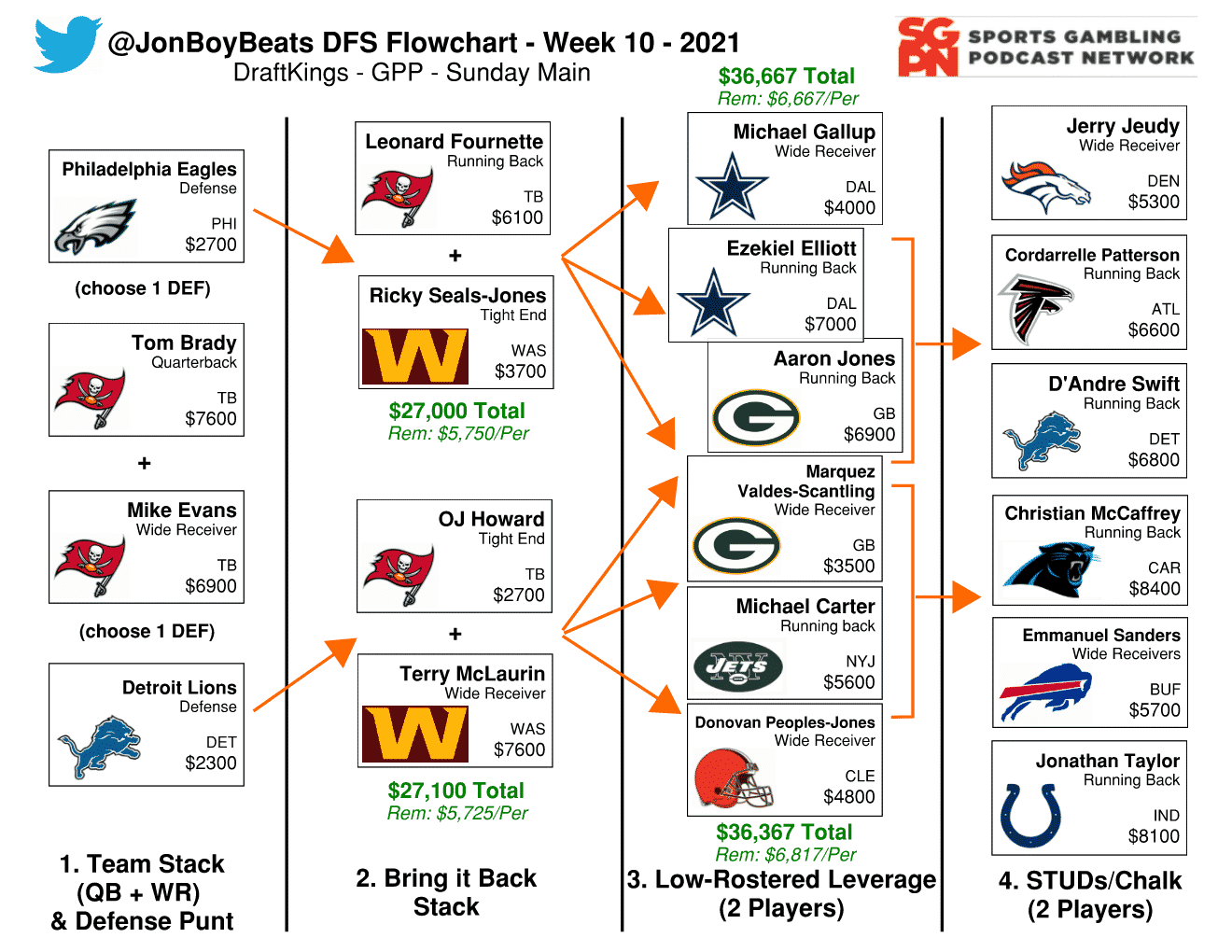 If the past two weeks don't perfectly describe the GPP life, I don't know what does. In Week 8 we ran close to the sun with Josh Allen, AJ Brown, Michael Pittman, and Michael Carter. Then in Week 9, we threw up an absolute dud with Dak Prescott and the Cowboys almost getting shut out. Tough run, but that's another example of why we can never get too high or low in the GPP world. I think Week 10 presents us with a really interesting slate. I'll talk through some of my macro thoughts at the beginning here before we jump into the specifics of The Flowchart for this week.
EXCLUSIVE SGPN FANTASY CONTENT
SGPN Fantasy Football Rankings
This is one of the strongest Running Back weeks that we've had in a while. Typically, I like to ride with a WR in the Flex, but the truth is RB has stronger projections this week. I am totally fine firing in GPP lineups with three RBs. The position is interesting because there are a few really strong cheap options in D'Ernest Johnson, Mark Ingram II, and Branden Bolden. There are also a ton of great expensive options. You will notice that I didn't include any of the cheap punts in The Flowchart this week, but if you feel inclined to eat a 30%+ rostered player than feel free to toss them in some lineups. I will say that none of these guys are popping like Alexander Mattison was a few weeks ago. Do not play multiple of them together.
I talked about building with three Running Backs already, and we know that a lot of the field is going to play one or more of Johnson/Ingram/Bolden. We have multiple ways to create roster construction leverage with the way that we build lineups this week. We can "flip the build" and instead of using cheap running backs, we can use cheap WRs. This will allow us to mainly match some of the studs that will be in the chalky lineups, but give us a very distinct leverage spot. Donovan Peoples-Jones is an interesting example of this at $4800. If we build a "popular" lineup with D'Ernest Johnson in it at $4700 and then just swap in DVP for $100 more, we have now positioned ourselves to really capitalize. In an outcome where DVP outscores D'Ernest, we will blow by 15-20% of the field in tournaments.
Another way to build into leverage is by avoiding the cheap RBs but still playing three of them in your lineup. With this approach you are just banking on some of the other strong plays in the RB pool to outperform the cheap chalk. If it happens you will elevate in tournaments. If you are taking this approach, I would recommend ripping through a few different 3 RB combos rather than just hitching your wagon to one.
Team Stack
I'll get into a few reasons why Tampa Bay is one of my favorite teams to target this week. Right off the bat, the fact that Tom Brady has thrown for 4 or more TDs in five of his eight games this season is a big one. We can eschew the rushing potential at the QB position when the pocket passer is a gunslinger like Brady. Couple that with the Washington offense which is a pass funnel and we are off to the races. Mike Evans is going to be pretty popular this week. But boy does he have a sweet matchup in front of him. I want Evans in every lineup, and I am fine eating the elevated roster utilization here.
It's important to discuss the Chris Godwin situation before we move on to the other double stack options. If he was fully healthy, you could argue that Godwin would have been more popular than Evans. However that isn't the case and reports are that Godwin will be a game-time decision in Week 10. That bit of news alone will keep people off Godwin while they are building lineups this weekend. Here's where it pays to be nimble with your lineups come Sunday morning. If we get the news late that Godwin is going to play, he will likely be way way under-utilized. I will be creating some lineups where he is included in Brady stacks. Obviously swapping a couple from Evans to Godwin is easy, the hard part will be fitting in both of them. I am looking forward to the challenge.
Per usual, the Tight End position is a rough one this week. OJ Howard is most certainly a TD or bust candidate in Week 10, and I wouldn't be shocked to see him put up a zero when its all said and done. However, I always want to correlate this position when it looks bleak like this week. Playing Leonard Fournette in the "onslaught" approach that we have discussed previously, is banking on a Tampa Bay domination game where they put up 35+ points and everything funnels through Evans and Fournette. If Fournette catches a TD it's really just a cherry on top.
Bring It Back Stack
I briefly mentioned that Washington is a pass funnel, but there is really no other defense in the league that is more of a pass-funnel than the Buccaneers. Teams are averaging less than 20 rushing attempts total against Tampa Bay this season, and subsequently they are seeing an average of over 40 passing attempts. That's a pass-funnel for ya folks. Because of this I really like Terry McLaurin as a bring back candidate. We have yet to see a huge blowup game from Scary Terry, so I'm hoping this is the spot.
On the other side of The Flowchart, I am choosing Ricky Seals-Jones at the TE position. His price tag is a bit elevated this week, but he has literally been on the field for every snap that Washington has taken since Week 5. You love to see that. Fire up the correlation machine and move on the Columns 3 & 4. JD McKissic is the only other options I would consider here, but he feels a bit thin compared to some of the other strong RBs this week.
Low Rostered Leverage
Let's start this one with Aaron Jones and Ezekiel Elliott. This guys are both premier leverage plays this week for two reasons. First, the provide direct leverage off of really popular plays in their passing offense. Second, they provide decent leverage amongst the players at the top of the RB table this week. Jones/Elliott look like they are going to come in a tier below the rest of the $6500+ guys when it comes to roster utilization and I am certainly not confident enough to say all of the others are clear cut better plays.
You will notice that I included Michael Gallup and Marquez Valdes-Scantling in the leverage column this week as well. In the smaller field tournaments, I would only recommend pairing Gallup with Jones and MVS with Zeke, however in large-field stuff doubling up the guys on the same team could be interesting.
I already spent some time on the Donovan-Peoples Jones example above, so no real need to talk about it again here. I will say that if you finish building a lineups that feels way way too contrarian, it might make sense to pop in D'Ernest Johnson instead of DVP. We generally don't want to go into tournaments with a sub 60% cumulative roster utilization. Michael Carter is another really interesting play for me. We are only two weeks removed from his explosion due to Mike White dumpoffs, and here we are again in a game where the Jets are going to need to come from behind (most likely). Bring on the dumpoffs! I will admit that Emmanuel Sanders fits into the leverage column better than he does the Studs column this week. For salary reasons, and the ability to fit into a couple more combinations, I kept him in Column 4. He has saw more Air Yards, snaps, and targets than Cole Beasley last week, yet all of the hype is on Beasley this week. You know what that means.
Play the Studs
Christian McCaffrey played 29 snaps last week and saw 5 targets and 14 rush attempts. Are you kidding me?! There are only a few specific ways that CMC fits, but we need to get creative and try to load him up as much as possible this week. At this point, Jonathan Taylor is pretty self-explanatory. One could argue that he is the most explosive runner in the NFL, and man is he fun to watch. So fluid between the tackles. D'Andre Swift and Cordarrelle Patterson have similar profiles this week. Both are probably going to see a few more targets than most RBs, since they will be playing from behind, which is why I like them in GPPs. Jerry Jeudy should be able to exploit the middle of the field against the Eagles and he was a nice piece that fit a few of the different lineups combinations.
Hope you guys are enjoying the weekly write-ups that go with The Flowchart. As you can see there are quite a few nuances that are important to consider rather than just blindly following the arrows! Good luck this week, hopefully I will see you at the top of the leaderboards.
RELATED CONTENT