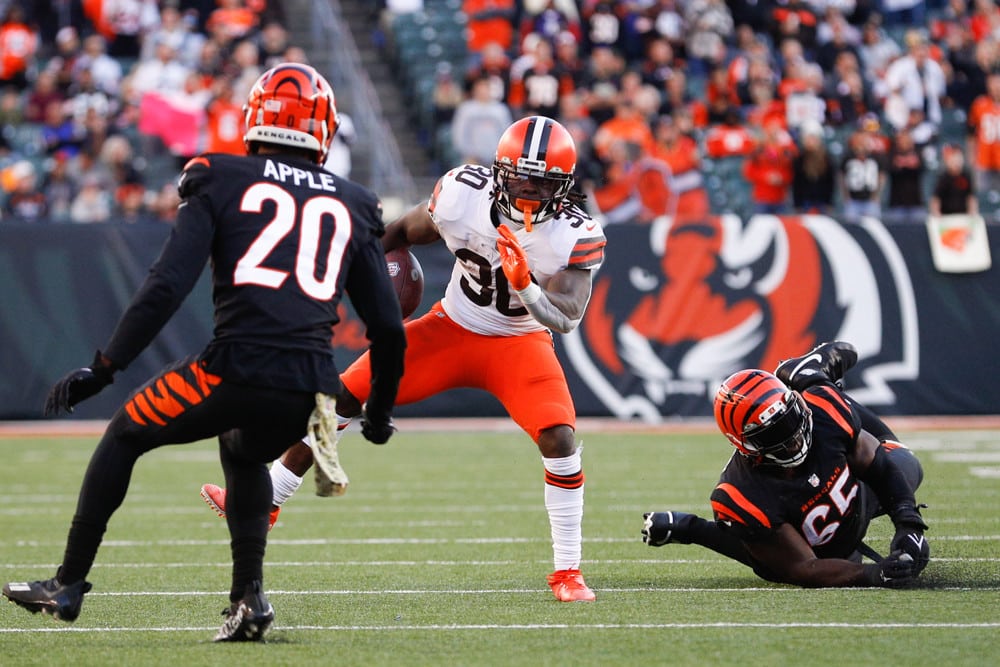 Welcome to the new top 10 weekly DFS stacks article where I will be breaking down the DraftKings main slate to identify my top 10 DFS stacks for Week 10. Stacks in DFS can be defined as; playing two or more players from the same team in a single lineup. Stacking in DFS contests has become the predominant roster construction strategy particularly for GPP tournaments, with a variety of unique and creative ways to build stacks and maximize your scoring upside each week. The most popular stacking options include the skinny stack, the double-stack, the run back stack, and the full-on game stack, and the running back paired with a defense stack.
The skinny stack is traditionally a quarterback paired with a skill position player. The double-stack includes the quarterback and two skilled position players. The run-back stacks normally consist of a quarterback and wide receiver from one team and an opposing wide receiver. A game stack can include up to five players from a single contest and include a 3/2 or 4/1 team ratio, and typically involves the quarterback. The running back stacked with defense is just that. Each week the stacks in the top 10 will include a variety of these stacks based on the scoring upside and likelihood of cashing.
EXCLUSIVE SGPN FANTASY CONTENT
SGPN Fantasy Football Rankings
Top 10 DFS Stacks for Week 10
1. Tom Brady (QB) Chris Godwin (WR) and Mike Evans (WR) Tampa Bay Buccaneers
Tom Brady
($7,600) and the Tampa Bay Buccaneers are going to
Rick Roll
the Washington Football Team (WFT) on Sunday. It's going to be a blood bath and Tom Brady will be Dexter, wielding the knife. Tom Brady leads the NFL with 25 passing touchdowns, despite last week being his bye week.
Chris Godwin
($7,100) is averaging 19.3 and
Mike Evans
($6,900) is averaging 18.4 points per game season. The WFT defense ranks dead last in the NFL against quarterbacks, giving up 25 points per game.
They also rank 31st against the wide receiver position, giving up close to 2,000 yards and 12 touchdowns in eight games. Tom Brady is playing for the record books now, watch out!! I'm loading this stack into small and large GPP fields, just know that it might be a little chalky. You can differentiate by replacing Godwin or Evans with
Tyler Johnson
to be unique in your Week 10 DFS stacks.
Total Cost: $21,600
Players to pair with: James Conner (RB) and Cole Beasley (WR)
2. Dak Prescott (QB) Amari Cooper (WR) Dallas Cowboys and Cordarrelle Patterson (RB) and Kyle Pitts (TE) Atlanta Falcons
The Atlanta Falcons vs. the Dallas Cowboys has the largest total of all the Week 10 NFL games at 54.5. Last year these two teams met and there were 79 points scored. Matt Ryan threw for four scores and Dak threw for one and rushed in three of his own. This game has all the hallmarks of a back and forth shootout, with multiple players on both teams hitting the high side of their projections. Stacking Dak Prescott ($6,900) and Amari Cooper with Cordarrelle Patterson ($6,600) and Kyle Pitts ($5,800) is my favorite game stack of the week.
Both Dak and Cooper are priced too low, so they will pick up rostership, but stacking them with Patterson and Pitts should differentiate your lineup enough to avoid the chalk in this match-up. I love Patterson this week. He's has been a revelation this year, averaging 19.6 DraftKings points per game. Pitts has 40 targets in his last five games and has an 11.7% optimal rate based on his RunTheSims.com projection. I'm rolling this game stack out in large GPPs contents to leverage the field and gain an edge.
Total Cost: $25,500
Players to pair with: Aaron Jones (RB) Tyler Johnson (WR)
3. Justin Herbert (QB) Keenan Allen (WR) LA Chargers with Dalvin Cook (RB) Ty Conklin (TE) Minnesota Vikings
Justin Herbert ($7,300) is currently the four-highest scoring quarterback on the Week 10 DraftKings main slate, averaging 24.8 points per game. He's coming off of his best performance of the year last week, scoring 34.6 points against the Philadelphia Eagles. This week he has a much softer match-up against the Minnesota Vikings, who rank 28th against quarterbacks the last four weeks. Keenan Allen ($7,000) ranks sixth in wide receiver targets with 82 and ranks fourth with 57 receptions. The Vikings'  defense has been dreadful this season. What's up with that Mike Zimmer? I thought you were supposed to be a defensive guru. They rank 27th against wide receivers, having given up over 1,500 yards receiving and 10 touchdowns.
The Chargers Achilles heel this season has been stopping running backs and tight ends, giving up 27 and 16 points to the positions. Dalvin Cook ($8,000) looked great last week rushing for 6.5 yards per carry and breaking the 100-yard mark. Minnesota has a noted run-blocking advantage over the Chargers defensive line according to PFF. Ty Conklin's ($3,400) 44 targets are good for 11th best for tight ends through the first half of the season. He's seen seven targets the last two weeks and the Chargers can be exploited in the middle of the field. I'm stacking this game up in larger GPP field tournaments to maximize leverage while loading up on players with high ceilings for the Week 10 DFS stacks.
Total Cost: $25,700
Players to pair with: Chris Godwin (WR) Laviska Shenualt (WR)
4. Trevor Lawrence (QB) Laviska Shenualt (WR) Jonathan Taylor (RB)
Jonathan Taylor ($8,100) is the monster was all wanted him to be. He's averaging 5.9 yards per carry, has nine total touchdowns, and is scoring 22.5 DraftKings points per game. His baseline projection at RunTheSims.com is over 21 points, with a ceiling in the mid-30s. He's a homerun threat every time he touches the rock and he should touch the rock a hell of a lot in this game, upwards of 20 carries. I'm expecting the Colts to be able to put up points in this matchup which means that Trevor Lawrence ($5,300) will most likely be forced to play catchup. He's averaging 37 pass attempts per game and has games with 41, 51, and 54 passing attempts.
The Colts on the other hand have surrendered close to 2,500 passing yards and 23 touchdowns, ranking 28th against quarterbacks, giving up 21 points per game. Laviska Shenault ($4,600) will most likely be a matchup with Rock Ya-Sin, who is giving up 19.5 points per game to wide receivers. If the Jaguars are trailing, this cheap run-back stack should provide you with lots of flexibility to load up on other studs in your lineups. I love this stack for larger GPP tournaments and 50/50 contests and is one of the more affordable Week 10 DFS stacks.
Total Cost: $18,000
Players to pair with: Mike Evans (WR) and Diontae Johnson (WR)
5. Josh Allen (QB) Stefon Diggs (WR) Cole Beasley (WR)
According to RunTheSims.com, Josh Allen ($7,900) has the highest ceiling of all quarterbacks on the DraftKings Week 10 main slate. It might be hard to trust him after last week's terrible performance, scoring zero touchdowns and turning the football over three times. According to PFF, Stefon Diggs ($7,500) has the second-best wide receiver matchup against the New York Jets secondary. The Bills will look to exploit his potential match-up with Brandin Echols, the 109th ranked cornerback according to PFF. Cole Beasley has 33 targets over his last three games. The man is a PPR machine and DraftKings still disrespects him by slapping a $5,200 price tag on him. I will be playing this stack in larger GPP fields with mass multi-entries.
Total Cost: $20,600
Players to pair with: D'Ernest Johnson (RB) and Brandon Bolden (RB)
6. D'Ernest Johnson (RB) Cleveland Browns with Brandon Bolden (RB) New England Patriots
The Cleveland Browns backfield room currently has one man left standing after three of their active running backs, including Nick Chubb, tested positive for COVID-19.  That man is D'Ernest Johnson and his only $4,700 price tag might be the best value on the slate There's a chance the running backs come off the COVID-19 list on Saturday so make sure you check the inactives on Sunday morning.
The Patriots are dealing with their own running back issues, with both Damien Harris and Rhamondre Steveson both currently in the NFL's concussion protocol after getting knocked out of last week's game against the Carolina Panthers. It looks like Brandon Bolden ($4,400) and J.J. Taylor will split the backfield workload this week, with Bolden being feated in the PPR role. The combined price of this running back run-back is only $9,100 (or the price of one Derrick Henry). This stack is viable in smaller formats, as it is likely to pick more than a little chalk among the Week 10 DFS stacks.
Total Cost: $9,100
Players to pair with: A.J. Brown (WR) and Mike Evans (WR)
7. Ryan Tannehill (QB) A.J. Brown (WR)
Ryan Tannehill ($6,200) and A.J. Brown ($7,800) are the Titans' offense now without King Henry in the mix. Brown has seen 40 targets in his last four games, scoring 90 DraftKings points over that span. This week Brown faces the New Orleans Saints secondary, who ranks 29th in the NFL against wide receivers, giving up close to 1,600 receiving yards and 10 touchdowns. This type of concentrated volume for Brown creates the potential for another 30 point performance this week. He's scored 30.3 and 34.5 in Week 7 and 8 respectively. I'm expecting big things from the Tannehill/Brown stack and will be playing them in small to mid-size GPP tournaments and in Cash games as well.
Total Cost: $14,000
Players to pair with: Dalvin Cook (RB) and Kyle Pitts (TE)
8.  Najee Harris (RB) Diontae Johnson (WR) Pittsburgh DST
I may have just invented a new type of team stack, the running back/wide receiver with a defense stack. LOL. Najee Harris  ($7,900) is set to explode this week against the winless Detroit Lions, who rank 31st against running backs, surrendering 16 touchdowns and over 1,000 total yards. It's looking like Chase Claypool will miss this week with a foot injury, which means that it's officially Diontae Johnson Szn!! Sure he's priced up a bit at $6,800, but it's just enough to keep his rostership from being completely out of control.
Dan Campbell and company haven't been taking too many bites out of the opposing team's knees as promised either and their offense isn't any better. The Lions have been dreadful, only managing 16.8 points per game, good for 28th best. The Steelers DST ($4,100) on the other hand rank 8th in the NFL, only giving up 21.1 points per game to opposing offenses. I'm rolling with this stack in Cash games and smaller field GPP tournaments rather than other Week 10 DFS stacks.
Total Cost: $18,000
Players to pair with: James Conner (RB) and Amari Cooper (WR) 
9. James Conner (RB) Arizona Cardinals DST
James Conner ($6,300) blew up last week, breaking the slate with three touchdowns and scoring 40.3 DraftKings points. Chase Edmonds was just placed on the short-term IR to heal up from an ankle injury suffered on his first touch last week. Conner is now the bell cow and a crazy value this week in a smash spot against a Carolina Panthers team that just lost Sam Darnold to the IR and instead of rolling with P.J. Walker went out and signed Cam Newton. The Cardinals proved last week that they are more than just Kyler Murray running around, but are a dominant well-rounded team. Stacking Conner with the Cardinals defense ($3,700) is a no-brainer. I love this stack everywhere and don't have any reservations about playing it in Cash or GPP.
Total Cost: $ 10,000
Players to pair with: Anyone 
10. Davante Adams (WR) Green Bay Packers with D.K. Metcalf (WR) Seattle Seahawks
My first ever wide skinny naked receiver stack run-back features two of the badest men in the NFL. I'm expecting Aaron Rodgers to play in this game, which means Davante Adams ($7,900 ) is live this week. PFF projects him to one of the top 10 match-up advantages for Week 10. The other "Grown Ass Man" in this stack, D.K. Metcalf ($6,800) will be getting back Russell "Mr. Unlimited" Wilson as he returns to action after getting knocked out with a finger injury in Week 5.  I don't trust Wilson or Rodgers, who missed last week with COVID-19. I'm leveraging this stack in larger GPP fields where the likelihood of the field double stacking them is minimal.
Total Cost: $ 14,700
Players to pair with: Melvin Gordon (RB) and Dalton Schultz (TE)
RELATED CONTENT