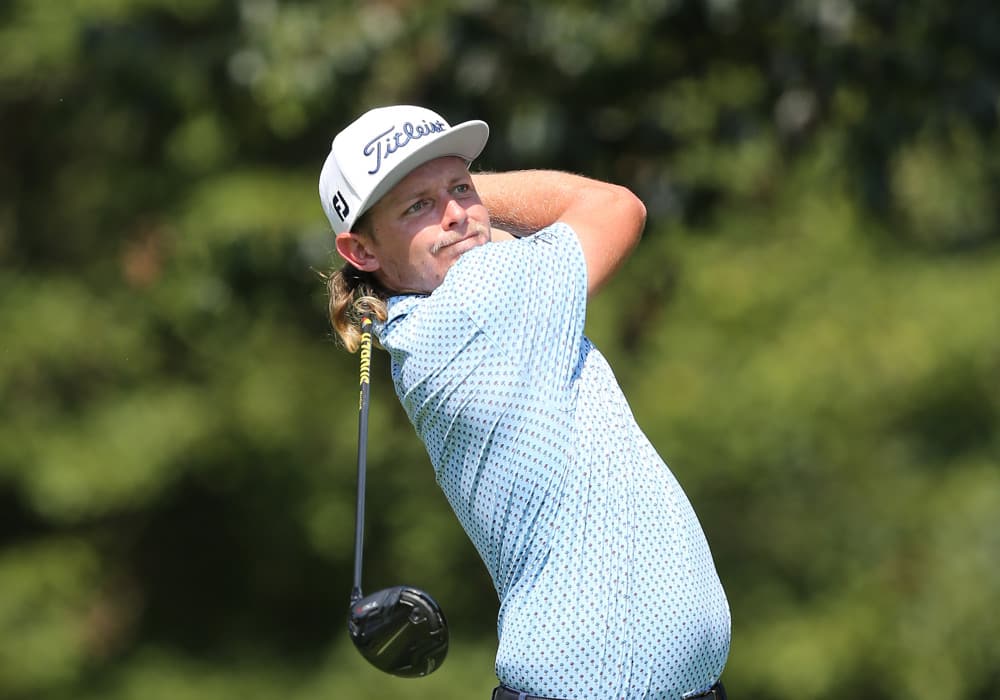 For those who missed it, check out the Hewlett Packard Enterprise Houston Open Preview and Betting Strategies for the types of golfers you should look to target for your picks. Using that as a guide, let's take a look at some of the best bets to make this week. Here are my picks for the Hewlett Packard Enterprise Houston Open (odds courtesy of BetMGM).
Houston Open Picks: Outright Winners
Cameron Smith: 22/1
The general consensus this week is that you have to have length to win at Memorial Park. So Smith is probably going to get overlooked a bit. But he has enough pop off the tee to still keep up with the bombers. And he can make up for it with great iron play, scrambling and putting. Smith also has played really well on golf courses with creatively undulated greens and tight lies around the greens. He's in a good spot to pick up his second PGA Tour win at the Houston Open.
Marc Leishman: 40/1
As mentioned earlier, Trinity Forest has several features that make it similar to Memorial Park Marc Leishman finished 2nd to Wise at the 2018 AT&T Byron Nelson. Leishman also has been good at Augusta National, which also features fast undulating greens with tight chipping areas around it. And Leishman is back in good form. He already has a pair of Top 5's this fall. With better form and on a golf course that fits his strengths, Leishman could return back to the winners circle.
Gary Woodland: 66/1
Woodland was a bit of a disappointment last week at Mayakoba. Without strokes gained data, it's hard to tell exactly why he missed the cut. But looking over the rudimentary data, it seems like Woodland was having trouble off the tee in the 2nd round. Memorial Park is much more generous off the tee than Mayakoba was. He has more room for error. He's hit his irons pretty well this fall. He's putt well on bermuda surfaces historically. And there's some correlation between Memorial Park and TPC Scottsdale, where Woodland owns a win. Expect Woodland to bounce back this week at the Houston Open.
Harry Higgs: 125/1
Total stab in the dark at Harry Higgs. He's got a few things you're looking for in a winner this week. Higgs has some pop off the tee. He's hitting his irons pretty well of late. He's an awesome scrambler. And he's a good putter on bermuda. He's playing well heading into this event. He had a Top 10 at the CJ Cup, and consecutive Top 20 finishes at the Wyndham Championship and The Northern Trust. And given the run of good winners seen on the PGA Tour lately, we're due for a long shot winner. Why not make it Harry Higgs to pick up his first PGA Tour victory at the Houston Open.
FOMO Bet: Brooks Koepka – 28/1
The only case you can make for Brooks is because this golf course, literally, was built for him. Three longer Par 5's that accommodate his length. Lots of long Par 4's that give him an edge over the field. Tight bermuda lies around the green that he's comfortable chipping off of. The narrative that Brooks only gets up for events he cares about, but winning at his golf course has to be up there of accomplishments he wants.
Maybe it's deja vu to the Farmers Insurance Open where also was "searching", only to win the following week at a favorable golf course for him. If he does win this week, you're going to feel silly you weren't on him when the pick was right in front of your face. Bet it, forget it, and hope it comes through.
FOMO Bet: Patrick Reed – 40/1
Like Koepka, the form has been atrocious for Reed. Sandwiched between a 2nd place finish at the Bermuda Championship is mostly dreck. But countless times in his career, Reed has come through on golf courses that defy logic why he'd be good there. Memorial Park is another example of a golf course that doesn't seem like a "Reed" course. The golf course screams to favor a long ball striker. Reed isn't that. Despite that, Reed still finds ways to win because he's better at getting up and down than the rest of the field.
Now that he's down to 40/1, it seems like it's time to blindly bet him at the number. Maybe he wins out of nowhere once again.
Houston Open Picks: Other Props
Sungjae Im Top 10: +225
The embodiment of the check list of contenders this week. Enough pop off the tee- check. Good on bermuda golf courses – check. Solid iron play, particularly on long approach shots – check. Good scrambler – check. Sungjae wasn't good at Memorial Park last year, but that doesn't mean he can't be good there. It was only one tournament. Expect better things from Sungjae Im this week.
Other Top 10's to Consider
Scottie Scheffler: +200
Adam Scott: +300
Joaquin Niemann: +300
Sam Burns Top 20: -125
Last week, some books hung too good of a number on Justin Thomas' Top 20 prop. Make them pay again this week with Sam Burns' number. Burns is such a talented player and an awesome fit for the golf course. He has the length, the iron play, the scrambling and the bermuda putting all in his arsenal. Bet this one like you're betting a football game and pick Sam Burns to finish inside the Top 20 at the Houston Open.
Other Top 20's to Consider
Erik Van Rooyen: +250
Ryan Palmer: +300
Taylor Moore: +300
Luke List: +375
Taylor Pendrith: +400

Related Content