The final international stop of the PGA Tour season kicks off in the Mexican Riviera. A solid field takes on El Camaleon Golf Club for the World Wide Technology Championship at Mayakoba. As always, here is your early deep-dive of the World Wide Technology Championship at Mayakoba and a preview of how to bet.
Mayakoba Championship Preview: The Field
As mentioned earlier, this is an unusually strong field that will take on El Camaleon Golf Club. Typically the fall series struggles to attract big names. But this year, nine of the Top 25 players in the world will play the World Wide Technology Championship at Mayakoba.
Headlining the field is Justin Thomas. For his standards, Justin Thomas is in a drought. Thomas hasn't won a tournament since the Players Championship in March. He hasn't had this long of a stretch without a win since between his victory at the 2018 WGC Bridgestone and the 2019 BMW Championship. Thomas hasn't been able to get all parts of his game together over four rounds lately. But he's been very good on paspalum golf courses in his career, including at El Camaleon. Maybe a return to friendly turf conditions will give him the boost he needs.
Other notables in the field include Tony Finau, Brooks Koepka, Abraham Ancer, Viktor Hovland, Tyrrell Hatton, and Patrick Reed.
For the full field, click here.
Mayakoba Championship Preview: The Golf Course
The El Camaleon Golf Course resides at the all-inclusive Mayakoba Resort in Playa del Carmen, Mexico. The golf course was designed by Greg Norman and opened for play in 2006. The following year, the golf course played host to a PGA Tour stop for the first time as an opposite-field event to the WGC Match Play in February. In 2013, the tournament was moved to mid-November as a standalone tournament on the schedule.
Greg Norman has designed over 100 golf courses, but only two of his designs are stops on the PGA Tour. The most notable of the two is TPC San Antonio and is much maligned by both players and the media. TPC San Antonio is often rated as the worst golf course on the schedule because of its over bunkering and how unplayable it can be when the winds are up.
At least aesthetically, El Camaleon does a nice job fitting a golf course into the natural coastal Mexican landscape. The golf course weaves its way through mangrove forests towards the ocean. Meeting the players at the beach is a pair of short Par 3's. While these holes aren't long, they play into the prevailing wind off the Gulf of Mexico.
There's even a cavernous sinkhole in the middle of the 7th hole fairway that acts as a centerline hazard. The golf course was certified by the Audobon International Society due to its devotion to the natural Yucatan landscape. Most of the golf course is off-limits to spectators as a protective site.
At the end of the day, however, this golf course is designed as one best suited to guests of the resort. While most errant shots are certainly a lost ball, professionals are good enough to keep the ball in play. If they do, the golf course is very gettable. The greens aren't all that tricky and are receptive, which means lots of good looks for birdie. The winning score of the tournament typically is at or exceeds 20 under par, and the cut line is traditionally under par heading into the final 36 holes.
The golf course is paspalum, which isn't a grass type seen often on the PGA Tour. Paspalum is a popular turf of choice for high-end golf courses along the Ocean. It still is able to thrive after absorbing saltwater droplets from the air. Other warm-weather grasses like Bermuda or Kikuyu can't. It's also a grass that plays very slow, almost as if it's velcro. Balls don't roll out very far once it hits the ground, and it tends to stop quickly on the green. This slow turf is optimal for resort courses where amateurs need the ball to stop quickly on errant shots.
The PGA Tour sees paspalum annually at the Puerto Rico Open, the Corales Puntacana, and the Mayakoba. It also was seen at the 2021 PGA Championship at Kiawah. But it's also the turf of choice for several high-profile European Tour events in the Middle East. The Saudi International, Abu Dhabi Championship, and Oman Open are played on paspalum. And because of its sticky nature, those who have experience playing on it are at an advantage this week.
Historically, players hit the fairway at El Camaleon at a less than average rate than on the PGA Tour. Typically, driving accuracy percentages are between 55-65%. This varies based on the weather conditions. In addition, the green in regulation rate is fairly constant at around 67% regardless of weather conditions. That's about average for PGA Tour standards.
Mayakoba Championship Preview: Betting Strategies
For the third straight week, there are no past strokes gained data to be had for the tournament. And there hasn't been a strokes gained measured round for anyone since the CJ Cup three weeks ago. As a result, relying on recent form statistics might not be beneficial. Things change very quickly in golf, and there's no visibility on how these guys really did in their last two tournaments. As a result, the best strategy is to try and look for templates of players who should do well at El Camaleon.
There's a lot of similarities between Port Royal and El Camaleon. Both golf courses are coastal. Both golf courses are relatively short. And both golf courses historically have rewarded similar skillsets. Like Port Royal, El Camaleon generally favors a player who hits it pretty straight off the tee. While the corridors are fairly wide, anything outside of that is instantly a lost ball. Each hole is surrounded by thick mangrove forests. If a player hits into it, they'll have to tee it up again.
Winners of the event also tended to have pretty good short games. Paspalum is a tricky grass to chip off of. Players typically have to fly the ball to the hole and get it to stop because the grass is very sticky. Players who prefer to hit bump and run shots are in for a long weekend. Balls die quickly on these types of shots. Better scramblers who demonstrate good spin and distance control on chips are at a big advantage this week.
Lastly, the paspalum greens run slow at El Camaleon. And unlike other paspalum courses, there's a lot more grain on the El Camaleon greens that players need to account for too. Typically paspalum is a vertical growing grass that provides a truer roll. But at El Camaleon, it has a lot of grain to it, much like a Bermuda green. Because there are no strokes gained statistics for performance putting on paspalum greens (other than the 2021 PGA Championship), evaluating players based on how well they putt on slow Bermuda greens is a good comparison.
Taking all this into account, you can see several similarities of recent winners of the World Technology Championship at Mayakoba (charts per DataGolf):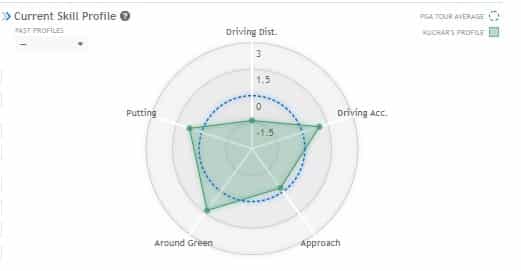 All of them display good accuracy off the tee. And all of them are better than average putters on the PGA Tour. And all of them have tremendous history on the shorter PGA Tour golf courses. What sticks out like a sore thumb is Hovland's typically awful scrambling. But leading into the 2020 Mayakoba Championship, Hovland was performing very well around the greens. Hovland gained strokes on the field around the green in three of four tournaments leading up to the 2020 Mayakoba Championship. At that moment in time, he fit the blueprint of successful contenders at El Camaleon.
Lastly, here is the list of players who have gained more than 1.5 strokes per round on the field at El Camaleon (minimum of 10 rounds):
Rickie Fowler – +2.09
Matt Kuchar – +1.79
Emiliano Grillo – +1.77
Brice Garnett – +1.64
Anirban Lahiri – +1.62
Russell Knox – +1.55
Joel Dahmen – +1.54
Billy Horschel – +1.50
Almost all these players don't have much pop off the tee. But they're all pretty accurate and good scramblers in their own right. These types of players are a good preview of who will contend at the World Wide Technology Championship at Mayakoba.

RELATED CONTENT
Mayakoba Classic Preview and Betting Strategies
Butterfield Bermuda Championship Preview and Betting Strategies