The international swing of the PGA Tour rolls on. A field full of players looking for a breakthrough win head to Bermuda for the Butterfield Bermuda Championship at the Port Royal Golf Course. As always, here is your early deep-dive of the Butterfield Bermuda Championship and a preview of how to bet.
Butterfield Bermuda Championship Preview: The Field
This event is usually starved for talent. And this year is no exception. No player inside the Top 20 in the Official World Golf Rankings will compete this week. Nevertheless, there still are a few interesting names in the field.
Headlining the event is Patrick Reed. Since his bout with COVID last August, Reed has struggled to regain his form. Over his last three tournaments, Patrick Reed has lost over 2 strokes per round tee-to-green to the field. And he's not doing nearly enough with the putter to make up ground. He has the pedigree and ability to turn around his game in a hurry. But Reed seems like a guy who's searching for something.
The other big fish in the field is Matthew Fitzpatrick. Fitzpatrick followed up a disappointing Ryder Cup with a win at the Andalucia Masters in Spain. While he's won many times on the European Tour, he still is searching for his first PGA Tour victory. If he brings his A-game, there are very few players in the field who can beat him.
Other notables in the field include Christiaan Bezuidenhout, Thomas Detry, Adam Hadwin, Garrick Higgo, Guido Migliozzi, and Mito Pereira.
For the full field, click here.
Butterfield Bermuda Championship Preview: The Golf Course
The Port Royal Golf Course was founded in 1965. Due to a dispute between the existing property owners and developers, the course was not completed until 1969. After shifting the layout of the property to accommodate a stubborn farmer, famed golf course architect Robert Trent Jones carved out a wonderful 18 hole layout along the western shores of Bermuda.
As far as the individual holes go, it's nothing spectacular. The golf course has a fairly basic routing structure. It hasn't been modernized much from the original Robert Trent Jones design. Everything is out in front of the player this week. The greens have wavy features to it, but nothing too difficult. Overall, this isn't a golf course that will confuse or befuddle the PGA Tour pros.
But the property itself is what makes this golf course memorable. Situated on the west end of Bermuda, it has absolutely breathtaking views of the Atlantic Ocean. And the entire piece has dramatic elevation changes. The clubhouse sits on top of a hill, with the golf course sprawling downhill in all directions. It's about a 100-foot drop from the clubhouse to the Par 3 16th green, which is the low point of the golf course. Very few holes play flat tee-to-green. Players will have to adjust their club selections based on uphill and downhill shots.
Port Royal Golf Course is a Par 71 and runs about 6,850 yards on the scorecard. That's very short for PGA Tour standards. However, the golf course is susceptible to heavy gale winds off the Atlantic Ocean. It's a short golf course by design. If the winds are up, this can present a stern test. Players will have to contend with gusty crosswinds on several holes. But if the wind is down, then the PGA Tour pros will eat the golf course up.
Port Royal Golf Course is bermudagrass tee-to-green. The greens will run around 11 on the stimpmeter, which is slower than average for PGA Tour standards. As mentioned previously, the threat of significant wind necessitates keeping the greens on the slow side. Otherwise, the golf course is virtually unplayable.
Butterfield Bermuda Championship Preview: Betting Strategies
Bettors aren't in a great spot this week. First, it's a bad field. That makes relying on statistics difficult because most of the field don't do a whole lot of things well. Second, almost every single Korn Ferry Graduate will compete this week. None of them have more than 12 rounds of ShotLink data in their arsenal. Third, there are only two previous events to look at for course history. While Port Royal did host the now-defunct PGA Grand Slam of Golf from 2009-2014, there's nothing to gather from a four-golfer exhibition match. And fourth, no ShotLink data is available for this tournament. There isn't a lot to help preview how the Butterfield Bermuda Championship will play.
Let's start by breaking down what we do know about the first two Bermuda Championships. In 2019 and 2020, players struggled to find fairways at the golf course. The field driving accuracy rate in 2019 was 54%. It was 49% in 2020. Both figures are well below PGA Tour averages. More concerning was that the weather conditions in 2019 were much better than in 2020. Yet players still struggled to find fairways.
There was a difference between how often players hit greens in 2019 and 2020 though. In 2019 with relatively calmer conditions, the field hit the green in regulation 67% of the time. That's about the PGA Tour average. From there, the event turned into a putting contest. The winning score was -24, and the cut was -2. But in 2020, tougher weather conditions kept scores down. The field only hit the green in regulation 61% of the time. That's well below PGA Tour standards. That kept scores down for the event. The winning score was only -15, and the cut line moved up to +1.
Expect the 2021 Bermuda Championship to resemble more of the 2020 edition instead of 2019. Significant wind is in the forecast three out of the four days. That's going to push down how often players hit fairways and greens. That also should keep the winning score in the mid-teens and the cut line above par once again. That might help elevate the players who aren't the most accurate off the tee up the leaderboard. With everyone struggling to hit fairways in those conditions, it'll help those that can send the ball out there a little farther so long as they're not spraying it everywhere.
However, it still won't turn into much of an up and down game from off the green. In each of the two previous Bermuda Championships, there was a clear separation on the leaderboard of those who hit greens at a high rate and those who didn't. Bad iron players in both 2019 and 2020 were severely punished. Those who struck their irons rose up the top of the leaderboard.
Despite all of this, the profile of Brian Gay and Brendon Todd, the two Bermuda Championship winners, are quite similar: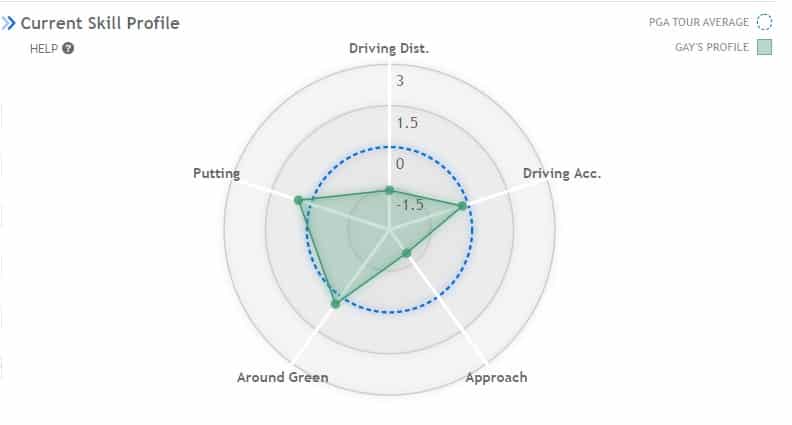 Brian Gay's Relative Skillset Chart (Per DataGolf)
Brendon Todd's Relative Skillset Chart (Per DataGolf)
Neither player is long off the tee. Neither are particularly good iron players either. Though Brian Gay's current relative skill set indicates he a woeful iron player because he's practically washed up, in his prime he had about the same ability as Todd. But both players typically thrive on shorter golf courses where they're at a huge disadvantage with their approach shot yardage into greens. From there, their superior advantage putting and scrambling over the field carries them to good results. Players like these are good templates to target for outrights.
Lastly, here are players in the field who have gained more than a stroke per round at Port Royal Golf Course:
Brian Gay – +2.53
Ryan Armour – +1.65
David Hearn – +1.65
Hank Lebioda – +1.65
Kiradech Aphibarnrat – +1.61
Denny McCarthy – +1.53
Kramer Hickok – +1.40
Russell Knox – +1.15
Most of these players have a similar profile. Most aren't particularly long off the tee. However, they're very accurate. Several of these players are pretty good putters. And several of these players are helped immensely when on a golf course that doesn't put them at a huge disadvantage with their lack of length. These types of players are a preview of what to expect at this year's Butterfield Bermuda Championship.

RELATED CONTENT
Bermuda Championship Preview & Betting Picks