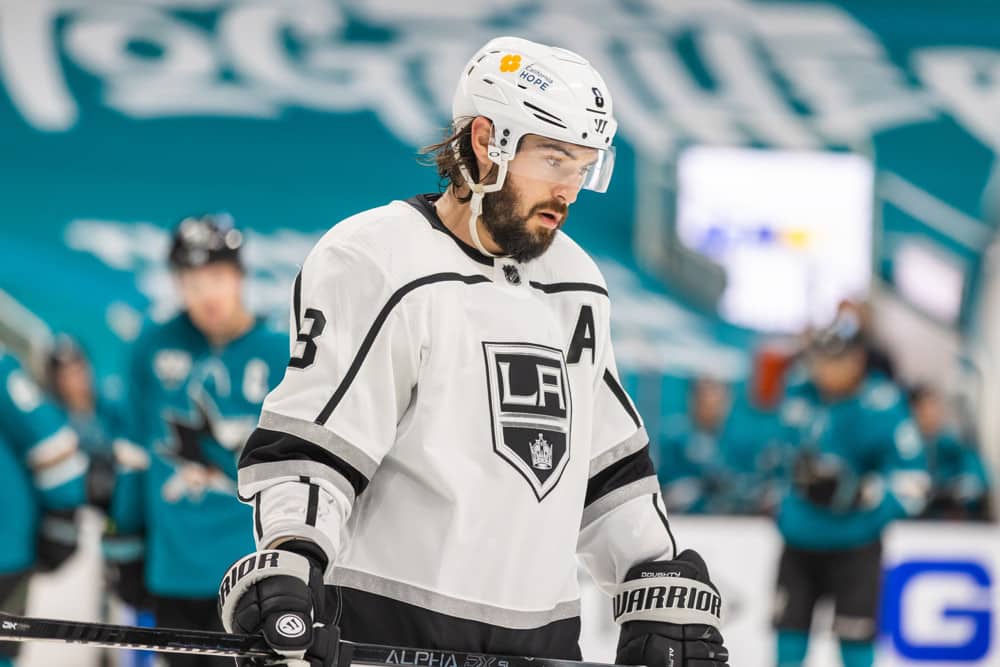 Week 4 of Fantasy Hockey is right around the corner. Most GMs have plenty on their mind. How will I replace Drew Doughty on waivers? Are these goalies set for a breakout year? And course, who's in Tally's Shame Shack this week? We'll give you all the answers in this week's SGPN Fantasy Hockey Week 4 Primer with waiver wire options and more.
Fantasy Hockey Waivers: Replacements for Drew Doughty
The L.A Kings dropped the news last Wednesday that Drew Doughty is expected to be out for eight weeks. "The Veteran Defenceman suffered a right knee contusion in the October 22nd Dallas Stars game" reported Kings GM Rob Blake.
Doughty isn't the same player he used to be. At 31 years of age and plenty of milage under him, the London Ontario native may not be the top fantasy player in your backend. With that being said, he's still an asset for any Fantasy GM that picked him up this year. Let's take a look at potential Waiver Wire pick-ups to replace Doughty for the coming weeks.
Brandon Montour is a name that never seems to jump off the page for Hockey Fans. The simple reason for this is he spent his first 6 years in the league playing for the Anaheim Ducks and the Buffalo Sabres. Both teams have been towards the bottom of the league, and Montour's stat line reflects this.
A career high points total of 32 in his sophomore 2017/18 season isn't much to write home about. This is set to change. Montour found himself being shipped from Buffalo to Florida at the trade deadline last year.
We've already seen a spike in his numbers since the move, recording one goal and three assists for a total of four points in nine games with the Panthers this year. Montour is set for a career season, scoop him up if you can.
The Winnipeg Jets got off to a slow start this season, but they're starting to trend in the right direction. A key asset on a weaker D-core for the Jets has been Nate Schmidt. The 30-year-old defenceman has found himself playing top pair minutes partnered with Josh Morrissey.
Schmidt has quietly put up six assists in eight games for the Jets this year. It comes as no surprise as he's normally passing the puck to the likes of Pierre-Luc Dubois, Evgeny Svechnikov and Kyle Connor. You can expect these numbers to continue to grow for the American Defenceman.
He's worth picking up to fill the Doughty hole on your backend.
Nick Jensen (D), Washington Capitals
Nick Jensen is a fine player. Not a great player, but a fine player. The 31-year-old won't turn heads when you watch him play. But you also won't find him getting blown up in the highlight reels. Jensen makes this list for his astonishing plus/minus stats.
Normally judging anyone by this metric is a weak way to assess a player. In Fantasy Hockey, most leagues dish out points for a positive plus/minus rating. Jensen is currently +9 on the year and has yet to have a game registering negative points.
With two goals and one assists added to this, Jensen could be worth taking a gamble on to help bolster a struggling defence for Fantasy GMs.

Are these Fantasy Hockey goalies the real deal?
Goaltending is a "Make or Break" part of every Fantasy Hockey team. Are these guys ready for a breakout season?
There were some questions between the pipes in New York after the first game of the season. Alexander Georgiev had a tough outing in the opening game against Washington giving up 5 goals to the Caps. Igor Shesterkin took the wheel and hasn't looked back since this game.
The Russian Net-Minder has put up stellar numbers with the Rangers this season registering four wins and one loss in five games played. He's averaging 37 saves per game behind a defensively weak New York Team. Coming off a 31 save shut-out against the Columbus Blue Jackets, if you have Shesterkin on your team, Keep him!
Jacob Markstrom didn't have the season he was expecting last year. His first season with the Flames saw Markstrom recording 22 wins, 11 losses and 111 goals against while playing in a weaker Canadian Division. The 31-year-old seems to have put last year behind him.
Through five starts this season, Markstrom has been a key contributor to a hot Calgary team. The Swedish goalie has put up four wins and one loss in five games averaging 35.6 saves per game. He also has a league leading three shut-outs this season. It's hard pressed to assume these numbers will stay this high, but if you grabbed Markstrom this year, you should be in fine shape between the pipes.
Ilya Sorokin has the opportunity to solidify himself as a full-time starter in the NHL. With Semyon Varlamov out through the first three weeks of the season, the spotlight has been on the 26-year-old Russian. Sorokin has recorded three wins, two losses and two shut-outs in five games with the Isles this year.
He's also in the top five in the league in shots against with 232 in those five games. Varlamov is set to return which may cut Sorokin's numbers down, but I wouldn't let this keep you from being excited to have Sorokin on your team.
---
Taly's Shame Shack
It's time for the week 3 results of "Taly's Shame Shack".  In this weekly segment, I'll be placing 5 players that have had a terrible fantasy performance the week prior into my "Shame Shack".
Please note that I'm not advocating to drop these players, but just keep in mind they're in the doghouse & will have to take strides to get off my list.  Players will be judged for their Weekly performance, not their overall performance on the season.
After missing the first three games of the season, Matthews finally made his debut for the Leafs. It's safe to say his numbers have been disappointing to Fantasy GMs. In three games this week, the reigning Rocket Trophy winner only registered one goal and one assist. We expect much more from the American All-Star, this performance landed Matthews in the Shame Shack.
Kirill Kaprizov was easily the steal of last years Fantasy Draft. The Young Russian jumped on the scene putting up 51 points in 55 games in his rookie campaign. Through eight games this season, Kaprizov is still waiting to register his first goal. He has all the talent in the world, and it may be too early to tell, but the sophomore slump might be hitting the reigning Rookie of the Year.
The Tampa Bay Lighting have been off to a slow start. Fantasy GMs have been a bit disappointed with the performance of their Lightning players, Hedman is no exception. The Swedish Stud had a tough week registering 1 assist in three games. What really hurt him was his -4 rating in a 5-1 loss against the Buffalo Sabres. Hedman won't be here for long, but he's earned his spot in this week's Shame Shack.
Heading into Saturday's Bruins/Panthers Game, McAvoy was a sure lock for this weeks Shame Shack. He saved face by recording a power-play goal in that game, but still finished -1 on the day. This hurts his overall numbers. Fantasy GMs expect a lot more from the number one Boston Blue-Liner. After inking his $9.5M eight-year contract extension, a one goal, zero assist, -2 week isn't what GMs are expecting from the 23-year-old.
Holtby started off the year red-hot with the Stars. Fantasy GMs that took a gamble on the 32-year-old seemed to have made a fantastic late round pick up. Unfortunately, the Stanley Cup Champion fell off this week recording two losses and seven goals against in two outings. Truth be told, week 3 was a strong week for Fantasy Goalies around the league. Holtby stood out with his upsetting performance and earned his spot in this weeks Shame Shack.
---
Subscribe to the Hockey Gambling Podcast on Apple and Spotify!