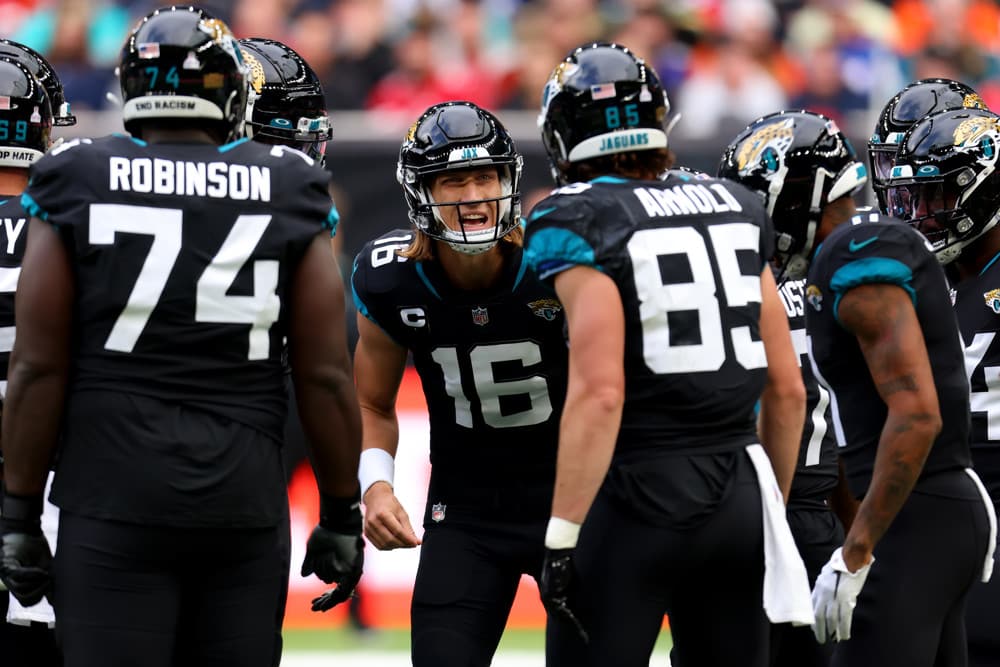 You're here, which means you chose wisely last week, and are ready for the Week 8 NFL Survivor pool picks.
The premise of this column was to give you four teams a week to choose from. As such, there would come a time when all teams would have appeared at least once. With a couple of exceptions, we have reached that point. So, with that said, from here on out, you will see some repeats. To the best of what's possible, there will hopefully be teams you have yet to use. This week still features two teams that have not been suggested. One may even surprise you.
Each week, this article will help you identify some of the best picks to help you live to play another week. Point spreads go a long way to provide context for potential good plays, so to that end, they will be included with each pick. Find these lines courtesy of our friends at Tallysight.
NFL Survivor Pool Picks – Week 8
Denver Broncos (-3.5 vs Washington Football Team)
The Teddy Bridgewater era in Denver got off to a promising start. Denver ripped off three straight wins to begin their 2021 campaign. Since then, they have suffered four straight losses.
Looking at their schedule though, it's not hard to explain both the winning and losing streaks. At the start of the season, the Broncos played the Giants, the Jaguars, and the Jets, all struggling teams. The last four games have been against teams much stronger than their previous opponents. In that span, they faced the Ravens, Steelers, Raiders, and Browns. Despite losing all four of those contests, outside of their game against Baltimore, Denver has managed to keep the final score at a respectable distance.
They will also benefit from the return of one of their most important offensive weapons. Breakout wide receiver Jerry Jeudy did not practice on Friday but is still expected to play.
https://twitter.com/Broncos/status/1453818351185190924
Times have been tough for the Washington Football Team. After the spell of Fitzmagic wore off in the Nation's Capital, their season hit the skids. With Taylor Heinicke at the helm, Washington has yet to string together much success. They enter Week 8 with only two wins on the season.
In Heinicke's first start, he helped engineer a one-point victory against the Giants. In his second start, he and his team were blown out by the Bills.  Their other win saw WFT mount a late-game comeback to get past the Falcons. Unfortunately, much like their opponents this week, Washington has faced a buzzsaw of a schedule. Other than Buffalo, Washington has losses to both the Packers and the Chiefs. Currently, they are on a three-game losing streak. This week will be their fourth in a row as they find themselves outmatched again.
---
Tampa Bay Buccaneers (-4.5 @ New Orleans Saints)
Having cycled through almost all of the teams for the purposes of this article, it's time to suggest the Bucs. What's to say about Tampa Bay that hasn't already been said a million times? The defending champs have looked the part since the starter pistol went off back in September. They've been dominant on both sides of the ball. As always, Tom Brady has his offense in high gear. Not to mention his defensive teammates are allowing next to nothing on the ground to opposing offenses. It was a wonder that the Rams found a way to bring Tampa Bay down and account for the Bucs' lone blemish. After that defeat though, the Buccaneers have ripped off four wins in a row and are looking like they can not be slowed down. If you want to save them, that's understandable. Almost any week works for this team, this one included.
https://twitter.com/Buccaneers/status/1454478208489775108
At face value, the spread on this game could be a bit confusing. How could any team be less than touchdown underdogs to Tampa Bay? It's because quietly, the Saints have put together a 4-2 record. Included in that win total is a surprising and dominating win against the Green Bay Packers. It seems that Jameis Winston still knows how to win in the NFL and has his team on the right side of the .500 mark. All that said though, this week, they will face a team well equipped to stop one of their biggest weapons. New Orleans attempts the fourth-most running plays in the league. With Alvin Kamara, who wouldn't? Unfortunately, he'll be facing a team that allows the least number of rushing attempts per game. Revenge will not be enough to carry Winston to a win in this NFL Survivor Pool pick this week.

---
Tennessee Titans (+2.5 @ Indianapolis Colts)
There is something special going on in the Music City this season. A scrappy team has managed to fight and claw their way to the top of the AFC South. What's more, they find themselves tied with the Raiders, Ravens, and Bengals for the best record in the entire conference. They've built a pretty impressive resume along the way, especially over the last two weeks. In that span, they have toppled two teams who were heavily favored to win the Super Bowl. Two weeks ago they handed the Bills a 34-31 loss. Last week, they came out on top against the reigning AFC champions hanging a 27-3 loss at the feet of the Chiefs. Tennessee has all the confidence in the world right now as they head into this week. Which is why it's all the more confusing to find them as underdogs against the Colts. It's plain disrespectful.
It's all about the game on Sunday. #TENvsIND pic.twitter.com/HfetFiGwsr

— Tennessee Titans (@Titans) October 30, 2021
Not to say the Colts are not a solid team. They are on the heels of a two-game winning streak themselves. Last week they fought through the wind and the rain in Santa Clara to topple San Francisco. The week before that, they trounced the Texans. All that said, these teams have faced each other already this season. At the end of that game, the Colts found themselves on the wrong end of the final score. In that game, Carson Wentz did not even reach 200 yards passing and did not have a touchdown pass. Stud running back Jonathan Taylor was held to only 64 rushing yards and out of the end zone. They did not have an answer for Derrick Henry who carried the ball 28 times for 113 yards against them. This game will be much of the same and will end just the same for Indianapolis
---
Jacksonville Jaguars (+3.5 @ Seattle Seahawks)
You knew this day would have to come. At some point, it would make sense to finally take the Jaguars off the board. That day has finally arrived. Up until this week, the strategy was to find and play whoever found themselves taking on Jacksonville. Of course, under normal circumstances, this week would be no different. This week, the long-suffering Jags get to face a wounded opponent. They'll do this fresh off the taste of their first victory of the 2021 season. After five straight losses to open the year, Jacksonville sent their fellow Floridians back to Miami with a loss. It wasn't pretty, but there were some bright spots. Trevor Lawrence threw for 319 yards and a touchdown. On the ground, James Robinson chipped in with 73 yards and a score. The Jags defense even picked off Tua. There's smoke here. This week, it could lead to fire.
#DUUUVAL, this one's for you. pic.twitter.com/5SckFN7wPg

— Jacksonville Jaguars (@Jaguars) October 17, 2021
It's obvious that the Seahawks are lost without Russell Wilson at the helm. In two games with Geno Smith as their starter, they are winless and have only scored 30 total points. Last week, they were only able to muster 10 points against the Saints. Even against a team as bad as their opponents this week, that is not enough to win. All Seattle can hope for at this point is for their defense to step up and try to shake the rookie quarterback they are facing. If they can cause him to make some mistakes, they could possibly post a win. It used to be out of the question to ask a visiting team to come to Seattle and come out with a victory. That is not the case this week as Jacksonville just might have enough confidence to do just that in a surprise NFL Survivor Pool pick.
---
Related Content
Week 8 NFL Flowchart – DraftKings DFS
Raiders Recap, Flowergate & Lions Preview | Diehard Eagles (Ep. 46)
NFL Picks Week 8 (Ep. 1123)