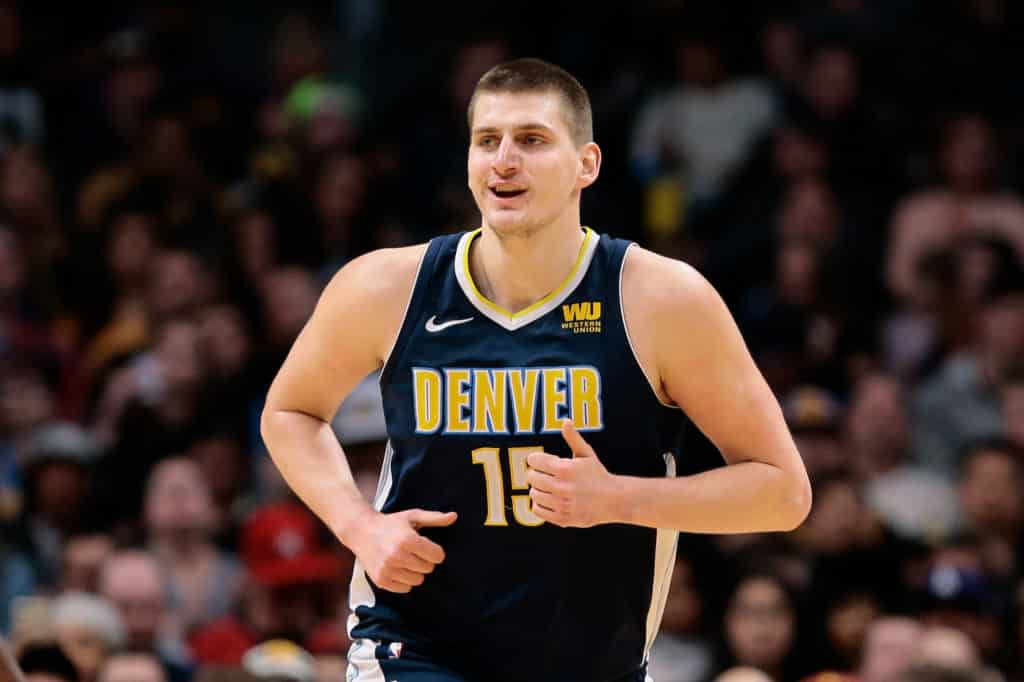 The NBA has begun to build some momentum and trends. While it's already a big weekend for sports, we wanted to help you get ready for the full NBA DFS slate this Saturday. Check out this lineup that should get you in the green and make you some green as well.
(NOTE: This NBA DFS lineup was made prior to lineups locking and complete injury reports. Always check your lineup for injuries and late withdrawals prior to locking.)

NBA DFS Picks for Opening Night – Oct 30th
The first big-ticket item I'm pulling the trigger on for this NBA DFS slate is Murray. Steals continue to be an underrated way to really rack up some points and he's got at least one in every game this year. Plus, he's shooting 55% from three-point land in the last two games and is averaging over 60DK points. I think he keeps that rolling in a high scoring affair with the Bucks (who are 26th in points allowed)
I've been a big believer in Suggs since his early days as a Zag. However, the beginning of his NBA career didn't exactly make him an attractive NBA DFS candidate. In his first game, he went just 3-14 from the field while managing only a single assist and a single rebound. Early performances like that have kept his cost low. Meanwhile, he's really turned things around. Last night is a perfect example of that. He put up 21 points, going 4-8 from three. That was good for 32.0DK points.
Check out the latest NBA Championship odds.
I don't know why they still aren't making us dish out cash for Josh Giddey. The man has been on a tear as of late, putting up 37.6DK points a game over his last three. That includes a 47.0DK point performance against Philadelphia last Saturday. His ability to rebound and dish out the assists means he's not dependent on scoring a bunch of points. However, playing Golden State, who gives up 107.2 points per game, should mean there is plenty of that to go around.
With the exception of a rare dud against the Raptors on Wednesday, Sabonis has been a steady NBA DFS asset. He's gone for at least 40DK points in every other game this year. It seems that the defensive side of his game is picking up a bit from where it was early in the year. He's added more blocks and more steals as of late, which is going to boost his score even if he doesn't pull down the 15 rebounds that we're hoping for.
People were a little worried about Jokic's knee heading into Friday's action. However, he assuaged those concerns by coming two dimes away from a triple double. He always has the potential to put up a 70DK point performance for your NBA DFS squad – which is why he's almost always a big ticket item that I don't mind dishing out for.
According to the injury report, Cade Cunningham appears to be ready to make his debut on Saturday. Sure, he'll likely be on a minutes limit with the bum ankle. However, there's a reason he went #1 overall in this year's draft. I expect even in limited minutes he'll put together enough to be worth the tiny price tag that he costs.
Speaking of injuries, when Patrick Williams dislocated his wrist on Thursday, it left a hole at PF for the potent Bulls offense. There is speculation that some of that time might go to Troy Brown. However, I think Javonte Green is more likely to get a hot hand and wind up with a lot of these minutes. If he does, this cost will seem like you were robbing the bank.
Bazley is a little bit of a combination between my Suggs pick and my Giddey pick. For the former, I like that he recently got hot. After some tough games, he went for 41.0DK points last game and went 4-8 from downtown. For the latter, I like that the Warriors/Thunder game will probably be high-scoring. Also, with six boards and four steals last time out, he's not even all that scoring dependent.

Make sure to check out all the great NBA coverage we have to offer and be sure to listen to the NBA Gambling Podcast, which airs twice a week. This week the guys are breaking down some of their favorite parlays.