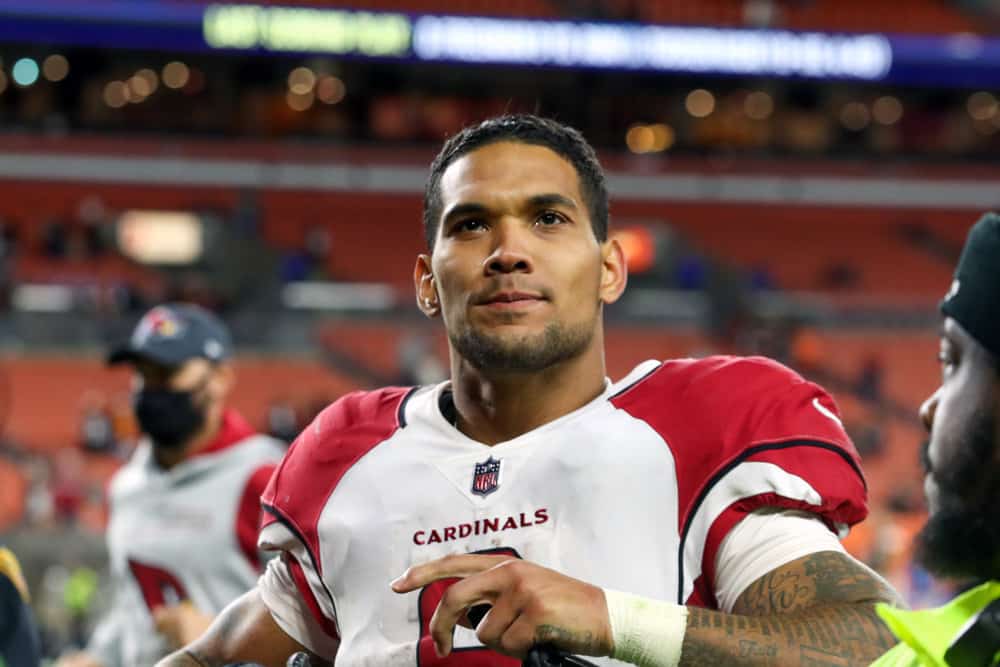 If last week's Thursday night matchup was a chuck steak, the Week 8 Thursday Night Football game is a filet mignon. Two of the hottest teams in the league square off in an NFC battle. It's every cliché all wrapped into a single game. You have the old school versus the new school as Aaron Rodgers takes on Kyler Murray. The frigid northmen travel to the sun soaked desert. Finally, it's a war of division leaders, one of them fighting to stay undefeated. Whatever plot line you choose to frame this game, when it's all said and done, it will be a highly entertaining one.
Although, there have been a couple of recent announcements that will impact how you play this slate. It was reported that Davante Adams has been placed in the COVID-19 list and will not make the trip to Arizona. Another receiver they will not have available is Allen Lazard who was also placed in the list. With both wideouts missing this game, Rodgers will have to look deeper down the line for production. So, taking all that into account, let's dive into this week's picks.
As always, the players below are not meant to be considered a "core four." These are simply players to consider as you are building your lineups. Play one, play them all, it is entirely up to you. My job is to help you see the reasoning behind selecting these players and how they can help you win.
Week 8 NFL Thursday Night Football DraftKings Picks: Packers vs. Cardinals
James Conner – Captain $11,700; Flex $7,800 (RB) Arizona Cardinals
After Kenyan Drake left Arizona, the Cardinals backfield was supposed to belong to Chase Edmonds who remained behind. Enter James Conner. Over the course of the season, Conner has registered more carries than Edmonds in four of seven games. He's also accounts for six touchdowns by way of the ground. Edmonds has yet to find the end zone at all this season. One area where Edmonds holds a slight edge in the head to head is in the receiving game. Conner comes into this game with 5 receptions, while Edmonds has snared the ball 27 times. That said, Conner has been trusted in the red zone more this season. He's seen 20 snaps inside the 20 yard line to Edmonds 14 snaps. In the end, Conner gives you the best shot of the two at scoring a touchdown.
James Conner just makes it look easy…@JamesConner_ x #RedSea pic.twitter.com/lgR9nLvAZ5

— Arizona Cardinals (@AZCardinals) October 24, 2021
He'll have a golden opportunity to do so given his matchup this week with the Packers. Green Bay's defense has allowed five rushing touchdowns inside the red zone this season. Opposing teams have run the ball against them 28 total times from within the 20 yard lane for 78 yards. In four out of their last five games they have surrendered a rushing touchdown. The last of which came against Khalil Herbert who also hung 97 yards on them. Arizona has reached the magic zone more than 50 times this season. There is a good chance they will do it a few more times by the time Thursday's game is over. Rostering Conner in your lineups gives you a better than average shot at a nice return on your Week 8 Thursday Night Football investment.
A.J. Green – Captain $10,200; Flex $6,800 (WR) Arizona Cardinals
When A.J. Green signed with the Cardinals, many people believed he had already begun his descent into fantasy irrelevance. Having given way to Tee Higgins and Tyler Boyd in Cincinnati, Green's arrival in Arizona seemed like a depth move for another team flush with talented wideouts. What happened instead, was his reemergence into weekly fantasy relevance. Sure he is not putting up the same WR1 performances from his youth. He is, though, giving you solid WR3/Flex numbers more weeks than he's not. In four out of seven games, Green has registered double digit fantasy points. He's third amongst Cardinal pass catchers in targets, and is also third in total fantasy points. In five games, he's seen exactly six targets. Three of those instances saw him catching five of them. He's been a consistent threat in Arizona and should continue to be for the rest of the season.
https://twitter.com/akwong31/status/1452636060740198408
Green Bay has a decent passing defense which could hamper the potential for a big game out of any of the Arizona receivers. They rank sixth in the league in terms of passing yards allowed with just over 210 yards surrendered per game. This would be a problem for most quarterbacks, but Kyler Murray has a knack for efficiency, giving his players a chance to produce maximum results with minimal opportunity. The Packers have done well to shut down the second and third pass options of their opponents this season. That said, this Cardinals team is on a hot streak and should be able to continue their game play with consistency no matter the opposition. Green has scored in every other game this season. Last week he failed to find the end zone. This very well be a game that follows the pattern with a touchdown catch for Green.
Zach Ertz – Captain $9,300; Flex $6,200 (TE) Arizona Cardinals
Another castoff has found a home in the Arizona sun. For Zach Ertz, getting traded to the Cardinals was a perfect situation for both parties. His new team needed help at the position due to injury. He needed a fresh start after falling out of favor in Philadelphia. It didn't take long for both to get what they wanted. In his first game in Arizona, Ertz caught 3 of 5 targets for 66 yards and a touchdown. It represented his best fantasy output of the season, and signaled a new hope for the veteran tight end. He's clearly the top option at his position now and on a team that is far more put together than his last. Hopefully, his outing last week will translate to more work than Maxx Williams saw before his injury.
INTRODUCING… ZACH ERTZ.@ZERTZ_86 x #NationalTightEndsDay pic.twitter.com/gdSYxHsLLB

— Arizona Cardinals (@AZCardinals) October 24, 2021
The Packers have fared well on paper against tight ends this season so far. Even still, they have allowed just north of five receptions and around 50 yards to the position per game. They also haven't surrendered a touchdown to a tight end since Week 2 against the Lions. In that span they faced names like Pat Freiermuth, Cole Kmet, and even Ricky Seals-Jones. It can be successfully argued that in his current position, Ertz is closer to a T.J. Hockenson than a Freiermuth. In a game between two teams of similar caliber, almost every player becomes fantasy relevant. Giving one of the hottest quarterbacks in the league a new, strong, reliable target makes that target even more fantasy relevant. It would not be surprising for Ertz to post numbers worthy enough for a spot on your Week 8 NFL Thursday Night Football rosters.
Marquez Valdes-Scantling – Captain $5,700; Flex $3,800 (WR) Green Bay Packers
It's been a month since Marquez Valdes-Scantling has seen the field of play. For the last four week, MVS has been on the injured reserve nursing a hamstring injury. Before departing the team, the young wideout had turned in his best game of the season. Against the 49ers, Valdes-Scantling caught 3 of his 4 targets for 59 yards and a touchdown. Of course against Detroit the week before, he failed to catch any of his four targets. What's more, to open the season, he only caught 3 of his 8 targets for a mere 17 yards. This is in keeping with his true boom or bust nature. Last season, he saw 63 targets. He caught only 33 of them and yet still managed to gain nearly 700 yards on the season. Trying to predict his breakout games became a headache.
https://twitter.com/thecheckdown/status/1443679978265079816
In his defense, he has shared the field with Davante Adams his whole career which makes getting noticed rather difficult. That will not be the case this week as his team will be without Adams and will also be without Allen Lazard. That means MVS will be in line to see his production swing in a positive direction. That is of course, should he actually get to play. Keep an eye on the inactives heading into Thursday night's game. He's already making the trip with the team to Arizona, and the team could really use his services. If he suits up, he becomes a low-priced lottery ticket that can help you put both quarterbacks in your lineups. If he booms in his first week back, he could very well end up a slate buster.
Related Content
SGPN Fantasy Football Rankings Week 8 Update
Week 8 Fantasy Football Injury Report
Fantasy Football Playoffs Matchup Prep I SGPN Fantasy Football Podcast (Ep.39)