NFL Week 5 is in the books and Week 6 kicks off soon. We're at the point where we just say "Rinse, Wash, Repeat." Once again in Week 5, our trendy referees continued to profit for us. In this week's NFL Referee Betting Trends and Stats report, I will highlight a few officials other than the ones I have discussed over the last couple of weeks.
Referee Betting Trends and Stats Report
Game Totals
Craig Wrolstad
I have discussed the two refs who are profitable on totals, Brad Rogers and Ron Torbert. However, Craig Wrolstad has entered the conversation. Thus far this season Wrolstad is 3-1 to the Under and his games are averaging a total 35.5 points per game. In fact, in games officiated by Wrolstad and his crew, home teams are averaging only 10 points per game! This week Wrolstad will be officiating the Minnesota Vikings vs Carolina Panthers game.
Clay Martin
Last season Clay Martin was one of the best referees to the over. However, this season it is quite the contrary. Clay Martin officiated games are 4-1 to the Under. In fact, the average total thru five games this season is 38.4 points per game. Additionally, road teams are averaging only 16.4 points per game. In Week 6, it will be interesting to see if this trend continues as Martin is assigned to officiate the Thursday Night Football game between the Buccaneers and Eagles.

Against The Spread
Alex Kemp
I discussed Alex Kemp last week as an official who favored road teams. In Week 5, that trend continued bringing the visiting team's record to a perfect 4-0 straight up and against the spread. In Week 6, Alex Kemp and his crew are assigned to the Los Angeles Rams visiting the New York Giants.
Need help with who to bet on this week? Check out the latest NFL expert picks.
Shawn Hochuli
I will continue to highlight Shawn Hochuli till the wheels fall off. Again, in Week 5 the road team covered the spread bringing their against the spread record to a perfect 5-0 against the spread. In addition, road teams are 4-1 straight up. In Week 6, Hochuli is assigned to the Bengals visiting the Lions.
                       NFL Week 6 Referee Assignments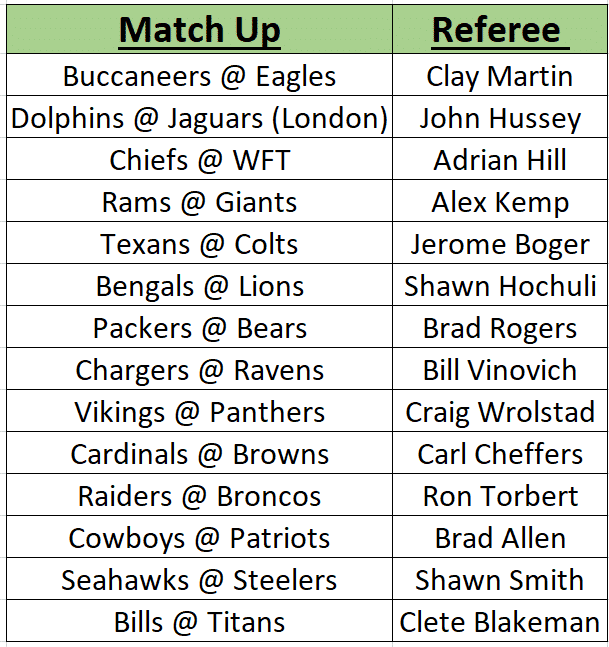 NFL Related
Early Week 6 Waiver Wire Fantasy Football Targets