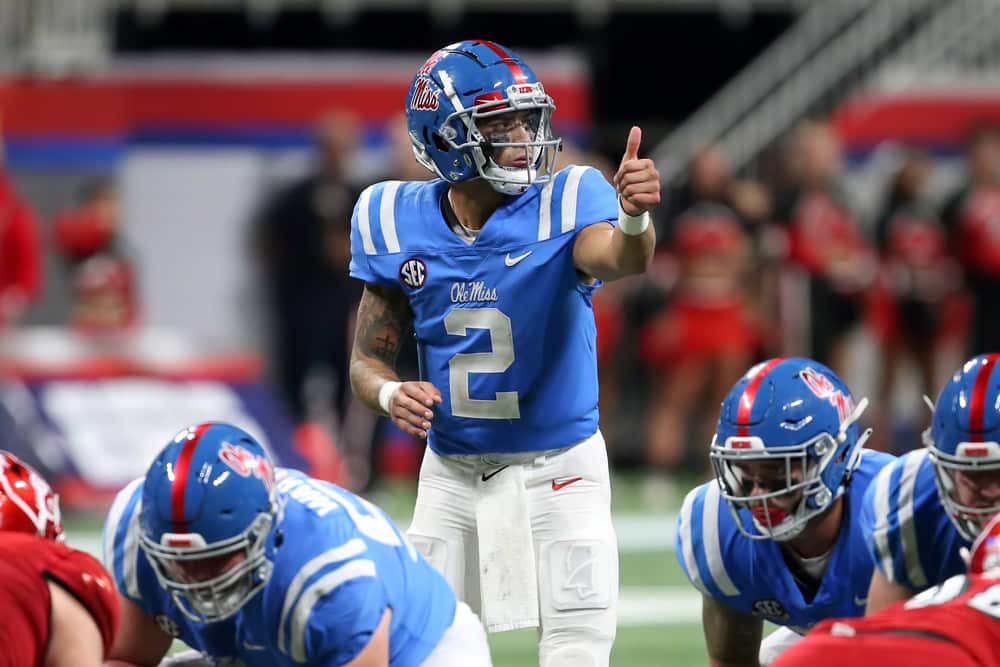 Another week in the books and other profitable CFB DFS Saturday. In last week's column, two of the QBs I highlighted (the third got knocked out of the game) went over 30 fantasy points, two of my three RB's also cleared 30, and I threw in a $5.6K WR who registered 24 points. This is what we do and let's do it again with these College Football Fantasy Picks for the daily slate!
As always, for each position, I will highlight my favorite expensive option, my favorite middle-of-road option, and my favorite bargain bin player.
College Football Fantasy Picks: Quarterback
Matt Corral – Ole Miss ($9.2K)
You'd have to be crazy to start a QB priced at $9.2K who's playing the Alabama D in Tuscaloosa, right? Well, Heisman hopeful Matt Corral just might be matchup proof. The Jr QB from Ventura, CA started the season off with two nice 33-35 point performances before blowing up vs Tulane for 59.2 fantasy points in Week 3.
Sure, the Crimson Tide defense is a notch or two better than the Green Wave's but Ole Miss still put up 48 on Bama last year. In that game, Corral accumulated more than 400 yards of offense with a couple passing TDs. The Rebels are coming off of a bye week and the offense should be ready to crank out the points in a game with an O/U of a whopping 79.5 points.
Desmond Ridder – Cincinnati ($7.5K)
It's not often you'll find Desmond Ridder priced this low. I get it – Cincy has a road game vs a tough Notre Dame defense. It's not exactly a plus matchup. We were all just witness to how this Fighting Irish defense can make an opposing QB look bad. Wisconsin's Graham Mertz just threw four picks and had two of them returned for TDs.
Well I am here to throw caution to the wind. If you are looking for a mid-tier priced QB in this slate, it'll be hard to find anybody better than Ridder. He didn't light the world on fire vs Indiana, but a late rushing TD still helped the veteran QB put up 23.9 fantasy points. The Bearcats are another team coming off a bye week and have had this game vs Notre Dame in their sights since the offseason. I expect the veteran signal caller to have a very solid game.
Tanner McKee – Stanford ($6.5K)
Once again, not a great matchup and Tanner McKee's price is a reflection of Stanford's opponent. Oregon is a top 5 team in the country with a dominant D Line and playmakers in the secondary. However, after coming in for the ineffective Jack West in the K State game, McKee has put up three consecutive games of fantasy production between 23 and 28 points. Last week, the Cardinal didn't fare well vs UCLA but the sophomore QB still threw for 293 yards and 3 TDs with an additional 42 yards on the ground.
As legit as this Oregon defense is, I was surprised to find that they're currently giving up 286.5 yards through the air per game which ranks them 117th in the country. Remember, CJ Stroud threw for almost 500 yards on them a couple weeks ago. McKee is an off-the-radar player who will allow you to spend up elsewhere. Apparently, the NFL is paying attention too.
Top-5 QB prospects in 2022 Draft, per @PFF_Mike

1.Malik Willis, Liberty
2.Sam Howell, UNC
3.Spencer Rattler, Oklahoma
4.Matt Corral, Ole Miss
5.Tanner McKee, Stanfordhttps://t.co/JCGMzX9n9C

— PFF (@PFF) September 24, 2021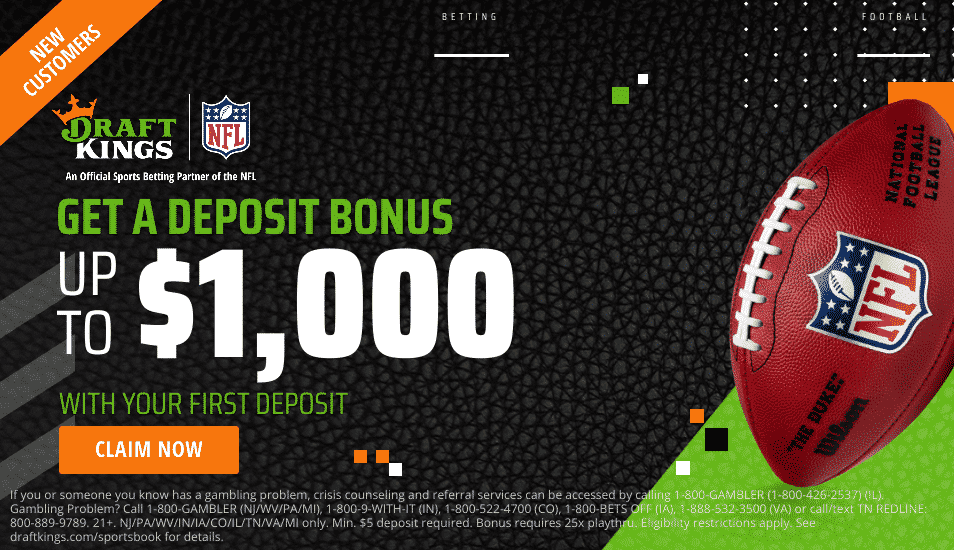 College Football Fantasy Picks: RB
Bijan Robinson – Texas ($8.7K)
If it's not broken, don't fix it. In last week's column, I had Bijan Robinson in this same spot although he was $1.5K cheaper. I rostered him in many lineups and the star RB came through, putting up over 30 fantasy points. In fact, it was his second consecutive game north of 30.
Meanwhile, TCU just gave up over 150 yards and a TD to SMU's leading rusher in a game where the Mustangs hung 42 on the Horned Frogs. I don't love the expensive RBs in this slate, but if you are going to spend up on one, it should be Robinson.
TreVeyon Henderson – Ohio State ($6.6K)
TreVeyon Henderson is flat out one of the best RBs in the country, not to mention one of the top true Freshman in all of college football. Even in a game vs Akron where he wasn't needed, the Buckeye tailback still got 93 yards and 2 TDs on just 8 carries.
Ohio State travels to Rutgers this weekend so it should be an all-hands-on-deck effort throughout the entire game. The last time Ohio State had to rely on Henderson was Week 3 vs Tulsa where he went for 277 rushing yards and 3 TDs. Roster him now before his price tag shoots through the roof.
Kyren Williams – Notre Dame ($5K)
It's almost a shame that a RB as good as Kyren Williams is priced this low. I understand that behind a very inexperienced offensive line, he hasn't quite found the same success as last year, but $5K is dirt cheap. Before the Wisconsin game, Williams still averaged nearly 25 fantasy points a game. Look, the Badgers have the best rushing defense in the country – only giving up 23 yards per game on the ground.
Cincinnati has a solid defense too but I love the potential bounce back game for the Notre Dame RB here. Last week was a brutal matchup which has resulted in DK pricing him too low this week. At such an affordable number, I'm all over Kyren Williams.

College Football Fantasy Picks: WR/TE
Alright, it's about time we put the spotlight on what Drake London is doing for USC this year. So far, London has registered 10 or more catches in three of the four USC games. The Jr wideout is also averaging 135 yards per contest with 3 TDs on the season. Honestly, I don't love the matchup against Colorado in Boulder, which could be a low scoring affair, but London will get his. That has been established.
https://twitter.com/pff_college/status/1442670396357054466?s=21
Jonathan Mingo – Ole Miss ($6.1K)
If you end up rostering Matt Corral, which Rebel pass catcher are you going to stack with him? With Corral's high price tag, it would be difficult to also squeeze Dontario Drummond ($7.5K) into your lineup so perhaps the cheaper Jonathan Mingo is a better fit. After all, Mingo has 13 catches for 235 yards and 3 TDs in his last two games.
I mentioned the astronomical O/U in this game so you have to get pieces in it. At this point, Ole Miss has the more reliable WRs compared to Bama's. Mingo will find himself on a good amount of my lineups come Saturday and I expect the ROI to be there.
Jaleel Billingsley – Alabama ($3.6K)
Let's stay in the same game why don't we? Ole Miss isn't going to be the only team scoring a ton of points in this SEC West matchup. Apparently, Jaleel Billingsley was in Nick Saban's doghouse entering the season and he lost his starting TE gig because of it. Well last week vs Southern Miss was the junior's coming out party, catching 5 balls for 105 yards and a TD.
In addition, Billingsley also caught a touchdown the previous game vs Florida. At such a cheap price of course there's some inherent risk, but the Crimson Tide TE just may carve out a nice performance vs Ole Miss.
---
RELATED CONTENT
College Football Predictions Week 5 (Ep. 1102)