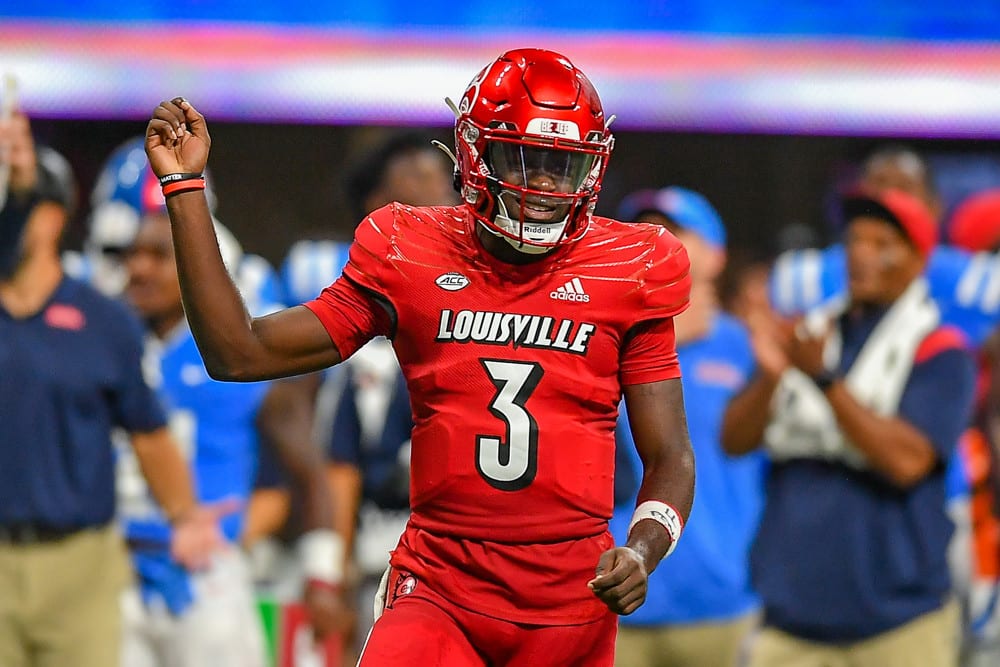 What a week of College Football DFS it was. Especially in the night slate, we saw some of the biggest stars in all of FBS football put up monster performances. It was quite the profitable weekend as well so let's keep the momentum rolling with some more College Football Picks on the DFS slate.
Week 4 is on the horizon and as usual, I will highlight my favorite expensive option, my favorite middle-of-road option, and my favorite bargain bin player for each position. Let's do this!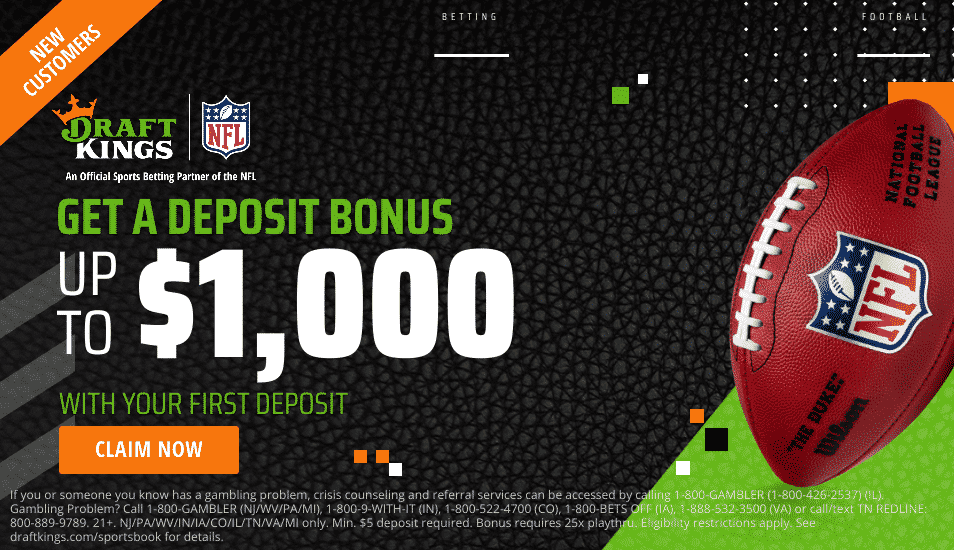 College Football Fantasy Picks: Quarterback
Malik Cunningham put on his best Lamar Jackson impersonation Friday night vs UCF where the junior QB racked up over 360 total yards and 3 TDs. That performance marked the third straight game that Cunningham has been north of 30 fantasy points. While he's shown flashes in the past, this is the level of consistency he needs to display to be considered elite and to keep his team winning.
Malik Cunningham left it all on the field tonight:

💪 265 pass YDS
💪 99 rush YDS
💪 3 total TDs

Louisville gets the win vs. UCF, 42-35 pic.twitter.com/IPnzODB47T

— Bleacher Report CFB (@BR_CFB) September 18, 2021
Louisville faces a reeling Florida State squad that just got blown out by Wake Forest, 35-14. Amid rumors of a coaching change, or at least their angry fan base is calling for one, it will be interesting to see how much fight the Seminoles bring come Saturday. Meanwhile, the Cardinals are fresh off a big win and should be in store for another stellar offensive output.
Will Rogers – Mississippi St ($7.8K)
It was a disappointing loss at Memphis last week, but in the process, Will Rogers attempted 67 passes. Look, it's the air raid under Mike Leach – you know the volume will be there. Through three games, Rogers is averaging over 360 passing yards per contest and has 8 TDs to just one INT.
The Bulldogs are back home in Starkville and welcome the LSU Tigers to town. While they've improved in 2021, LSU finished dead last in passing defense in the country a season ago. That's right – they gave up 323 yards through the air per game which ranked them 128th in the nation. There will be plenty of opportunity for Rogers to shine this weekend.
You're going to want pieces of the Texas Tech at Texas game on Saturday. Here are the scores of the last three matchups between the programs: 63-56, 49-24, and 41-34. The Red Raiders have been on the losing side of all three games but it's obvious that offense will be in abundance again. In last year's contest, Texas Tech QB Alan Bowman threw for 331 and 5 TDs.
Meanwhile, Tyler Shough is coming off his best game in West Texas where the Oregon-transfer just passed for 399 yards and 4 TDs, albeit vs Florida Int'l. For a cheap price, Shough can carve out a nice game vs those hated Longhorns.
College Football Fantasy Picks: RB
Let's stay in the same game – last year the Texas Tech defense gave up 186 yards per game on the ground which placed them 89th in the country. While they've been much improved so far this season, Houston, SFA, and FIU cannot run the rock like Texas can.
I've been waiting for the Bijan Robinson breakout game and this might be it. You'll have to spend up but with a lot of attractive lower price options on the slate, I'll be happy to. Expect a huge game from Robinson this week.
The former 5 star recruit is finally coming into his own and taking over control of the Horned Frog backfield. Zach Evans was patient a season ago while splitting time with other TCU RBs, but he finally broke out against Cal, converting 22 carries into 190 yards and a TD against a very good PAC 12 defense.
I would take Zach Evans over Bijan Robinson or Breece Hall 10/10 times. pic.twitter.com/ZjJ3r9KgR6

— parker (@statsowar) September 13, 2021
It should also be noted that with an O/U of 64 points, Vegas thinks the SMU/TCU game on Saturday will be the second highest scoring affair on this DraftKings slate (Boise vs Utah State is at 69.5). If Evans can continue his tear, he'll be much more expensive soon. Roster him at an affordable price while you can.
Back to Mississippi State – while it's rare to stack a QB and RB, this Bulldog backfield also catches a bunch of balls. Jo'Quavious Marks is at $6.5K but that's mostly due to a huge Week 1 performance where he put up 36.8 fantasy points. Since then, Marks has put up pedestrian games of 10.9 and 9 points.
In those last two games, his backfield mate, Dillon Johnson, has accumulated 14.8 and 21.1 points. Most of the damage Johnson does is as a receiver – already recording 16 receptions through 3 games. In DK's PPR format, and at a price under $5K, he's worth a shot.

College Football Fantasy Picks: WR/TE
I mentioned earlier that the Boise/Nevada matchup has the highest O/U on the slate so we should be in store for a shootout. Devin Thompkins is one of the most expensive WRs because the dude has been absolutely killing it this year. 25 catches for 454 yards and 3 TDs in three games is some of the best receiving stats you'll find in the nation. If this game was in Boise, it might be a pause for hesitation but Utah State welcomes the Broncos into Logan. Expect the fireworks to continue.
Devin Thompkins lighting things up for @USUFootball ! https://t.co/t9gDtSqfAU

— Vic Saunders (@OneTrueAggie) September 20, 2021
It may seem like I'm focusing on only a handful of games, but sometimes that's the most effective approach. With that said, back to Texas Tech/Texas where I'm stacking Kaylon Geiger with Tyler Shough. Geiger is a senior transfer from Troy who burst onto the scene last week vs FIU, catching 6 balls for 121 yards. He's started off the season slow, but he's locked in as the WR2 for the Red Raiders in a game that should be high scoring.
Additionally, I'm all about the positive TD regression, and Geiger is a prime candidate to cross the goal line this week and register his first TD of the season. If you can't afford Texas Tech's leading WR Erik Ezukanma ($7K), I like the fallback to Geiger.
Alright, here's a guy that hardly got onto the field vs UCLA and only caught two passes against McNeese before going 5-135-2 last week. He's dirt cheap because it remains to be seen how much playing time he'll get in a meaningful game vs Miss State.
There's also a lot of mouths to feed in this LSU offense, but this guy looked special and I expect Coach O to get him on the field as much as possible. Not many players in the $4K range offer Deion Smith's upside.
---
RELATED CONTENT
College Football Week 4 Preview & Picks | The College Football Experience (Ep. 850)