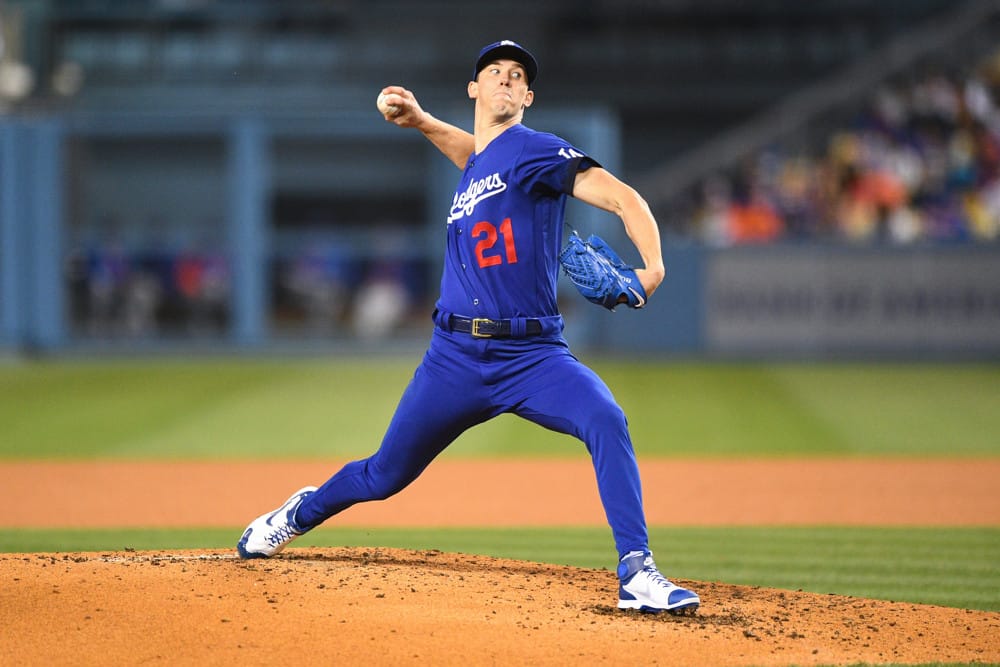 Sunday Night Baseball heads to the most exciting matchup in baseball – the Dodgers and the Giants. Both teams are tied at the top of MLB for the best record (along with the Rays). So not only will the winner of tonight's matchup stake their claim to the best record, but will also move into sole ownership of the NL West. Avoiding that wild card game is on the mind of both these teams, but all that should be on your mind is what your MLB DFS lineup is going to look like. Luckily, we got you covered there.
(NOTE: This MLB DFS lineup was made before official lineups were posted. Always check starting lineups prior to your lineup locking)

MLB DFS Picks (LAD/SF Showdown) Sept 5th
If you've been following this column week-to-week, you know my affinity for pitchers in the captain's spot of an MLB DFS Showdown. So maybe it's a no-brainer that I would put the odds-on favorite for the NL Cy Young (current betting off at -125) for my top pick this weekend. Outside of the obvious run prevention that makes him a great pick here, his strikeout numbers were great for all of August. Last time out he struck out just five Braves, but that was the first time he had failed to strike out at least eight in nearly a month. Expect a very Walker Buehler-esque performance out of him.
Util – Max Muncy ($9,400) – LAD
As far as Dodgers bat options go in this matchup, I like Muncy for his big number potential. If you're putting together a head-to-head lineup or even a double-up, you might want to find someone a tad more consistent. Muncy does have a tendency to put in some small games. In fact, he's coming off of back-to-back two-point performances. However, in the two of the three games before that he put up 17 and 22 points respectively. That's more what I'm angling for here.
Jose Quintana being on the mound should only help Muncy's numbers. Quintana got claimed off of waivers from the Angels last week and gets the start for the Giants. He's letting up 1.41 HR per 9 innings, which would put him in the top 10 if he had enough innings to qualify. That gives you all the more reason to play the Dodgers' biggest home run threat.
The last week wasn't great for Taylor, but that almost plays into our hands here. Just two weeks ago, he would have cost $8,600 in an MLB DFS Showdown contest. That was right around the time that he rattled off four of six games with at least a dozen points. Taking the odd day off over the course of the last couple of series saw him lose his steam a little bit. Now having started a few in a row, I'm banking on seeing that previous production return here at this buy-low price.
LaMonte Wade Jr. hasn't started any of the last four games for the Giants and somehow has still managed to put up nearly five points per game over that time. With a tough righty on the mound for the Dodgers, I think they turn to a lefty bat that has been hot in Wade Jr. He had double-figure points in three of his last four starts. Plus, the threat of a stolen base is always there. I would not be surprised to see him in the leadoff spot tonight when the lineups come out.
Util – Darin Ruf ($5,200) – SF
Another Giants hitter against Buehler? Well, it turns out you can't really afford to just put Dodgers in your MLB DFS lineup when you have Buehler as the captain. Additionally, Ruf is a good play regardless because he's getting on base at a great clip. He not only has four hits over his last four games, but has four BBs as well. This isn't a new revelation either. He's rocking a .920 OPS over the course of the season. So at $5,200, he really does seem like a steal.
Before he went down with an injury, Tommy La Stella was on a tear. He had a three-game stretch that saw him put up 31 fantasy points with three extra-base hits and driving in three. He rarely strikes out and as a result, has a pretty low floor with some surprising power as of late. Thairo Estrada has started in his place as he nursed his side. He did snag pinch-hit at-bats in the last two games though, and with a righty on the hill tonight, I expect him back in there and a sneaky good play for this price.

Make sure to check out all the great MLB coverage we have to offer and be sure to listen to the MLB Gambling Podcast, which airs twice a week. This week the guys are breaking down all the latest news items from around the league.