It's the final chance to guarantee a PGA Tour card. The regular-season finale tees off at Sedgefield Country Club for the Wyndham Championship in Greensboro, NC. As always, here is your early deep-dive on the Wyndham Championship and a preview for how to bet.
Wyndham Championship Preview – The Field
With the playoffs around the corner, most of this field are those fighting to keep their card. But there are a few big names at Sedgefield Country Club this week. Among them are Jason Kokrak, Hideki Matsuyama, Louis Oosthuizen, Patrick Reed, Webb Simpson, Matthew Wolff, and Will Zalatoris. All of these players have job security for the 2021-2022 season and are just here to grab a nice paycheck.
However, there are several notable names either hanging around the Top 125 cut line or on the outside of it. Among these notables (with FedEx Cup ranking in parenthesis) are Gary Woodland (108), Adam Scott (121), Matt Kuchar (124), Rickie Fowler (130), Tommy Fleetwood (136), Justin Rose (138), and Francesco Molinari (140). Most of these players have secondary exemptions they can use next year to remain full-time PGA Tour members. However, they all would like to get inside the Top 125 so they can compete in the playoffs for a large chunk of change. They'll be motivated to get a good finish to make sure they make the playoffs.
For the full field, click here.
Wyndham Championship Preview – The Golf Course
Often overlooked because of its relatively weak fields, Sedgefield Country Club is one of the finest golf clubs the PGA Tour plays every year. Sedgefield Country Club is the only Donald Ross-designed golf course that is played on the PGA Tour and was built in 1925.
In its early years, it was the host of the Greater Greensboro Open (the traditional name of this tournament) and was dominated by Sam Snead. There's a famous story that Sam Snead (who famously buried his money in tomato cans in his backyard) after his seventh straight victory at the golf course jokingly asked the owner of Sedgefield to dig up his tomato cans and fix up the golf course to make it harder. The owner then banned Snead from the property!
Like many Donald Ross golf courses, years of neglect eroded the quality of the golf course. Pure Donald Ross golf courses have very challenging greens and green surrounds, and over time if they're not properly maintained the quality and difficulty of them fades away. In 2007, the golf course was restored to its original roots by Kris Spence and also lengthened to handle the added length of PGA Tour players. That was enough to convince the PGA Tour to return the Greater Greensboro Open to Sedgefield, where it has been held ever since:
Kris Spence and his team did a really great job renovating the golf course to its original Donald Ross roots. While not overly long, the bermudagrass golf course presents challenges with rolling fairways and inconveniently placed bunkers tee-to-green. The greens and the greens' surroundings, however, are what make the golf course special. Spence and his team restored the original contours to the putting surfaces and added collection areas to funnel errant approach shots. They also fully restored the greenside bunkers. The greens overall are fairly large for PGA Tour standards, but those who miss greens face very challenging up and downs for par.
The routing of the golf course is also really good. Hole after hole golfers tee off in a totally different direction than where they just played. That increases the challenge because of the changing of wind direction and sloping of the property hole to hole.
Despite these challenges, overall the golf course is relatively easy for the pros. The winning score has eclipsed -20 in each of the last four tournaments, and the cut line in general hovers around -3 every year.
Wyndham Championship Preview – Betting Strategies
As just mentioned, guys go deep under par at this event almost every single year. But contrary to what one might expect at a birdie fest event, overall the winners of this tournament haven't put up lights out putting stats on their way to the win. Last year's winner J.T. Poston (an excellent putter in his own right), only gained a little over a stroke per round putting and was 17th in the field on the week. In 2018, Brandt Snedeker (yet another excellent putter) gained less than a stroke per round putting on his way to the win. And 2016 winner Si Woo Kim only gained 0.18 strokes per round putting on his way to the win.
A few recent winners have put up eye-popping putting stats. 2020 winner Jim Herman gained 1.56 strokes per round to finish 3rd in Strokes Gained – Putting. And 2017 winner Henrik Stenson gained 2.21 strokes per round on the greens to help him capture the Wyndham. But putting has not been consistently the dominating feature of winners of the Wyndham Championship.
Rather, driving accuracy and iron play are much, much more important measures to success at this tournament: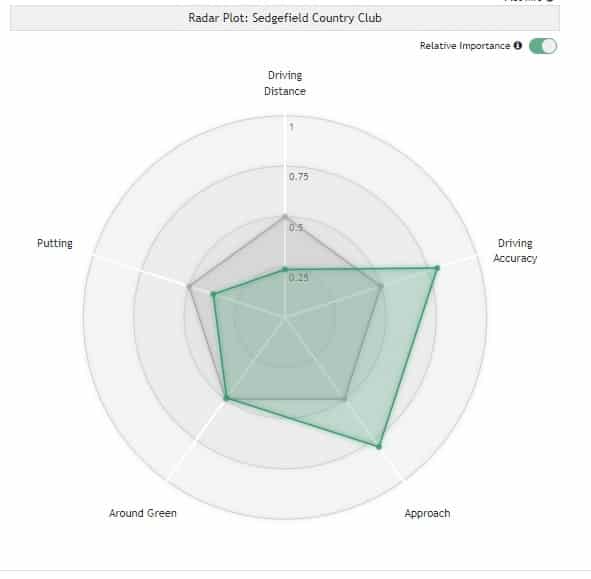 Given the layout of the golf course, this isn't all that surprising. While the players generally will be able to carry most of the fairway bunkers on the property, hitting the fairway provides advantages for two reasons. First, it's difficult to hit out of thick Bermuda rough. Second is that it's tough to gain access to certain tiers and shelves on the greens without the ability to put spin on the ball. Given how low scores are at the tournament, it's vital to give oneself as many looks at birdie as possible. Per DataGolf, there's about a 0.4 stroke penalty from hitting approach shots out of the rough at the Wyndham Championship.
In addition, iron play is important for two reasons. First, the surrounding areas around the greens are quite challenging and make for tough up and downs for pars. But more importantly is that because the greens are bigger than average on the PGA Tour, it is vital that players hit them in regulation, or else they'll be at a significant disadvantage from the rest of the field. Anyone with loose iron play on the week has almost no shot at a good finish.
So what yardages will the golfers hit into the soft, receptive Bermuda greens? DataGolf helps preview the Wyndham Championship with a distribution chart by yardage of all approach shots at the tournament:

Unfortunately, this tournament is fairly weak with talent. While there are lots of accurate players off the tee, there's not a lot of premium iron players in the field. As such, identifying which middling tour player will have an outstanding ball-striking week may be a bit of a challenge.
Lastly, here are players with at least 10 rounds at Sedgefield Country Club who have gained more than one stroke per round on the field:
Webb Simpson – +1.97
Zach Johnson – +1.66
Charl Schwartzel – +1.59
Denny McCarthy – +1.57
Jim Herman – +1.50
Patrick Reed – +1.47
Kevin Na – +1.40
Kevin Kisner – +1.26
Russell Henley – +1.16
Hideki Matsuyama – +1.15
Si Woo Kim – +1.12
Byeong Hun An – +1.08
Rory Sabbatini – +1.07
Ryan Moore – +1.03
Brandt Snedeker – +1.01
Most players on this list don't wow anyone off the tee. But they display consistent and accurate ball-striking. Many of these players also excel on Bermuda greens. These are the types to target for bets and DFS lineups this week.
RELATED CONTENT
WGC FedEx St. Jude Invitational Picks and Props
WGC FedEx St. Jude Invitational Preview | Golf Gambling Podcast (Ep. 78)