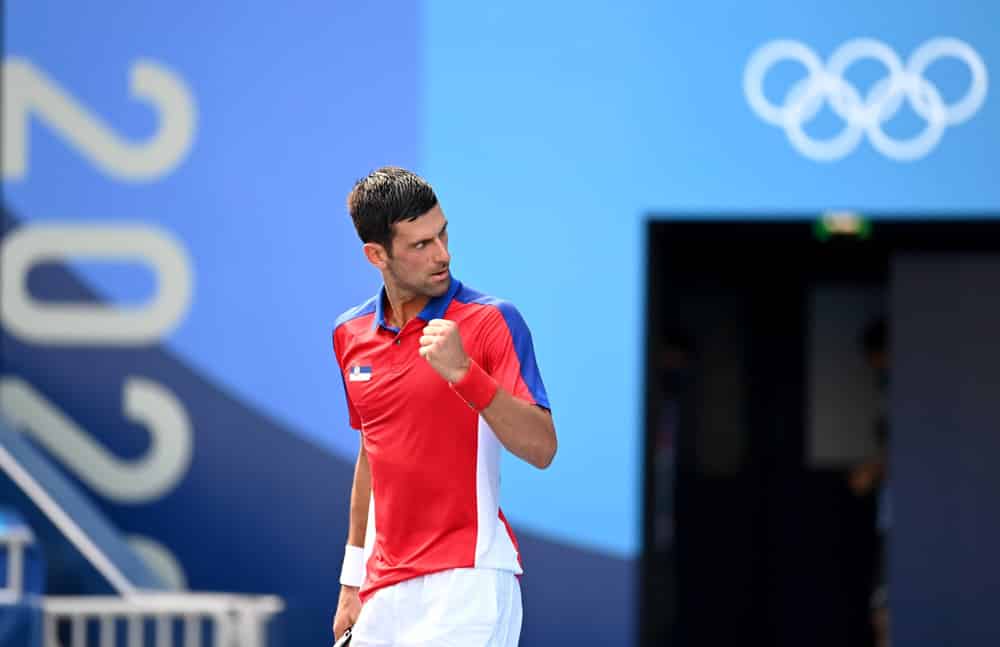 Happy Monday my fellow degens! The 2020 Tokyo Olympics are underway, and so is the tennis portion of the games. The tennis side of things is fairly standard to that of a normal ATP/WTA tournament.
The tennis portion of the Olympics is being played at Ariake Tennis Park which features hard courts. This venue is used for the men's Japan Open as well as the women's Pan Pacific Open also. Let's take a look at a few men's and women's players to bet to win the gold, shall we?
*All odds are courtesy of DraftKings Sportsbook*
2020 Tokyo Olympics Tennis Men's Gold Winner Picks
Novak Djokovic (SRB) (-200)
Things may feel pretty obvious on the men's side of things, and with good cause. Novak Djokovic's price is only going to get more chalky, so it's best to just bite the juice and lay the big number now. You certainly won't find a better price to bet on Djokovic in any head-to-head matchup. That being said, this is a rare time I recommend laying a -200 juice as the juice only matters when it doesn't win, in my opinion.
Djokovic is one of the best tennis players to ever play the game. There's very little that suggests he won't continue his dominant 2021 campaign with a gold medal. Djokovic won the bronze in the 2008 games, and he fell in the bronze medal game in 2012. The 34-year-old is playing some of the best tennis of his life, and he's already won the Australian Open, French Open and Wimbledon this year. Don't overthink this as Djokovic will most likely win the gold in Tokyo as well.
Daniil Medvedev (ROC) (+350)
If you're looking for another sweat that could possible come to fruition, Daniil Medvedev is worth a look. He is only one of four players left in the draw whose odds are less than +3000, and I believe that is pretty indicative of how oddsmakers view the field. Medvedev passed possibly the toughest test he will face until the semifinals or later in the first round with a close but straight-set win over Alexander Bublik.
He cranked things up in the second round with a 6-2,6-1 dominating win over Sumit Nagal, and he should have no problems dispersing of Fabio Fognini in the third round as well. Things could potentially get tough on Medvedev in the semifinals, but it is safe to say he controls his destiny until then. Medvedev is his strongest on hard courts, and given the draw he has a very reasonable shot at taking home a gold medal.
Frances Tiafoe (USA) (+13000)
Let's give a little USA love to a player who I feel is worth taking a small stab with. Frances Tiafoe is the 54th ranked player in the world. He's an up-and-coming 23-year-old American who hits the ball extremely hard. Tiafoe is one player who can beat anyone in the world when he is feeling it. This was evident by his outstanding 3:0 straight sets win over Stefanos Tsitsipas about a month ago at Wimbledon.
Tiafoe does have an impending rematch with Tsitsipas upcoming in the second round. However, Tsitsipas doesn't play as well away from clay courts and Tiafoe is at his best on hard courts. His straight-sets win over Tsitsipas recently should give him a nice mental boost as well. If Tiafoe can clear Tsitsipas once again, he will have a clear path to the quarterfinals or maybe even the semis. Tiafoe is worth placing a small wager on for the price given he is a very competent player on hard courts.

2020 Tokyo Olympics Tennis Women's Gold Winner Picks
Naomi Osaka (JPN) (+105)
Now that the world #1 Ash Barty is out, the women's favorite is now hometown Naomi Osaka. Any concerns of rust for Osaka after the long layoff have been addressed as she has rolled through the first two rounds. She opened with a 6-1,6-4 win over Saisai Zheng followed by a 6-3,6-2 win over Viktorija Golubic. Osaka is playing well, and tennis fans know how good she is when she is playing her best.
Osaka does have a tough third-round test upcoming in Marketa Vondrousova, but I am confident that she can win this match. Given that Osaka wins that match, her next biggest test shouldn't come until the semifinals. By then, she will be in her groove. She will have a very legitimate shot at bringing home a gold medal for the host country. This is one play that is best to get down on now because her odds will only become more chalky as the tournament progresses.
Maria Sakkari (GRE) (+900)
Another women's future that is worth a play is the 19th ranked Greek player Maria Sakkari. It's been relatively smooth sailing so far for her. She won her first-round matchup with Anett Kontaveit 7-5, 6-2. Then she cruised through her second-round matchup with Nina Stojanovic 6-1,6-2. Although she's never won any sort of major event, there have been so many first-time winners this year that it wouldn't surprise me if she did.
Sakkari does have a tough draw the rest of the way, but the hard-hitting Greek is a player that can go through the challenges. She has a third-round matchup with Elina Svitolina which is winnable. Then she would face either Camila Giorgi or Karolina Pliskova in the quarterfinals. If Sakkari is landing her first serves, then she can run through this gauntlet. She has an opportunity to win her first major event. What better way to do it than to bring home a gold medal for her country.
Anastasia Pavlyuchenkova (ROC) (+1100)
The last player I feel is worth placing a futures bet on is Anastasia Pavlyuchenkova. She has arguably been the most impressive of any player in the draw this year. Pavlyuchenkova opened with a stress-free 6-0,6-1 win over Sara Errani. She followed that impressive match with another easy 6-1,6-1 win over Anna-Lena Friedsam. Pavlyuchenkova's draw won't get much more difficult in the near future either.
She has an impending third-round matchup upcoming with Sara Sorribes Tormo which is a very winnable match. Then she will have to face either Belinda Bencic or Barbora Krejcikova which isn't the easiest of draws, but it is certainly winnable as well. She's won gold in the Universiade before which is basically the Olympics for college athletes. This experience could come in handy as Pavlyuchenkova could be staring at a very good opportunity to snag a gold medal in the 2020 Tokyo Olympics tennis.
---