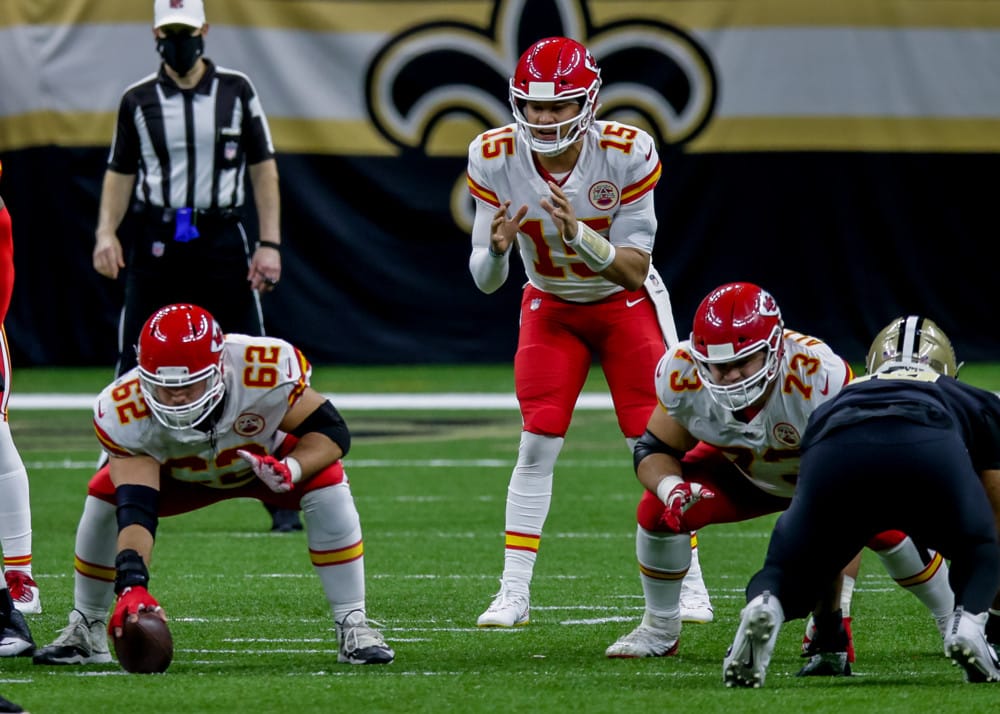 Hello everybody! Although the NFL regular season doesn't begin for a little over two months, many books are starting to release their prop bets. Season-long prop bets are the truest form of degeneracy, but boy are they fun!
Today, we're going to take a look at six NFL props to bet for the upcoming 2021 season. There is good money to be made in these if you're willing to tie up some money for a while. So with further adieu, let's dive right in!
*All odds courtesy of DraftKings Sportsbook*

NFL Props To Bet For The 2021 Season
Patrick Mahomes To Win Regular Season MVP (+400)
This is one prop that feels almost too easy. Patrick Mahomes was the 2018 MVP, and he's been in the discussion for the award each year since. He finished 3rd in voting last year and it was no secret that his offensive line wasn't that good. The Chiefs addressed this issue during the offseason, and it feels like Mahomes is destined to big things. He now has the motivation of a Super Bowl loss as added fuel. Kansas City is going to air the ball out a ton, and with an improved offensive line I believe Mahomes will take home his second MVP award this year.
Kansas City Chiefs To Win NFL Championship (+500)
Here we have another prop bet that goes hand-in-hand with the previous. Kansas City was overly dominant last year all the way up until running into the Brady Train and Tampa Bay in the Super Bowl. As I mentioned, the Chiefs have improved their offensive line this offseason and they will be ready for another run at the title. They should benefit from another somewhat down year in the AFC as well (given that Aaron Rodgers doesn't go to Denver). I believe there's a good possibility we see a rematch of last year's Super Bowl once again. You won't find a better price then for the Chiefs than this five to one.
NO Saints Week 1 Starting QB – Taysom Hill (+175)
I had to rub my eyes when I saw Jameis Winston as the somewhat heavy favorite to be the Saints starting quarterback in week one. Sure, there's a good chance that Jameis takes over the starting job at some point this season. However, I thoroughly believe Sean Payton's "star child" Taysom Hill will be under center to start the year. He took over for an injured Brees last year and surprisingly didn't look too bad. He just inked a massive 4-year, $140 million deal and had an entire offseason to work on his mechanics. I believe he will be the starting quarterback for the Saints, at least for a week or two.

Joe Burrow To Win Comeback Player Of The Year (+600)
If you're hunting for NFL props to bet this year, then these next three are for you. Getting +600 for Joe Burrow to win the Comeback Player Of The Year award almost feels too easy. He was playing very well before he went down with an injury last year. He threw 13 touchdowns to five interceptions with 2,688 passing yards in only ten games. This is even more impressive when you see how mundane some of the pieces around him were. Burrow is getting a lot of rave this offseason, and it wouldn't shock me to see him light it up for 4,000+ passing yards this year which should be enough to win him this award.
Ja'Marr Chase To Win Offensive Rookie Of The Year (+1200)
While we're on the subject of the Bengals, this feels like a great value play. Although this award typically goes to a quarterback, this year could be different. Trevor Lawrence is the only rookie QB who's a guarantee to start, and he doesn't have the best of weapons around him. Ja'Marr Chase is stepping into an offense with a lot of weapons around him which may open the field some. Chase and Burrow connected for 84 receptions and 1,780 yards with 20 TDs at LSU. The Cincinnati OC has already mentioned the chemistry between these two, and a 1,000 receiving yard season should at the very least put Chase in the discussion for this award.
Cincinnati Bengals To Win The AFC North (+2000)
This is the best paying prop of our NFL props to bet this year, and this is a super-value play. So long as Burrow can stay healthy all year, the Bengals have a legitimate shot at winning the division. The Browns, Ravens, and Steelers have all had a recent history of under-performing, and this year's Cincinnati team is too talented to not have a look at. Burrow now has his LSU teammate Chase to go with Tyler Boyd and Tee Higgins, and they still have Joe Mixon in the backfield as well. I wouldn't go heavy on this, but it's definitely worth a play for the price considering the Bengals have arguably the most talented offense in the AFC North this year.
READ ALSO – NFL Receiving Prop Bets: 2021 Season Edition
LISTEN – NFL Starting QB Bets & Ian Epstein Of PropSwap (Ep. 1039)