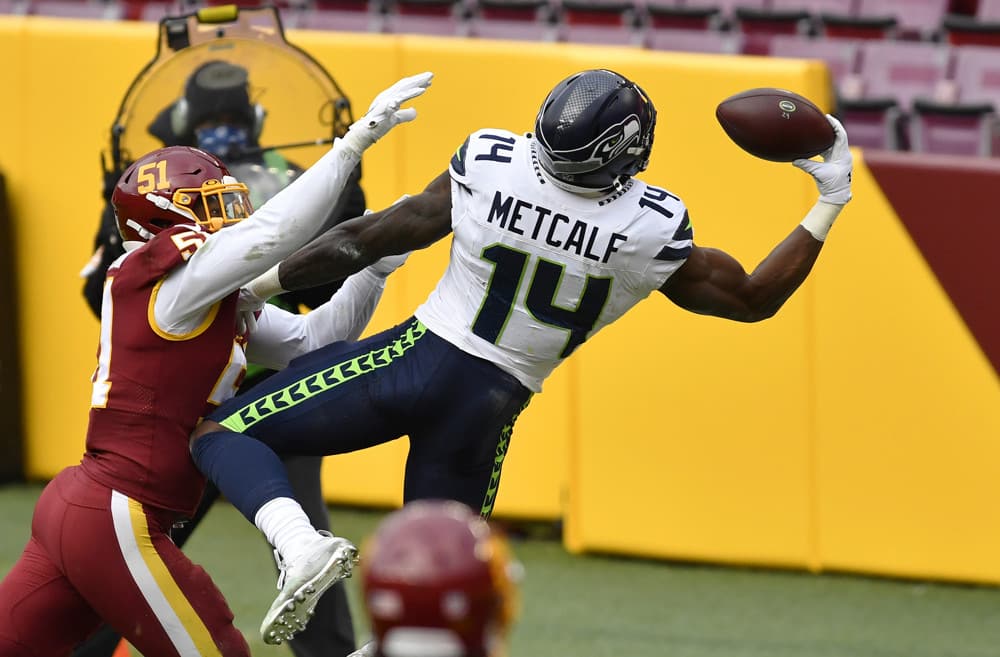 One of the great ways to add a little extra excitement to watching football is through NFL player prop bets. Now that most of the books have added several to their sites, it's a great time to take a look at some of the early action.

These five receiving props come from PointsBet are current as of the time of this article's release date. Some of these may change as the season gets closer, so the best time to get in on them is right now.
Hopefully, after the 17th game of the season, you'll be able to reap the benefits of these bets. Have fun and happy betting.
Five 2021 Season NFL Receiving Prop Bets
Julio Jones Over 80.5 Receptions (+105)
At face value, this prop seems unlikely to hit. Ryan Tannehill completed 315 passes in 2020 and of those 70 were caught by A.J. Brown. The wideout with the next best catch total was Corey Davis with 65 receptions. Of course, a large part of this Titans offense quite literally runs through Derrick Henry. This translates into fewer pass attempts for the quarterback. It doesn't set Jones up for a typical Jones-like season.
That said, Tannehill instantly benefits from the addition of a veteran number one receiver. Having not one but two studs in his receiving corps should give Tennessee more incentive to let their signal-caller air the ball out more often. In fact, this is the very thing Jones is hoping for with his departure from Atlanta. He was never fully happy with his usage, despite several 1,000-yard seasons.
Derrick Henry on Julio Jones: "He likes to work hard; I like to work hard." https://t.co/AF83kMTamS pic.twitter.com/ZhWIzsKXGK

— AL.com (@aldotcom) June 18, 2021
Last season's injury put many things in perspective for the Falcons' long-time favorite. He will want to prove that not only does he still have it, but that he's still one of the most dominant receivers in the league. To do that, he'll have to blow this prop wide open. With an extra game this season to get there, this could very well happen.
---
D.K. Metcalf Over 1,300 Receiving Yards (+105)
Most people immediately think of Tyler Lockett when discussing Seattle receivers. While he certainly warrants the name recognition, he may have been surpassed as the Seahawks' main deep threat. Last season, D.K. Metcalf outpaced his fellow wideout with a 1,303-yard performance. Lockett did have 100 receptions to Metcalf's 83 catches. Having said that, Metcalf ended the year with 15.7 yards per catch versus Lockett's 10.5 average.
https://twitter.com/FieldYates/status/1329604224490082309
The two accounted for almost half of Russell Wilson's competitions last season. That is unlikely to change this year and may even expand should Seattle's rushing attack lack power again. To be honest, this prop implying that Metcalf will not equal his yardage total from last season is surprising. It's even more surprising considering he has one more game to get here. We have him projected well over this mark with 1,451 receiving yards in 2021. This puts him safely cashing this prop. Get in early before this NFL Receiving Prop Bets line inevitably moves.
---

Darren Waller Over 95.5 Receptions (-115)
There is no denying that Darren Waller is the true number one wide receiver in Las Vegas despite being a tight end. Last season he was targeted 145 times. This was almost twice as many times as Hunter Renfrow who was the highest targeted wideout. Renfrow was looked at 77 times in 2020. Impressively Waller came down with 107 of those targets. It represented an improvement of 17 receptions over his 2019 total.
https://twitter.com/TDavenport_NFL/status/1408210595569078280
The Raiders have recently added former Cardinal and Bills wideout John Brown to the mix this season. Nevertheless, this should have very little impact on their reliance on Waller to be their main source of offensive production. Brown has only had two seasons with more than 65 receptions in his career. Granted, he did enjoy his best season in 2019 with Buffalo before the arrival of Stefon Diggs and was considered the true number one option. Even still, Waller is established and his role will remain. Especially if for some reason Marcus Mariota finds himself at the helm. The former starter in Tennessee knows what it's like to have a tight end that is basically another wide receiver.
---
George Kittle Over 5.5 Touchdowns (+105)
When George Kittle is healthy, he is productive. In 2018, he caught 88 passes for 1,377 yards. The following year, in only 14 games, he still managed to catch 85 of his 107 targets for 1,053 yards. In each of those seasons, he reached the end zone five times. Last season was tough for the 49ers' sparkplug tight end. Although, despite his injury, he was still on pace for a similar season to his 2018 outing. Through eight games, he had accumulated 48 catches for 634 yards and two touchdowns. He's one of the best in the league at his position, and he'll stay that way barring another injury.
https://twitter.com/OurSf49ers_/status/1408454550885830658
Kittle should get plenty of opportunities to pick up the sixth touchdown needed to hit this mark. In three straight seasons from 2017-2019, he was the most targeted receiver in the red zone by his quarterback. Jimmy Garoppolo knows he's playing on borrowed time and could be auditioning for his next job. It would make sense to lean a little harder on his gutsy tight end. Even if San Francisco turns the keys to the team over to Trey Lance, the same can be said. So, no matter what circumstance he finds himself in, Kittle should cross the goal line at least six times in 2021. This will be one of the more fun NFL Receiving Prop Bets to watch play out this season.
---
Noah Fant Over 660.5 Receiving Yards (-115)
Even batting through less than stellar quarterback play last season, Noah Fant exceeded this total. His 673 receiving yards placed him third on the team in that regard. Not to mention, he was the second-most targeted pass catcher on the team behind only Jerry Jeudy. Granted much of this was prompted by Courtland Sutton's week one departure last season due to his ACL injury. The Broncos are hoping Sutton's return in 2021 will do great things for the offense. Yet, even with that comeback looming, Fant should remain in the offensive formula enough to reach this mark.
Let us all be excited to watch Noah Fant play football for the @Broncos again. pic.twitter.com/Qj4nkQPdOp

— Field Yates (@FieldYates) July 21, 2020
Should Teddy Bridgewater win the starting job, this prop is even more likely to cash. While Bridgewater is far from an elite arm, he is an improvement over Drew Lock. Last season with the Panthers, Bridgewater threw for almost 1,000 more yards than Lock. Yes, the Broncos quarterback appeared in two fewer games on the season. Be that as it may, it would have been highly unlikely that Lock would have thrown for more yards than Bridgewater last season. Again, with an extra game in play for 2021, these types of numbers are all within reach. This is especially true for Fant, who could be in for a breakout season.
---
More NFL Content
Philadelphia Eagles Who Can Swing 2021 | Diehard Eagles (Ep. 29)
Joe Theismann (Ep. 1032)