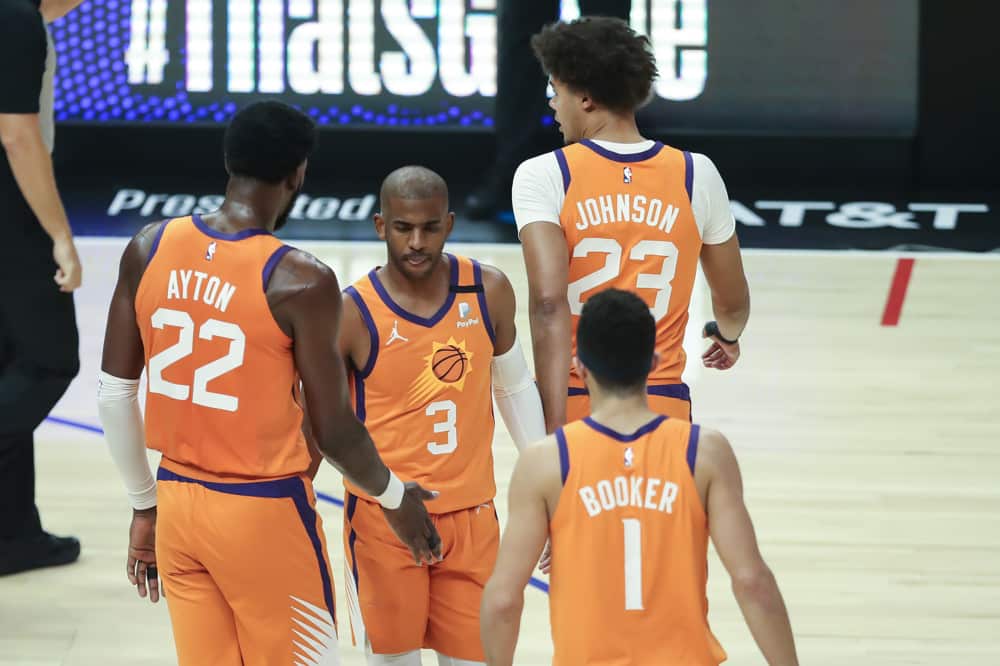 NBA Finals Game 2 Player Props
Game Two of the NBA Finals tips off tonight and I have four player props for the game. Game One player props did not pan out as I thought they would with the surprising return of Giannis Antetokounmpo. But I try not to make excuses and we move on to Game Two tonight. Let me dive right into it!

Deandre Ayton had an incredible Game One of the NBA Finals. He posted 22 points and 19 rebounds in the victory by the Suns. It seemed like the Bucks did not have an answer for the pick and roll of Chris Paul and Deandre Ayton. As a result, Ayton had a monster night on the boards while shooting 80% from the field. I expect the success on the boards to continue for Ayton tonight. Ayton is coming off averaging 13.7 rebounds in the Western Conference Finals and the opportunities for rebounding should be there all series long.
[pickup_prop id="9230″]
Jrue Holiday had a rough shooting night in Game One of the NBA Finals. Holiday was 4-14 from the field shooting only 28.6%. If the Bucks are going to have a chance to win Game Two they will need Holiday to have a better scoring night. In fact, the Bucks are 5-0 this season when Holiday scores 20 or more points. In the one game during the regular season against the Suns, Holiday scored 25. I am fully expecting Holiday to bounce back tonight in Game Two.

Cameron Johnson Over 1.5 Three Point Shots Made
We should see an increase in minutes for Cam Johnson with the injury to Dario Saric. There will be three-point shooting chances for Johnson from the corners. In Game One of the NBA Finals Johnson played 21 minutes and got up six shot attempts, four of which were three-point shots. As a result, Johnson knocked down two of those. In addition, Johnson has hit at least two three-point shots in five out of the last seven playoff games.
With Giannis returning for the Bucks, the rebounding chances for other Bucks players will diminish. Pat Connaughton is one of those players. In fact, over the last nine games Connaughton has grabbed less than five rebounds in six of the last nine games. The key stat to keep track of will be if Connaughton plays 30+ minutes. In the three games where Connaughton grabbed more than five rebounds, he played 30+ minutes.
NBA Related: