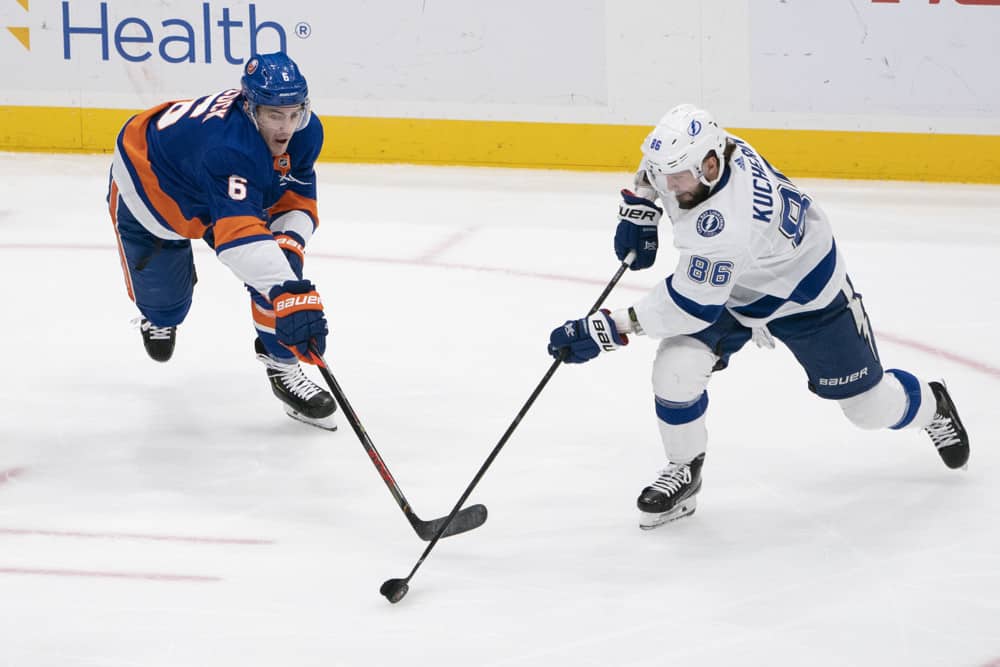 We're down to the final four teams in the NHL playoffs. The Stanley Cup Semifinals are set and will get underway this weekend.

The first Stanley Cup Semifinal matchup of these NHL playoffs is a rematch of last year's Eastern Conference Final. The Tampa Bay Lightning won the Central Division and will take on the East Division champion New York Islanders. The Lightning beat the Islanders in six games –– in the bubble –– en route to the Stanley Cup last year.
Let's take a look at how these teams got here, how they match up against each other, and what the best bets are for the series.
Make sure to bookmark our daily NHL Picks page to get the best bets for every single game!
Odds are provided by DraftKings.
NHL Playoffs – Stanley Cup Semis: Lightning vs. Islanders
NHL Playoffs Series Schedule: Lightning vs. Islanders
Sunday, June 13, 3 p.m.: Islanders at Lightning | NBC, SN, CBC, TVAS
Tuesday, June 15, 8 p.m.: Islanders at Lightning | NBCSN, SN, CBC, TVAS
Thursday, June 17, 8 p.m.: Lightning at Islanders | NBCSN, SN, CBC, TVAS
Saturday, June 19, 8 p.m.: Lightning at Islanders | USA, SN, CBC, TVAS
*Monday, June 21, 8 p.m.: Islanders at Lightning | USA, SN, CBC, TVAS
*Wednesday, June 23, 8 p.m.: Lightning at Islanders | NBCSN, SN, CBC, TVAS
*Friday, June 25, 8 p.m.: Islanders at Lightning | NBCSN, SN, CBC, TVAS
How They Got Here
#2 Tampa Bay Lightning
The Lightning were the No. 3 seed in the Central Division and did not have home-ice advantage in either of the first two rounds. Now, however, they are the second-best team remaining, giving them the No.2 seed in the semifinals.
Despite not having home-ice advantage, the Lightning were slight favorites at around -140 to beat the Panthers in the first round. I thought the Panthers would give them a good fight, and they did for a few games, but the Lightning proved to be too much. Tampa Bay got back to 100% for the playoffs with Nikita Kucherov returning and it showed.
The Lightning won Games 1 and 2 in Florida, dropped Game 3 in overtime at home, then won Game 4 at home to take a 3-1 series lead. The Panthers pushed back at home in Game 5, but the Lightning shut out the Panthers (4-0) to take the series in six games.
After beating the No. 2 seeded Panthers, the Lightning took on the No. 1 seed, the Carolina Hurricanes. Carolina gave Tampa trouble in the regular season, but it was all Tampa in the playoffs. The Lightning were once again favorites at -139, which I listed as the best bet, and took the Hurricanes down in five games.
Tampa Bay once again took the first two games on the road –– with Andrei Vasilevskiy stealing Game 2 ––, but dropped Game 3 in OT at home. They bounced back with a 6-4 win in Game 4 and closed it out with another shutout win (2-0) in Game 5 in Carolina.
#3 New York Islanders
On the other side of things are the New York Islanders. They came out of the East despite being the No. 4 seed in the division.
The Islanders had a tough matchup right out of the gate against the Pittsburgh Penguins and they were +125 underdogs.
They stole Game 1 in Pittsburgh with an overtime win, but dropped Games 2 and 3 as the Penguins took what appeared to be a commanding 2-1 series lead on Long Island.
However, the Islanders got right back in it with a 4-1 win to even things up. They then won Game 5 in double overtime in Pittsburgh and closed things out with a 5-3 win (despite getting outshot 37-24) in Game 6.
After beating the Penguins as underdogs, the Islanders were even bigger underdogs at +180 against the Bruins. I thought that was a bit disrespectful, and took the Islanders to advance at +180 as well as my lock of Over 5.5 Games in the series at -139.
It didn't look good in Game 1. The Bruins dominated with a 5-2 final score and 40-22 final shot count. However, the Islanders rallied for a Game 2 overtime win to even the series.
They followed a similar path to their first-round series, actually. The Islanders lost Game 3 in overtime at home, but won 4-1 in Game 4 to even it up. They went into Boston and stole Game 5 by a final score of 5-4 despite getting outshot 44-19. With a chance to clinch at home they made no doubt about it with a 6-2 win to take out the Bruins in six games.

Lightning vs. Islanders: Players to watch
Let's start with the Tampa Bay Lightning. They are the reigning Stanley Cup champions and are showing why this postseason.
Nikita Kucherov leads not only the Lightning, but the entire NHL, with 18 points (five goals, 13 assists) in 11 games in the playoffs. Steven Stamkos isn't too far behind him with 13 points (five goals, eight assists). Brayden Point (eight goals, four assists) and Alex Killorn (six goals, six assists) are right there as well with 12 points each. Hell, even Victor Hedman has 11 points (all assists) in the playoffs.
Only 16 players have 11 or more playoff points this year, the Lightning have five of those players. They also have four of the 11 players with 12 or more points.
The Lightning have star power at the top and the depth to go with it. On top of that, they have one of the best goalies alive. Andrei Vasilevski is 8-3-0 in the playoffs with a .934 save percentage and 2.24 goals against average. Only Carey Price (.935) has a higher save percentage. Oh yeah, Vasi has two shutouts as well –– both in clinching games.
Moving on to the New York Islanders now. They aren't flashy, but they've gotten the job done.
Jean-Gabriel Pageau leads the team with 13 points (three goals, 10 assists), with Josh Bailey (five goals, six assists) and Anthony Beauvillier (four goals, seven assists) at 11 points each. Brock Nelson, who had two goals in the clincher against Boston, has 10 points (six goals, four assists) in the playoffs. Trade deadline addition Kyle Palmieri (seven goals, two assists) and star player Mathew Barzal (three goals, six assists) each have nine points.
The Islanders aren't known for their offense, though. It's their defensive style that wins them games.
New York has used two goaltenders in the playoffs.
The young Ilya Sorokin is 4-1-0 with a .934 SV% and 2.32 GAA, but hasn't seen the ice since allowing four goals in Game 1 in Boston. It's been Semyon Varlamov since then. Varlamov's playoff totals are 4-3-0 with a .925 SV% and 2.62 GAA.
Having two capable goaltenders could help them if one goes sour.
Tale of the tape: Lightning vs. Islanders
The Lightning, due to injuries and some savvy manipulation, are technically $18 million over the salary cap, which doesn't matter in the playoffs. They are just as good (if not better) than they were last year when they beat the Islanders in six and then won the Stanley Cup.
The Islanders are going to try to slow down the Lightning and make it a gritty, physical game. Unfortunately, that's not an issue for Tampa Bay.
At 5-on-5 play this postseason (adjusted for score and venue), the Islanders have had 46.6 shot attempts for and 64.5 shot attempts against per 60 minutes. However, the Lightning right there too with 51.2 shot attempts for and 59.35 shot attempts against. Each team has averaged about 110 shot attempts per 60 minutes. The difference is that the Lightning are getting a higher percentage of the shot-attempt share.
The Lightning are also doing a lot better job of getting higher-quality shot attempts. They averaged 2.21 Expected Goals For and 2.32 Expected Goals Against per 60 minutes at 5-on-5 play (adjusted for score and venue) in the first two rounds. The Islanders averaged 1.99 xGF and 2.54 xGA. That's a significant difference.
Tampa Bay is the better team and have played better at 5-on-5 so far. That carries over to special teams play as well. The Lightning have a 41.7% power play and 77.8% penalty kill. The Islanders sit at 28.1% power play (which is still quite good) and 61.5% penalty kill.
The Islanders are going to need a lot of luck to take down the defending champions. Even if their goalie stands on his head, Vasilevskiy is going to be standing on his head as well.
Lightning vs. Islanders Best Bets
This is the Lightning's series to lose. They are huge favorites at -305, while the Islanders sit at +255. The Lightning are even favored on the game spread, with the Lightning -1.5 Games (-125) and Islanders +1.5 Games (+100).
Last year, the Lightning beat the Islanders in six games in the Eastern Conference Final. Mind you, that was in the bubble, so perhaps the full home-ice advantage wasn't there. But that isn't giving me much pause.
I like the Tampa Bay Lightning to advance (-305) in the series and might take Lightning -1.5 Games (-125) as well. I do foresee a good chance of the Lightning winning in six games again, so Lightning to win 4-2 (+425) is a solid bet at that price.
The odds are always changing. Be sure to check both DraftKings and Pointsbet for the best prices when you place your bet.
---
Follow along with me throughout the playoffs on Twitter (@RGilbertSOP) or in the Sports Gambling Podcast Slack chat.