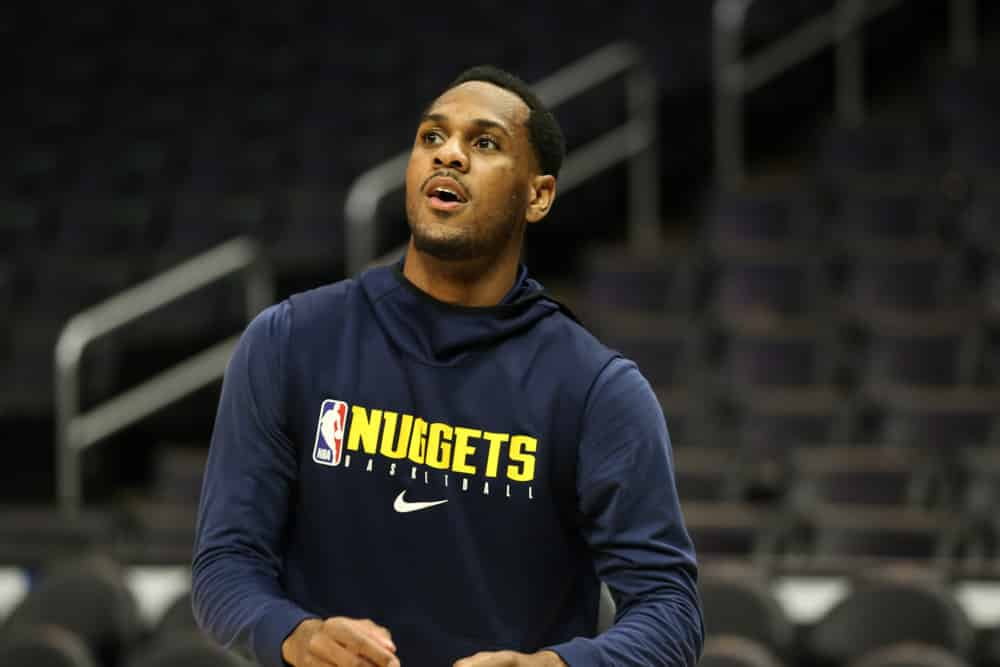 Happy Friday everybody! The grind don't stop as we continue to roll through the second round of the NBA Playoffs. We have another batch of NBA DFS picks available today, and this is another lineup that I do feel good about. This is one of those days where it feels like avoiding the chalk to salvage salary should be the way to go, but it's called gambling for a reason. Anything can happen and that's the beauty of it. Anyways, let's dive right in shall we?
Not playing on DraftKings yet? Well, click here and sign up today to get in on the true degen action! 

NBA DFS Picks (GPP) June 11th
I am kicking this lineup off with a gamble. Monte Morris has been anything but good in this series with Phoenix. He's only shot 2-17 from the floor this series and 1-7 from deep. However, this is a good thing in my mind. Morris is a 46.2% shooter who also shoots 37.6% from downtown. He had a pair of 22+ point games with 43.25+ fantasy points in the last two games of last round. He's due for a good game, and what a better time than now. Denver's backs are against the wall. They need a boost from somewhere, and I have a funky feeling that Morris will be part of that boost.
I believe that Bogdan Bogdanovic is a rare type of player. He's become a very consistent DFS player even in games where he isn't exactly spectacular. He is a lock to play 30+ minutes every game, and his ability to add stats other than points really sells home his value. Bogdanovic averages 30.2 FPPG, and this number has been slightly elevated this series. He is averaging 32.1 FPPG this series and around that number the entire playoffs. Bogdanovic rarely dips below the 30 fantasy points mark, so I will gladly pay $6,400 for arguably the most consistent player on this slate.
The pricing on Mikal Bridges just seems quite disrespectful. Although he isn't the most consistent of players, his upside makes him an instant play. Bridges has seen his fair share of games where he doesn't take a lot of shots and doesn't top the 20 fantasy points mark. However, he also has his fair share of 30+ fantasy points games under his belt also. Bridges dropped 23 points, five assists, and five rebounds on his way to 44.25 fantasy points game before last. There's always a chance he can produce around that output. This is one chance I'm willing to take any day of the week.
I'm going to take another gamble on a Suns player here. Jae Crowder is another inconsistent player, but he has huge upside. He is typically on the court for around 30 minutes each game. Crowder's defensive abilities make him worth a look at any point. The wildcard that comes with him is his offensive game. He usually doesn't take a ton of shots, so he is reliant on being efficient with his shot attempts. Crowder is going to grab some rebounds and add maybe some steals and/or blocks. If he can get his shots to fall as well, he will be a solid play if not the steal of the day.

I like playing Clint Capela at the center position today. He hasn't been much of a factor this series for the Hawks despite still shooting an efficient 10-16 from the floor. He's been matched up with Joel Embiid, and he's struggled some. However, Capela had a streak of four double-doubles going before last game. I feel as though he can get back to his usual self today and maybe even add a double-double. With Embiid fighting a lingering knee issue he should be able to grab some boards and maybe add some blocks. Capela averages 39.4 FPPG, and I like him to flirt with this number today.
Seth Curry will be the first of two 76ers players in my lineup. He has been extremely efficient this series, and this has rewarded those who were on him in their NBA DFS picks. Curry has shot 15-25 so far this series, including a nice 10-15 from three point range. He averages 22.3 FPPG, but there's a good chance he can top the 30 fantasy points mark once again. This can be a risky play if Atlanta can clamp down defensively. However, I will gladly play Curry while he's on a hot streak. He shoots 47.8% from the floor and 45.1% from deep. That's hard to ignore for a player of this pricing.
I am completing a two-man stack of Philadelphia with Tobias Harris here. He's been a menace all year, and his high level of output has continued into the playoffs. Harris normally averages 37.6 FPPG. However, this number has jumped to 45.4 FPPG this postseason. The 76ers have been a tough team to beat, and Harris's play has been a huge contributor to that. I know a bargain when I see one. Paying only $8,000 for such a consistent player seems like way too much of a steal against a beatable Atlanta defense. I will gladly pay up for Tobias, although he will likely be a chalky play.
UTIL – Chris Paul ($7,100) – PHO
Speaking of electric players, Chris Paul is a no-brainer play for this Game Three against the Nuggets. His Suns have been on cruise control in both of the two games in this series so far. Much of this has been due to the play of CP3. He put up 49 fantasy points in Game One, followed by 50.25 fantasy points in Game Two. This isn't exactly surprising to me though. Paul has an easy matchup defensively against Denver's backcourt, and he's too good of a veteran to not take advantage of that. Expect 50%+ ownership here on CP3, but it's better to be in the majority, as I see him continuing his impressive play.
Will's NBA DFS Picks June 11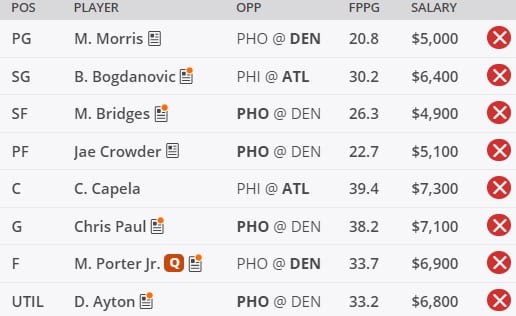 Make sure to subscribe to NBA Gambling Podcast on Apple and Spotify. Check out Munaf, Dan, and Ryan's updated against-the-spread NBA picks today and EVERY DAMN DAY for EVERY DAMN GAME at SG.PN/nbapicks