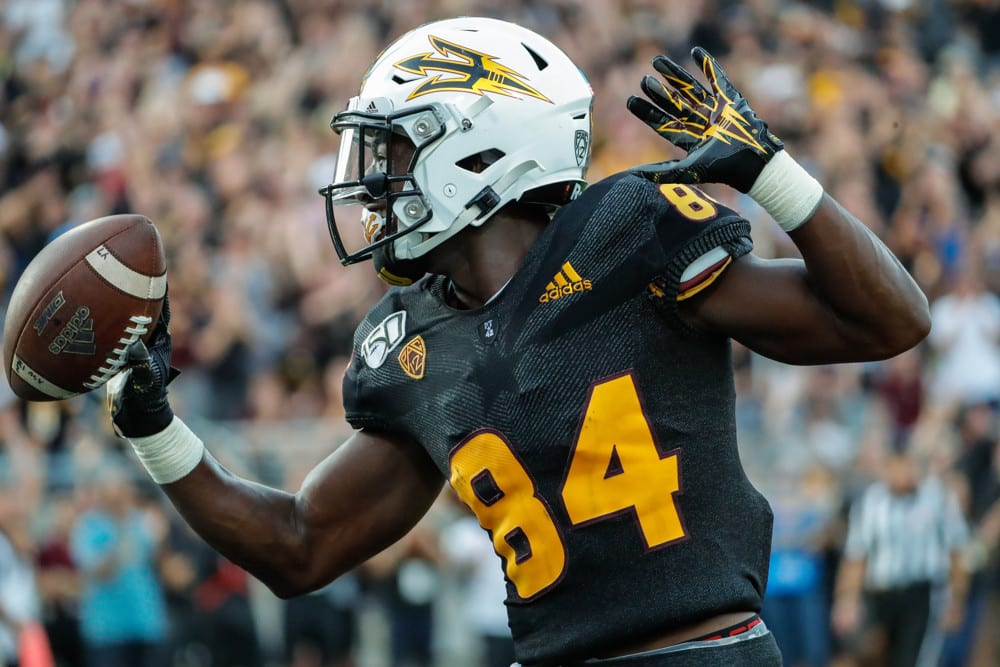 Every good dynasty owner knows the names like Travis Etienne, Najee Harris, Ja'marr Chase, Trevor Lawrence, and Kyle Pitts. However, what do the great dynasty fantasy football owners know? Those guys late in drafts who no one else is targeting yet who turn from a dynasty sleeper into a league winner. In Rounds 3-5 you can take advantage of league mates due to their lack of knowledge of these types of players. I am here to help you take your draft to the next level, and gain this knowledge. Let's dive right into these rookie sleepers and help you build a dynasty!
Dez Fitzpatrick – Wide Receiver – Tennessee Titans
When Goodell announced the 109th pick most of the world said, "who?" Well if you were one of those here is a little info on the new Titans wide receiver two. Fitzpatrick is a 6-2, 208 pound senior coming out of a Louisville offense that did not throw the ball all that much. He however was their best receiver, he does well in contested catch situations as well as creating YAC. While in college he produced 2589 yards on 154 attempts, along with 21 touchdowns.
With the departure of Corey Davis, the Titans are lacking at the receiver position outside AJ Brown. Fitzpatrick will have the ability to come in and compete on day one for targets and could emerge as a dynasty sleeper earlier than most. This is why I am snatching him up in the late third and early fourth round of rookie drafts. His ADP is currently 36 and WR18 in rookie drafts, this is great value for someone who could finish top five this season from this class. Be ahead of the curve and grab Fitzpatrick late in your drafts! Fitzpatrick could have the most impact out of all the dynasty rookie sleepers this year.
Gerrid Doaks – Running Back – Miami Dolphins
Doaks was someone I found before the draft and I was very interested in seeing where he would end up being drafted. This 5-11, 228 pound running back has solid size and power, he also pairs that with good speed. While at Cincinnati he produced 1712 yards on 331 attempts, along with 14 touchdowns. He would also add 407 yards through the air with an impressive 11.3 yards per catch.
When the Dolphins selected him 244th overall, Doaks value began to rise some. However, it has steadily increased as weeks have gone on. Doaks brings a run style that Dolphins brass has been looking for ever since taking over. They experimented with Jordan Howard who has a similar style of play as Doaks. When the Lions cut Kerryon Johnson the Dolphins attempted to claim him, however, they lost out. These moves lead me to believe that they are not sold on Gaskins as their feature back. Doaks has a chance to carve out a solid role in this offense as soon as this season. He is a huge upside pick at his current ADP of 46.2 and RB15 according to dynastyleaguefootball.com. Use that late 4th and snag a guy who could be the lead back in Miami by season's end.
Kenny Yeboah – Tight End – New York Jets
Yeboah is a 5th year senior out of Ole Miss who went un-drafted, however, you should not pass him by. In four years at Temple, he produced 538 yards, however in his final season after a transfer to Ole Miss he produced 524 yards. He is a big play waiting to happen as he averaged over 19.4 yards per catch in 2020. Yeboah has solid hands and good YAC ability, this added to his 6-4, 240-pound frame makes him a very intriguing tight end prospect. Tight ends are harder to come by as dynasty rookie sleepers, but it is possible for them to emerge.
He would choose to sign in New York after large amounts of interest from most of the NFL post-draft. This makes me all-in on Yeboah, he has little competition in front of him. Chris Herndon has underperformed for many years now in New York, so what is stopping a new coaching staff from replacing him. As the staff is coming over from San Fransisco my excitement has grown even more. We saw what the scheme and coaching did with a raw talented George Kittle. In most leagues, you will be able to snatch Yeboah up in the late 5th or even un-drafted. He may be a year or two away from huge production, however, this could come sooner if the staff prefers him over Herndon. Either way, get this guy on your dynasty roster and stash him on your taxi squads and let him blossom in front of your league mates! Yeboah has some great value as a dynasty sleeper.
Frank Darby – Wide Receiver – Atlanta Falcons
Darby was selected 187th overall by the Falcons as an explosive and raw talent. He is coming out of Arizona State as a big-play machine, who has a career average of 19.7 yards per catch. Although he has this big-play ability he needs to refine his overall game. He produced 1317 yards in his four years at ASU, he would add 13 touchdowns as well. In 2019 he had his best season while producing 616 yards and 8 touchdowns. Sadly due to the Covid-19 pandemic, we only saw him as the lead receiver for two games in 2020.
Joining the Falcons is perfect for Darby as he can sit behind the great Julio Jones and Calvin Ridley and grow into a dynasty sleeper. Who could ask for two better teachers than that to help him develop a complete game? Given a year or two of seasoning and his raw talent he could become a top fantasy asset as soon as 2022. His ADP of 47.9 and WR23 allows him to be a low-risk high reward pick late in drafts. He will ride the pine on your taxi squad for a few years, however, when Julio leaves in a year or two he could become the second option in a pass-heavy offense in Atlanta. Darby has the athleticism and opportunity to be a key part of your dynasty roster down the line so be more patient than you might be with other dynasty sleepers.
Larry Rountree III – Running Back – Los Angeles Chargers
Rountree was selected 198th overall by the Chargers, standing at 5-11 and 211 pounds he brings good size. He was very productive at Missouri for four years producing 3720 yards. Along with that, he added 40 touchdowns, he is an explosive runner who has good second-level vision. He does a lot of the little things well too that could help him emerge as a dynasty sleeper. He has good ball protection awareness, a solid stiff arm, and is decent in pass blocking.
The Chargers have been looking for a compliment back to Austin Ekeler ever since letting Melvin Gordon walk in free agency. Last season Joshua Kelley had a shot to secure this role and he fizzled out very quickly. He was also a late-round back drafted by a former regime. I believe Kelley, Rountree, and Jackson will battle for the second back in this potent offense. Rountree has a slight edge in my opinion as he is this coaching staff's guy. At his current 46.9 and RB18 ADP, he is a low-risk high-reward player for me. You could see a return on this investment as soon as this year. Come 2022 he could be a hot commodity if he wins the role behind Ekeler, so be ahead of the curve and stash Roundtree on your dynasty rosters. The opportunity coupled with his talents places him among the high-quality dynasty rookie sleepers.

Honorable Dynasty Sleeper Mentions
Jonathan Adams Jr.– Wide Receiver, Detroit Lions (UD)
Shi Smith– Wide Receiver, Carolina Panthers (UD)
Kylin Hill– Running Back, Green Bay Packers (ADP 46.0)
Dazz Newsome– Wide Receiver, Chicago Bears (ADP 48.60)
Chris Evans– Running Back, Cincinnati Bengals (ADP 46.7)
Quintin Morris– Tight End, Buffalo Bills (UD)
RELATED CONTENT
Top 50 Rookie Rankings: Fantasy Football Impact Post Draft
Fantasy Rookies – NFL First Round Picks and Fantasy Football Impacts
Pick One: Fantasy Football Redraft Decisions By Position | SGPN Fantasy Football Podcast (Ep. 3)