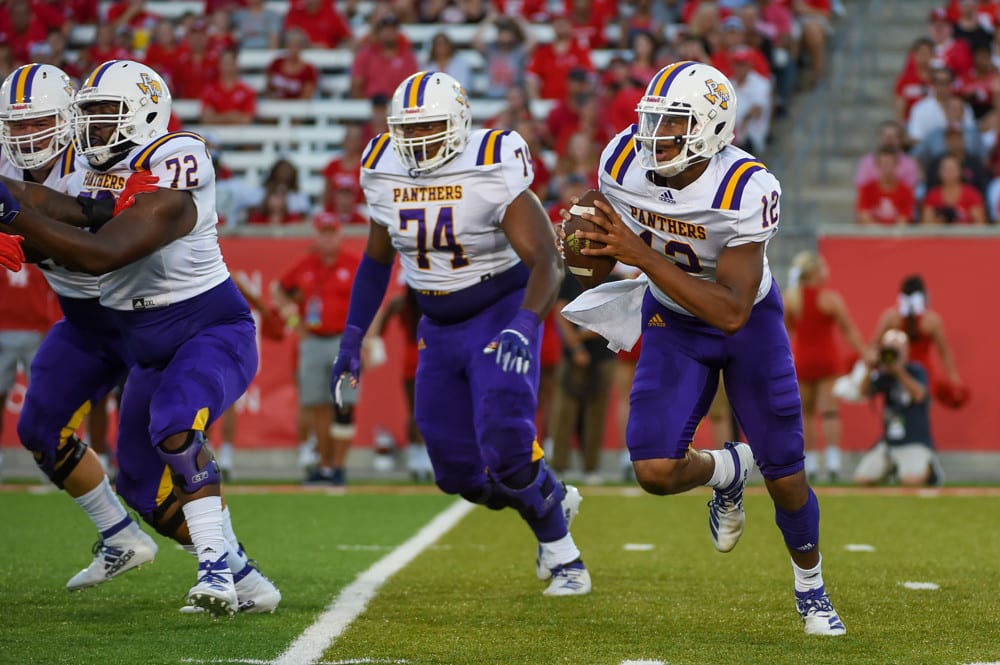 Welcome to another week of college football and your Week 10 FCS Football Best Bets. I'm a sucker for the little guy. The one who is given little to no chance to compete, let alone to win. It's because of this that I have scouted picks for you centered around that theme. It's usually easy to bet on the favorite. It takes skill and guts to bet on the dogs. Plus, it always feels better to win those bets in the end.
Here are some underdog picks that should have you happily cashing when the dust settles. Lines are provided thanks to our friends at PointsBet. If you want more betting action on top of these games make sure you check out PointsBet. There you can find the rest of the FCS games and much more. Plus, like we always do, we've got the hook up with a sweet deal. To find out what that is, you'll just have to click. Good luck and happy betting!

Week 10 FCS Football Best Bets: Top Underdog Picks
Who: San Diego Toreros at Valparaiso Crusaders
When: Saturday, April 17th 10AM PDT ESPN3
The Overview
Both of these programs are playing in their regular season finales on Saturday. Each has enjoyed a decent level of success as they both enter the matchup with winning records. San Diego travels to Indiana with a 4-1 record where they'll meet the 3-2 Crusaders. The Toreros are coming off a dominating 34-10 victory over Stetson last week. On the flip side, Valparaiso lost a close contest at Morehead State a week ago. The history of this matchup is not something the Crusaders will want to dwell on during their game prep this week. You have to go back to 2003 to find the last time a Valparaiso team has beaten San Diego.
The Matchup
San Diego is led by redshirt senior quarterback Mason Randall who has taken every snap this season for the Toreros. He contributed 279 passing yards and threw for two touchdowns in his team's win last week against Stetson. All told over the course of the Spring, he has accumulated 1,357 yards and eight touchdowns with his arm. His downside comes in the form of his nine interceptions.
When Randall decides to hand the ball off, it usually finds its way into the hands of Emilio Martinez. The senior has 398 yards rushing so far this season and a single touchdown to go with them. He enjoyed his largest yardage output of the season last week. Martinez ran for 122 yards on 20 carries against the Hatters. Defensively the Toreros look to linebacker Kyle Bilchik, who leads the team in tackles, to continue to lead this defense. Kevin Glajchen also factors into the mix as the defensive tackle leads the team with five sacks.
A big run from 3⃣! #GoValpo | #ProtectTheShield pic.twitter.com/CpfwdKY3Vg

— Valpo Football (@valpoufootball) April 10, 2021
The Crusaders feature a run first offense as evident by the paltry 105 total pass attempts over their first five games. Chris Duncan heads the quarterback position and has barely posted 361 passing yards this Spring. Most of the heavy lifting in the Valparaiso offense falls to junior running back Robert Washington. He's carried the ball 121 times for 621 yards and five touchdowns. He exploded for 180 yards and a touchdown in last week's losing effort against Morehead State. San Diego will have to attempt to avoid the Crusader's secondary and freshman defensive back Keyon Turner. He has four interceptions on the year including one last week.
Valpo has the ability to dictate the pace of a game via their running game. This should keep this game close enough to cover this spread.
The Pick: Valparaiso +12.5
Who: Mercer Bears at Samford Bulldogs
When: Saturday, April 17th 10AM PDT ESPN+
The Matchup
Mercer visits Homewood Alabama with a 5-5 overall record for the 2020-2021 season. Although that record is misleading as they are 5-2 since the Spring season began. They are also winners of their last four games. Samford has had mixed results so far coming in with an even three wins and three losses. The Bulldogs were unable to play their game last week against Chattanooga. Before that, they've alternated wins and loses every game. For the record, their last game was a 55-7 win against The Citadel. The Bears have won the last two matchups in the series history
The Overview
Samford has ridden the big arm and legs of Liam Welsh. This Spring, he has thrown for 1,799 yards and 11 touchdowns. He also adds 60 carries for 301 yards and a team leading four rushing touchdowns. He trails sophomore running back Jay Stanton by only 19 attempts and 82 yards on the year. Sophomore receiver Ty King spearheads the receiving corps. He has 26 receptions for 536 yards and three touchdowns this season. On the other side of the ball, is another dangerous sophomore in safety Chris Edmonds. His four interceptions are a bright spot for this Samford defense.
https://twitter.com/MercerFootball/status/1381044115165560833
The Bears have found ways to win despite finding themselves on the wrong side of many of the statistical totals. They have done this and beaten three ranked conference teams in the process. Freshman quarterback Carter Peevy continues to lead his team during this impressive span. Despite only throwing for 65 yards last week against ETSU, one of his passes was for a touchdown and he ran in another for a score. This, along with the 83 rushing yards he amassed on the day helped propel his team to a win over the Buccaneers. He'll look to keep pace with his counterpart in what could be a shootout. Peevy does have big game potential as well. In the win against Furman, he threw for 406 yards and two touchdowns.
One has to question what else Mercer has to do to gain a little respect from the books. The Bears have been home underdogs three straight weeks now. They've won the last two should be able to do it again this week. This is a Week 10 FCS Football bet to feel good about.
The Pick: Mercer +4.5
Who: Mississippi Valley State Delta Devils at Texas Southern Tigers
When: Saturday, April 17th 12PM PDT
The Overview
This is a contest between two (technically) winless teams. Mississippi Valley State has a win on the season, but it was a forfeit win against Alcorn State. So, the Delta Devils have yet to win a game they've played. As for the Tigers, they were unsuccessful in winning their only two games of the year. They were set to play Grambling two weeks ago, but that game was cancelled. Neither team has been effective offensively either. The Delta Devils have scored only 41 points over their three games. The Tigers have 42 points in their two games. Mississippi Valley State won the last meeting between these programs back in October of the 2019 season.
The Matchup
Inconsistency at the top spot on the Tigers' offense has led to a merry-go-round at the position to start the season. Devin Williams, a holdover from Texas Southern's winless 2019 season, was taken out of the season debut against Prairie View A&M. He struggled throughout the game only to give way to Thaddeus Peyton just before the end of the first half. Peyton had his team in position to win until the Panthers mounted a late comeback to win by a point. There is not a lot for Texas Southern to hang their hats on as they have lost their last 16 games going back to the last two weeks of the 2018 season.
Mississippi Valley State hasn't fared much better with their signal caller this season. The grad student leader, Jalani Eason has thrown for 356 yards and rushed for another 165 this season. His tally also includes a single touchdown pass and another two rushing. He is also the team's leading rusher. Despite blowouts on the scoreboard, the Delta Devils defense has operated well under the circumstances. They have posted 19 tackles for a loss, six sacks, and three interceptions on the season. They have done their best to keep their offense in the mix, they've just been asked to do too much so far.
Look for the Delta Devils to hand the Tigers their 17th straight loss on Saturday. Neither of these teams have it in them to break away. All told, when push comes to shove, this contest goes to the team that has at least won a game in the last two years. This may even be a Week 10 FCS Football you might want to tease if you think the Tigers have a chance to win.
The Pick Mississippi Valley State +2
Who: Prairie View A&M Panthers at Arkansas-Pine Bluff Golden Lions
When: Saturday, April 17th 1PM PDT
The Overview
Prairie View hasn't seen the field in a month due to their last two contests being cancelled by COVID protocols. That said, in the two games they played to start their Spring campaign, they came away as winners. The Panthers beat Texas Southern and Grambling before shutting down for the rest of the month. As for the Golden Lions, they are also undefeated on the year with three wins so far this season. They have also beaten Grambling, while also adding wins against Southern and Mississippi Valley State to their total. Historically, Prairie View A&M dominates the series with a seven game winning streak against Arkansas-Pine Bluff.
The Matchup
It's been a tale of two quarterbacks for the Panthers in their two games this season. In their week one win against Texas Southern, senior quarterback Tyriek Starks made the biggest contribution. He passed for 157 yards and rushed for a team-leading 27 against the Tigers. Against Grambling though, redshirt freshman Trazon Connley carried the bulk of the work. He passed for 152 yards and a touchdown in relief of Starks who was pulled after throwing an interception in the second quarter. Connley also ran for 34 yards. Prairie View has been tenacious on defense as they come into the week with 26 tackles for a loss, 10 sacks, and three interceptions in their two games.
A Week 5 #FCS Top Performance

WR Chris Johnson – PVAMU

• 3 rec 108 yards 1 TD pic.twitter.com/n3KNZYj9OG

— NCAAF Nation (@NCAAFNation247) March 16, 2021
Junior quarterback Skyler Perry leads the Golden Lions offense attack. So far, he's thrown for 804 yards and rushed for another 100. As far as touchdowns are concerned, he's collected eight passing scores and two on the ground. He will be the key to this Arkansas-Pine Bluff offense along with receivers Josh Wilkes, and Harry Ballard III. Both had over 120 yards and a touchdown in their outing against Grambling. The Golden Lions defense is just as potent. They enter the week with 29 tackles for a loss, 11 sacks, and four interceptions.
Both of these teams have been able to ride the play of their defense to an undefeated season. This game should be highly contested and low scoring giving the edge to Prairie View. Both of their games were decided by a touchdown or less and they won. They will do the same here and cash this Week 10 FCS Football bet.
The Pick: Prairie View A&M +1
FCS Related Content
College Football Coaching Hot Seats | The College Experience (Ep. 637)
College Football Picks