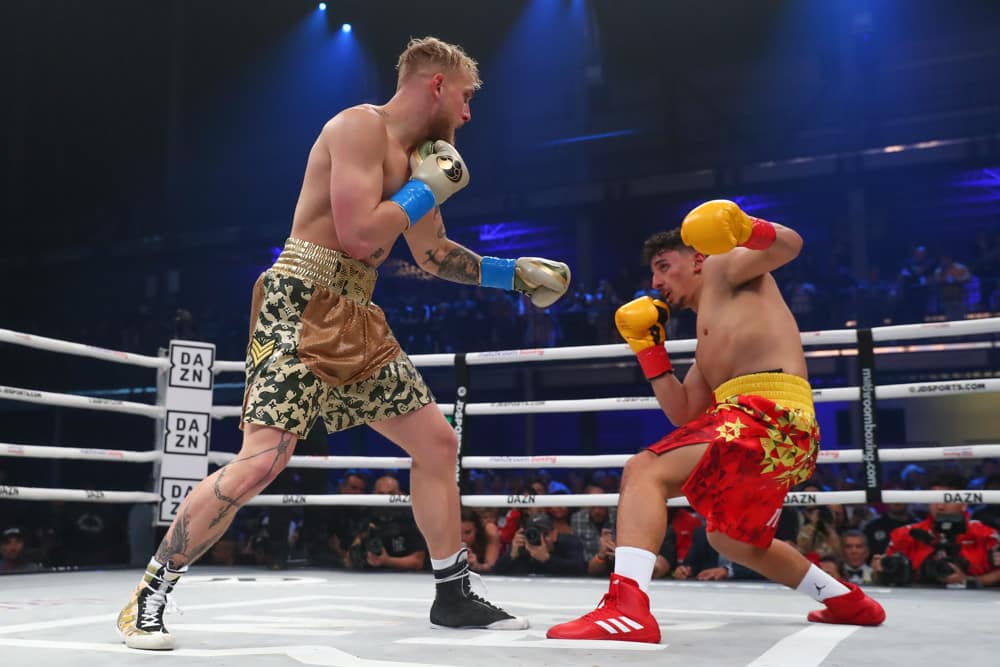 Jake Paul vs Ben Askren Preview
In one of the most head-scratching yet intriguing celebrity boxing matches to date, social media star Jake Paul takes on former Mixed Martial Arts World Champion Ben Askren this coming Saturday, April 17th, at 6:00 pm PT on Triller.
Paul, 2-0 as a…professional(?)…will take on Askren from the Mercedes-Benz Stadium in Atlanta. The fight will be an eight-rounder set at cruiserweight. Before determining our best chances to make money from this unique matchup, let's take a look at the combat sports backgrounds of each to kick off our Jake Paul vs Ben Askren preview.
Jake Paul
The 24 year old has two professional fights under his belt, both of which ended in early knockout victories. His first win over fellow YouTuber Ali Eson Gib was a complete mismatch. While we weren't sure what to expect from two fighters making their debuts, it was clear Paul had the natural edge in athleticism, speed, and punching power, quickly disposing of Gib with a TKO in the very first round. Paul's second fight came on the undercard of the Mike Tyson vs Roy Jones Jr matchup at the end of last year. Paul took on former NBA player Nate Robinson, whose fight strategy consisted of lunging into Paul's punching range with his hands practically behind his back. Robinson's lack of experience resulted in him becoming the victim of the most brutal knockout on the card, as Paul finished the fight with a big uppercut in the second round. Thanks in big part to the early success, Jake Paul has now decided to pursue a professional boxing career, and believes a win over former UFC fighter Ben Askren is the next step on that path.
Ben Askren
The 36 year old retired MMA fighter will be making his pro boxing debut against Paul. In what was a very successful MMA career, Askren was a ground game specialist, utilizing his wrestling background (which included an Olympic career) to secure takedowns and control his opponents, threatening with ground and pound as well as choke submissions. Askren reached championship status in the ONE Championship and Bellator MMA promotions before transitioning to the UFC, where his momentum was halted with a brutal five-second knockout loss to Jorge Masvidal in which Askren caught a knee to the head while trying to secure an immediate takedown. After retiring from the UFC in 2019, Askren received a major hip surgery and is taking the fight with Paul because he views the opportunity as a nice pay day and event to help him get back into shape.

Best Bets:
Jake Paul (-130)
When you look at the fighting resumes of these two, it is laughable to think that Jake Paul should ever be able to compete with a former mixed martial arts world champion in a boxing match, let alone beat one. That being said, Ben Askren is the most favorable stylistic matchup Paul could ever hope for in a boxing match. Askren is a slow puncher with little power. He hardly ever threw standing punches in his MMA career, and when he did it was solely to set up takedown attempts. Ben Askren was a world-class mixed martial artist, dominant in his one-dimensional style. Unfortunately for him, that dominant wrestling ability won't be there to save him from the faster and more powerful puncher in Jake Paul. If Askren is able to tie up Paul often, slow down the fight, and use his strength to hold Jake in the clinch, this fight could get very interesting. We have never seen Jake Paul reach the later rounds of a fight, and we don't know how he will respond to pressure or fatigue, especially against a fighting veteran like Askren. That all being said, I think this matchup selection by the Paul and Triller team was a wise one that will pay dividends in the end. He will be faster and more technical with his boxing combinations, and this is a boxing match after all. Askren can take a huge punch, but it is hard to see where he can threaten Jake offensively with the lower level of his striking pedigree.
Jake Paul by Decision or Technical Decision (+750)
This line is worth a sprinkle. As mentioned previously, Paul has the edge in speed and boxing technique, which theoretically should put him ahead on the cards. While this fight is NOT favored to go the distance, Askren can take a ton of punishment, and he has taken punches from some of the biggest punchers in mixed martial arts. With the ability to clinch to get himself out of trouble when needed, I think there is a chance Askren can weather the early storm of Paul, but still ultimately lose the fight on points.
Will the Jake Paul boxing circus continue? Be sure to tune into the fight this weekend to find out! As always, best of luck with your bets and enjoy the action!
Listen to this:
Jake Paul vs. Ben Askren Picks + MLB Replay Problem | Bout That Action (Ep.39)