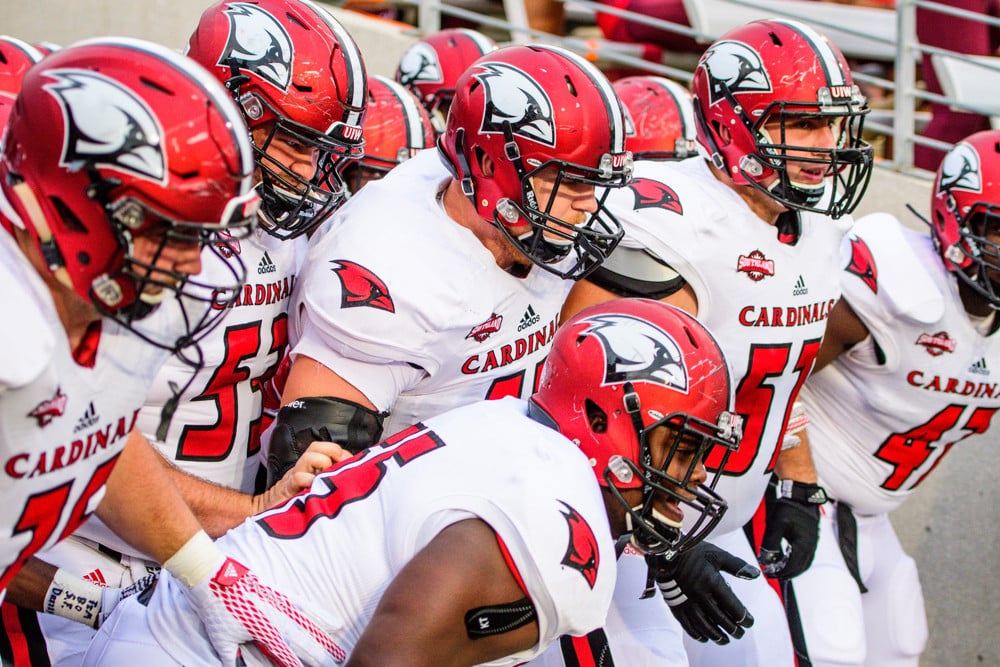 Welcome to another week of college football and your Week 7 FCS Football Best Bets. I'm a sucker for the little guy. The one who is given little to no chance to compete, let alone to win. It's because of this that I have scouted picks for you centered around that theme. It's usually easy to bet on the favorite. It takes skill and guts to bet on the dogs. Plus, it always feels better to win those bets in the end.
Here are some underdog picks that should have you happily cashing when the dust settles. Lines are provided thanks to our friends at PointsBet. If you want more betting action on top of these games make sure you check out PointsBet. There you can find the rest of the FCS games and much more. Plus, like we always do, we've got the hook up with a sweet deal. To find out what that is, you'll just have to click. Good luck and happy betting!

Week 7 FCS Football Best Bets: Top Underdog Picks
Who: San Diego Toreros at Presbyterian Blue Hose
When: Saturday, March 28th 8 AM PDT
The Overview
These two teams will meet for the first time in the history of their programs this week. San Diego enters the contest undefeated on the season and winners of their last 39 conference games. They are heavy favorites against Presbyterian who are playing in the Pioneer League this spring thanks to a scheduling agreement. The Blue Hose will host the Toreros with a 1-2 record and limping back home after a 41-24 thumping at the hands of Davidson last week.
The Matchup
San Diego is hoping for another solid performance from their quarterback Mason Randall. The redshirt sophomore bounced back last week to throw for two touchdowns after a two-interception season opener the week before. The Toreros will also be relying on senior running back Emilio Martinez. So far, he's accumulated 148 yards rushing and a receiving touchdown through two his first two games. Defensively, junior safety Hunter Nichols will bring with him his team-leading 14 total tackles to the field. He'll be joined by redshirt senior defensive tackle Kevin Glajchen who leads the team with three sacks.
Back in Torero Stadium with a 💥#GoToreros pic.twitter.com/HpISF9yKw5

— San Diego Football (@USDFootball) March 24, 2021
Presbyterian hands the ball to its sophomore signal-caller Tyler Huff. Through three games this season he has put up 736 passing yards and seven touchdowns. He also has 112 yards and two touchdowns by way of his rushing. Keith Pearson headlines the receiving corps with almost 300 yards and two touchdowns so far this season. Expect him to be the main target for Huff as he's already close to 30 receptions. The next closest wideout is Matthew Rivera with only five catches this season. San Diego's offense will have its hands full with the Blue Hose defensive backs. Senior Colby Campbell along with junior Jarrett Nagy have a combined 64 tackles in three games.
The spread for this game is more generous than should be towards San Diego. Neither game the Toreros have won this season has been by more than 14 points. Also, the largest margin of defeat for the Blue Hose so far is their 17 point loss to Davidson last week. Make no mistake, San Diego will win this game. It's just hard to see them running away with it as much as this spread dictates. Make sure you load this up in your Week 7 FCS Football Best Bets card.
The Pick: Presbyterian +18
---
Who: Delaware Blue Hens at Rhode Island Rams
When: Saturday March 27th 9 AM PDT
The Overview
Two undefeated teams take the field this weekend in Kingston, Rhode Island on Saturday. Both are the winners of their first two games of the season. For Rhode Island, they are fresh off a win last week against Albany. Delaware, though, had to sit out last week as their scheduled game against New Hampshire was postponed. These two schools have a long rivalry dating back to 1967. The Blue Hens have dropped two out of the last three matchups against the Rams. Their lone win in that span came in 2019 in a 44-36 triple-overtime win at Rhode Island.
The Matchup
Delaware has scored 68 points in their first two games. That is certainly impressive. What makes it even more impressive is they've done it without huge days from their quarterback. Nolan Henderson threw for only 145 yards and a single touchdown in the win against Maine. He did rush for one though which helped the cause. He enjoyed a better day against Stony Brook the next week, but still barely topped 200 yards in the winning effort. Three touchdown passes made his performance look more respectable in the end. He'll attempt to spearhead another effective attack against Rhode Island.
Kasim Hill will lead his Rams on Saturday with similar success as his opposite. Through his first two games, he too sits at just over 360 yards passing. Hill though, only has a single passing touchdown to his credit. The heavy lifting has been done by Kevin Brown Jr. and the rushing attack. Against Villanova in week one, Brown rushed for 141 yards and four touchdowns. He had a quieter week two, but will likely remain a centerpiece for the Rhode Island offense.
.@RhodyFootball wins is second straight OT game with a 17-10 defeat of UAlbany!

Watch the highlights now! pic.twitter.com/dHWw8Gc8L2

— CAA Football (@CAAFootball) March 20, 2021
What makes this line appealing is that Rhode Island is at home and has put in two hard-fought road wins to get there. They've notched victories against two ranked teams as well. The Rams should give Delaware all they can handle despite the Blue Hens only allowing three total points this season. Even if this is a high-scoring game, Rhode Island should be able to stand toe to toe with their opponent and keep this game within the spread margin. It makes this an intriguing Week 7 FCS Football Best Bets play.
The Pick: Rhode Island +9.5
---
Who: Incarnate Word Cardinals at Nicholls Colonels
When: Saturday, March 27th 9 AM PDT
The Overview
Both of these teams have enjoyed their Spring campaigns up to now. The Cardinals come into the game on Saturday undefeated with a 3-0 record. As for the Colonels, they also have three wins. The difference is the 54 point drubbing by Sam Houston last week they find themselves still reeling from. Incarnate Word has two games with a winning margin of more than 20 points to their name. Nicholls boasts an otherworldly 84 point win over Lincoln University of Missouri in week one and a 55 point shutout over Lamar the following week.
The Matchup
Leading the Cardinals is Cameron Ward, the standout freshman quarterback. He's thrown for over 1,000 yards already this season with an impressive 14 touchdown passes. On his flank is Kevin Brown who accounts for just over 500 rushing yards and a pair of touchdowns this Spring. Defensively they are a squad that has tallied 12 sacks against opposing quarterbacks. They are also anchored by linebacker Kel Anyalebechi. The impressive junior racked up 17 total tackles against Lamar and has 40 on the season.
Quarterback Lindsey Scott Jr. heads the Nicholls offense. He has thrown for 870 yards and nine touchdowns in his first four games. He also serves as a double threat accounting for four touchdowns on the ground. These are only a fraction of the 15 total rushing touchdowns the Colonels bring with them into Saturday's matchup. In the 87-3 win in week one, eight different players crossed the goal line as runners. The other side of the ball contains a ball-hawking pack of defenders who have four interceptions as a group. Senior defensive back Kevin Moore III is among them and is responsible for 21 of the team's 243 tackles.
Another week 1-0#TheWord pic.twitter.com/b5Qzmkp26j

— UIW Football (@UIWFootball) March 22, 2021
It's surprising that Incarnate Word is entering this matchup as more than a touchdown underdogs here. The line could be skewed by the unpredictable margins of victory by both teams. That said, both of these teams are talented and their leaders are among the top of the statistical categories in the Championship Series. The truth is this game should be closer than expected with the road team in a very good position to pick up the outright win. At the very least, a cover is not out of the realm of possibility. Even if it takes 80 plus points to get there. This might actually be a good game to take the over, no matter what you find it set.
The Pick: Incarnate Word +7
---
College Sports Related Posts
USC vs Oregon Preview | The College Experience (Ep. 621)
Michigan vs Florida State Preview | The College Experience (Ep. 620)
NCAA Tournament Sweet 16: West Region Predictions