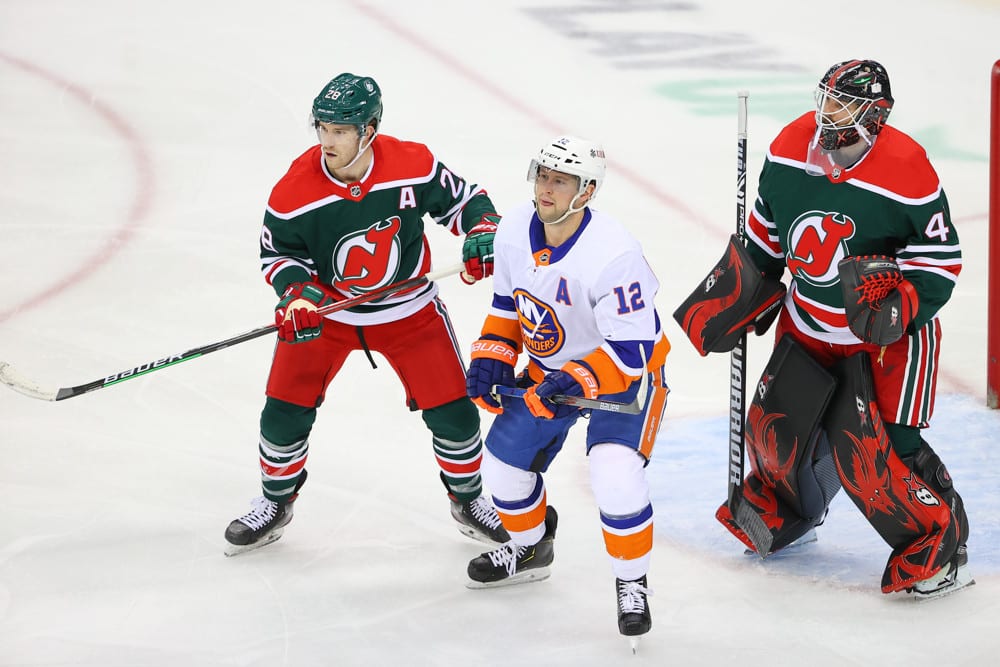 Happy Sunday, hockey fans! The clocks sprung forward last night and that means we're one step closer to spring and the NHL playoffs. But before then, we have to get through the grind of the regular season. I've been providing my Daily NHL Picks for every game here – bookmark that page so you don't miss out –, but I wanted to dive into the best bets and give some analysis behind my picks on certain days.
Today is one of those days. It's Selection Sunday and we'll be waiting all day for the bracket to be released. Why not pick up some of that sweat with an NHL bet or two?

Arizona Coyotes at Minnesota Wild – 2:00 p.m. EST
The Wild are hosting the Coyotes for a three-game set. Game 1 was on Friday, Game 2 is today, and Game 3 is Tuesday.
Minnesota beat Arizona by a final score of 4-0 on Friday. They outshot the Coyotes 32-25 as well.
NHL Picks – Best Bet: Minnesota Wild -190
The Wild are on a roll and I don't see that stopping anytime soon. Not only did they shut out the Coyotes on Friday night, but they have also won three straight games and four of their last five.
Minnesota is 10-2-1 in their last 13 games with all three losses coming on the road. They have won six straight home games and are 8-3-0 on the season. On top of that, the Wild have won five of the last six meetings and five of the last seven meetings in Minnesota.
It's a bit of a juicy line, but the Wild should give you an afternoon winner. Let's continue on with our NHL picks.
---
Carolina Hurricanes at Detroit Red Wings – 5:00 p.m. EST
The Hurricanes hit the road for a quick two-game set in Detroit.
The Pick: Carolina Hurricanes -240
It's another juicy line with the Hurricanes as a heavy favorite, but it's well worth it. Carolina is on fire right now with seven straight wins, including a 5-2 victory over Detroit on March 4th.
The Red Wings are one of the worst teams in the league. They won their last game despite being outshot 44-23. Them winning their last game is actually even more reason to bet the Wild, as Detroit has won back-to-back games just once this season.
The Hurricanes have won their last four games as a road favorite and have won five of the last six games against Detroit. Weirdly enough, the road team is 13-6 in the last 19 meetings.
---
Dallas Stars at Columbus Blue Jackets – 5:00 p.m. EST
The Stars hit the road for a quick two-game set in Columbus. The two teams just split a two-game set in Dallas last week.
The Pick: Columbus Blue Jackets +110
This game is a bit of a toss-up, so give me the Blue Jackets as a dog here.
Columbus and Dallas are both in a bit of a rough patch. The Blue Jackets lost five straight, won three straight – including one in Dallas –, and have now lost three straight. The Stars are 4-9-5 since starting the season 4-0, and 3-8-4 in their last 15 games.
Given that both teams are struggling, I'll take the Blue Jackets. Columbus has also won 10 of the last 12 meetings, and six of the last seven meetings at home.
---
New York Islanders at New Jersey Devils – 5:00 p.m. EST
The Islanders and Devils finish up a back-to-back weekend set in Newark. The Islanders won Game 1 on Saturday 4-3 and also beat the Devils on Long Island on Thursday.
NHL Picks – Best Bet: New York Islanders -180
This line is a bit longer than I would like, but I can't not pick the Islanders.
The Islanders are on an eight-game winning streak and are 10-0-1 in their last 11. The Devils are have lost three straight, are 1-7-1 in their last nine, and 2-10-1 in their last 13.
Furthermore, the Islanders thrive in short-rest games while the Devils struggle. New York is 4-0 in their last 4 in the third game of a 3-in-4 situation and 5-0 in their last 5 in the fourth game of a 4-in-6 situation. The Devils are 1-5 in their last 6 in the third game of a 3-in-4 situation.
If that's not enough, the Islanders have won four of the last five meetings in New Jersey and 21 of the last 28 meetings overall.
New Jersey will pick up a win sometime, but I don't think it'll be against the Islanders. Perhaps their next time out against the Sabres.
---
Los Angeles Kings at Colorado Avalanche – 5:30 p.m. EST
This game will be on NBCSN as the Avalanche look to sweep a two-game set against the Kings.
NHL Picks – Value Pick: Los Angeles Kings +200
The pick in this game really depends on what lines you can get. I think the Avalanche are the better team and will win, but +200 (or longer) is a really tempting line for the Kings.
The Kings are 1-2-0 against the Avalanche this season and were one goal away from making the Avalanche sweat on Friday night. The two teams have alternated wins in the last 10 meetings. The Avalanche won on Friday, so it's the Kings' turn, right?
While I am on the Kings, I could easily see the Avalanche breaking out in this game. They outshot the Coyotes 35-14 and 46-14 in back-to-back games before outshooting the Kings 46-18 on Friday night. Their defense is legit and their offense just needs a game to break out.
If the Kings can keep it close, +200 is great value. However, I could see the Avalanche winning this game like 7-2, so don't put too much on this one.
---
Toronto Maple Leafs at Ottawa Senators – 7:00 p.m. EST
The Maple Leafs travel to Ottawa after losing two of three to the Winnipeg Jets.
NHL Picks – Value Pick: Ottawa Senators +200
Like the last game, this is a pure value pick.
The Senators are 2-3-0 against the Maple Leafs this season and Toronto played Saturday night. It was a long, heavy series against the Jets and the Leafs now have to play their third game in four nights. On the other hand, Ottawa was off on Saturday and just waiting for the Leafs to come to town.
Ottawa is still one of the worst teams in the league, but +200 at home against a team on no rest that they've beaten twice this season? Sign me up. On top of that, Ottawa went 4-1-0 on their last homestand against Montreal and Calgary. Weirder things have happened.
These last two NHL picks should be watched closely. If you want to bet them both, make sure you get the best lines possible. I'm hoping that at least one can hit to make it a good day.
---
NHL Picks Summary:
MIN -190 (Best Bet)
CAR -240
CBJ +110
NYI -180 (Best Bet)
LAK +200 (Value)
OTT +200 (Value)
Good luck and happy betting! As always, you can reach out to me on Twitter (@RGilbertSOP) for any questions or if you just want to talk some hockey!