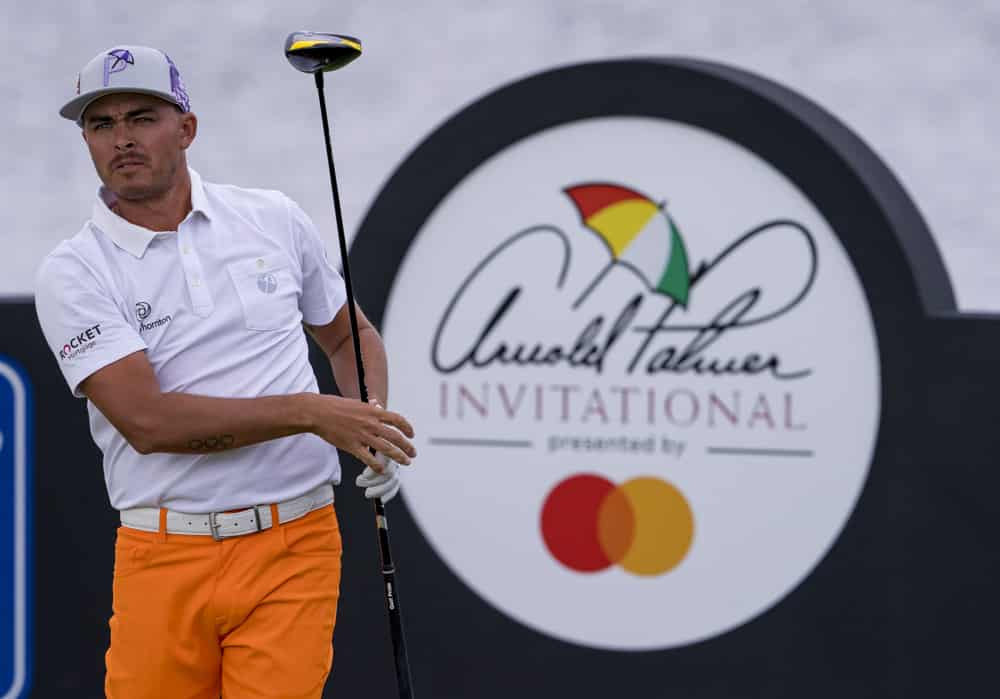 A great field with a massive purse for the third consecutive week. The world's best golfers continue the Florida swing with a trip to Orlando for the Arnold Palmer Invitational at Bay Hill.
As always, here is your early deep-dive and Arnold Palmer Invitational Preview.
Arnold Palmer Invitational: The Field
Headling the field this week is Rory McIlroy. Rory won this event in 2018 and has several other great finishes. After struggling at Riviera, McIlroy enjoyed decent success at The Concession at last week's WGC. He'll hope to continue riding high across the Florida Swing.
Also headlining this event is Bryson DeChambeau. DeChambeau has struggled out of the gate in 2021. He missed the cut at The Genesis and was very inconsistent with his ball-striking at The Concession. But Bay Hill is a place where Bryson has seen good results both pre and post- bulk up. Bryson DeChambeau finished runner up to Rory McIlroy in 2018 and finished 4th there in 2020. A return to a favorable golf course could be exactly what he needs to kick start his year.
Other notables in the field include defending champion Tyrrell Hatton, Paul Casey, Jason Day, Matthew Fitzpatrick, Tommy Fleetwood, Viktor Hovland, Sungjae Im, Hideki Matsuyama, Patrick Reed, Justin Rose, and Jordan Spieth.
For the full field, click here.
FULL ARNOLD PALMER COVERAGE
Arnold Palmer Invitational Picks and Props
2021 Arnold Palmer Invitational DraftKings Golf Picks
The Golf Course
The golf course at Bay Hill was built in 1960. A group of businessmen from Nashville, TN purchased the land from a man named Dr. P. Phillips, a noted citrus grower in the Orlando area. The land that now makes up the Bay Hill Lodge and Club was largely infertile due to a lack of nutrients in the soil. Because it was unproductive, it was sold and repurposed as a golf course. Dick Wilson was the original architect of the golf course, and the course was sodded with Tiftway Bermudagrass. This was the first golf course seeded with this particular strain of Bermudagrass.
Arnold Palmer came to Bay Hill for the first time in 1965 and fell in love with the land and the golf course. He was so enamored with it that in 1970 he leased the golf course from the owners, and in 1975 purchased the golf course outright. In 1979, he successfully negotiated with the PGA Tour to bring an official tournament to the club. The Arnold Palmer Invitational has been played there ever since.
The golf course has undergone a few renovations and changes throughout the years. Unlike others that sought to increase the difficulty, Arnold Palmer sought to increase the playability of the golf course. His goal was to make it more welcoming for amateurs, yet still challenging for the PGA Tour professionals that visit the club every March.
This goal was sort-of met. Bay Hill is much more playable for amateurs than The Concession. The greenside bunkers and surrounds aren't nearly as daunting as viewers saw last week. The greens are a little gentler too. Though they'll run about the same speed as The Concession, they're not as severely undulated or sloped. The greens are more tilted than undulated. Most pin positions will be towards the flatter spots of the green. Players only really need to worry about grain on putts less than 10 feet.
Tee-to-green, however, this golf course is very demanding. Like many Florida golf courses, there are numerous water hazards to gobble up errant drives. Several holes either require a forced carry over water or have it looming all the way down one side of the fairway. In addition, Bay Hill has relatively thick rough off the fairway. For amateurs, it's not easy to get good contact on balls out of the rough.
But for PGA Tour pros, however, this golf course feels a bit outdated. This golf course probably needs another renovation to adapt to the modern game. Advancements in golf technology have taken many fairway bunkers out of play. In addition, players can feel confident about cutting dog legs or over large water hazards with ease. And angles don't really matter with how these greens are shaped and contoured. Players can fire away at pins from any angle, especially in soft conditions.
The only true defense the golf course has is the wind. The prevailing north wind can make this golf course a bear. In years when it plays soft and the winds are down, the winning score can approach -20. But as the players saw last year, strong wind dries out Bay Hill in a hurry. The golf course can play very firm and fast and the greens turn extra crispy with significant wind. That happened last year, and Tyrrell Hatton survived with a winning score of -4.
At Bay Hill, mother nature tends to have the final say of how this tournament goes.
Arnold Palmer Invitational: Betting Strategies
To the relief of gamblers, this tournament has a wealth of past data and history to draw upon. Unlike last week where we all were guessing how The Concession will play, gamblers have plenty of leaderboards to dissect.
The first place to start is a weather report, which greatly impacts our expectations of where the winning score will be. As of this writing, rain looks to be in the forecast in the days leading up to the tournament. That'll help soften up the golf course. There also doesn't appear to be too much of an impact with the wind over the first two rounds. Scoring should be plentiful for the first two days.
Over the weekend, however, the golf course will dry out thanks to some moderate to heavy winds coming into the area. Saturday will see winds between 10-20 MPH, and Sunday will see gusts up to 25 MPH. The final two rounds may resemble what last year's final rounds looked like – a fight for survival.
In summary, while the first two days might favor players who get hot with the putter, this tournament ultimately will be decided with who strikes the ball tee-to-green the best.
Next, let's take a look at the relative skill set chart of what attributes tend to appear most at the tops of the leaderboard at Bay Hill:
There is a greater emphasis on performance off the tee in both distance and accuracy than the average PGA Tour course. Approach play and putting is about neutral for typical PGA Tour setups. Scrambling abilities take a bit of a backseat.
Given the layout of Bay Hill, that's not all that surprising. Bay Hill is a very demanding golf course off the tee. Big misses get punished severely, so accuracy and controlling the ball flight off the tee is a must. But unlike last week at The Concession, bombers can gain access to parts of the golf course that wasn't originally intended. They can eliminate most of the fairway bunkers and water hazards through sheer force.
A de-emphasis on scrambling isn't that surprising either. It's a fairly easy up and down from the greenside bunkers unless short-sided. There also aren't crazy collection areas that make for tricky chips back to the hole. And the tilted nature of the greens makes it fairly easy to read the breaks to nuzzle the ball close to the pin.
Overall, the players to target this week are either bombers who can blow past all the trouble into safe areas of the golf course or consistent ball strikers tee-to-green who can avoid big blow-ups. Having the ability to putt well on fast Bermuda greens is also a plus.
Players behind the eight-ball are average to shorter hitters who struggle with accuracy, or bombers who have little control over where their tee shot ends up.
The Arnold Palmer Invitational is also not a wedge fest. Three of the four Par 3's all are over 200 yards. Several Par 4's also have approach distances between 150-200 yards. And all of the Par 5's are reachable as long as the wind cooperates or a player isn't wildly out of position. Golfers will be tested on both intermediate and long approach shots all tournament.
Lastly, here's a list of players in the field this week who have gained more than a stroke per round at Bay Hill (minimum of 12 rounds):
Rory McIlroy – +2.38
Francesco Molinari – +2.23
Bryson DeChambeau – +2.19
Luke List – +2.19
Emiliano Grillo – +2.04
Henrik Stenson – +2.00
Tyrrell Hatton – +1.93
Adam Hadwin – +1.74
Marc Leishman – +1.70
Tommy Fleetwood – +1.59
Justin Rose – +1.42
Zach Johnson – +1.38
Jason Kokrak – +1.33
Matthew Fitzpatrick – +1.31
Jason Day – +1.28
Kevin Na – +1.26
Keegan Bradley – +1.15
Lucas Glover – +1.12
Graeme McDowell – +1.09
Matt Jones – +1.03
Charles Howell III – +1.03
Hideki Matsuyama – +1.01
There's a little bit of everything as described above. There are bombers on the list who can blow through all the trouble. And there are short, accurate players who successfully dodge the landmines and lean on solid iron play to score. Golfers like these are the ones to target for bets and DFS this week.
RELATED CONTENT
WGC – Workday Championship at The Concession DFS Picks & Best Bets | Golf Gambling Podcast (Ep. 33)
2020 Arnold Palmer Invitational Preview and Betting Strategies
WGC – Workday Championship at The Concession Preview and Betting Strategies