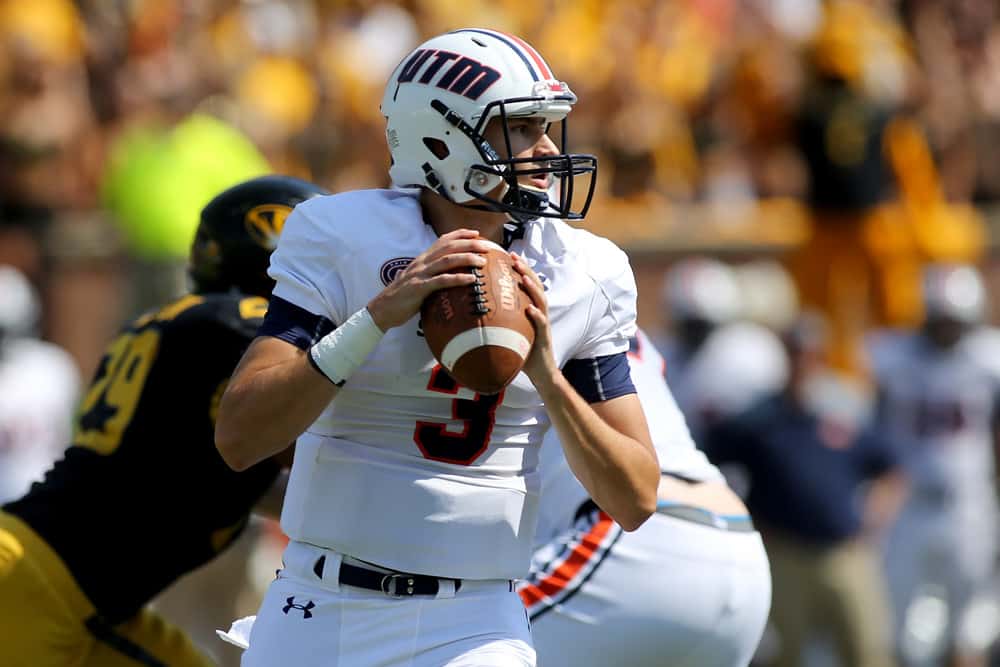 Sunday offers us four more chances to win some cash with these FCS Football picks. This slate will feature teams that will be making their first appearances this season due to weather-related postponements. Also, in a strange twist, most of these lines are the same with two touchdowns the seemingly agreed upon spread in three of the four.
Here are my takes for all four games on the day. The weather may play a factor in a couple, so make sure you keep an eye on the reports Sunday morning before you place your bets. You'll get to enjoy any or all of these games with ESPN+ broadcasting them all. As always, good luck, enjoy the full day of football, and happy betting!
FCS Football Picks:
Who: Tennessee-Martin Skyhawks vs. Murray State Racers
When: Sunday, February 28th, 12PM Pacific ESPN+
The Pick: Murray State +7
Both of these teams will be making their Spring season debuts this Sunday. Both were expected to start play last week, but bad weather conditions delayed their openers. This week, the conditions may not be as extreme as they were when their game was canceled. That said, there is a solid call for some heavy rain in the Murray, Kentucky region on Sunday. Inclement weather usually signals a low-scoring, run-heavy game. Should this type of game indeed happen, give the nod to the Racers.
In spite of both teams being outrushed by their opponents last season, Murray State holds the slight edge in the final 2019 rushing stats. Last season, the Racers accumulated 1,829 yards on the ground to the Skyhawks 1,792 total. Many of Murray State's yards came by way of their quarterback, Preston Rice. His 611 rushing yards led the team. The redshirt junior will take the field as the leader of the Racers again on Sunday. He will face a Tennessee-Martin team that allowed over 2,200 rushing yards last year to their opponents. The Skyhawks will not be too outmatched on the ground though as they welcome back their Senior ball carrier, Peyton Logan. In nine games last season, Logan amassed 784 rushing yards.
The last meeting between these two schools saw UTM quarterback John Bachus outduel Rice in a 40-7 blowout. Also adding to the blowout was a 97-yard outing for Logan. Despite that, the weather should play as a great equalizer and keep the score relatively close. In that instance, take the home team and the points.
FCS Football Picks:
Who: Southeast Missouri State Redhawks vs. Eastern Illinois Panthers
When: Sunday, February 28th, 12PM Pacific ESPN+
The Pick: Eastern Illinois +14
Last week, these two teams were forced to push back their week one matchups due to the weather. This week, they get to finally hit the field to officially begin their Spring seasons. For the Panthers, it will be an opportunity to wipe the foul taste of a 1-11 campaign out of their mouths. The Redhawks on the other hand, won six straight games heading into the 2019 playoffs only to get tossed in the first round by Illinois State. Both teams have chips on their shoulders. Both would love nothing more than to take their pent-up frustrations out on the other.
Judging by the disparity in overall success last season, it would seem this line is justified and the obvious choice is the favored Redhawks. But a dig into the past paints a little different picture. Sure, SEMO has walked away with the win for two straight seasons. But, their margin of victory last season was exactly 14 points. The year before that they won by only six points. In fact, the last time one of these two teams won by more than this spread was back in 2014 when the Panthers racked up a 52-13 win as the away team.
Southeast Missouri enters the season minus last season's starting quarterback Daniel Santacaterina as well as his favorite target wide receiver Kristian Wilkerson. They will turn now to redshirt senior Andrew Bunch to lead the Redhawks this season. Bunch once wore Husker red as a member of the Nebraska football team for three seasons prior to his transfer to SEMO. This new-look team will give the Panthers enough of an opportunity to keep this game close at home. In doing so, they should cover this spread for you on Sunday.
FCS Football Picks:
Who: Tennessee State Tigers vs. Austin Peay Governors
When: Sunday, February 28th, 12PM Pacific ESPN+
The Pick: Tennessee State +14
Understand that this pick is not revenge for the Governors not handling business last week after being picked in this column. Well, not entirely. Last week, Austin Peay failed to take care of Tennessee Tech losing 27-21 in the 2021 opener. Despite the score, neither team posted impressive box scores. This lack of offense leaves much to be desired for the current line.
On top of wanting to blast out of the box to start the season, the Tigers would like a shot at possession of the Sgt. York trophy. This is the prize given to the victor of the Battle of all four Tennessee teams. Surprisingly enough, it's been the Nashville squad that has taken it home more than their enemies 50 miles to the northwest. The series stands at 8-5 overall in favor of Tennessee State with 6 of the last 8 going to the Tigers. This includes last season when they battled back in the fourth quarter to take down the Governors 26-24.
Austin Peay did not show enough to instill confidence that they can beat their opponents this week, or even if they do, beat them by more than 14 points. Between the poor showing last week and the heightened emotions of playing their I-24 rivals, this game will be closer than expected. It may even tilt towards Tennessee State.
FCS Football Picks:
Who: Tennessee Tech Golden Eagles vs. Jacksonville State Gamecocks
When: Sunday, February 28th, 1PM ESPN+
The Pick: Tennessee Tech +14
This should be one of the better games of the entire FCS Football slate. The Golden Eagles are coming in fresh off a fourth quarter comeback against Austin Peay. The Gamecocks are technically already 3-1 on the season having three fall games already in hand. It is predicted to be a rainy day in Jacksonville, Alabama, so scoring could come at a premium. It should also keep the score closer than anticipated as well.
Tech did not need much offensive production to walk away with the victory last week as quarterback Bailey Fisher barely broke 100 yards passing. Their leading rusher David Gist only managed 56 yards on the ground. All that said, last season, this Tennessee Tech team managed to hand Jacksonville State a 37-27 loss. The Golden Eagles have proven they are a scrappy team and have the advantage of a confidence-building come-from-behind loss this season. Covering this spread is well within their reach.
---
Related Articles
FCS Football Picks: Best Bets For Friday Night And Saturday
FCS College Football ATS Picks Week 3 (Ep. 961)