The final tournament of the West Coast Swing goes down this week on the PGA Tour. A star-studded field vies for a huge purse at one of the biggest events of the year. This week the best players in the world play the Genesis Invitational at legendary Riviera Country Club in Pacific Palisades, CA. As always, here is your early deep-dive and Genesis Invitational Preview.
Genesis Invitational Preview: The Field
The Genesis Invitational is an elevated status event that boasts one of the highest purses of the season. That has attracted almost all of the biggest stars on the PGA Tour. Some of these elite names in this field include Dustin Johnson, Brooks Koepka, Rory McIlroy, Jon Rahm, Xander Schauffele, and Justin Thomas.
One of the more intriguing players to watch is Bryson DeChambeau. Bryson has decided to attack any golf course he plays with his massive distance advantage. In some tournaments, this strategy works, as what happened at Winged Foot. Other times this strategy has backfired spectacularly, such as last year's Masters. It will be interesting to see how Bryson's strategy translates to Riviera Country Club.
Another name to watch is Jordan Spieth. Spieth appears to be back in form. He displayed wonderful ball-striking at both the Waste Management Phoenix Open and the AT&T Pebble Beach Pro-Am. He's still a little loose off the tee, but his irons appear to be firing on all cylinders. He's a threat to win this tournament if the good form he has demonstrated continues.
Other notables in the field include Patrick Cantlay, Tony Finau, Viktor Hovland, Collin Morikawa, Adam Scott, and Bubba Watson.
For the full field, click here.
The Golf Course
Construction on Riviera Country Club began in 1926 by George C. Thomas in a barren canyon in Santa Monica. After consulting with the great Alister McKenzie, Thomas finalized his architecture plans and the golf course was completed the following year. It was the site of the first Los Angeles Open in 1929 and was the primary home of the tournament for the better part of seven decades. occasionally sharing duties with other golf courses in the area.  Riviera also hosted the 1948 U.S. Open, the 1983 and 1995 PGA Championship, and the 2017 U.S. Amateur.
The golf course itself has been relatively unaltered since its opening. Other than bunker renovations by Bill Coore and Ben Crenshaw and restoration of the 8th hole by Tom Fazio, Riviera is an old soul that still packs a punch. It tests the best in the world despite decades of technological advancement in golf balls and clubs:
Besides the creative and unique layout, Riviera features a type of grass that the PGA Tour doesn't see very often. In 1934, Riviera was re-sodded with kikuyugrass after a New Year's Eve storm damaged the golf course. Kikuyugrass is a sticky, spongy turf native to Africa. Kikuyugrass is also featured at Torrey Pines, which these players saw just a few weeks ago.
Unlike bermudagrass, kikuyugrass does not go dormant during colder months. It also shows best in climates with constant sunshine like Los Angeles enjoys throughout the year. The combination of the hard, moisture-deprived soil that lays a foundation of the golf course to the grabby nature of the Kikuyu plays in perfect harmony with each other. It creates a track of lush fairways and tricky rough that can pose problems for anyone not used to hitting off of it.
Also like Torrey Pines, the greens are made with poa annua grass. This grass is essentially a weed that grows throughout the day. Poa annua surfaces are quite bumpy and not easy to putt on. Confident strokes are needed to putt well on these surfaces.
The design of almost every hole at Riviera is a favorite to the golf architecture community, and Andy Johnson (a.k.a. the Fried Egg) wrote a hole by hole breakdown covering just that subject. Almost all the holes are very strong offerings.
Hole #1
The 503-yard par 5 1st hole offers up one of the best opening tee shots in golf. Golfers tee off to a 30-yard wide fairway 60 feet below them with the famed Riviera clubhouse behind them. For most amateurs, the barranca rough that cuts across the fairway about 330 yards out won't be in play. But most professionals can easily carry their tee shot 300 yards in the air. With a helping breeze from an elevated tee position, they can easily bounce their opening shot into that rough.
Most professionals will pull less-than-driver to lay short of the barranca. That sets up a very manageable second shot to a horseshoe green to get their round off to a great start. Bryson DeChambeau, however, may try and carry the barranca.
Hole #8
This hole was redesigned by Tom Fazio in an attempt to restore the split fairway layout. With dueling fairways, golfers have two options – hit it down the right onto a narrow fairway, or take it down the left to a slightly more generous one but contend with two fairway bunkers in the landing zone.
While the intent was to make a line down the left fairway more risk-reward, both the advancement in golf technology and the construction of the green has rendered this point moot. For one, most golfers have plenty of carry on their drives to navigate around the fairway bunkers down the left fairway. Also, because of the back to front sloping of the green and the lack of any greenside hazards to contend with, there really isn't much of a difference between opting for the "safer" right fairway or the "riskier" left fairway. It's a hole likely better conceptualized than actually executed.
Hole #10
Now, THIS is a proper risk-reward hole. The 10th is a drivable 315 yard Par 4 featuring heavy bunkering and a lightning-fast, narrow tabletop green. The green slopes right to left away from the front bunker. It's a hole where one round a golfer can easily make a birdie and the next they go bunker to bunker and card a triple. Jordan Spieth found this out the hard way in 2019.
The $1,000,000 question of the hole is if it's better to lay up or go for the green. In 2018, Golf Week analyzed every birdie or better score and every bogey or worse score on the 10th during the 2017 Genesis Open and compared to shotlink data to see whether it was better to lay up or go for the green:
Birdies or Better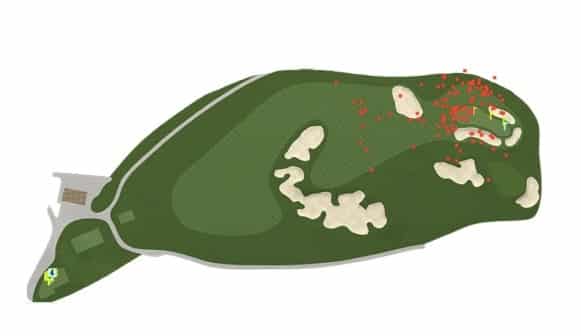 Bogeys or Worse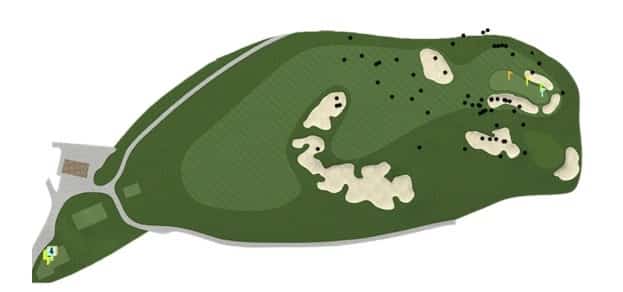 Based on the data from that tournament, there was about as much of a chance one would walk off the 10th with a birdie or a bogey or worse by laying up. It's also almost a death sentence to miss this green right. Missing right leaves a terrible angle to the pin and almost no green to work with.
As for those who went for the green, as long as the tee shot carried the bunker on the left side of the fairway and settled either left or short of the green the chances of carding a birdie were good. This trend has continued for the last few years and most of the field now goes for the green.
Genesis Invitational Preview: Betting Strategies
The golf course is an architectural masterpiece. Often times the golf courses that ought to be hung in the Louvre tests a player's ability in every aspect of the game. That's pretty true when looking at past leaderboards and who has ended up inside the Top 20 since 2013. You'll see good ball strikers, good scramblers, good putters, and golfers who do a little bit of everything well.
The argument can be made to favor either long bombers and short, accurate drivers, at Riviera. Bombers can take most of the bunkers out of play but may leave themselves a poor angle to tricky pin positions. Most of the bunkers at Riviera remain in play for shorter hitters, but their accuracy can reward them with great looks into the green.
Regardless of how far or accurate one hits it, the common thread between them all is superior ball-striking, solid scrambling, and good putting:
The greens at Riviera have creative sloping and shelving. It requires pinpoint precision with the irons in order to get good looks at birdie. It also requires players to work the ball both ways in the air to access certain pin locations. In addition, great command with one's irons is a must for those who wish to show well at the Genesis Invitational.
Those who miss greens, however, find themselves with a very difficult task. There are many shaved down areas around the greens at Riviera that require players to chip off of tight lies. That's more difficult than popping a ball out of the rough. In addition, the greenside bunkers at Riviera are really deep. It's a very difficult task to get up and down from out of the bunkers at Riviera. Delicate touch and distance control is required to save par from off the green. Saving par looks like a key to success throughout this Genesis Invitational Preview.
Lastly, the greens are very tricky to putt on. Not only are they creatively sloped, but golfers face two other difficult tasks. First, poa annua is not an easy surface to putt on. It's a surface that requires experience and confidence to navigate. The greens also run very quick at Riviera. Typically the greens run between 12-12.5 on the stimpmeter. Careless golfers run the risk of three-putting on these greens.
Here is a list of players who have gained more than a stroke per round on the field at Riviera Country Club (minimum of 12 rounds):
Dustin Johnson – +2.45
Rory McIlroy – +2.26
Adam Scott – +2.17
Xander Schauffele – +2.04
Hideki Matsuyama – +1.85
Carlos Ortiz – +1.73
J.B. Holmes – +1.72
Sergio Garcia – +1.71
Bubba Watson – +1.71
J.T. Poston – +1.50
Bryson DeChambeau – +1.50
Jim Furyk – +1.44
Justin Thomas – +1.39
Patrick Cantlay – +1.38
James Hahn – +1.36
Matt Kuchar – +1.35
Luke List – +1.27
Paul Casey – +1.26
Cameron Tringale – +1.26
Keegan Bradley – +1.24
Sung Kang – +1.18
Patrick Rodgers – +1.13
Adam Hadwin – +1.13
Jordan Spieth – +1.10
A little bit of everything is on this list. There are short and accurate ball strikers like Furyk and Kuchar. There are also bombers like Dustin Johnson, Luke List, Rory McIlroy, Bubba Watson, J.B. Holmes, and Bryson DeChambeau. Elite putters like J.T. Poston, Patrick Rodgers, and Adam Hadwin also find success. And there are all-around great players like Thomas, Scott, Matsuyama, Spieth, Cantlay, Garcia, and Schauffele. In summary, Riviera allows players with elite skillsets to shine.
There's also another interesting characteristic to this list. Most of this list has enjoyed tremendous success at Augusta National. There are a lot of similarities to both Augusta and Riviera. Both venues are classic designs that place an importance on proper angles into greens. They both feature tricky surrounding areas around the green. They also feature fairways with uneven lies to test controlled ball striking. And their greens are some of the firmest these players will face all year.
Many of the same types of players who fare well at Augusta National find great success at Riviera Country Club. That's a great correlated golf course to help handicap players in the field for this Genesis Invitational Preview.
RELATED CONTENT
2019 Genesis Open: Props And Winners Picks
2020 Genesis Invitational Preview and Betting Strategies
Daytona 500 DFS: NASCAR DraftKings Picks