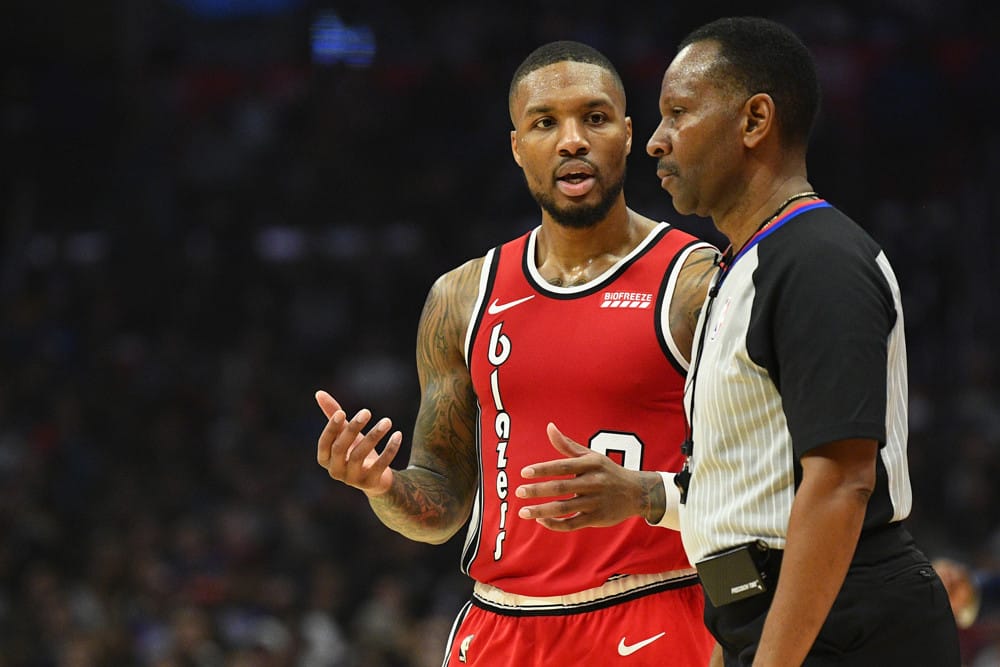 Hello my friends! The NBA features an 11 game slate on Friday night, and that can only mean that we're here to talk NBA DFS! With current injuries in the league, there are a bunch of good, cheap options as well as some solid chalk plays. Feel free to trail me with this lineup, and let's cash us something big!
NBA DFS Picks Friday 2/12
PG – Damian Lillard ($9,800) – POR
You have to pay up for Damian Lillard, but you want him in your lineup. He was already leading Portland in terms of usage rate at 30.4%. That being said, with the injury to CJ McCollum it's going to be Dame Time all the time for the Trail Blazers.
Lillard holds a healthy average of 48.9 FPPG which places him fifth in active players among this slate. He regularly tops the 50 fantasy points mark and he's only fell below this mark once in his last 10 games. Don't let the big price scare you away. You can almost guarantee the top lineup will feature Dame somewhere in the lineup.
SG – Luguentz Dort ($4,900) – OKC
I'm sure that I am far from the only one looking here. However, I want Luguentz Dort in my lineup on Friday. Shai Gilgeous-Alexander, George Hill and Theo Maledon are all out leaving the Thunder extremely shorthanded at the guard position.
It's been a bumpy ride for the inefficient defensive specialist Dort. However, OKC doesn't have many options and he will see plenty of playing time. The Thunder take on Denver on Friday, and this is a pretty good matchup for their guards. For the price, you can't beat the usage and playing time that you will find in Dort.
SF – Kevin Huerter ($6,000) – ATL
This is another instance of a player who is benefitting from a teammate's injury. De'Andre Hunter and Bogdan Bogdanovic have been out for the Hawks, and Kevin Huerter has been by far the main beneficiary. Look for this productive run to continue into Friday.
Playing time has certainly not been an issue for Huerter. He's only played less than 30 minutes once in his last 10 games, and that one instance was 29 minutes. He's fairly efficient with his shots and also regularly adds assists and rebounds. This could very well be another game where Huerter tops the 40 fantasy points mark.
PF – Thaddeus Young ($6,400) – CHI
You may be noticing a pattern with my lineup. With Lauri Markkanen and Wendell Carter Jr. out, Thaddeus Young has all the workload he can handle. Even with those two in the rotation, he's still seeing the floor regularly. With them out, the sky is the limit.
The Bulls face the Clippers, and this is a great matchup for Young. He normally has no problems getting his rebounds, and he is an extremely efficient offensive player. I look for Thaddeus Young to continue to contribute in all categories as he will continue to be a great NBA DFS asset for a decent price.
C – Enes Kanter ($6,900) – POR
We might as well stack Portland and continue the trend of injury beneficiaries. With Jusuf Nurkic and Zach Collins out and Robert Covington struggling offensively, there was a need for a big man to step up. Enes Kanter has been that man lately for the Trail Blazers.
Kanter averages 11.2 PPG and 29.7 FPPG across 24.2 minutes per game so far this season. His playing time increased with the Nurkic injury, and his production increased as well. He's begun regularly topping the 30 fantasy points mark and he's been known to flirt with the 40 fantasy points mark. Don't think about this one, just roster Kanter.
G – Jordan Clarkson ($5,700) – UTA
For the guard position, I am looking at arguably the most efficient player in the Utah rotation. Jordan Clarkson continues to play with the second unit, and he's regularly the team's leading scorer from the bench. There's a few things I really like about Clarkson.
The first is that he averages 28.4 FPPG, and he's usually going to give you right around that number. In addition, Clarkson is an efficient shooter despite taking most of his shots from three. Although he's reliant on scoring for most of his output, I believe that we will continue to give his normal production.
F – Grayson Allen ($4,100) – MEM
This is more or less a price versus playing time play. Grayson Allen isn't the most reliable NBA DFS player, but for only $4,100 I'll take him to plug this hole. The Grizzlies have been shorthanded for awhile, and Allen's made a spot for himself in their rotation.
De'Anthony Melton and Desmond Bane are both out with injury, and this leaves a lot of leftover guard minutes. The majority of those minutes are going to fall into Allen's lap. Although Memphis plays the Lakers, which isn't the best matchup, there still enough upside in playing Allen that I'm comfortable using him as a value option.
UTIL – RJ Barrett ($6,100) – NY
I have $6,200 left over for the utility position, so I am going to take the most efficient option available. RJ Barrett has now had two worse than average games in a row, but I expect him to bounce back on Friday. His Knicks face Washington, and this is a decent matchup for Barrett.
He averages a nice 31.1 FPPG and he regularly flirts with the 30 fantasy points mark. I'm not letting his performance the past two games deter me from playing him here. Barrett is second behind Julius Randle in terms of usage rate for the New York starters. Look for Barrett to get back to his usual output of 30+ fantasy points on Friday.
Will's NBA DFS GPP Lineup 2/12
Make sure to subscribe to NBA Gambling Podcast on Apple and Spotify. Ryan and Zach continue picking every NBA game against-the-spread and posting right here: sg.pn/nbapicks